Students in Bishkek report spending about $30-50 a week average over the course of their stay. This covers groceries, eating at the university cafeteria, city transport, eating out, school supplies, modest weekend entertainment, and other general living expenses. Note that this guide assumes 70 som = 1 US dollar. 100 som is about $1.50. Prices current as of December, 2019.
In This Guide
1. Getting Started
Packing beforehand: Bring clothing appropriate to the region (tank tops or other skin revealing clothes should be avoided), gifts for friends and/or host families are encouraged, a water bottle with a filter, and any prescription medication you are taking in amounts to last the duration of your time abroad. Check our packing guide for more information on preparing for your trip.
Card Fees. Call your banks and credit cards! Let them know the dates you'll be abroad, otherwise, they tend to shut them off when they appear abroad – assuming they've been stolen. Note that most US banks will charge fees for every transaction you make abroad. $5 and/or 3% for every ATM withdrawal, for instance, is not uncommon. Make sure you understand these fees and factor them into your budget. See our Guide to Managing Cash Abroad for more information.
After You Arrive: There are usually a few initial, one-time expenses for students getting started. All of these can be bought inexpensively at Bishkek City or the larger TsUM. A few common costs include:
Electric kettle: $10 (for coffee/tea/instant noodles/oatmeal)
Pot/silverware/plate/cup: $10
Water filter: $10-15 (or $0.75 for 5 liter bottles – folks generally don't drink from the tap)
Pens/erasers/school supplies: $10
Textbooks: $0 (all materials provided by the school in electronic form)
2. Incidentals & Other
Flexibility: You should always plan some flexibility into your budget. There will always be expenses that you didn't plan for – a new umbrella, a better coat, a short trip that a new friend invites you on that is too good to say no to, you get the point.
Hygiene: Shampoo, conditioner, deodorant, and toothpaste – in brands you are likely to recognize – run about $2 per package. The tampon selection is significantly cheaper than in the US, though also much less varied. . Be advised that there are no options with applicators. Women can get a perfectly decent haircut for less than $6, men's cuts are less.
Gyms: Fitness House offers monthly subscriptions for $30. Lovely Mama, a chain of women-only fitness clubs, offers yoga classes for $5 each, less with a subscription.
Laundry: The dorms offer free washing machines. You will need to just purchase detergent the Vefa center.
3. Food

Groceries: London school students usually shop at the Vefa center. The dorms have a refrigerator, range, and microwave, but no ovens. Most groceries are quite cheap, though they add up fast if you buy imported items like peanut butter (about $3.50 for a jar, which feels expensive after you've been living in Bishkek for a while). Milk runs $0.50-$1 per quart. A lepyoshka (a round bread) will run you around 30 cents. A 400-gram bag of pasta is also about 30 cents. Apples range from 70 cents to $2.50 per kilo. Five-liter bottles of water (if you didn't bring a water filter bottle) run for about 75 cents. It is cheapest to shop at the bazaar, where products such as fruit, vegetables, and nuts are higher quality and sold in bulk. Average weekly grocery bill: $7-11 per week.
University Cafeteria: The London School Canteen is the cheapest lunch option around the area. Each meal will cost you $1-2. Average spending at canteen: ~$7 per week.
Coffee: One can buy a decent coffee for $2 from chain cafes such as Sierra and Giraffe. Tea and coffee are much cheaper in locally run cafes, where a pot of tea can be bought for $1 or less.
Eating out: Samsi (pastries stuffed with meat or other fillings) at one of the many street stalls around town go for about 50 cents. You can expect to spend anywhere between $2 and $7 for dinner, depending on quantity (portions are much smaller than in the US) and location. If you want to spend less, it usually means getting less food, as opposed to just going to a cheaper restaurant: if you want an American-size meal, you'll need at least an appetizer and a main, most likely, if not more. Main courses are usually somewhere around $3 or $4; bigger, meatier entrees are a little more, noodle-y ones a little less. Most restaurants include a 15% tip in the bill, though watch out, as some don't include it at all.
Average weekly total food spending: ~$15-$25 per week
4. Transport
The London School Dorms are adjacent to the school, so transport is not a daily need for dormitory students. For homestays, it will be a daily need. The most commonly used types of public transportation in Bishkek are the marshrutka and trolleybus.
Marshrutki: These are white mini vans. You will need to always be on the look-out for where your destination is for the drivers do not call out the stops. This can be difficult if the van is packed and you can't see out the windows. It's recommended that you follow along in real time on the 2GIS app. The routes are about $0.15 per ride
Trolleybuses: These are large buses that have regular stops throughout the city. They cost $0.11 per ride.
Taxis: Taxis can be hailed from the Yandex, Namba, or SMS taxi app. Don't hail rides from the street – the apps are safer and more reliable. Rides typically cost between $1-8 for rides throughout the city.
Average weekly transport spending: (dorms) ~$1-2 per week;  (home stay) ~$3-6 per week
5. Communications
See our Packing List for more information about bringing electronics abroad.
Mobile service and data: SRAS supplied a mobile phone to everyone in the program. Students are required to keep those phones working and topped up. The cell service in Kyrgyzstan has a pay-as-you-go system and for very basic calling/texting, students spend around $1-2 a month. Students with unlocked smartphones can purchase a SIM card at either Megacom or O!. A monthly plan for calling/texting and 20GB with Megacom costs $8. Students with this option often communicate with just about everyone via WhatsApp, Skype, or Google Voice – meaning that your SRAS phone will be even less expensive.
High-speed Internet: Internet at the London School dorms tends to be spotty and unreliable. Students without mobile data often walk to cafes near the school to work on their homework assignments.
Average total MONTHLY spending for communication: $9-15
6. Free Time, Other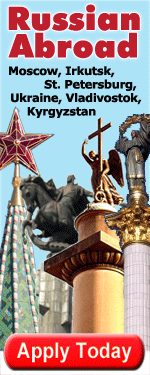 Entertainment and incidentals are the most variable expenses you'll face.
Random: Coffee at a café is around $2. A standard Central Asian/Russian beer usually goes for about $1.50, while an import or a local brew at a popular place like Save the Ales might be closer to $2.50. Many local bars also have pretty decent cocktails, for $2–$3.
Other Shopping: You can buy books on the street for about $1.50 or so, and from the big bookstore in the city center, Raritet, for anywhere from $2 to $7, depending on whether they're regular paperbacks or something like illustrated fairy-tale collections. Clothing is not terribly cheap, though, again, you can find better prices at the bazaars. At Orto-Sai bazaar leather gloves can be had for as little as $10.
Souvenirs: Always go to Osh Bazaar for well-priced souvenirs. The souvenirs at Tsum are overly expensive for the same gifts you can find at the Osh Bazaar. There you can buy a nomad's harp for $4 and a traditional Kyrgyz vest for $21.
Performances: There are a number of movie theaters throughout Bishkek; tickets are between $2 and $4, slightly more for the rare English-language showing. Ballet and opera tickets are also quite cheap, ranging from $3-8.
Travel: If you are going to blow some money in your budget – SRAS recommends you do it on travel. See more of the country and wider region and meet more of the people while you have the chance to do it quite inexpensively. You can get to nearby cities, such as Karakol, quite cheaply—about $5 by marshrutka, $7 in a shared taxi—and once there, you can get a bed in a hostel dorm room for about $6/night. The cheaper and closer weekend away options include Karakol, Talas, and Issyk-kul, which can be done for $30-50.
There is a lot of hiking and nature around Bishkek. You can take advantage of that for the cost of a cheap taxi ride and a packed lunch. If you wish to leave Bishkek for a weekend, the city of Almaty in Kazakhstan is only 3-4 hours away by car. You can go by public share taxi for $40 per ride. In Almaty, you can experience another Central Asian city and visit its many museums and parks. It is a must have experience if you have any extra money in your budget. Total cost for a weekend trip to Almaty can be done for as low as $100-150.
Let SRAS know EVERY TIME YOU LEAVE BISHKEK! This is for safety, but also because there may be registration or visa issues involved in your trip that we may need to advise you on.