Eurasia today is quite affordable. Students are often surprised how far their dollars will go even in major cities like Warsaw – and very surprised at how far they go in places like Bishkek. However, students can also be surprised at how easy it is to run into troubles – like blocked bank cards or overspending while abroad. This guide will help you plan in advance to avoid these mistakes and make the most of your budget abroad!
Prepare to be Safe
Call Your Money! Make sure your bank and credit card companies know you are traveling. Your accounts should be "flagged" so that your cards are not blocked for security reasons. A card crossing international borders is considered "at risk" for having been stolen.
Find Your Moderation Point. Transaction fees mean fewer, larger bank withdrawals are preferable. However, keeping large amounts of cash on hand can be dangerous. Find a moderation point of how much money to carry at once and how much to leave in the bank.
Bring a Cushion, Not a Budget. Bringing 200-400 dollars to keep hidden in safe place can come in handy if you lose your debit card. Beyond that, ATMs in SRAS locations are plentiful, safe, and, if managed well, affordable.
Create Backup Plans. Know the PIN numbers for all your cards – debit and credit. Should your debit card be lost or stolen, you will need your credit card PIN to get cash advances. A backup debit card and/or account are also good failsafes.

Some banks offer travel cards that are not directly linked to your bank account. You can add certain amounts to the card at any point from abroad. These cards make budgeting for your travels easier and, if they get stolen, can be cancelled without affecting your personal bank account back home.
"Monopoly Money"

Culture Shock with Currency: Working in a new currency is, in fact, a form of culture shock. Like working in a new language, you'll initially have to acclimate to doing regular conversions in your head in order to do basic transactions. Some students react to this with fear when they see the remarkably large numbers on prices (as it takes dozens of rubles to make a dollar) or by assuming that the local currency they are carrying is essentially worthless and can be "thrown around." How can you avoid these two unhealthy traps? Instead…
Exchange Rate Volatility : Exchange rates have gone through regular cycles of volatility and stability. We recommend checking the rates regularly and keeping up with the news abroad (which only adds to the educational value of being abroad). That said, exchange rates are currently working in favor of students abroad – with relative prices down across the board due to the recent loss of value experienced by most local currencies in Eurasia.
Local Currency or "Your Own Currency?" Some ATMs, retailers, and cafes will give you this option. This is a scam that works because people feel more comfortable operating in their currency, just like they are more comfortable operating in their own language. Always pay in the local currency. The exchange fees needed to convert your money to the local currency (the business will need to do this to pay their workers and suppliers) will still be passed on to you as will extra fees for supplying you with the "convince" of not having to see rubles on your bill.
Forms of Currency
Dollars should be clean, crisp, and unmarked. Yes, US bank employees look at you funny when you request this, but even the smallest mark or tear will mean that you will have problems exchanging the currency abroad. US currency in circulation abroad is not used for daily transactions, but instead for savings and major purchases. Thus, the bills will be crisp and clean.
Checks are not used. They will likely be looked at strangely and handed back, perhaps with some choice words. Personal checks have never been widely used in most SRAS locations and they never will be as their banking systems have simply jumped directly to debit cards in the post-Soviet reform.
Traveler's Checks can be cashed in few locations (such as major banks and some major hotels), but problems are likely and fees are assured. Stick to cash and cards.
Credit Cards are now widely accepted. However, never assume you can pay with a credit card – always carry at least some cash. Card systems not uncommonly fail and cash may be needed. Also, make sure that your card does not have foreign transaction fees. These can really add up.
Debit Cards have transaction fees much more often than credit cards. Use your debit card only to withdraw cash from ATMs, not for point-of-sale transactions.
Financial Institutions
Exchanges and Banks can be found throughout all SRAS locations. Exchange services in banks tend to be more trusted, but these days even. Banks always ask for ID. Always calculate how much you should get back before you hand money across the counter. Never leave the counter if you believe a mistake has been made. Once you leave, no argument can be made. Don't be embarrassed to count your money in front of the person who just gave it to you – it's completely expected. As should be obvious, don't trust someone waiting outside the exchange who offers "a better deal."
ATMs are now common in all SRAS locations. Make sure to use the same precautions you would take anywhere.

Western Union is also widely available and has a fast, secure wiring service – but it's not cheap. If you can wait, it is easiest and cheapest to have someone deposit money to your account (or mail your bank a check with your account information and instructions) and then withdraw the money from an ATM.
Day-to-Day Expenses
In addition to tuition and housing (provided by SRAS for most programs), students will need to purchase transport to/from Eurasia (airfare can generally be found for about $500-$1000 from New York to any SRAS study location) and budget for daily living expenses. Student budgets can differ widely based on student lifestyle and by which location students choose. Individual budget guides can be found (or are in development) on this site for:
Warsaw (~$100-125 per week)
Riga (~$40-75 per week; in homestay)
Kyiv (~$50-70 per week)
Tbilisi (~$40-80 per week; in homestay)
Batumi (~$40-80 per week; in homestay)
Bishkek (~$30-50 per week)
Yerevan (~$70-$120 per week)
Numbeo.com also provides an excellent cost of living calculator. You can even run comparisons between your destination and your home town.

Understanding Your Bank Fees Abroad
You probably have dollars. However, dollars can't be used to pay for most things abroad. Your money has to be converted to the local currency to do this. Whether you exchange dollars at a bank, use your credit card to make local purchases, or withdraw local cash from an ATM, someone or some organization is exchanging your dollars for you and they expect to be paid for that service. Banks, cards, and exchanges all have different ways of turning a profit. A single transaction might incur one or more fees from one or more organizations. You should understand the process so as to receive the best deal.
For those who like to have dessert first, here's the conclusion: the best account for international travel is from Schwab Bank. This card charges no fees, applies no "exchange rate adjustments," gives a (low) interest payment to you for money held on account, and even refunds most fees charged by other banks worldwide. When you open an account, you also open a Schwab investment account (but need not invest anything). Schwab makes its profit by assuming that international travelers will eventually become investors. This isn't a paid advertisement – just the most unique card we've found for folks operating internationally.
For those who want to understand the financial process in more detail, the first step is to know that…
The Central Bank of each country controls currency issuance and declares official exchange rates. To make a profit, banks, card operators, and exchanges will usually give you a slightly worse rate than they get from the Central Bank or add fees. Official exchange rates are listed (and updated weekdays) on central bank sites for  Kyrgyzstan, Georgia, and Poland.
Visa/Mastercard Fees. Whether or not your account offers "no foreign transaction fees," you still pay for currency conversion. With Visa, you'll be paying the "Visa Negotiated Rate," which usually only slightly differs from Central Bank rates. Mastercard piggy-backs on the Visa rate and then applies what it calls an "exchange rate adjustment," pocketing around 2-3% from every transaction. But Visa is not always better because…
Bank Fees are charged on top of Visa/Mastercard fees and are more common with Visa cards. Mastercard generally cuts the bank in on the "adjustment fee" so that they can offer the "no foreign transaction fee." However, many banks also charge fees for using another bank's ATM. Most American banks have no branches in SRAS locations. Debit card purchase fees can be also be charged if you use it directly in stores abroad.
In short, call your bank and take stock of all applicable fees. You may want to open a better account before departing.
So Which Card Is Best? Here is data taken from two cards used in Moscow ATMs in April, 2015. Exchange rates are different now, but the fees and differentials are largely the same. One data set comes from a Wells Fargo Visa debit card, which charges a $5 "Non-Wells Fargo ATM Transaction Fee" (there are no Wells Fargo ATMs in Russia). The other is a Chase Platinum Business Mastercard with "no transaction fees."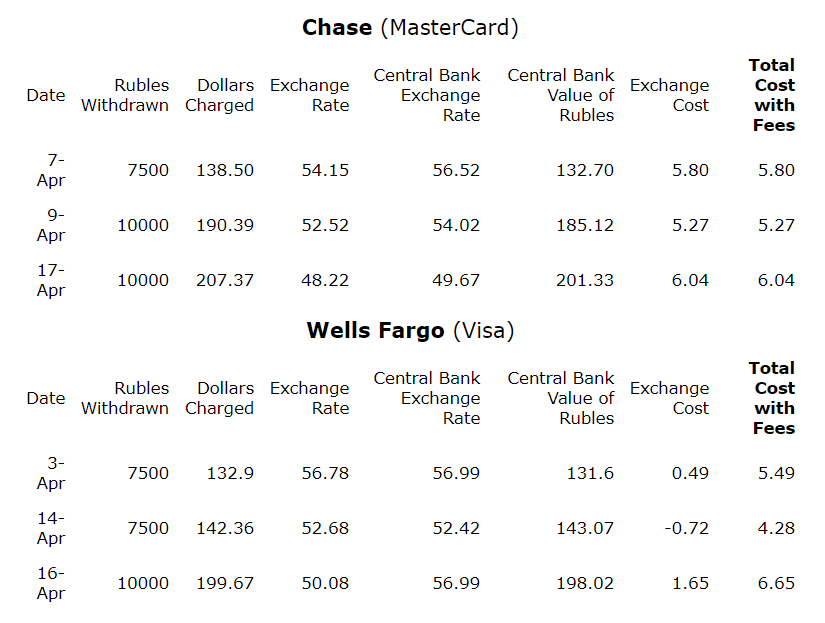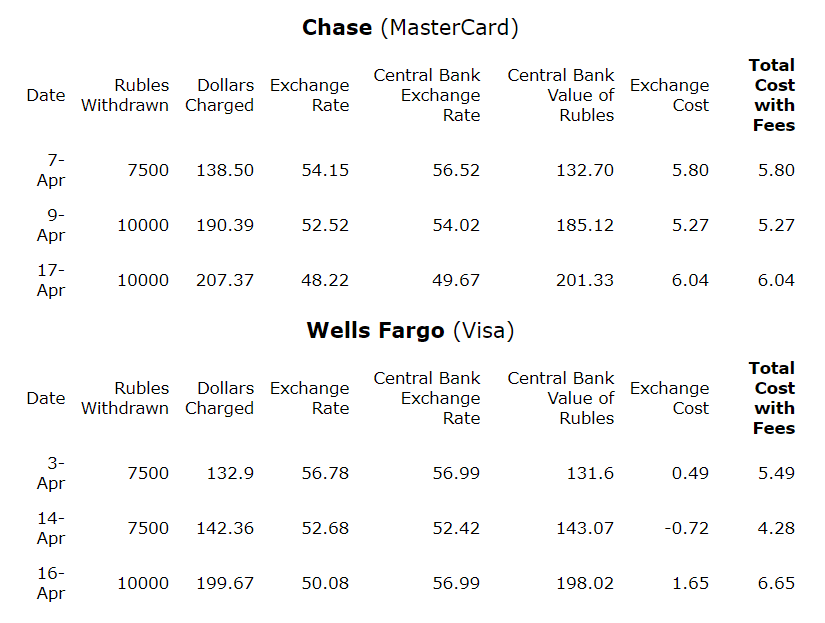 Chase advertises no fees but the cost of each transaction is very similar to Wells Fargo, which charges a flat $5 fee. MasterCard in fact "adjusts" the exchange rate to make its profit.
Tips for Students Worried about Budgets
To recap what we've said here:
Keep track of how much you spend. Seriously – do the daily (or at least weekly) accounting; it can show you what you can cut out of your budget to make room for what you consider important – and keep how much you are spending fresh in your mind.

Keep in mind that it will take time to get used to the new currency. A certain period of "shock" is normal.

Find rules of thumb for calculating and memorizing the value of the major bills. For instance, a 100-ruble bill is worth a bit more than a $1.50 right now. A 500-ruble bill is about $8. Knowing what you are taking out of your wallet to pay with can help you to limit expenditures.
Make sure you know what your bank is charging you. Call them and research the issue before you come abroad. Check your account at least once after you've made your first few purchases abroad to see what's really happening there.

Try not to carry around too much money at once. Feeling rich can make you act like you're rich…
More Guides to Living Abroad: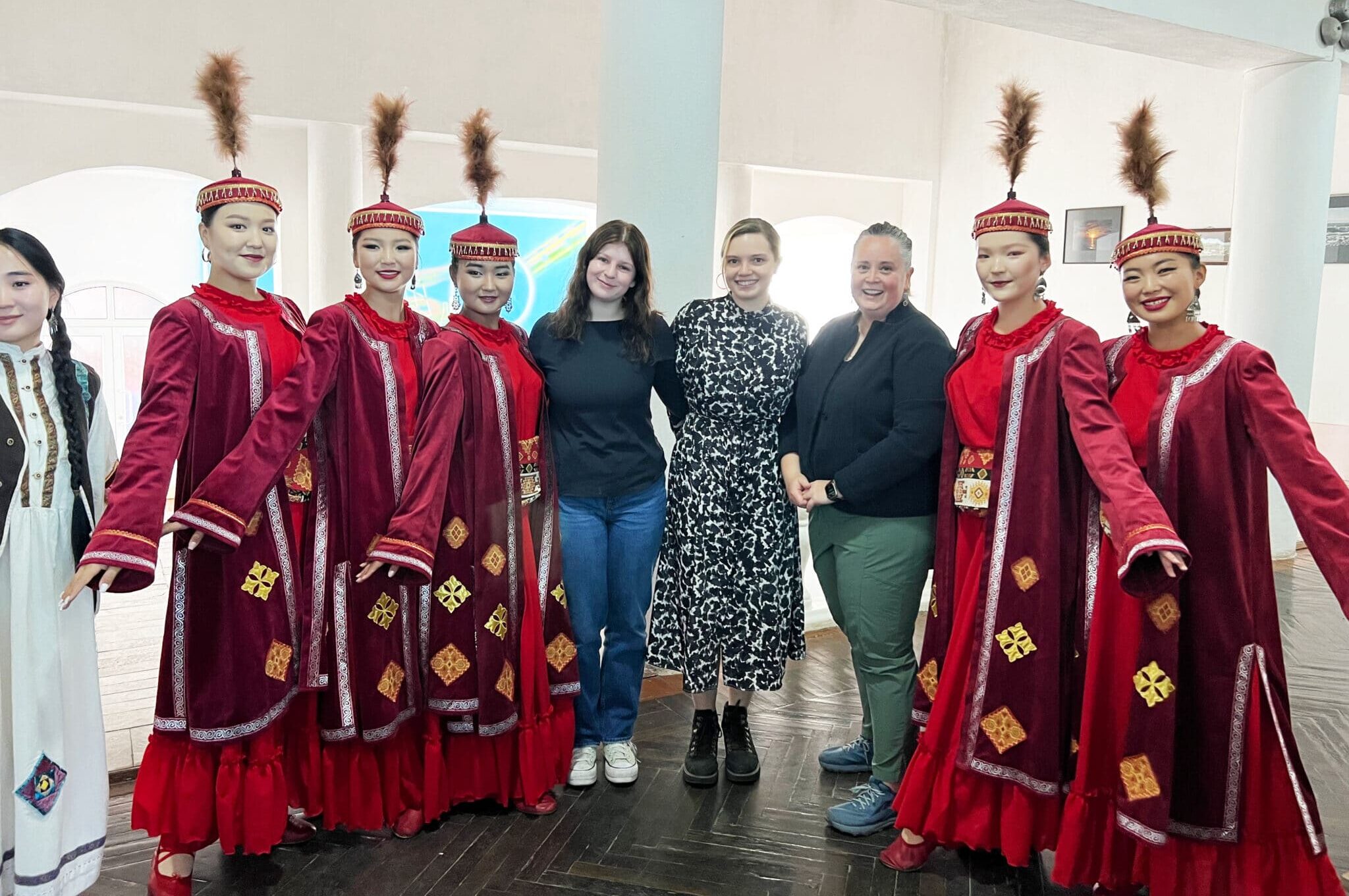 Caroline Southworth is studying diplomacy at Gustavus Adolphus College in Minnesota. She had the opportunity to serve as a student ambassador in a program run by the US embassy in Bishkek, Kyrgyzstan while studying abroad on SRAS' Central Asian Studies Program. As a student ambassador, she visited the K. Tynystanov Issyk-Kul State University in Karakol. […]
0 comments