What's it really like to live in Warsaw for a semester? Staying long-term in a city is much different from just vacationing there. You'll need to navigate more of the practical, everyday services of the city and budget to include more miscillanious and long-term expenses. Thus, this guide covers everything from haircuts to pharmacies and from gyms to computer repair. Its advice comes from SRAS staff on the ground in Warsaw as well as graduates of SRAS programs in Poland.
A Practical Introduction to Warsaw

Warsaw's historic districts were rebuilt from their ruble after WWII. After decades of Communist rule, the Polish market economy is now growing fast and is the first in the former Soviet bloc to be reclassified as "developed." Warsaw is booming with coffee, foodie havens, and green spaces filled with culture. While still facing many economic, political, international, and demographic challenges, Warsaw is a true case study in resilience.
Warsaw is perfect for those students interested in security studies in their full range – from cyber and military security to managing economic and demographic trends to produce a stable society in a changing world.
The climate in Warsaw (humid continental) is quite mild and similar to what you would experience in the Northeastern United States or eastern Canada. Winters are cold and summers are warm, while spring and autumn are mild. Expect to see snow from late November to the end of March. There is not usually a huge difference between night and day temperature. Rain is not uncommon. Come prepared.

Warsaw has experienced tragedy and resilience in abundance throughout its history. Still facing major challenges today, the city is obviously the capital of a country that has managed to rebalance international and domestic interests to its advantage. For more on the history of Warsaw, see this article on GeoHistory, also part of the SRAS Family of Sites.
Budgeting Basics for Warsaw
Students in Warsaw report spending about $80-100 a week average over the course of their stay. This covers groceries, eating at the university cafeteria, city transport, an occasional meal out, school supplies, modest weekend entertainment, and other general living expenses. Note that this guide assumes 4.5 złoty= 1 US dollar. Prices current as of September, 2022.
Packing beforehand: Bring appropriate clothing, any electronics you need, and any prescription medication you are taking in amounts to last your time abroad. Check our packing guide for more information on preparing for your trip.
Card Fees. Call your banks and credit cards! Let them know the dates you'll be abroad, otherwise, they tend to shut them off when they appear abroad – assuming they've been stolen. Note that most US banks will charge fees for every transaction you make abroad. $5 and/or 3% for every ATM withdrawal, for instance, is not uncommon. Make sure you understand these fees and factor them into your budget. See our Guide to Managing Cash Abroad for more information.
Local Currency or "Your Own Currency?" Some ATMs, retailers, and cafes will give you this option. Always pay in the local currency. It may sound convenient to have your bill brought in dollars, but it will always be higher. You will be paying at the store/ATM/cafe internal exchange rate. This is always worse than the exchange rate you will get from your bank or credit card company if you simply use your card to operate in the local currency. Always use ATMs that are connected with banks. Avoid those machines that are unbranded or privately branded.
Flexibility: You should always plan some flexibility into your budget. There will always be expenses that you didn't plan for – a new umbrella, a better coat, a short trip that a new friend invites you on that is too good to say no to, you get the point.
Food and Shopping in Warsaw

Average weekly total food spending: ~$20-$40 per week
Groceries: With food and groceries, it's easy to live on $15-20 a week if you cook for yourself.

Eating out: An average restaurant is usually $5-10 for an entree.
Student Reviews of Eating Out and Shopping in Warsaw
Transport in Warsaw

Average weekly transport spending: ~$3-10 per week
Maps: Jakdojade.pl is the map and navigation service that locals use. You can instal it as a mobile app. It has the only public transportation route planner for the whole city including the subway, busses, etc.. It works in Warsaw and 22 other cities in Poland. (The name 'Jakdojade' is from the Polish phrase "Jak dojadę", meaning "How do I get there?)
Public transportation: The transport authority in Warsaw is ZTM. Extensive tram and bus lines reach the outskirts of the city, including Praga (a district across the river). The metro system is more limited, but growing. There are maps located inside whichever transport you're using, and signs are, for the most part, posted in English and Polish. For 30 days of unlimited rides on all forms of transit (trams, buses, metro, suburban trains), you'll pay about $15 with a student discount of 50%. For 90 days, you pay just $34. Here is the city transit site with the price list in full. For further information about city transit, see this article.
Taxi: Use the Uber or the local variant, Eurotaxi, smartphone apps. Warsaw's cabs usually cost between $2-6.
Bikes: There is also a good city bike system in Warsaw that is available from about March until November. You can register online and the first hour every day is free. For more on public transport costs, see our Guide to Warsaw Budgets.
Regional train lines allow easy travel from Warsaw to the northeastern lake district of Masurian, north to Tricity (Gdansk, Gdynia, and Sopot), or south to Krakow, to name just a few places of interest.
For more on transport in Warsaw, see this article from our sister site, GeoHistory.
Communications in Warsaw

Average total MONTHLY spending for communication: $1-4
See our Packing List for more information about bringing electronics to Russia.
Mobile service and data: SRAS will supply you with a simple mobile phone while abroad. Students that use only these phones to call and text report spending $1 or less per month. Students with unlocked smartphones who get local SIMs for data and calling report spending around $2-4 per month for texts, calls, and 4G.
High-speed Internet: Private ethernet companies charge around $20 per month, but if you have this, you'll likely be with roommates and splitting the cost.
Internet cafes / City Hotspots / Free WiFi: Internet cafes cost around $1-3/hour and are becoming rarer. Public WiFi is everywhere in Warsaw. The train stations and shopping malls as well as most coffee shops/cafes offer it. The whole of downtown Warsaw is also basically a giant free hotspot.
Computer Repair: information coming…
Post: The main post office in Warsaw is at ul. Świętokrzyska 31/33. It is open 24/7. You can find other a post office near you by typing in your address here.
Laundry and Cleaning

Average spending on laundry and cleaning: $~1-3 per week

Laundry and cleaning are often overlooked expense categories. Actual expenses can vary widely based on how you decide to handle them.
Hygiene: Shampoo, conditioner, deodorant, and toothpaste – in brands you are likely to recognize – run about $2 per package. Feminine hygiene products are around $4 per box.
Laundry: Warsaw has many self-service laundry facilities. You can comparison shop on Yelp.
Health and Medicine in Warsaw

Budgets for health and medicine can vary based on student lifestyle and needs. Any SRAS concerned about this category is encouraged to discuss it with their SRAS representative.
Water/Water filters: Warsaw's water is safe and the city filtration system is modern. However, most residents and tourists alike now stick to bottled water or at least water they have filtered themselves. Bottled water is cheap ($2 for 5 liter bottles) and everywhere and water filters ($10-15) are widely available in larger supermarkets appliance stores.
Doctors, etc. Healthcare International Family Practice offers doctors and nurses that speak English. The best list of larger, 24-hour pharmacies is provided by the US Embassy in Warsaw. Otherwise, just look for the word "apteka" – that's Polish for "pharmacy" and, surprisingly, many pharmacists in Warsaw speak English.
Fitness: Recommendations for gyms needed! For outside running, try the Wisla River front or one of Warsaw's various parks (Park Łazienkowski and Ogród Saski are particularly recommended).
Haircuts: A list of affordable hairdressers in Warsaw can be found at Fryzjer.me. Most hairdressers and barbers won't be able to speak much English though, so bring a picture of what you want your hair to look like.
Shopping
Phones and Electronics: Orange, Play, and T-Mobile all have branded shops where you can buy inexpensive cell phones. Play is currently the market leader in terms of offering discount prices.
Antiques and Souvenirs: Look for Cepelia, a reasonably priced chain of stores specializing in Polish folk art, ceramic, and other souvenirs. There is one across from the Palace of Science and Culture.
Reading, Electronics, and more can be found at Empik stores, including books in English.
Sporting Goods can be found at Martes Sport, which sells goods needed for a wide variety of activities and carries the big-name brands. For running equipment, try Zgoda FC, specialized in soccer and running equipment or Sklep Biegacza (Runner's Store), specialized in everything running.
Shopping Malls are common in Warsaw and can serve most of your clothing and electronics needs. Some of the biggest and most central in Warsaw include Złote Tarasy, which is across from the main train station and the Palace of Culture. Also see Galeria Mokotów and Arkadia for other options.
Eyeglasses / Contacts: Information coming.
Culture and Entertainment

Entertainment and incidentals are the most variable expenses you'll face.
Museums: Warsaw abounds in museums on nearly any subject that might interest you. Museums are $5-15, but generally a student discount will keep the price below 10 for any of these.
Performances: A ticket to a movie will run about $5-12. Rock concerts can run from $8-infinity. Theater tickets can run about $3-200.
Nightlife: Going out at night is surprisingly cheap too: $5 cover charges at central clubs with $3 for a beer, or $5 for a cocktail.
The Erasmus student group and the CC International Group are both fairly active too, so sometimes they'll organize gatherings at a club or bar downtown and offer discounts. This is probably one of the reasons Warsaw is so popular for students. Another example would be ice skating, which costs about $10-20 depending on where you go.
Charitable Giving and Volunteering
Charitable Giving: You can give used items to Caritas, the charitable arm of the Catholic Church in Poland. They are headquartered at Krakowskie Przedmieście 62 in Warsaw but have big bins labelled "Caritas" throughout the city, especially in residential areas. Your items will be distributed to those in need.
Volunteering: Some SRAS students have, in their freetime, volunteered with church groups and charities on the ground in Warsaw. Ask if you are interested in getting involved.
Travel from Warsaw
If you are going to blow some money in your budget – SRAS recommends you do it on travel. You can find several student-reviewed independent trips on this site. See more of the country and wider region and meet more of the people while you have the chance to do it quite inexpensively.
Let SRAS know EVERY TIME YOU LEAVE WARSAW! This is for safety, but also because there may be registration or visa issues involved in your trip that we may need to advise you on.
Find Out More About…

Guides to Other Cities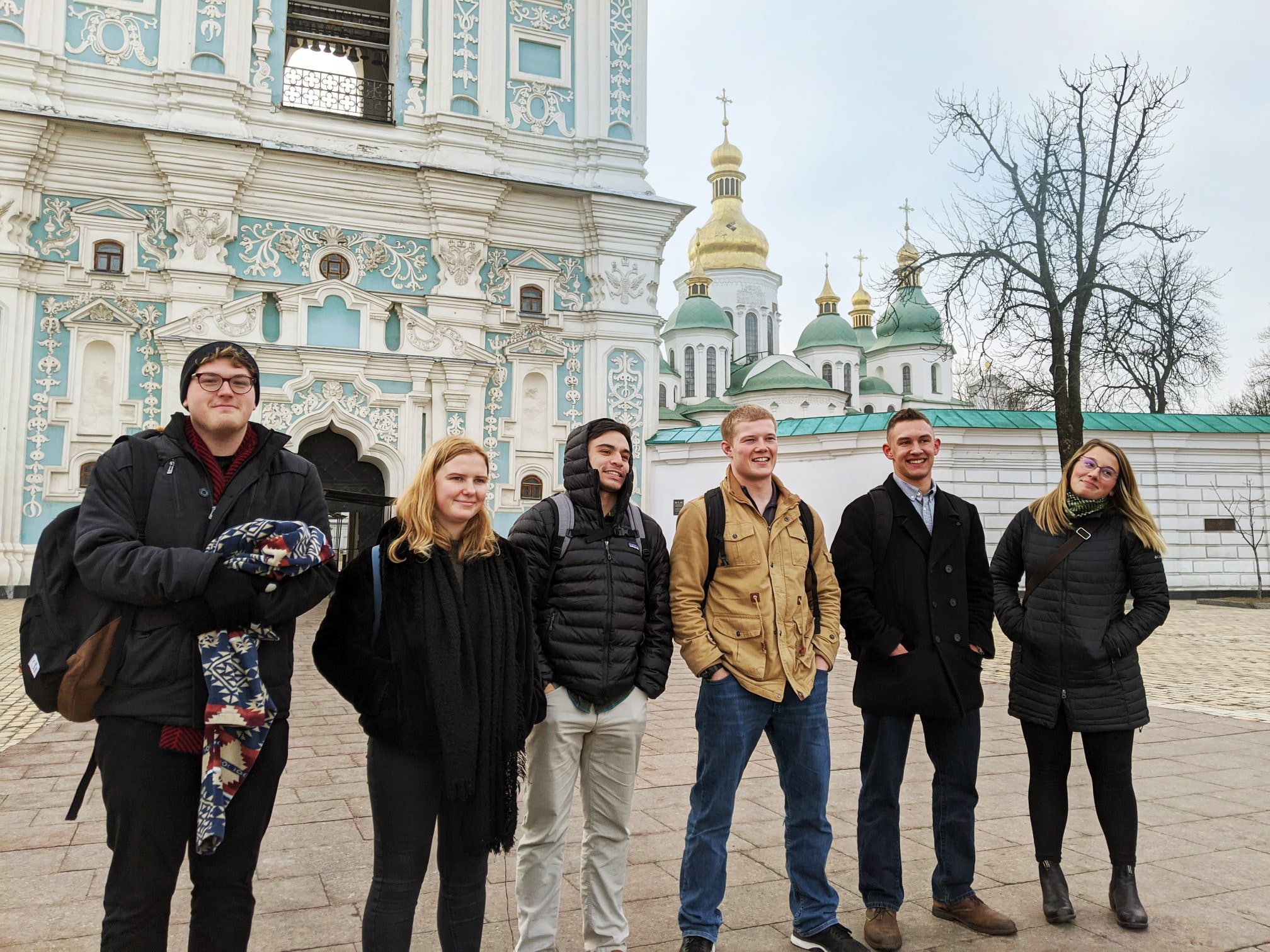 What's it really like to live in Kyiv for a semester? Staying long-term in a city is much different from just vacationing there. You'll need to navigate more of the practical, everyday services of the city and budget to include more miscillanious and long-term expenses. Thus, this guide covers everything from haircuts to pharmacies and […]