Warsaw boasts a number of massive shopping malls, including the largest shopping center in Central Europe, Arkadia, with some of the most in-demand brands and stores. You'll find the market quite well developed with most needs easily accessible. Below is some helpful advice from some of the students and staff that have worked on SRAS programing in Warsaw.
This resource is part of the much larger SRAS Guide to Living in Warsaw.
General Directory
See our Packing Guide for things you should bring with you.
Phones and Electronics: Orange, Play, and T-Mobile all have branded shops where you can buy inexpensive cell phones. Play is currently the market leader in terms of offering discount prices.
Antiques and Souvenirs: Look for Cepelia, a reasonably priced chain of stores specializing in Polish folk art, ceramic, and other souvenirs. There is one across from the Palace of Science and Culture.
Reading, Electronics, and more can be found at Empik stores, including books in English.
Sporting Goods can be found at Martes Sport, which sells goods needed for a wide variety of activities and carries the big-name brands. For running equipment, try Sklep Biegacza (Runner's Store), specialized in everything running.
Shopping Malls are common in Warsaw and can serve most of your clothing and electronics needs. Some of the biggest and most central in Warsaw include Złote Tarasy, which is across from the main train station and the Palace of Culture. Also see Galeria Mokotów and Arkadia for other options.
Thrift Stores in Warsaw
The second hand store has become an increasingly popular alternative to mainstream shopping. In the city center, it's common to find stores that sell used "odzież na wage," meaning "clothing by weight." These thrift store outlets are charitable non-profits for various organizations, and many are standard for-profit businesses.
One such chain of shops is actually called "Odzież na Wagę" and has locations throughout Warsaw. In these stores, all of the clothes and household items are divided into their respective categories, and given a flat price per kilogram. Prices typically range from 40-60 zl per kilo (depending on if there is a sale), or about 10-15 dollars per kilo, or 2.2 pounds. On certain sales, there can even be a half-price reduction, so 20 zl, or around 5.25 for a kilo. The prices average out to about 3-5 zloty for a shirt, or $0.80 to $1.25, for example.
The shops regularly advertise and schedule shipments of new items for their stores, so there's a consistent supply and rotation of goods. Their clothing is generally very good quality, gently used, and fairly modern in style. The usually have items from big brand names too, such as H&M and Zara. I myself have found a lightly used wool coat and various professional clothes for work, so I personally recommend them as well.
This particular thrift store chain can be found throughout Warsaw. See their website for a list of addresses and even dates for when certain locations will receive new items. Before heading to a supermall for shopping, I'd definitely take a trip around town to visit a few of their locations.
– Callie Rades
Guide to Warsaw Groceries
While Warsaw offers many good and affordable restaurants, I prefer to cook for two reasons. The first is to save money, which I prefer to spend on trips around Poland. The second reason is that most of my Polish friends cannot afford to go out to eat often. We usually meet up, buy groceries together, and then cook at one of our apartments (and sometimes we go out after to a pub or an event). Cooking has thus become a regular activity that I do with my Polish friends. Cooking with Poles will teach you more about Polish cuisine, history, culture, and, of course, help you practice your Polish.
There are a number different places to shop at. I will detail a few of them here to introduce you to shopping in Warsaw.
Ryneks – Hala Mirowska
One of my favorite are the massvie ryneks that, at least once, were quite common in Eastern Europe, and that sold just about anything and everything in open-air, small-stall locations. Warsaw now has just one such location: Hala Mirowska, located near the center and which always offers a better deal than grocery stores in terms of cost and quality. I purchase most of my produce, grains and beans, spices, eggs, meat, and cheese from there, and it is one of the only places in Warsaw where I have been able to find cilantro, which is something I usually eat every day in the U.S. They have a ton of various leafy greens and you can find meat that is freshly butchered and well-cut.
The Hala Mirowska has quite a history as well. The baroque-style building, originally built between 1899-1901, was a huge trade center before WWII. It was one of the only buildings in Warsaw to have not been completely demolished during that war. It suffered damage only during the Warsaw Uprising, when it became a site of mass civilian executions. There are still bullet holes in the facade of the building, which makes it a surreal place to shop; without knowing its history, it would just be another fresh market.
There is also an organic pharmacy inside (in addition to many other standard pharmacies), and small shops inside and many stands outside that sell household goods. One can purchase or repair shoes. You can find clothing, jewelry, candles, incense, electronics, books, fabrics, yarn, and magazines at Hala Mirowska. If you're feeling really adventurous and like seafood, I recommend trying some of the dried, salted fish they sell at one of the stands. It's a true staple of any East European cuisine and are excellently prepared (and priced) by the vendors at Hala Mirowska.
Hyperstores and Supermarkets
Nearly anything sold in the U.S. can be found in Poland — you just have to look around. For example, I like coconut milk, but could not find it anywhere for maybe two months after arriving to Poland. One day when wandering around Złote Tarasy, I found a huge Carrefour hyperstore on the ground floor and found an entire aisle dedicated to non-dairy types of milk. The Carrefour also has many different types of tofu and some other specialty vegetarian items. Another place I like to go for vegetarian and vegan items is SuperSam, located in the Wilanowska district. It's a bit further away, but I actually recommend them over the Carrefour. Spar has locations nationwide.
If you are in a pinch and just want to grab something fast on your way home, there is always Biedronka (it means "ladybug" in Polish). I personally have found their produce to be lacking in flavor, overpriced, and their selection to be very limited, but if you need an onion or some garlic, it's useful in this sense. It's definitely the most popular grocery chain in Warsaw, similar to WalMart in the U.S. (which is generally why I try to avoid going there), and can be found anywhere.
Specialty Stores
I also like to shop at Damas, Piotr i Paweł, and Piccola Italia. Damas, is both a Mediterranean restaurant and shop; I buy their homemade, pre-packaged hummus. Piccola Italia is also a specialty shop — obviously Italian specialties — and they also are a little more expensive, but their products are worth the money.
Convenience Stores
As for convenience stores, the most common and popular is a chain called Żabka, which can be spotted easily when walking down a street due to its use of a frog as its mascot. Some of the Żabkas have cafes in them where you can order a latte or coffee to go (but this is rare and has only been developing lately. Also, the newer Żabkas do not use a frog mascot, just the name of the store, on their signs). These convenience stores are everywhere in Warsaw; where I live, there is a Żabka on either end of the street. The second most common and popular convenience store is Carrefour Express, a smaller format of the same chain that runs the Carrefour hyperstore on the ground floor of Złote Tarasy. It's a convenience store just like Żabka, but I have found that they often have a better assortment of roliks and other breads. One last convenience store to mention is 1 Minute. These convenience stores are located in the passenger tunnels of the Metro, and are similar to 7/11 in the U.S., selling hotdogs, sausages, and other grill items.
Finally, I want to stress that in Poland, convenience stores always have some fresh produce, often times have a meat deli inside, and are not limited to packaged junk foods as most are in the U.S. In fact, there are more whole and freshly prepared foods in convenience stores here than junk food. And this is something I am really going to miss when I return to the U.S.: the convenience of healthy food in Poland.
So take advantage of Polish food and spend as much time with your Polish friends as possible while you are abroad! There is no better way to learn and have a lot of fun then cooking with locals!
– Rebekah Switala
More About Living in Warsaw
This resource is part of the much larger SRAS Guide to Living in Warsaw.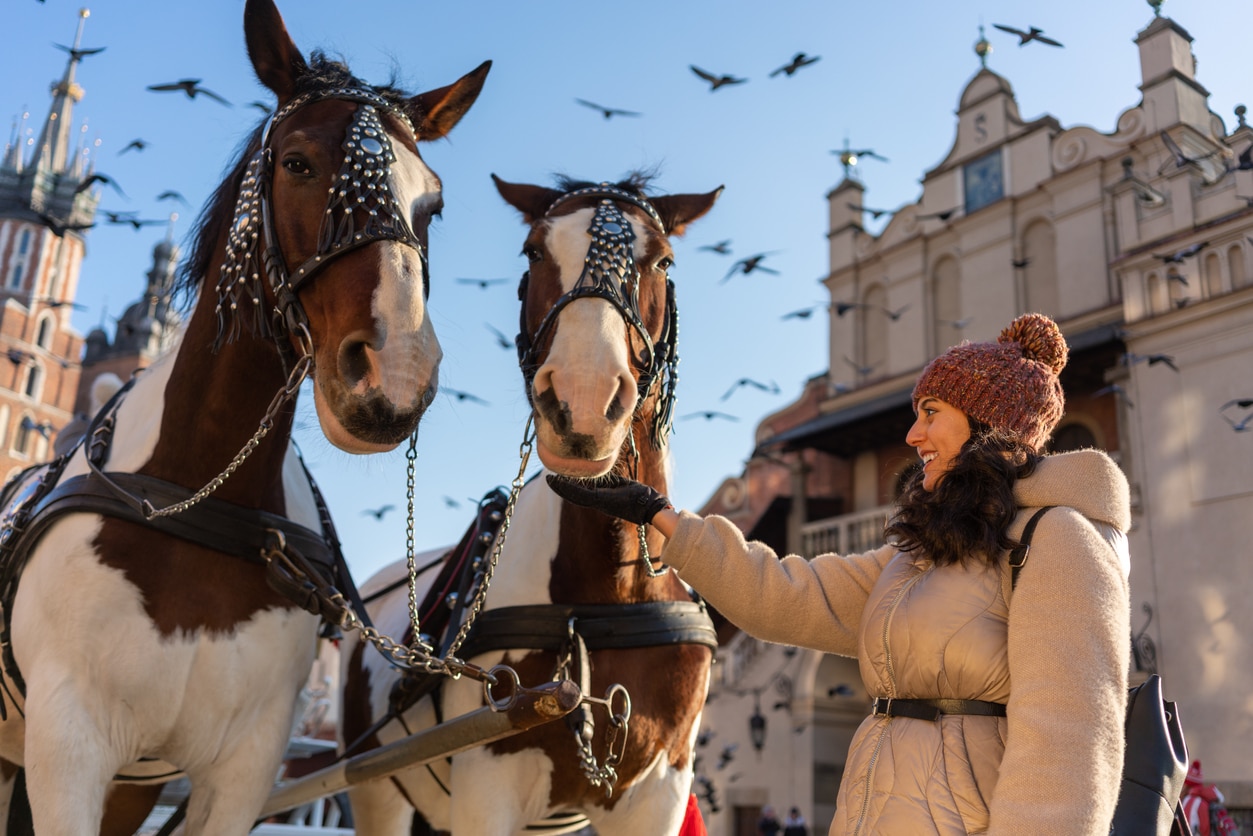 Kraków is Poland's most visited city and is known as the county's cultural capital. Krakow's old town was one of the first UNESCO World Heritage Sites, is a UNESCO City of Literature, and offers amazing architecture, history, and food. Just 2.5-3 hours from Warsaw, you take in many of the major sites in three days […]
0 comments