There are affordable gyms, scenic jogging routes, and other fun ways to stay fit while in Warsaw! Below is some advice on how to take advantage of all that city has to offer. It comes from SRAS staff on the ground in Warsaw as well as graduates of SRAS programs in Poland.
This resource is part of the much larger SRAS Guide to Living in Warsaw.
Recommended Gyms in Warsaw
Perhaps the greatest anxiety I have whenever I go abroad centers on maintaining my workout routine. Back in the U.S., my university has an amazing gym, which offers yoga and pilates classes, aerobics classes, free weights, workout machines, and an indoor and outdoor swimming pool. In Warsaw, however, my university (Collegium Civitas) does not have a gym or fitness center for students and faculty. Thus, I did some digging into what gyms in Warsaw had to offer.
I was quite pleasantly surprised: I have been able to keep up on all my activities, and have even found new activities that are not offered in the U.S. (at least not in Austin, Texas). As a result of my research, I have compiled a list of fitness centers, which activities they offer, and prices of classes and memberships, so as to better assist future students who will be studying in Warsaw.
Starting with CityFit, I would recommend this gym to those who are here short-term (one or two months or less), as they require no contract or membership to access their classes and/or trainings. You simply pay for the amount of time you train. They offer 24-hour passes (about 25 PLN – currently worth about $6); 72 hour passes (35 PLN); a one month memberships (about 90 PLN); and a one month membership that includes a consultation with a personal trainer, priced at 199 PLN a month. You do not need a credit or bank card to sign up; they accept cash for sign-up and for monthly payments. CityFit is enormous; up to a few hundred people can be working out a time, and their equipment is new and always being updated. I was interested in their Total Body Conditioning group class, which is a workout class blending cardio and strength exercises for the purposes of body sculpting. It was an hour long class which ended with 10 minutes of stretching. I left the class feeling energetic mentally and physically (note these classes are not offered in English, but they are very easy to follow along with, and taking fitness classes in Polish helps you learn more Polish!). They have two locations in Warsaw, one in the center (Ronda ONZ), and one in Targowek. If you do sign up for a membership here, your membership entry "card" is just your fingerprint. You do need to bring your own lock for your locker (or you can buy one there), and a towel if you decide to shower there after.
Warszawska 26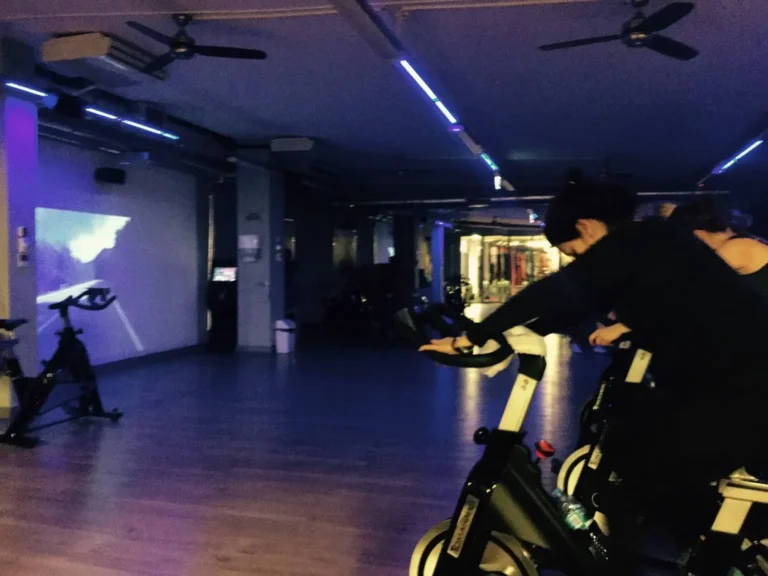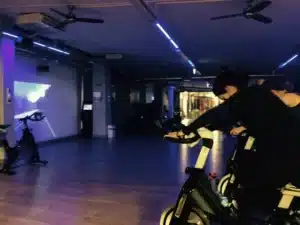 The gym I ended up joining, however, is Jatomi Fitness. I was extremely impressed with this gym. They have 36 centers in Poland. Every center has a sauna. You simply pay an extra 40 PLN a month to have unlimited access to towels, and their showers are beautiful. They supply shampoo, conditioner, and body wash, and you do not need to bring your own lock, as they give you a rubber wrist band that has a sensor in it that locks and unlocks your locker. These rubber wrist bands are really smart: They will not lock another locker if you have already locked one, and they only unlock the locker they locked. Your entry "card" is also your fingerprint, staying consistent with CityFit. Oh, and they are also (thankfully) open 24 hours a day.
What really led me to decide upon taking a membership at Jatomi Fitness, however, were the classes they offer. I am a yoga and pilates fan, occasionally engaging in Tabata workouts. They offer all these classes, plus a unique class called Body Balance, which is a fusion of pilates and yoga. And for students studying in Warsaw at Collegium Civitas, they have a center inside of Zlote Tarasy, which is right across the street from Collegium. This location is in fact their largest center in all of Poland (and even has a jacuzzi). Of course, classes are not in English, but they were easy to follow along with in Polish, and the instructors pay extra attention to you if you inform them that your Polish is lousy. Their membership options were a little strange, though: You can buy a month membership for 149 PLN, but if you sign up for a five month package, it costs 129 PLN/month. You must inform them a month prior to the end of your contract that you do not wish to renew, otherwise they automatically charge your card. You must have a verifiable bank or credit card to sign up.
Siedmiogrodzka 1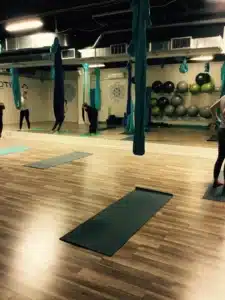 Because I am such a devoted yogi, however, I had to find an actual yoga center. I found this place called Fitology, which offers something called aerial yoga. This is a fusion of aerial silk dancing/arts and yoga (see this video on youtube). I laughed so much throughout this class, and overcame fears. The other people in the class were in the same state, so it was a thoroughly bonding experience for all of us, and I made some friends. I go to this class every week now. It lifts my spirits, gives me a sense of belonging, and forces me to face my fears and embrace challenge. The class was taught in Polish, but the instructor spoke beautiful English – as did many of the other students – which helped me feel more relaxed and at ease as well.
Fitology also has the most flexible paying and membership options yet. You can walk in to a class and only pay 40 PLN, or you can buy four weeks for 140 PLN – which gives you unlimited access to their classes. They also have an 8 week option at 200 PLN, a 10-week option at 270 PLN, and memberships for 3 months (540 PLN), 6 months (890 PLN), and one year (1390 PLN). Fitology also has no preference on how members pay; you can pay with cash or card. They are open Monday through Saturday, from 7 am to 7:30 pm.
There are more gyms around Warsaw (such as McFit and Holmes), but from what locals have told me, and from what I myself have experienced, I can recommend any of the three places I've described above. There is some type of fitness activity for everyone in Warsaw! Keeping up with your fitness routine should be no problem here whatsoever.
Guide to Running in Warsaw
Running is one of the oldest forms of exercise there is and for good reason: it's cheap and easy (to understand, hard to do sometimes). It's also an amazing way to explore a brand-new city. When I came to Warsaw, Poland I was excited to put some rubber to the road. In this article I'll share a few of my favorite running routes in the city, some overall tips, and the best places to get the basic gear needed to start clocking' those miles.
First off, I'm no Usain Bolt. Running is still a challenge for me and my times, speed, and distance are nothing to write home about; but that is what is great about running- it is an activity in which you're only focused on improving yourself and can start at any skill level. I'll be honest though, starting off can suck. Your lungs will burn, legs are going to hurt, and the urge to stop will be a very tempting choice. The thing is, it gets easier; you just need to keep at it. Over time you'll get stronger, faster, better and this is when you'll fall in love with running.
Onto my favorite routes in Warsaw! First up is the old town loop. This one is great because you get a taste of everything Warsaw has to offer: modern skyscrapers, beautiful parks, and the charming old town. The route starts off by passing through the Ogrod Saski Park and then onto the Ogrod Krasinskich Park which has the quaint Palac Krasinskich in it. The route then loops down around the Multimedialny Park Fontann and up into the beautiful oldtown of Warsaw. It got a little difficult here because the oldtown sits up on a hill but running up the narrow streets to get there was a fun path. One thing to note about running in the oldtown however, is that you should watch your footing on the cobblestone. It's better than some other European cities (looking at you Rome), but still be careful. After finishing up in the oldtown I was cramping up and decided to cut my run there. Luckily, Warsaw is a very scooter/bike friendly city, so I just rented a scooter and zipped back home.
The next route is the Pole Motowskie Park route. Warsaw has some amazing parks in it and can boast that around 50% of the city is green space. Pole Motowskie Park is one of the larger ones and serves as a great place to put down some easy miles on flat, open trails surrounded by nature. With this route the most difficult part is actually getting to the park. I opted for renting a city bike (which can be done for only 1 PLN – or about 25 cents) to get me there quick and still with all the energy needed to get a good run in. I really enjoyed running in this park because it was well varied, had a good amount of people (and dogs), and had some great fall colors.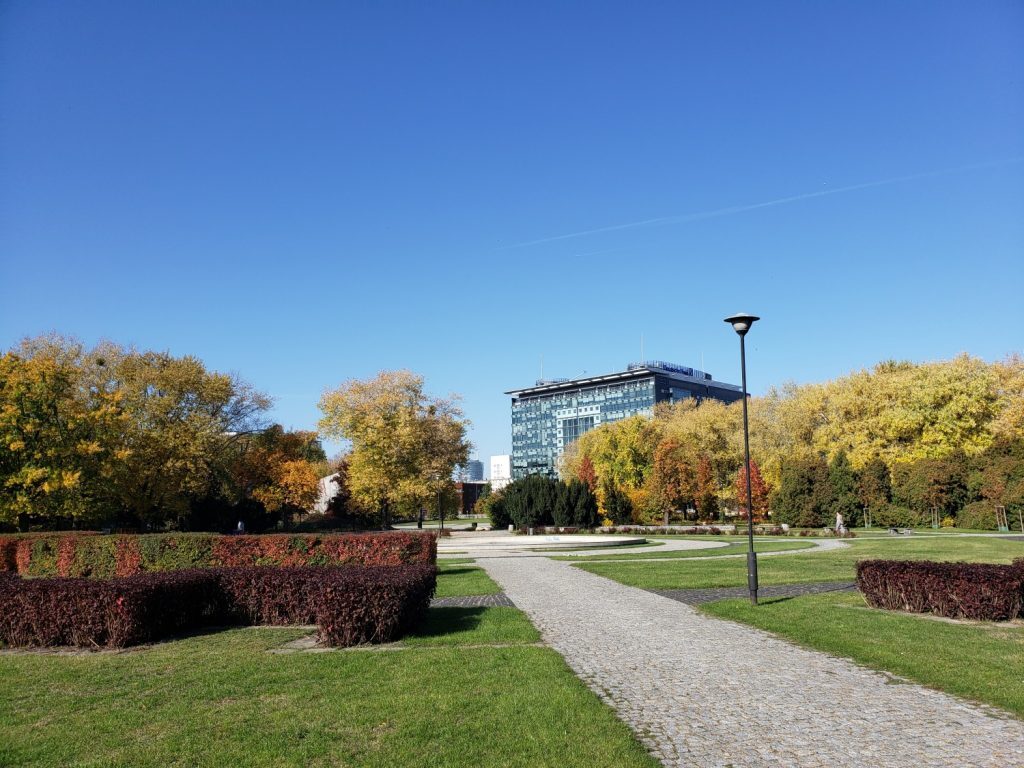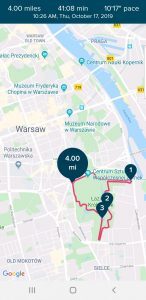 Next up is the Lazienki Krolewskie Park route. Lazienki Krolewskie is the crown jewel of the parks here in Warsaw and is an amazing place to run. Again, the same strategy of renting a scooter or bike can be used to get to the park or you can use public transportation as well. You're going to want to save your energy for the run because this park is huge and it is well worth exploring every inch. I ran the outskirt of the park for the most part but had to tuck in to get an up close look at the beautiful Palac na Wyspie. This route is also great if you are feeling like you need an escape from the hustle and bustle of the city. Midway through my run I took off my headphones and all that could be heard was the pounding of my feet, hard breathing, and the soft sounds of nature. My absolute favorite part of this route though, are the trees. It's Fall right now, the leaves are turning, and the trees make this a stunning run.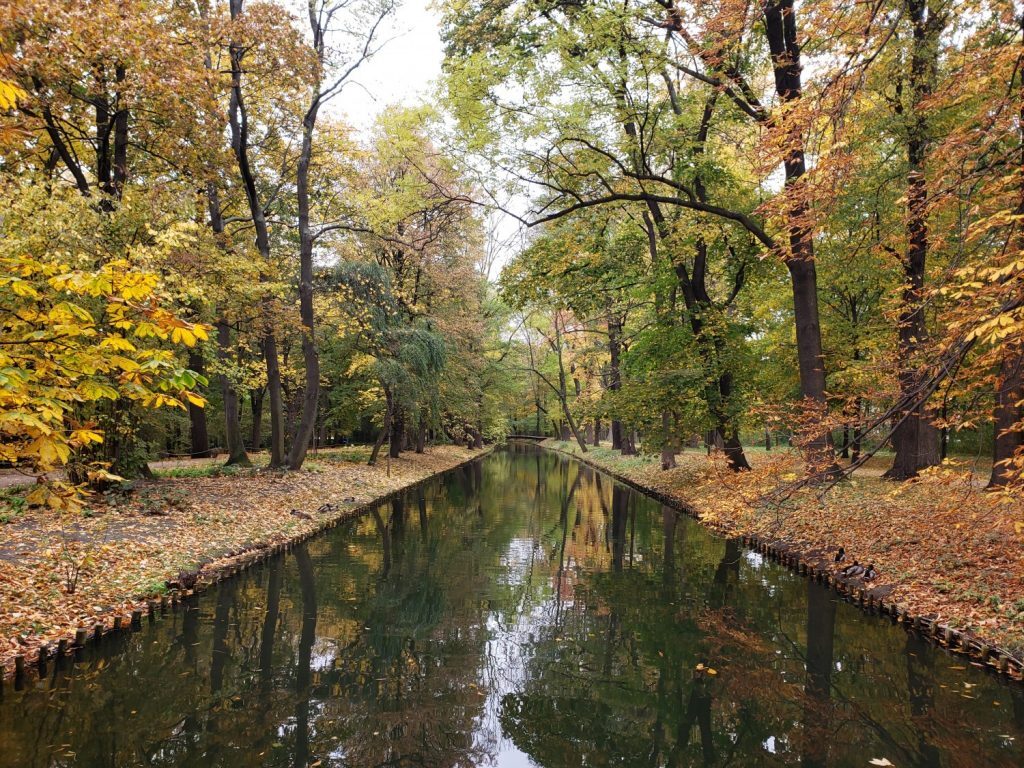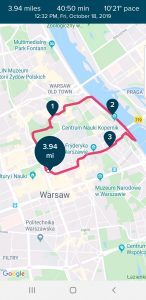 The final route I call the river run. This route lets you get up close and personal with the beautiful Vistula River, and provides views of the modern bridges and the PGE Narodowy Stadium. The pathway along the river is akin to the Chicago Riverwalk and offers a modern pathway with plenty of benches, modern art instillations, historic monuments, and great views of the Praga District of Warsaw. I love this run because it offers a very open setting. Unlike other cities when Warsaw was reconstructed after the Second World War, they made sure to leave the river-front free of major skyscrapers. Additionally, the design of the pathway along the river makes it a fun and partially technical run that encourages you to push yourself to go faster, and before you know it you'll be at the end and wanting to do a second lap.
I think if I had to choose a favorite route of those listed above, it would be the Lazienki Krolewskie Park route. There is just so much space, trees, and pathways that running it feels different every time. You can go further and further and can start to combine routes and have fun and varied runs.
Buying Exercise Equipment in Warsaw
For running equipment, the most important piece of equipment to have is proper, comfortable footwear. Specific running shoes are probably the best option; lightweight, comfortable, and generally not too expensive (300 PLN). If you're looking to run in rain or even in freezing weather outside, consider a pair of trail runners. These offer more grip on the bottom and waterproofing/resistance; but may be slightly more expensive (500 PLN). Other than that, just some running shorts or tights and a fast-drying shirt and you're good to go. Oh, and music! Podcasts or some good music are a must when I run so I suggest some Bluetooth headphones for this. In Warsaw there are three stores I suggest checking out for running gear. The first is Martes Sport, they sell sports equipment for a wide variety of activities and carry the big-name brands. Here I purchased a dry-fit running shirt for 80 PLN ($20) and trail runners for 440 PLN ($110). The next store is Zgoda FC. They specialize in football (soccer) and running equipment, a pair of running shoes sells for 600 PLN ($150). The last store I suggest is Sklep Biegacza (Runner's Store), and they specialize in everything running. A pair of Nike running shoes sells for 500 PLN ($125) and a long sleeve running shirt for 229 PLN ($58).
Running is one of the best ways to explore the new city you are studying in, stay in shape, and not blow the budget. If you are ever in Warsaw and have the time to squeeze in a run, check out some of the routes above for a great experience! I'll finish with this quote from American marathon runner John Bingham: "If you run, you are a runner. It doesn't matter how fast or how far. It doesn't matter if today is your first day or if you've been running for twenty years. There is no test to pass, no license to earn, no membership card to get. You just run."
– Eric Nesbitt
Ice Skating at the National Stadium, Warsaw
Being away from home on the holiday season can be tough, especially when you are in a foreign country. To counter the blues felt by this, my friends and I decided to strap on ice skates at the National Stadium in Warsaw where they were hosting festive ice skating! In this article I'll share background info about the stadium, all the details you need about skating in Poland, our experience skating, and of course, pictures!
The National Stadium
The PGE Narodowy, known in English as the "National Stadium," is the largest football arena in Poland, with a seating capacity of nearly 60,000. Its construction began in 2008 and opened in time for the 2012 EUFA Euro Cup. The opening ceremony attracted many Polish celebrities and finished with fireworks. The National Stadium also hosted several 2014 FIFA World Cup qualification matches with Poland vs. England being the most well-known as bureaucracy prevented the closing of the stadium's massive retractable roof before rain started to fall. The roof itself cannot be retracted while wet, meaning it had to be left open as torrential rains turned the pitch into a swamp. The match had to be rescheduled to later in the week and the stadium is now sometimes jokingly called "the national swimming pool," especially by soccer fans.
In the off-season, the stadium is often used to host concerts by such stars as Madonna, Beyonce, Paul McCartney, Cold Play, etc. Ed Sheeran performed in August of 2018 and drew a record high concert attendance of 104,836 over two performances. The National Stadium is also used for other large events too: American football, the Science Picnic, volleyball, motocross, and, of course, holiday ice skating festivals!
During the winter the National Stadium serves as Poland's largest indoor skating complex. Two ice rinks are set up where the pitch usually is; rink A, a traditional oval rink for children and adults, and rink B, a smaller, circular rink used for children and skating classes. The rinks open in December and are used until early March on Mon-Fri from 15:00-23:00 and on Sat-Sun from 09:00-00:00. On Friday and Saturday evenings there is a disco skating event with a live DJ. Skating lessons take place on Saturday and Sunday mornings.
Tickets are purchased for a session of up to 75 minutes. Rink A sessions cost 14 PLN ($3.66) on weekdays at 16 PLN on weekends. Rink B sessions are slightly cheaper. There is no student discount for ice skating, but the price is also already quite low and includes skate rental.
Also available is a curling rink, a small Christmas market (selling hot beverages and snacks), and an ice hill, which is a sloped sheet of ice for tubing! The easiest way to book tickets is online but you can also go to the ticket counter at the stadium and purchase them there as well.
Our Ice Skating Trip at the Stadium
The CC (Collegium Civitas) Student Integration Organization planned the ice-skating trip to the National Stadium for a Saturday afternoon in December. I, and several of our friends booked our tickets online and met up at the nearby metro stop Centrum Nauki Kopernik and walked across Świętokrzyski Bridge to the National Stadium. Seeing the National Stadium up close was very impressive. We initially struggled to find the skating entrance, which turned out to be on the northeast side, facing downtown Praga. After we got in, and had our e-tickets checked we had to wait about 20 minutes for our time slot to begin. In that time, we got our skates picked out and strapped on. Putting them on was very easy, just two claps at the toe and ankle. Seeing the National Stadium from the inside was very impressive too. This was the first European football stadium I had visited and I could only imagine the atmosphere during a national match.
Once our time to skate began, we hit the ice! Literally! I fell within the first minute of skating. I used to play hockey when I was younger but apparently my legs forgot how to skate. However, none of us turned out to be experts. After about 30 minutes, it all came back for me and we skated to the music, raced, tried some figure skating moves, and had an all-around great time! We even rented Bobby the Seal (only 10 PLN/ 2.5 USD) to help our more novice friends balance and we took turns pushing them around.
Towards the end of our skating session the ice rink got quite crowded. There were a couple near misses with some young kids who were darting in and out of those who were skating a little slower. I'd say if you do not have that much experience with skating come earlier in the day when it will be less busy or look into lessons on the weekends! I guarantee it will be a fun time!
After we finished skating, we were all quite tired and a little sore and decided to head over to Praga to eat. We had a nice Vietnamese meal and joked about some of our wipeouts we had on the ice.
Being away from family during the holiday season on study abroad is tough, but there are great activities that you can do with friends to overcome this homesickness. Ice skating at the National Stadium is one of these! It's a great way to form new traditions, get a little exercise, and make fun memories with friends while on study abroad. If you are in Warsaw in the winter give ice skating at the National Stadium a go!
– Eric Nesbitt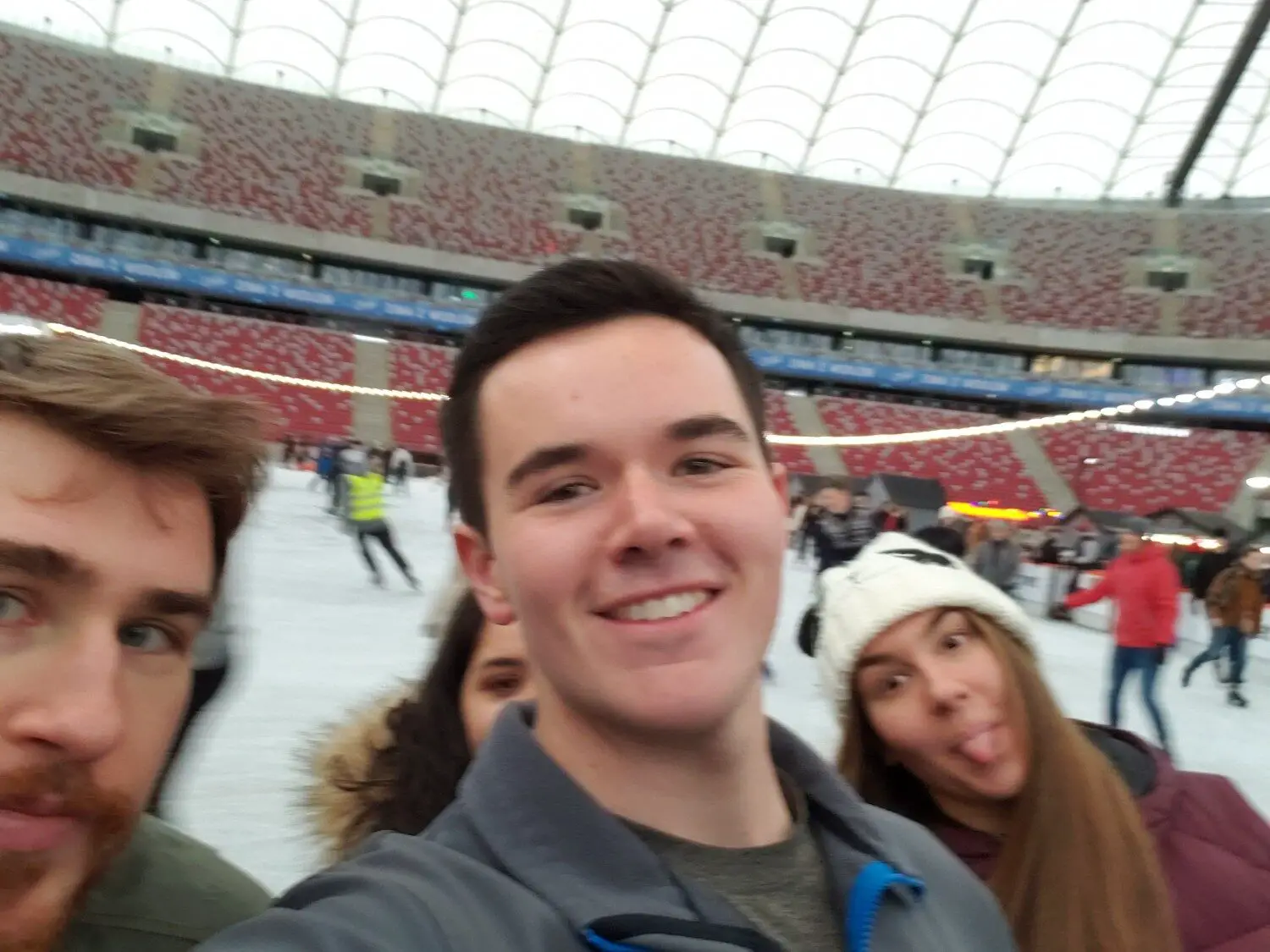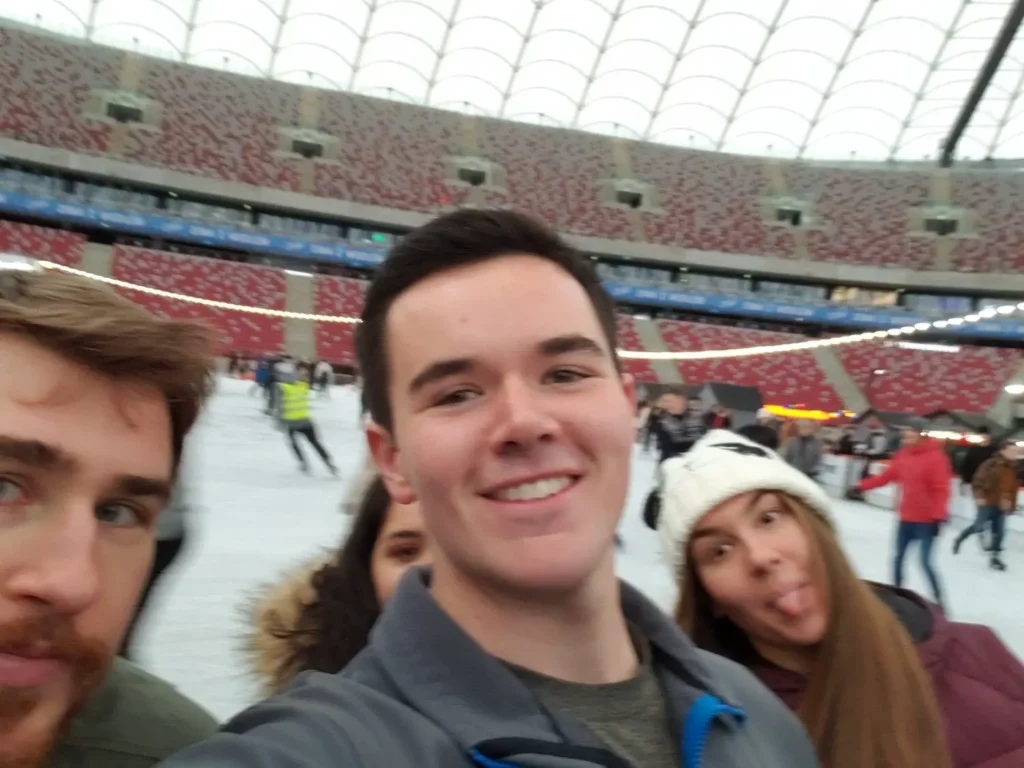 You'll Also Love
This resource is part of the much larger SRAS Guide to Living in Warsaw.
Other Warsaw city information on this site: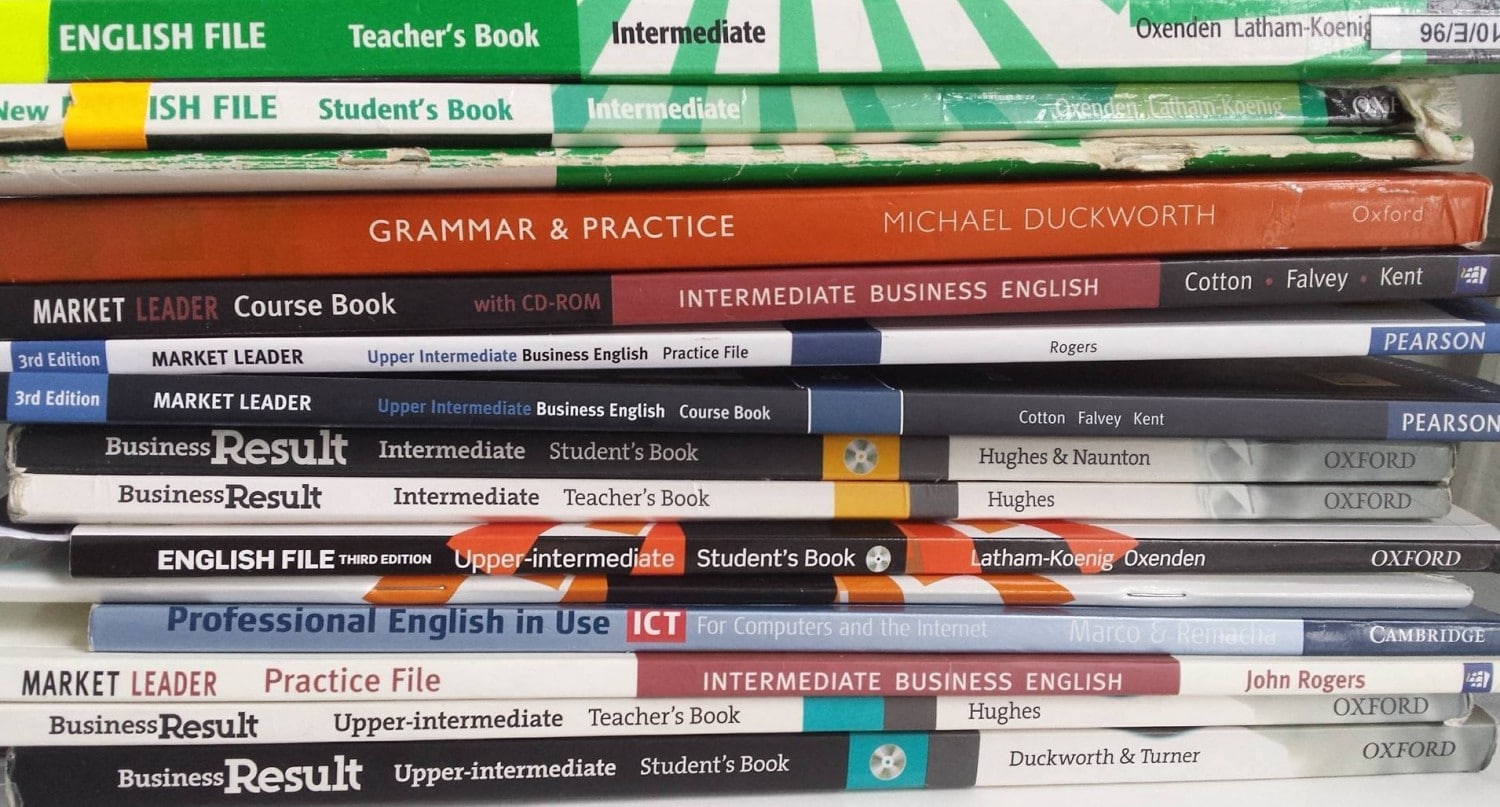 Before arriving in Warsaw, I'd opted to take a month-long intensive Polish language course. This option is an add-on to the study abroad program offered by SRAS and arranged by Collegium Civitas, and it's something I absolutely recommend for future students.  The actual university semester begins in the first week of October, but I arrived on […]