What's it really like to live in Riga, Latvia for a semester? Staying long-term in a city is much different from just vacationing there. You'll need to navigate more of the practical, everyday services of the city and budget to include more miscellaneous and long-term expenses. Thus, this guide covers everything from haircuts to pharmacies and from gyms to computer repair. Its advice comes from SRAS staff on the ground in Riga as well as graduates of SRAS Programs abroad.
A Practical Introduction to Riga
Riga is a historic trading center officially founded in 1201. For much of its history, it was ruled by Germans, Swedes, and Poles. In its architecture and layout, Riga feels very European. In the center, colorful, historic buildings line narrow cobblestone streets that lead to central squares and leafy parks. 
Riga is a northern coastal city and cultural capital that receives moderate precipitation. Bringing rain gear for any summer or semester abroad is advisable. Riga is also a highly walkable city, so waterproof, comfortable footwear is also always a must. Most museums, exhibitions, and shows offer student discounts, so make sure you pack your American student ID.
For students studying Russian as a Second Language with SRAS, Riga offers a great opportunity to immerse yourself in intensive courses and Russian-speaking homestays. Most residents in Riga also speak or at least understand Russian, although the language now increasingly competes for space with Latvian and English, which are increasingly more common.
In summer, make sure to bring a swimsuit, sunscreen, and chapstick for visiting the beautiful Baltic Sea beaches. Average highs hit about 75 in July and August and the sky is only dark for a few hours between midnight and four. Because of this, people and birds are often out late loudly enjoying the summer evenings, so eye masks and ear plugs can also be helpful.
In winter, average lows reach about 20 degrees in the darkest days of January. The sky will only brighten for a few hours a day, meaning that vitamin supplements and plenty of physical activity will be helpful in keeping you feeling well.
Budgeting Basics for Riga
Students in Riga report spending about $100-150 a week average over the course of their stay. This covers moderate eating out, city transport, school supplies, modest weekend entertainment, and other general living expenses. Note that this guide assumes €1.00 is about $1.10. Prices current as of August, 2023.
Packing beforehand: Bring appropriate clothing (see above), gifts for friends and/or host families are encouraged, a water bottle with a filter, and any prescription medication you are taking in amounts to last the duration of your time abroad. Check our packing guide for more information on preparing for your trip.
Card Fees. Call your banks and credit cards! Let them know the dates you'll be abroad, otherwise, they tend to shut them off when they appear abroad – assuming they've been stolen. Note that most US banks will charge fees for every transaction you make abroad. $5 and/or 3% for every ATM withdrawal, for instance, is common. Make sure you understand these fees and factor them into your budget. See our Guide to Managing Cash Abroad for more information.
Recommended Banks/ATMs: ATMs are everywhere in Riga and generally trustworthy. Some major banks to look for include Swedbank, Luminor, and Danske Bank.
Flexibility: You should always plan some flexibility into your budget. There will always be expenses that you didn't plan for – a new umbrella, a better coat, a short trip that a new friend invites you on that is too good to say no to, you get the point.
Food and Shopping in Riga

Average weekly total food spending: ~$55-90 per week
Groceries: SRAS students will live with a host family that will provide two meals a day. While the need for groceries is thus minimal, Riga has two major chains, Rimi and Maxima, and multiple markets if needed. Make sure you discuss with your host family using kitchen space if you want to buy food to pack lunches or cook for yourself at all. Both stores have multiple formats. Rimi Mini or Maxima X are similar to American convenience stores while Rimi Hyper and Maxima XXX are similar to Walmart. Both offer discount cards. Rimi's is an app. Maxima's app will not work on an American phone, so the card must be obtained by filling out a simple physical form at the store and paying 99 cents.
Riga Central Market is historic and a great cultural experience. It's full of fresh vegetables, fruits, fish, and meat. You can also purchase souvenirs, clothing, and prepared food. Practice your haggling skills in Russian! Just make sure you have cash as cards are often not accepted!
Cheap Lunches: The larger grocery stores, listed above, will have deli counters that can offer a cheap lunch.  You can also grab prepared sandwiches or pastries there and keep your lunch budget to an absolute minimum. For a slightly higher-end and more comfortable experience, try LIDO, a chain that serves traditional Latvian food. Many locations have lunch specials, including a main dish, soup or salad, and a dessert for €4.99.
Eating out: Between the different fast-food restaurants, cafes, and kabob shops, it is easy to find a quick meal for about €8-10. Kiosk or supermarket deli meals can be about half that. Plenty of sit-down restaurants are available for a more robust and relaxing meal, costing roughly €15-25. For a top-tier dining experience, expect to pay €50 or more – and plan to treat yourself at least once – as Riga does have a blossoming culinary culture that is reveling in the revival of traditional foods!
Student Reviews of Eating Out in Riga
Transport in Riga

Average transport spending: ~$11-22 per week
Riga's busses and taxis are generally cheap and reliable.
Maps: Google maps and CityMapper are two of the best apps for navigating Riga and its public transportation system. They are often the most up-to-date on bus times, construction, and traffic.
Public transportation: As you'll be at a homestay and traveling everyday, definitely get a month pass for any full month you'll be abroad. These cost €30 – and thus will limit your basic transport expenses to just €1 per day. Travel on the bus, trolley bus, and tram within Riga all use the same ticket. Tickets are also available for smaller time periods and single rides, good for use later in your stay. Buy a tickets from a Narvesen, Rimi, or Maxima (all major food sellers), or download the Rigas Satiskme app (Apple or Android) on your phone (side note: you must have internet access and a charged phone with you to use your ticket via the app; not having these is the same as not having a ticket and you can fined up to €100 for this).
Taxis: Use the Bolt smartphone app. Like other taxi apps, it uses a complex algorithm to calculate the cost of each ride when you order it (weekends are more expensive, for instance). Most rides around town will run less than €10. Do not hail cabs from the street. The apps are much more secure. Connect your credit card to the account for maximum security (no bargaining or cash involved!).
Bikes and Scooters: Probably the most convenient service is stand-up scooter rentals from Bolt, which uses the same app as the taxi service and costs 20 cents per minute. Tuul is another stand-up scooter service and costs 20 cents per minute (or 15 if you reserve the scooter in advance). Lastly, Ride offers seated scooters/e-bikes that run 15 cents per minute.
Communications in Riga
Average total spending for communication: $3-5 per week

See our Packing List for more information about bringing electronics abroad.
Mobile service and data: There are three major providers in Latvia: LMT, Bite, and Tele2. LMT is largest and most popular. You can pick up a €3.99 physical or e-SIM at any Narvesen, Rimi, or Maxima (all major food sellers), and set up your service by following the instructions on the card. You will automatically receive one week of unlimited 5G and SMS as well as limited calling. After that, you will go to the store every week and ask the cashier for a recharge of the LMT Internet Plus, which costs €3.50. Call the number on the receipt and enter the two codes as prompted, and you will once again have seven days of service. If you have any issues, program staff will happily assist you. Having a good data plan is extremely beneficial because most people in Riga use WhatsApp.
High-speed Internet: The school premises has fast internet that you will be given access to on your first day of classes. Internet speeds at the home-stays varies from location to location.
City Hotspots: Free Wi-Fi is available at shopping centers and some restaurants, but it can quickly become bogged down on busy days. Almost every cafe provides free Wi-Fi, and it is usually fast enough to do homework or as a rest-stop to use Google Maps or order a Bolt taxi.
If you are looking to get some substantial work done, try the massive National Library, known as the "Castle of Light," which has quiet reading rooms and fast Wi-Fi. Bring a €1 coin for a temporary key to the mandatory storage lockers but know you will receive that €1 coin back when you return the key at the end of your stay.
Phone and Computer Repair: There are many computer and phone repair stores located throughout Riga that can easily be found on Google to make an appointment or determine the price of services. The price changes drastically depending on the type of device and repair. Also, not all locations can work on newer model phones, such as the iPhone 14. Most stores list the prices for the most commonly used services on their website. It is best to read reviews and compare prices before choosing a location.
Post: Latvian Post Offices (Latvijas Pasts) can easily be found on Google Maps and are frequently located near the big Rimi or Maxima food stores. Prices to send any item differs by weight, distance, and level of insurance. Average letters weighing 20 grams or less are roughly €1.85 to send to America, and a 5-pound package costs €25. Private companies such as FedEx and DHL are also located in various parts of the city.
Health and Medicine in Riga

Budgets for health and medicine can vary based on student lifestyle and needs. Any SRAS student concerned about this category is encouraged to discuss it with their SRAS representative.
Water: Water in Riga is filtered and safe, although it is sometimes heavily chlorinated. Bottled water prices vary by brand and size, but the average bottle costs approximately €1. You will be charged a small 10-cent fee on recyclable bottles that can be redeemed by bringing them back to participating Rimi and Maxima food stores.
Gyms and Fitness: Gyms and fitness clubs are scattered throughout Riga. If looking for the lowest rates, look for a non-chain fitness club outside the center. Make sure to get a month-to-month contract as some gyms will only offer 12-month memberships. If you are unsure or uncomfortable, ask the program staff or your homestay family to act as an intermediary. The two largest and most popular fitness chains are MyFitness and Lemon Gym, both of which have multiple locations in the city and offer classes free with basic memberships that cost, on average, around €50. Riga also has a few outdoor calisthenic areas near some of its parks. These areas include pull-up bars, dip bars, and stations for different crunches/sit-ups. Unlike gyms in the US, expect to have open showers without curtains or stalls and open-style locker rooms with little privacy.
Eyeglasses and Contacts: There are multiple stores to purchase lenses, frames, and contacts if you already know your prescription. The two cheapest options are Vision Express and Fielmann. Fielmann can sometimes make lenses that fit your current frames for less than a whole new pair of glasses. If you don't know your prescription, your eyesight will need to be tested. Prices for glasses are relatively comparable to the United States.
Pharmacies: Bring a supply of any prescription medication you need with you. If you need medication, bandages, medicated creams, or other items usually found in a drug store, find any building with a green cross with the word "aptieka." If you are in the city, most employees can speak in English to help you find something specific; otherwise, use your phone as a translator or ask the program staff.
Medical Services: If at all possible, call your insurance before seeing a doctor. Often, there are certain doctors they want you to see. In general, if you require medical attention, let somebody know and the problem can be solved together.
Laundry and Hygiene
Average total weekly spending for laundry, cleaning, and hygiene: €5-15.
Laundry: Due to the cost of utilities in Latvia, you are asked to reimburse your homestay €5 per load you run. Most will allow you to use detergent for this cost as well. Make sure to discuss doing laundry with your homestay before running your first load. Note that most washers in Europe are tiny, so you'll need to keep loads small. Also, clothes dryers are not widespread and instead you'll find a clothesline or drying rack is most common. There are also many laundromats available, which can be good if you really want a dryer. Larger chain laundromats provide detergent, which automatically deposits into the machine. While laundry services vary in price, expect to pay approximately €7-10 for washing and €2-3 for dryers.
Dry Cleaners: There are dry cleaners in Riga, although they are not widespread. Google Maps and the program staff will be your best option for finding these locations.
Haircuts: Haircuts can be slightly expensive in Riga. Men's haircuts average €20, while women's average around €30, although it depends on the length of your hair. But, if you want to practice your Russian skills, or simply want a new look, there are tons of options to choose from. The best way to find a good barber or stylist is to ask your homestay family, program staff, or Google.
Manicure/pedicures: There are numerous salons that offer manicures and pedicures in and around Riga city. The cost of these services varies drastically by location, size, and type of service. The average price for the average manicure is approximately €35-40 in the heart of Old Riga. The types and quality of service are generally the same as in the United States.
Hygiene: Basic hygiene supplies such as toothpaste, soap, shampoo, and deodorant can be purchased at Rimi, Maxima, or Lidl. Prices are comparable to the United States for these products, many of which you will easily recognize. Feminine hygiene products are also available for less than €5 per box at these locations.
Culture and Entertainment
Entertainment and incidentals are the most variable expenses you'll face. For some great local listings in Riga refer to LiveRiga or EventBright.
Museums: Riga has lots of good museums. Most museums will cost between €0-25 with student discounts.
Performances: Tickets at the movie theater cost between €5-10, but many movie theaters have slight student discounts. The biggest and most luxurious is the Forum Cinema next to the Origo Train Station. There are numerous theaters to watch plays, including the beautiful National Opera. Tickets to shows at the National Opera are very affordable, usually costing less than €30 for front-row seating and €45 for box seats. If you attend, make sure you dress up!
Nightlife: Riga is famous for its beer and breweries. The average beer will cost between €3-5, while cocktails will cost approximately €5-10. Don't forget to find a tasting to sample Latvia's famous drink — black balsams.
Important Cultural Aspects: Smoking is widespread in Riga. Expect public areas to contain active smokers. It is also rare to smile or greet people on the street or in stores. People will walk very close to you on the sidewalks and busses to get past you. It may feel as if they are intentionally being rude, but it is simply that people have a reduced sense of personal space in Latvian culture.
Volunteering: There are many Ukrainian refugees now based in Riga. There are groups that work to assist them in various ways, including in learning English. Ask around and you can find these groups.
Travel from Riga
You can find several student-reviewed independent trips on this site. See more of the country and wider region and meet more of the people while you have the chance to do it quite inexpensively!
Bus: Most travel in the Baltics seems to be evolving toward bus lines. These generally provide the most comfortable travel options. 10 minutes from your school is the Riga International Coach Terminal. You can purchase tickets at the terminal or from a service like Orimo.
Train: Trains are also still an option and can be slightly cheaper and slightly faster, but generally use older infrastructure. 10 minutes from your school is the Origo Train Station. Tickets can be purchased at the station or using the Vilciens app (Apple or Android). Tickets to 30-minute ride to Jurmala (Dzintari station), for instance, can be bought for just a €1.50.
Let SRAS know EVERY TIME YOU LEAVE RIGA! This is for safety, but also because there may be registration or visa issues involved in your trip that we may need to advise you on.
SRAS thanks student Victor Berg for creating the first version of this guide.
More Things to Love About Latvia
Find Out More About…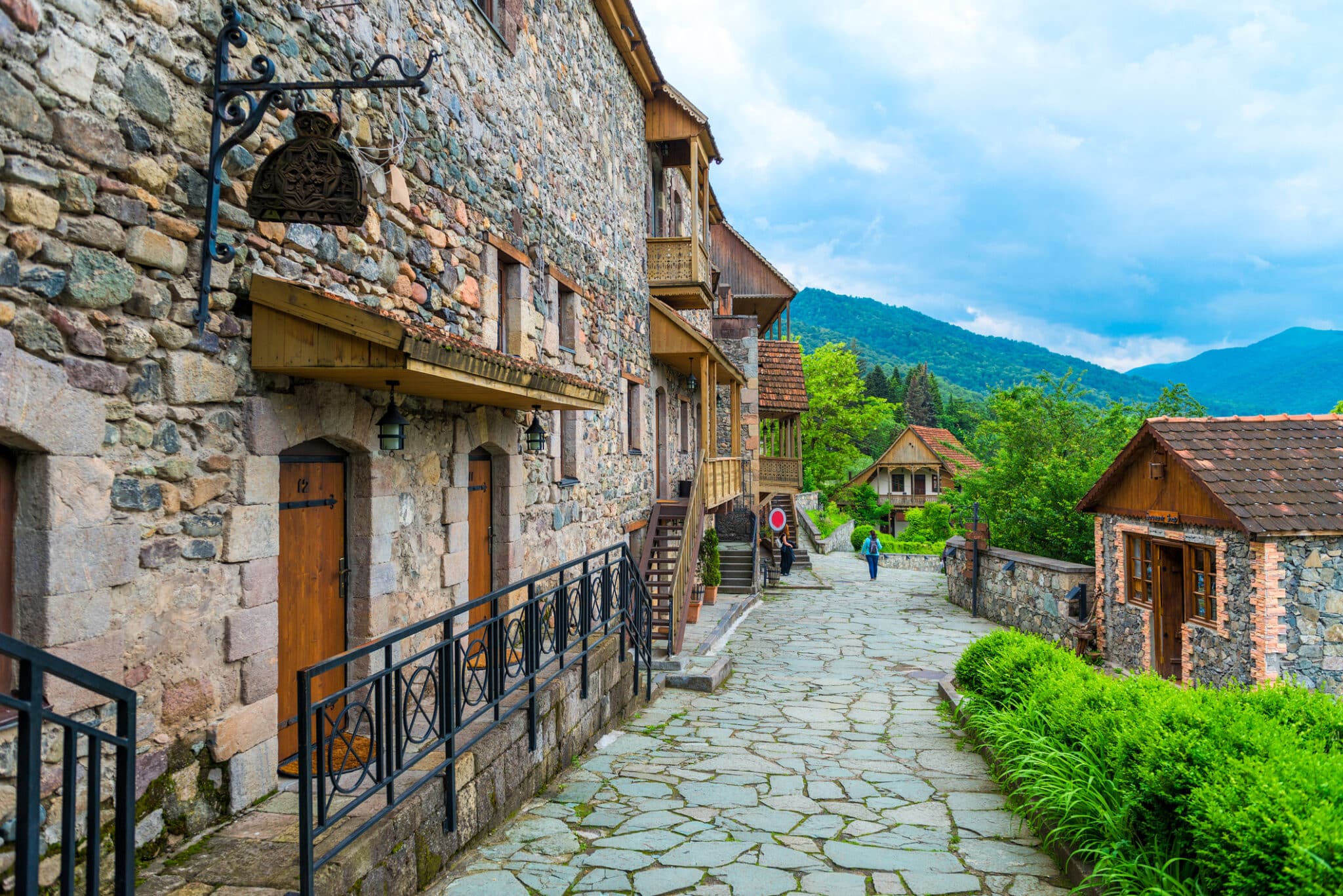 This itinerary will take you from Yerevan to Dilijan National Park with a stop to see Lake Sevan. Within Dilijan National Park, you can see Haghartsin Monastery as well as take a two-hour medium-difficulty hike to see the remains of two other monasteries within the park. Logistics to Dilijan National Park The furthest of these […]
0 comments