We know how it is. Sometimes, after weeks of excitement exploring a new culture in a new city and new country, we all just need a little comforting taste of home. Riga has a blossoming cafe and culinary culture and this includes a number of cafes and restaurants that specialize in pizza, burgers, sandwiches, and even a little Tex-Mex! Below are some options found by SRAS students in Riga that they would like to share with you.
This guide is part of the much larger SRAS Guide to Living in Riga.
---
TexMex in Latvian Translation
TexMex abroad is nearly always adjusted to local tastes – making trying the cuisine while traveling a cultural experience in itself!
---
Audēju iela 16 (inside the Galerija Centrs Shopping Mall)
Review by SRAS Student Tori Berg
Just a 7-minute walk from Liden & Denz, L-Taco is a Tex-Mex restaurant inside Galerija Centrs, one of Riga's main malls. L-Taco may not be entirely authentic (it seems to be perhaps better attuned to local Latvian tastes), the menu boasts a variety of fresh options with several degrees of spiciness as well as a vegetarian choice for every dish type. The diverse menu features an array of choices, including tacos, fajitas, quesadillas, and even churros for dessert! Although much of the menu is in Latvian, the friendly staff were readily accommodating to both English and Russian speakers. With most items priced under €12, it's a reasonably affordable dining experience. There are also large party plate options which range from €18- €30 and can be split between friends.
I highly recommend trying the small beef or pork burrito, wrapped in a warm tortilla and filled with rice, cheese, beans, corn, onions, lettuce and a moderately spicy sauce. During a Saturday visit as a party of 2, we ordered one small sized, medium-spicy ground beef burrito for €6.50, and a small sized, medium spicy pork burrito with fries and a canned soda for €9.50. The burritos were delightfully packed with freshness, and the fries were crisp and piping hot, perfectly complemented by the refreshingly chilled soda.
Upon placing your order at the counter and receiving a pager, you can grab a seat in either a comfortable, low-slung velvet chair or group-friendly table in the dining lounge among the other popular modern restaurant options. You might even grab a drink from one of the several bars in the food court area! Highly recommend trying the Latvian Bauskas Speciālais Tumšais, a dark local beer, which can be found for about €4.
Overall, L-Taco offers a delightful Tex-Mex culinary experience within Riga's bustling Galerija Centrs food court. Whether you're a fan of Tex-Mex cuisine or just looking for a new flavorful meal, this eatery is a great option. The blend of inviting ambiance, friendly service, and tasty offerings make it a must-visit spot for food enthusiasts with an appreciation for modern, metropolitan flair.
Burgers and Sandwiches
The below options are meat-heavy, but also offer some vegetarian options!
---
Baznīcas iela 8
Review by SRAS Student Karina Kilborn
This cute bagel shop is located a few blocks from Liden and Denz, where SRAS programs are hosted in Riga. They have a regular menu and a separate vegetarian/vegan menu with lots of options. They have bagels, salads, smoothies, juices, and coffee. All of their entrees are between 4 and 8 euros and the drinks are all between 1.50 and 4 euros. I ordered a bacon, egg, and cheese bagel with a mango smoothie for 8 euros. The smoothie was really good and refreshing! The bagel also took me by surprise as I wasn't expecting much but it was just what I needed! My friend bought a "Salmon in New York" for 8 euros and it was also pretty tasty. Definitely a place you should visit if you are a bagel lover!
---
Peldu iela 21
Review by SRAS Student Tori Berg
When you find yourself craving a delicious, hearty American burger and fries, look no further than Late Night Munchies! Whether you're battling jetlag or simply yearning for a taste of Americana, this alluring dive-bar-styled diner offers a restorative culinary experience just a 15-minute walk from Liden & Denz. The ambiance exudes a nostalgic charm, complete with familiar 90's and 00's beats, newspaper-lined platters, a polaroid-decorated wall, and an open-concept grill.
The burgers are nothing short of massive, and the fries could almost pass for a meal of their own! Late Night Munchies also serves up mouthwatering pizzas, kebabs, and internationally recognizable sides like onion rings and spring rolls, all with a variety of fun sauce choices. These dishes come in various sizes, ensuring there's something to satisfy hungry globetrotters and locals alike.
For those seeking a quality burger experience, I highly recommend trying The Fiver burger, a simple yet incredibly filling option. Pair it with garlic sauce for the perfect complement to the delightfully salty fries. And to wash it all down, indulge in a local Latvian dark beer, Lielvārdes Tumšais, with its enjoyable sweet caramel and slightly bitter hop taste. The Burger and beer will set you back just €10!
While outdoor seating is available, the nostalgic indoor dining area adds to the ambiance, promising good times and good company.
---
Multiple Locations
Review by SRAS Student Victor Berg
While Riga boasts several recognizable fast-food chains from the United States, Hesburger stands out as a popular and worthwhile alternative. Originating in Finland, this fast-food franchise has a strong presence throughout the city. With one location conveniently located just a 5-minute walk from Liden & Denz, it offers a quick bite and a good lunch option. The menu is in Latvian and English and includes burgers, wraps, salads, sides, drinks, and desserts. For vegetarians, the soy burgers (Sojas veģetārais burger), soy wraps, and soy fries are another great option in addition to the available salads.
The restaurant is easy to spot with its giant red and blue sign, inviting you into a clean and efficient establishment. Place your request at the counter, and your meal will be ready in about 10 minutes. I highly recommend trying their standard cheeseburger (siera burger) and their BBQ burger (Barbekjū burger) with a side of fries and a refreshing drink, which will cost you about €10. When you need something warm, fast, and within a budget, I recommend stopping into one of the many Hesburger joints around to appreciate the local experience.
---
R. Vagnera 18-1
Review by SRAS Student Victor Berg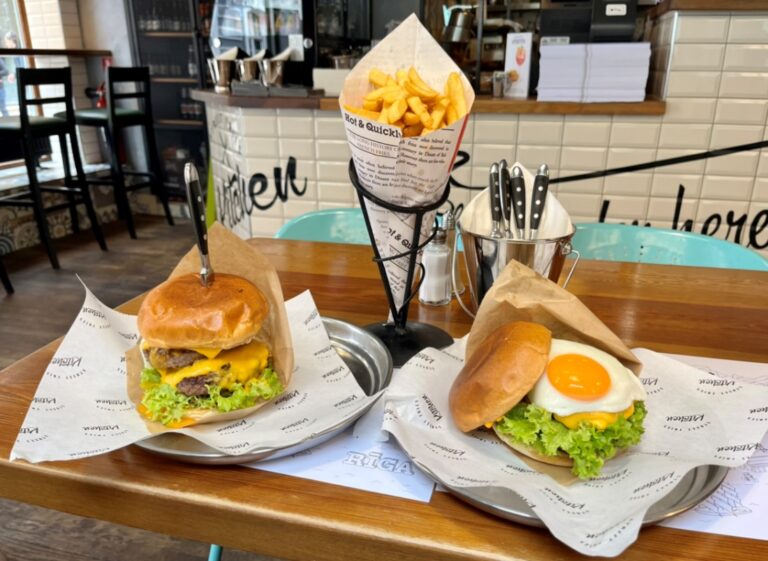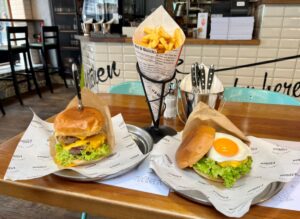 Street Fries Kitchen is a charming corner restaurant that has a dish for everyone! They specialize in Flemish inspired pancakes, waffles, and fries. The menu also includes a constantly evolving array of internationally influenced burgers, breakfasts, salads, desserts, and alcoholic beverages. Street Fries Kitchen also boasts large portion sizes, so come hungry!
Whether you prefer dining al fresco on the exterior seating lining the sidewalk or enjoying the cozy ambiance indoors with bar and table options, you're in for a treat just a ten-minute walk away from Liden & Denz! Upon entering, you'll be greeted by friendly signage instructing you to order at the large central bar that showcases an impressive assortment of wines, beers, and the beloved Latvian favorite, balsams (bitters). Expect to spend between €8 to €12 on either a breakfast, hamburger, or an entrée dish like fish and chips.
I brought a date and we ordered the breakfast cheeseburger, a double patty cheeseburger, and fries for €20. The burgers are thick and juicy, requiring plenty of napkins and perhaps even a knife and fork, while the fries are delightfully hot and satisfying. Vegetarian options can be found in the salads and pancake or waffle dessert options.
The wait for our meal was less than 20 minutes and the menu was available in Latvian, English, and Russian. The establishment is situated directly next to the Galerija Centrs and in Old Town Riga, so be sure to plan a stop here as you explore Riga!
---
Kalnciema iela 35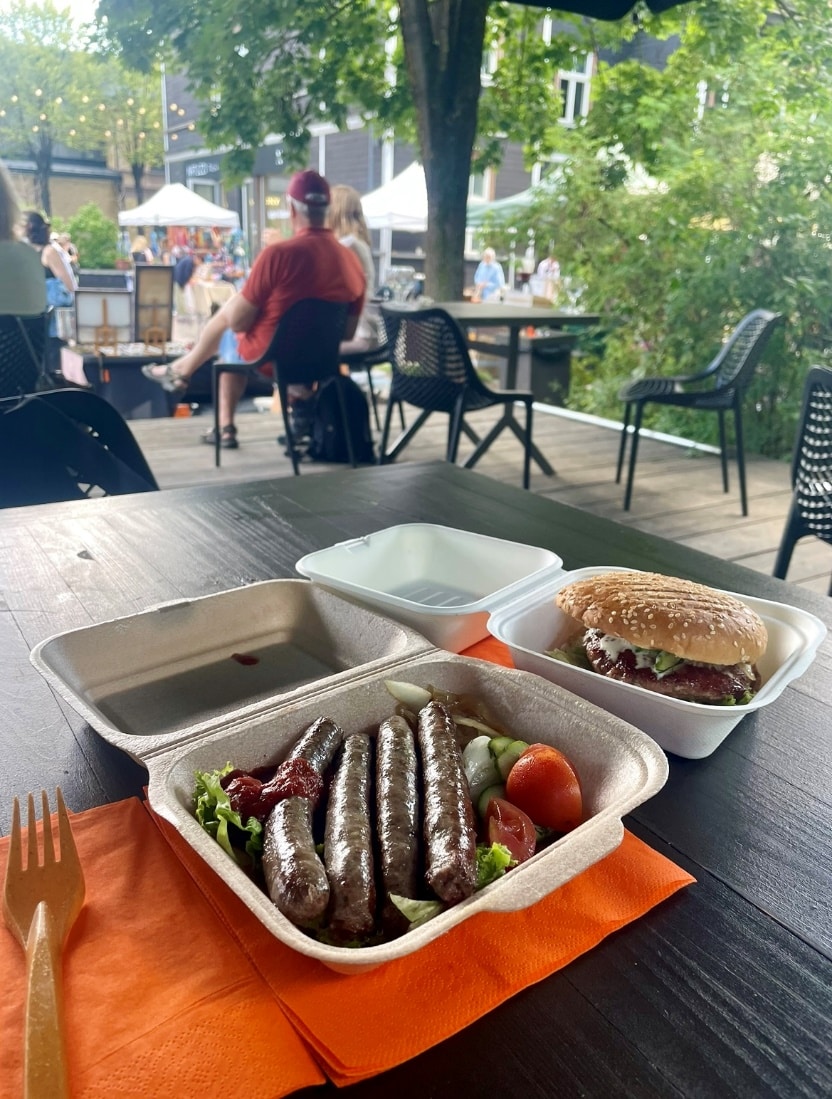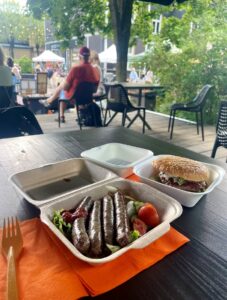 Sidrabi is a meat shop and food stall in Riga's Kalnciema Quarter. The menu offers an array of locally sourced beef, lamb, rabbit, and more. You can choose to take the meat home from their well-stocked freezer and cook for yourself or have them expertly prepare it as you explore the market's other exciting artisanal products. For vegetarians, options are limited but multiple vegetable pestos are available.
I highly recommend the €5 lamb burger and €5 mixed meat sausages. The burger arrives hot and bursting with flavor complemented by a fluffy bun and fresh, locally grown produce. Meanwhile, the sausages are grilled, juicy, and flavors heightened by a bed of fresh salad and spicy sauce. For €10 and a 10-minute wait, my date and I were able to shop for local artisanal souvenirs and bask in the sunshine before sitting down to eat a fantastic homegrown meal in the nearby, shaded public terrace.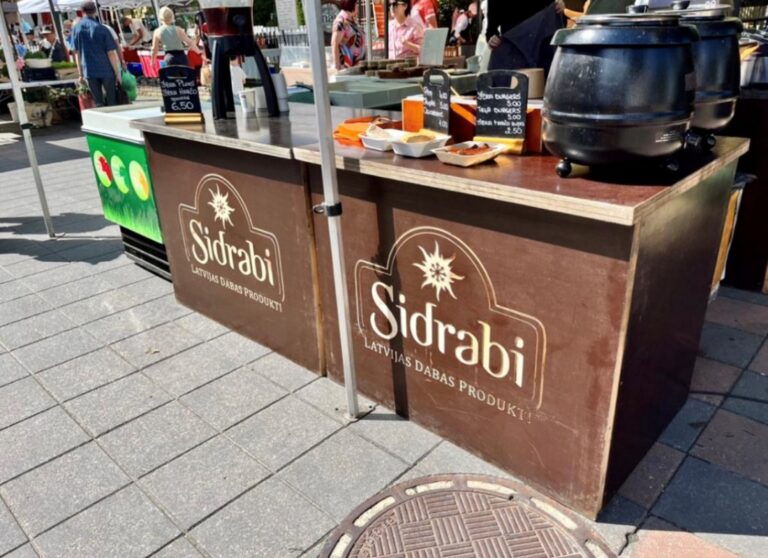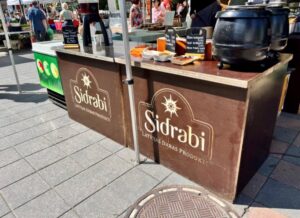 While the menu and labels were only in Latvian, the servers were eager to assist us in English and Russian. They answered our questions and shared insights into their culinary process with us, ultimately enhancing our visit.
If you're eager to savor some of the finest offerings that Latvia has to offer while simultaneously supporting local agriculture and business, I wholeheartedly recommend giving Sidrabi a try. The experience is bound to leave you with a lasting and flavorful impression!
---
Pizza in Riga
If there's one thing the world can agree on, it's that a good pizza always hits the spot!
---
Dzirnavu iela 72
Review by SRAS Student Karina Kilborn
This pizza restaurant is just around the corner from where SRAS classes in Riga are based and an amazing find! They serve appetizers, salads, pizza, desserts and drinks. O'sole Mio also have a wide selection of wines, coffee, lemonades and beer.
They have over 15 different pizza selections including a few vegetarian and vegan options. The pizzas range from 8-16.5 euros for each one depending on what kind of toppings you get.
When you walk in they will seat you inside, as they don't have any outdoor seating. We were seated right away and the servers spoke very good English and of course Latvian and Russian. The pizza came out in about 10 minutes so overall it was a quick stop kind of restaurant with fast service.
I went with five friends and we shared three pizzas: Regina Margherita, Nerano, and Quattro Formaggi and it was just enough food for all of us to share for 40 euros. The pizza was very tasty and good for the price!
---
Tērbatas iela 20
Review by SRAS Student Tori Berg
FTD Pizza is a modern destination for freshly made pizza in the heart of Riga. As the name suggests (it actually stands for F*** That's Delicious), their offerings are delicious. Choose from well-prepared pizzas with the option of various focaccia sides and add a drink from the extensive beverage menu, which features plenty of soft drinks, wines, beers, and even champagne.
The secret to FTD's mouthwatering pizzas lies in their authentic Italian flour for the dough and their use of top-quality ingredients. They allow the dough a long rise, ensuring these pizzas are not only delicious but also easy to digest, making them one of the most enjoyable pizza experiences in Riga.
While possessing ample outside seating, the modern and spacious indoor dining area comfortably accommodates small groups. The menu is conveniently accessible through QR code scans on business cards placed near the entrance.
For an affordable €9, I highly recommend sharing the Margarita Pizza with a friend. Its cheesy goodness is the perfect quick bite while exploring the city. The Peanut Butter Vanilla Coffee stout is also a fun drink to try out for €3.50. A smooth balance of sweet and nuttiness is further complemented by the rich notes of coffee. This combination creates an exceptional and savory experience that's both intriguing and enjoyable. The attentive staff is readily available to answer questions and the menu is available in Latvian, English, and Russian.
Whether you're a pizza enthusiast or simply looking for a satisfying culinary experience, FTD Pizza is a must-visit spot in Riga!
---
Dzelzavas iela 72
Review by SRAS Student Karina Kilborn
This is definitely one of the best pizza places in Riga! They are a chain restaurant and have multiple locations around the city with many different adventurous pizza options from classic to kebab, which is my favorite!
They have over 10 locations around the city and two just each two blocks away from the school. Most of their locations are also open 24 hours, in case you need a late night snack. They have pizzas, calzones, salads, desserts, drinks, and snacks. They have a vegan menu with 5 options that are fully vegan pizzas. They also have a good amount of vegetarian options. You can get the classic style crust, thin crust, or multigrain. You also have the option to get vegan cheese on any of the pizzas. This is quite a casual place where you can get a slice or a full pizza to go or choose to sit inside and eat. Either way, you just order at the counter and they heat up a slice in just a few minutes or a pizza in about 10 minutes. The staff is very nice, they all speak Latvian, Russian, and English! They recommended the kebab pizza to us the first time I went here and it was a delicious pizza! This is definitely a place you can go to for a quick slice after class or a place to go with friends. The full pizzas range from €8.49 to €28.99 depending on what size and toppings you get. Their slices range from €2.69 to €3.89.
My 3 friends and I shared 3 pizzas, the Chicken Pizza with Pineapple, the Hono-lulu and the Kebab pizza. We ordered three 12" pizzas, shared them, and still had lots of leftovers to take home. Our total came out to be around €40 so almost €10 per person.
---
Asian Lunch Options in Riga
Like most of the rest of the world, Riga has fallen in love with Asian food and offers many places for affordable, healthy, Eastern-inspired dishes!
---
Blaumaņa iela 14
Review by SRAS Student Brendan McMahon

Himalaya Restaurant is an Asian restaurant located about 5 minutes from Liden & Denz, where SRAS programs are based in Riga. It's a casual place offering dine-in and take-out.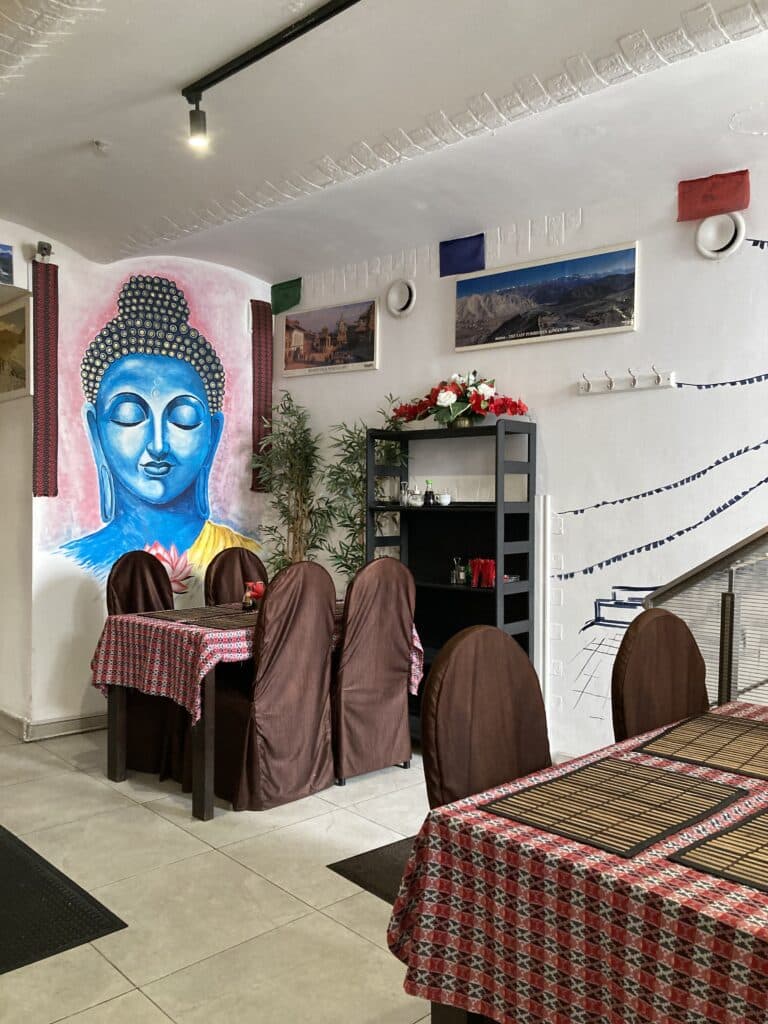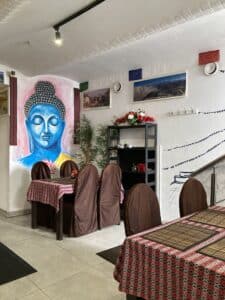 I came at 2:15 in the afternoon on a Sunday, a fairly slow time. The interior was clean and fairly colorful, with some quiet music playing. I was seated and able to order very quickly. The waitress was attentive but only spoke English and no Russian. Not a problem but something to keep in mind if you are looking to practice the language. It wasn't a huge place but had some outdoor seating as well, probably able to hold 25 people max.
The menu was large, much of it with the same Asian fare as you'd find in a similar restaurant in America. I chose the Himalayan Special with tiger prawns and rice (13.40€) plus a still water (1.50€). The food came out quickly, and as it started cooking you could smell it from the dining area. The rice was good, and I enjoyed the sauce of the dish, tomato-based with a medium amount of spice. The portion of prawns was also decent and meaty. The dishes are served separately from the main plate, so if you come with friends you'll be able to share quite easily if you like. Even alone it's a good portion. Overall I was satisfied with the meal for something quick. The other customers I saw in the time I was there were mostly ordering take-out, and they all received their food in good time, so if you're in a rush this ought to be nice.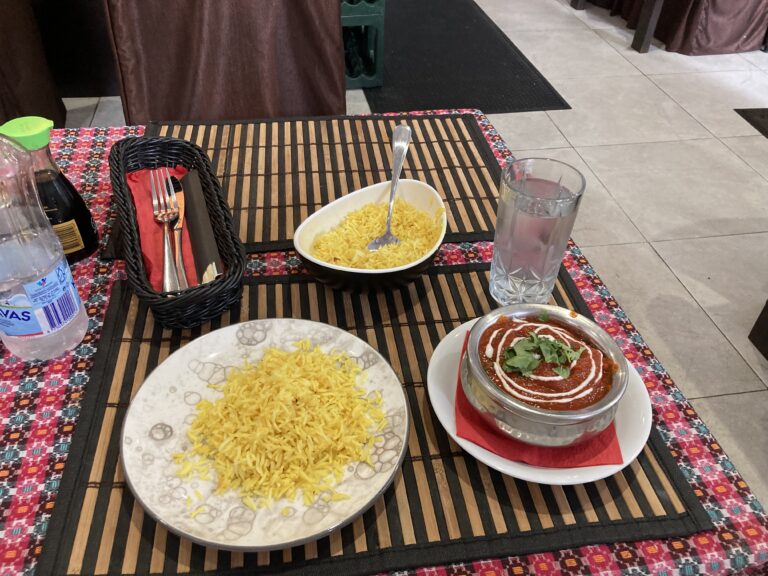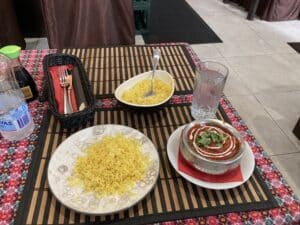 What I'd really recommend about this place is the lunch deal, and that's what it's most popular for. During the weekdays from 11:00 – 5:00 you'll be able to order a set daily meal of some kind of chicken or a vegetarian option plus rice and side salad for 4.99€, or a larger portion for 5.99€. You can add a daily soup for 1.99€ and a drink for 1.00€. This is a great option being so close to the school and the service being fast. It can be a little difficult to find cheap lunches aside from the deli counter at Lido supermarket, but this offer is just as affordable and practically as fast. If you're looking for an alternative while still being within the same price range then this is perfect.
---
Dzirnavu iela 34A, Riga, LV-1010
Review by SRAS Student Karina Kilborn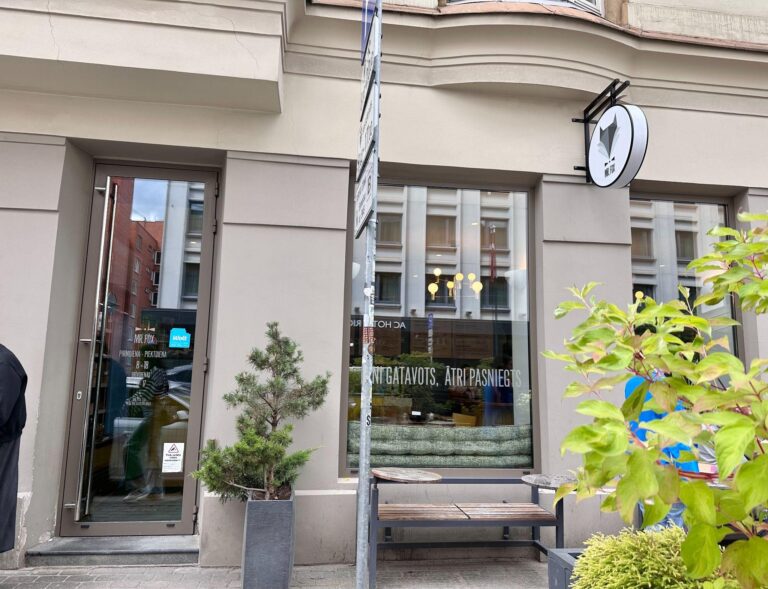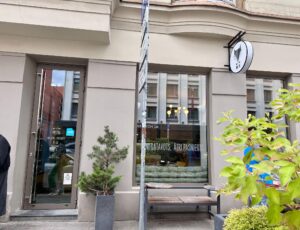 This cafe is located a short ten minute walk away from school. They only have one location in Riga and it is a bit hard to spot from the street as the sign outside isn't very big. They serve everything from basic breakfast foods to poke bowls and asian noodle dishes. Their menu is largely vegetarian and vegan with options to add meat or fish to any dish. Some foods they offer on the menu are waffles, omelettes, poke bowls, salad, and noodle salad. You also have the option to create your own bowl with noodles, vegetables, and tofu or meat/fish. They serve coffee and tea as well. The prices range from €6.50 – €12.50 for food and €2.50 – €4.20 for drinks.
They speak good Russian, and of course Latvian and English. The inside is a very inviting space with a lot of bright color accents. You can either sit down inside or outside or take things to go and the service is pretty quick. If you sit down, they will take your order and serve you at your table as a restaurant would.
I came here for lunch after class and ordered a Rainbow Noodle Bowl with chicken for €11.50 and a Raspberry Lemonade for €3. The Rainbow Noodle Bowl was sweet, warm and very tasty!
---
Stabu iela 14
Review by SRAS Student Karina Kilborn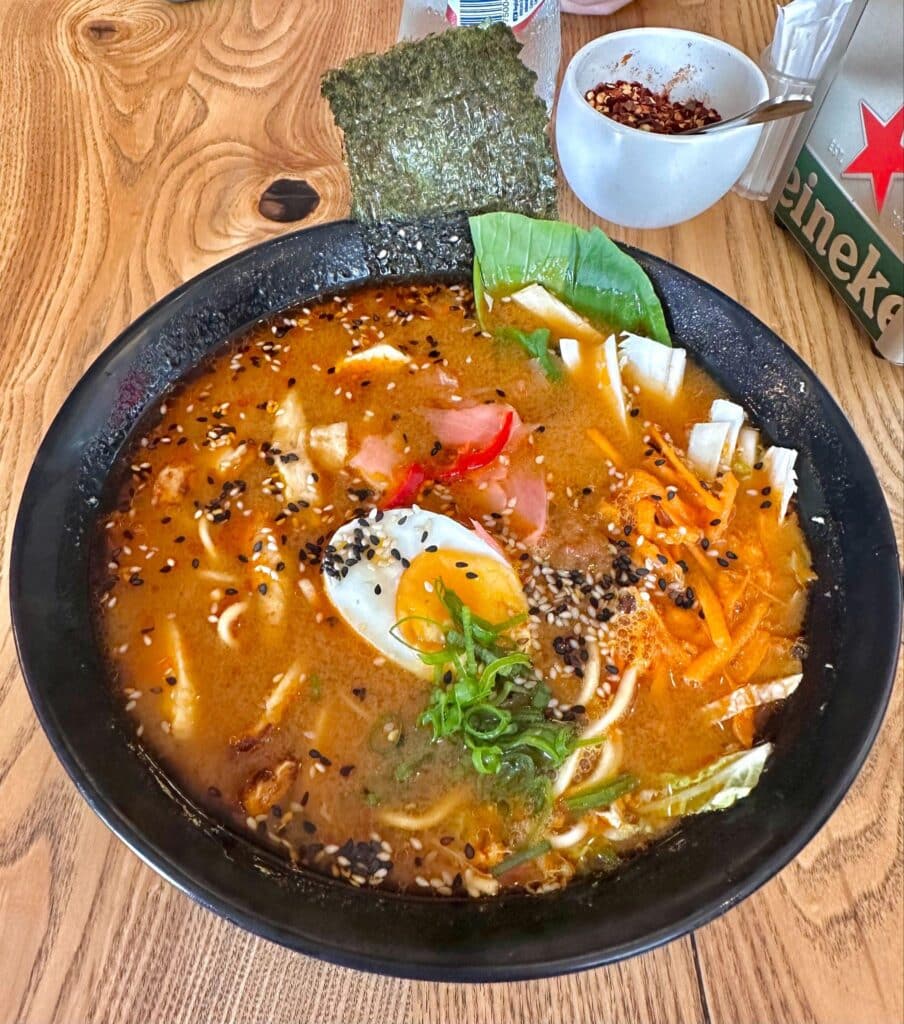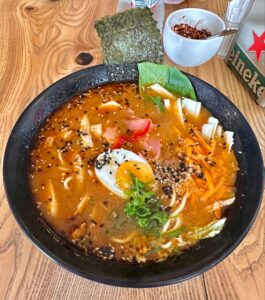 Ramen Riga is an Asian restaurant about a 15 minute walk from school. They serve ramen soups, bao buns, poke bowls, wok dishes, and a number of appetizers such as spring rolls, salads, and gyoza. They have a few vegan and vegetarian options but most of their menu offers seafood or meat. Prices for appetizers range from €2.20 – €4.20 while entrees are between €8.99 – €13.70.
They have limited seating inside and do a lot of takeaway and delivery orders. They have a few tables outside, but overall this is a pretty small and casual place. You order at the counter and they will bring your food to you.
I came with my friends and we all ordered ramen soup bowls, which were delicious. The ramen was definitely a bigger portion than I am used to in the United States.
---
You Might Also Like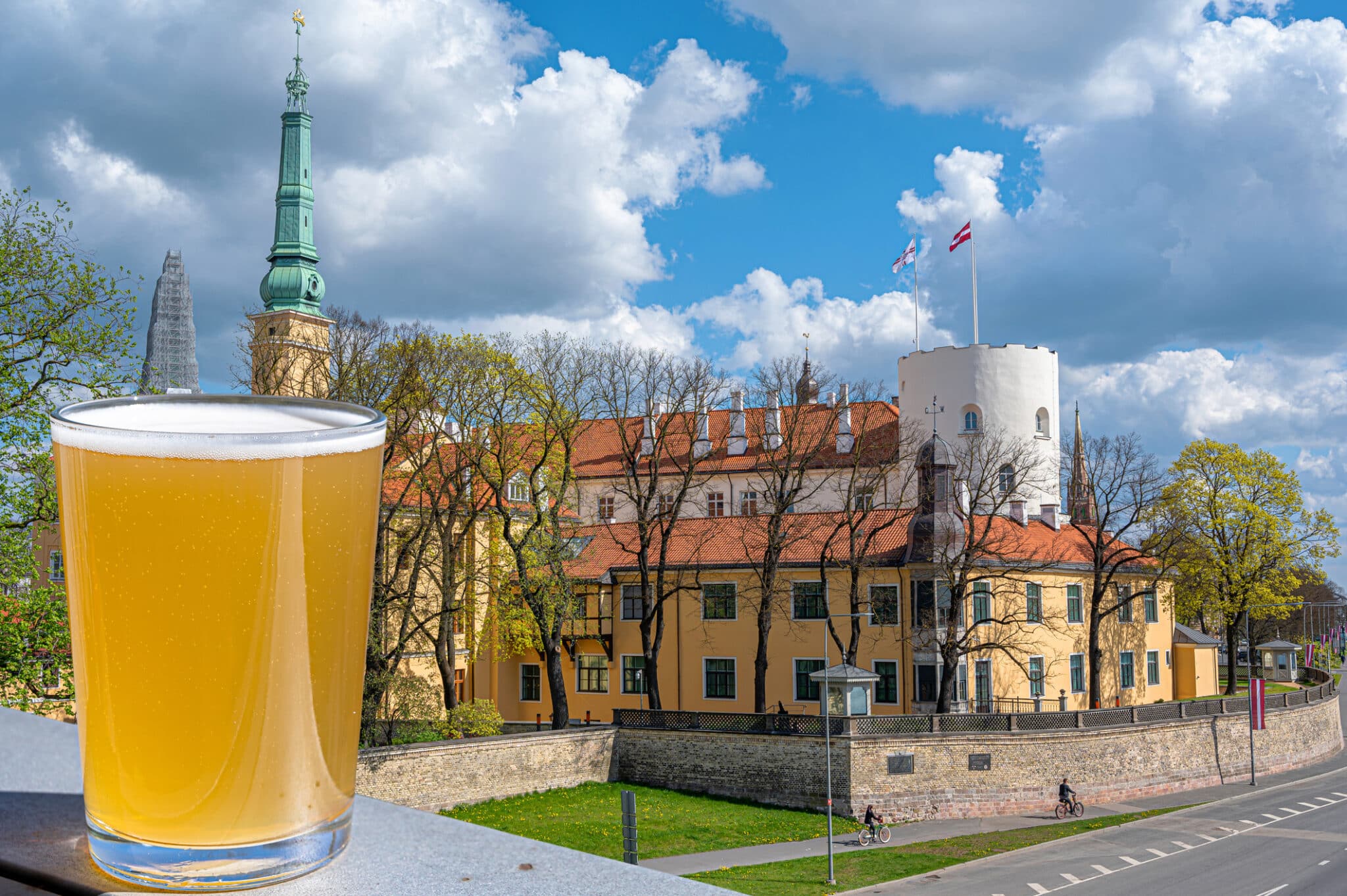 Latvian culture has a long history of brewing. Cider is considered the oldest brewed Latvian drink. These days, herbal balsams (bitters) from Latvia's lush forests are perhaps even better known as the national tipple. Beer brewing also has a long history here, with craft beer becoming more popular each year. As Latvia enjoys a revival […]
0 comments