One of the most exciting things about travel is the ability to try new combinations of flavors and textures! Local food can not only delight your senses, but also introduce you to important parts of the local culture and history. Latvia can, in addition to introducing you to Latvian food, also offer an array of regional foods from across the distant lands of the former USSR. Study, eat, speak, and learn to make the most of your study abroad experience in Latvia! Below are some options found by SRAS students in Riga that they would like to share with you.
This guide is part of the much larger SRAS Guide to Living in Riga.
Multiple Locations
Review by SRAS Student Tori Berg
LIDO bistro is a must on your visit to Riga, Latvia. Here, one can enjoy a taste of Latvian history and filling cuisine. The growing franchise was founded in 1987 by Gunārs Ķirsons and soon after became a recognizable face of Latvian cuisine and culture since the nation's restoration of independence in 1991. The popular eatery possesses several locations throughout Riga with each ensuring a welcoming opportunity for visitors and locals alike to sample traditional Latvian dishes while appreciating the nation's Medieval past. Each is also unique in their offerings – you can browse what each has to offer on their site.
Linden & Denz students are conveniently located between two nearby LIDO branches requiring less than 5 minutes of walking. LIDO Vērmanītis is located at Elizabetes iela 65a, a three-minute walk. This is a larger, beer garden style restaurant with views into the relaxing and lush Vērmane Garden. The open-kitchen concept is also a feast for the senses as patrons are encouraged to select from a myriad of mains, sides, and desserts as well as a variety of beverages to include beer, wine, soda/lemonades and teas.
LIDO Dzirnavas is at Krišjāņa Barona iela 11, a two-minute walk with the added bonus of providing an excellent, student-friendly daily lunch special, perfect for hungry language learners. The cafeteria-style establishment offers visitors the chance to craft their own a la carte meals or effortlessly grab an affordable and filling meal to include a main, side, soup or dessert for €4.60.
All LIDO locations offer a variety of food choices under €8 to include beef, pork, chicken, fish, vegetarian options, soups and salads, and desserts listed in Latvian, English, Russian. All LIDOs have a focus on traditional Latvian cuisine.
The combination of LIDO's welcoming atmosphere as well as inviting sights and aromas make it a popular choice for students like me. I highly recommend trying the savory or sweet blin options filled with different cheeses, meats, and even fruit! Whatever you choose, you're sure to be satisfied and ready to learn about all that Riga has to offer – past and present!
---
Nēģu iela 7
Review by SRAS Student Victor Berg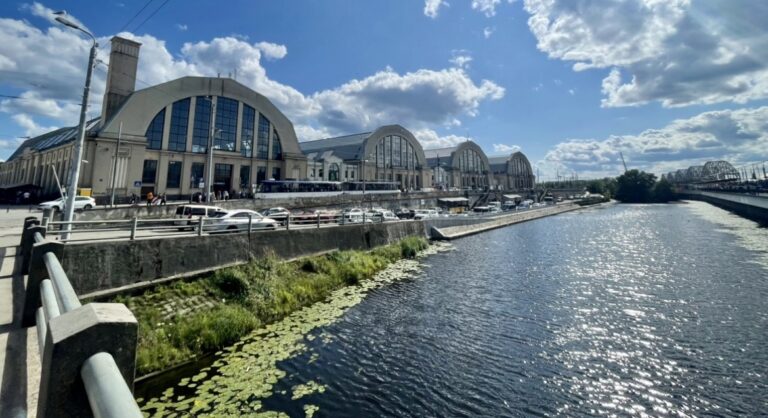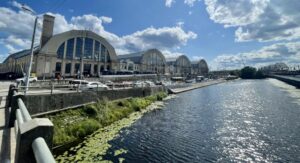 Milti Un Gaļa is housed in a former Zepplin Hanger from the 20th Century, now transformed into the vibrant Centre Market. It offers regional dumplings, blini, and cutlets. Conveniently located just a short 14-minute walk from Liden & Denz, this is a great quick meal option.
Milti Un Gaļa uses locally sourced ingredients, giving authentic and wholesome flavors. Among the menu highlights are the three meat pelmini, the delightful khinkali with pork and veal, and the irresistible dessert vareniki with cherries, each available for about €5. Vegetarian options are available, but largely limited to deserts.
The menu is available in Latvian, Russian, and English. They will make your order fresh in about 10 to 15 minutes. You can also order from their freezer and take your selection home for later.
---
Dzelzavas iela 38 A
Review by SRAS Student Tori Berg
Chayhana is a casual Uzbek cuisine restaurant and hidden gem in Riga! Offering a variety of fresh pastries, soups, mains, desserts, and drinks, this quick eatery is popular with locals and a great chance to try Central Asian food in Riga. Located in a shopping strip with fresh, locally sourced produce available on summer weekends, Chayhana is sure to draw your eyes and nose!
A 20-minute bus ride from Liden & Denz, the ride is perfect to work up an appetite for this easily overlooked eatery. Open seating and friendly service awaits with a menu in Latvian, Russian, and English. Warm and hearty mains like shashlik and fresh shawarma are plenty and incredibly filling. Interior décor is sparse, but the focus is undeniably centered on the excellent and flavorful cuisine prepared by inviting staff. The dishes are also affordable. Everything is under €20 with a majority consisting of €10 or less.
For about €10 you can get a spicy shawarma, cheese cheburek, and your choice of cold refreshing soda/lemonade. I thoroughly enjoyed my meal here and plan to return often for the remainder of my visit to Riga.
---
Ģertrūdes iela 41
Review by SRAS Student Tori Berg

For a taste of Georgian cuisine, I highly recommend the inviting Tbilisi Restaurant! At this cozy location, Georgian chefs create delicious dishes which is perfect for a filling dinner with friends or a lovely romantic date. Located about an 8-minute walk from the Liden and Denz classrooms, this restaurant provides terrace or indoor dining seating with the option of online or telephone reservations – a wise decision given that this is a popular dining destination!
Their menu offers appetizers, salads, soups, home baked bread, and renown Georgian dishes like khinkali – large and satisfying dumplings filled with your choice of meat, cheese, veggies, and broth. Tbilisi also has a sizable selection of khachapuri, meat dishes, baked vegetables, and an array of sauces. Alcoholic and non-alcoholic drinks are also available. Complete menu prices range from €20 and below.
Our Saturday evening party of three were impressed by the ease of reservation making, attentive service by staff, and comfortable seating availability amongst guests. For €50, we ordered more than plenty to share between us and easily had leftovers for the next day. Our khinkali were hot and deeply flavorful, the khachapuri (Georgian cheese bread) delightfully cheesy, and a vegetarian friend's lobio (Georgian red bean and herb soup) was hearty and pleasing. I especially recommend the surprisingly green and refreshing Natakhtari, a Georgian specialty lemonade made with tarragon, pear, or barberry.
---
You Might Also Like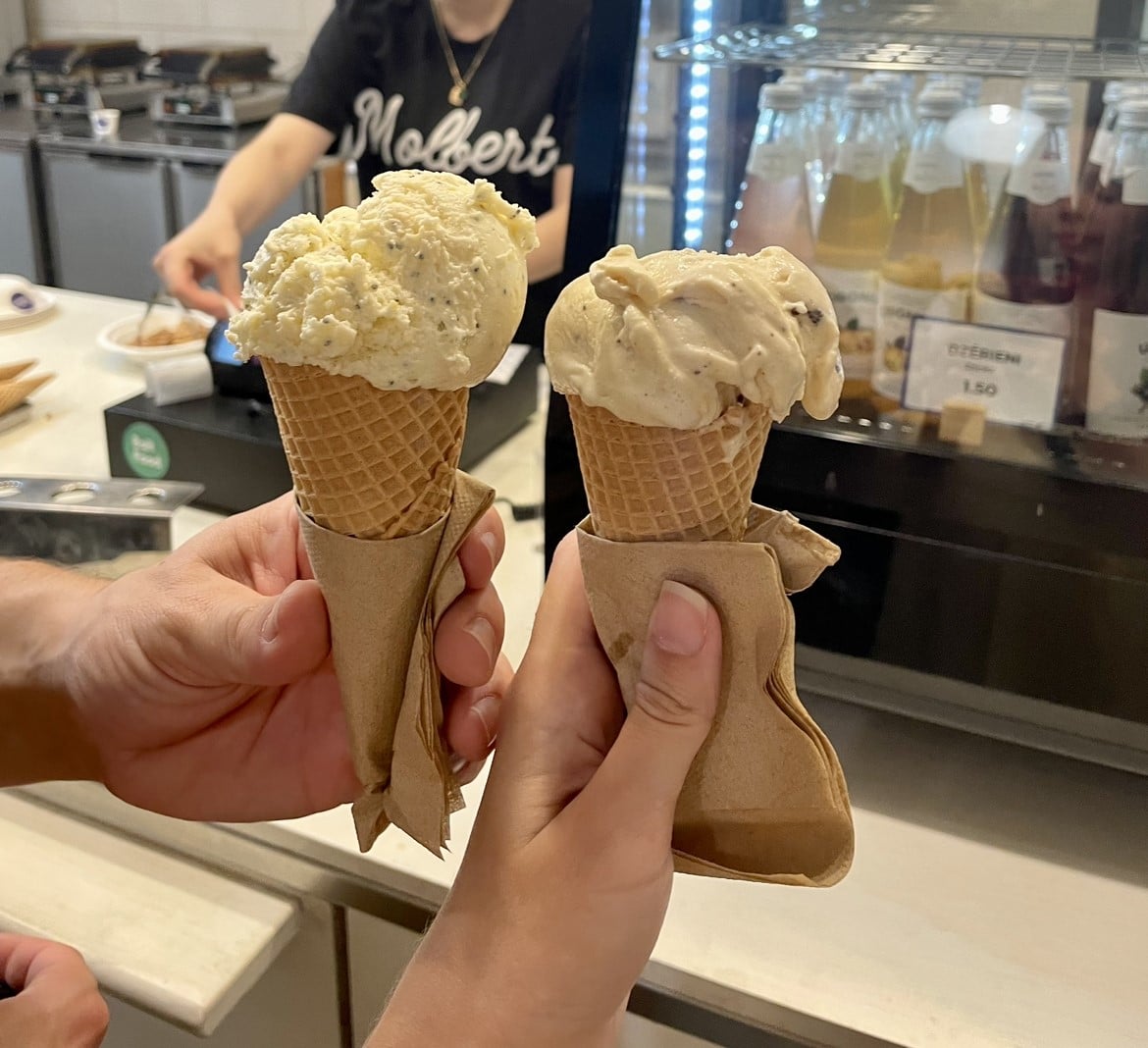 Like any good European capital, Riga's historic streets bustle with people and are lined with quaint cafes, coffee shops, and bakeries offering a place to sit, relax, and enjoy the sweeter things in life. Below are some options found by SRAS students in Riga that they would like to share with you. This guide is […]
0 comments