Liepāja is Latvia's third largest city and future European Capital of Culture in 2027. A mid-size port city on the western-most Baltic coast of Latvia, it is known by some as the "city where the wind is born" due to the constant ocean breeze blowing inland. The city has had many lives as a fishing city, port, and naval base, though today it's best known as a seaside tourist town. Liepāja offers extensive beaches, great restaurants, various monuments, museums, cathedrals, and attractions from all eras of Latvia's history, as well as cultural events and activities that are firmly from the present.
Liepāja makes for an excellent weekend trip for students studying in Riga due to its proximity and the wealth of ways to travel there.
History of Liepāja
Depending on who is telling the story, Liepāja was founded sometime in the 13th century either by Curonian fisherman (a Baltic tribe who then called it Līva) or by the German Teutonic Order (who called it Libau). On 18 March 1625, the Duke of Kurzeme Friedrich Kettler gave Liepāja its city rights and this day is celebrated as the city's official birthday. By the 18th century, Liepāja had grown into a small trade port due in part because its harbor never freezes and can be used year-round.
During the 19th century, the city industrialized, with metal working, trade, textiles, commercial fishing, and shipping being the major industries. The lighthouse, which can still be seen, was built from resmelted ship-wreckage in 1868. After the Russians took control of the city, they built railways and a major naval base for the Russian Baltic fleet.
During World War I, the city suffered major damage. It served as the Latvian capital for a year and a half beginning in 1919 when, fleeing the Germans, the Latvian Provisional Government took refuge aboard the Saratow Steamship. The berth of that ship can still be seen at 59 Old Harbour, near the boat docks. During the interwar period, the city grew and the Philharmonic and Opera House was founded. During World War II, the city was devastated again, fell under Soviet control, and again became a naval base for Moscow.
After the war, new residential areas were added to the city and industrial complexes built to restore the economy. The population grew in part as the USSR moved workers and military personnel into the city. Liepāja became a closed military city.
In 1991, Latvia regained independence and the city reopened. The naval base was permanently closed in 1994. The city has many sites of interest for military history enthusiasts and also hosts a vibrant cultural and artistic scene, with frequent concerts and festivals.
Budgeting and Accommodations
A 3 day stay in the city can be done for 250 € or less as there are many affordable food options and inexpensive places to stay. An average restaurant meal will cost between 10 € and 20 € and hotel rooms can be found from ~25 €.
One affordable option is the Sport Hotel, which offers services in Latvian, Russian, and English, and rooms from 24 € to 89 € depending on room size and bed count.  Located around 20 minutes from the beach and 20 minutes from downtown by foot and less by public transit, the hotel is clean, basic, and a good value.
There are plenty of other hotel and accommodation options you can pick from in the city including a number of hostels other hotels at a range of prices. For those looking for more space and privacy, there are also Airbnb properties available for reservation.
Logistics
The trip from Riga to Liepāja is 2.5 hours by car and 4.5 by bus or train.
The train runs from Riga to Liepāja twice a week on Fridays and Mondays and Liepāja to Riga on Saturdays and Mondays. These schedules are, of course, subject to change and you should double check the available dates and buy your ticket in advance. Tickets can be purchased online on the Pasažieru Vilciens website or in person at the nearest train station. Round trip should run around 13€. The Liepāja train station is located on the north side of the city across the Trade Canal (Tirdzniecības kanāls). There are a few cheap hotels and hostels on this side of the city, though if you wish to travel to other parts of the city for accommodation, Liepāja has a well-developed system of public trams and buses that you can use.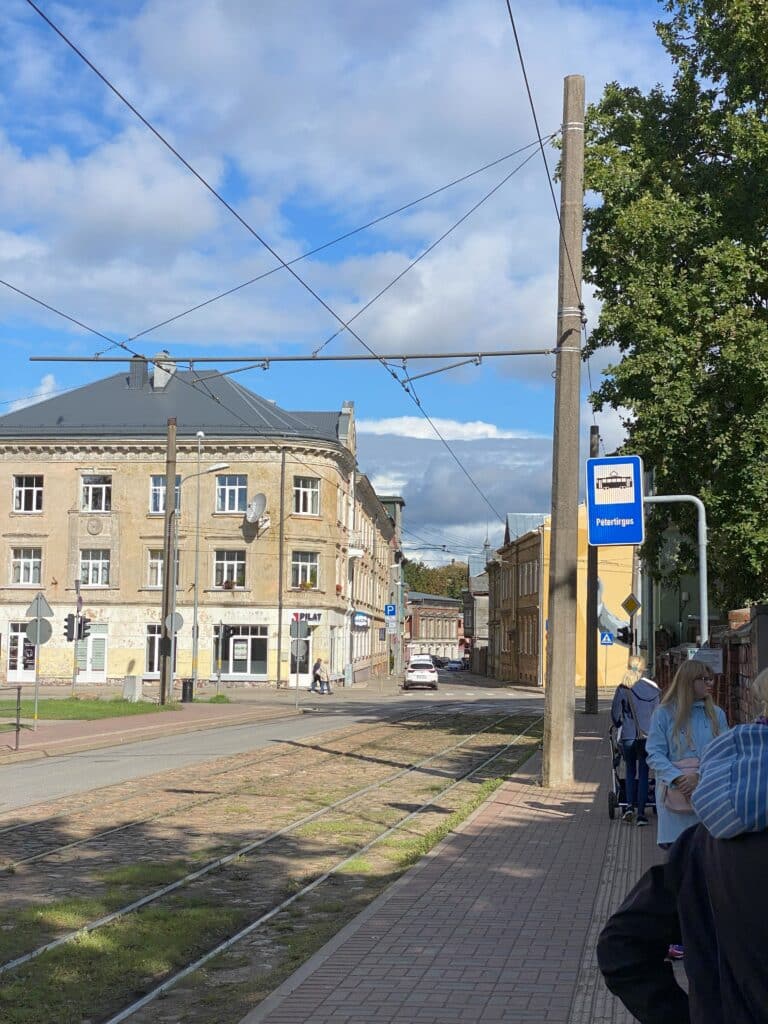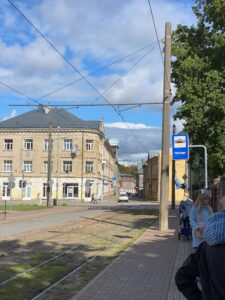 Inter-city buses are another option. There's a few different companies that operate throughout the country, so finding exact time tables can be difficult, but a few options you can look at to compare time and prices to/from Riga are Rīgas starptautiskā autoosta, 1188, and Bez Rindas. You can also go to an inter-city bus station in any given city and buy tickets there directly. In general, bus tickets are slightly more expensive than train tickets (though the difference is a few euros if that). The upside is that buses travel far more frequently than the train.
Public transport within Liepāja is well developed and inexpensive. For travelers who will be making frequent use of the transit system, one-day, three-day, and five-day tickets are available for 3, 6, and 9 € respectively. You can also buy tickets for a specific number of trips. A single trip purchased in advance from one of the ~70 different ticket offices around the city costs 0.90 €. A single trip purchased from a driver costs 1.50 €. A ticket for ten trips is 8.50 €. For more information, see Liepāja's official website. You can use the city's interactive map, Yandex Maps, or Google Maps, to plan trips.
What to See
Liepaja offers many thing to see from gorgeous beaches and historic cathedrals to fascinating museums and tantalizing local markets.
Liepāja Beach: The first and most obvious place to see is the coast itself. The beaches in Liepāja (Liepājas pludmale) are gorgeous and popular to visit any time of year. Even if you are there in the fall and find it's too cold to swim, it is still lovely to stroll along the ocean on a clear day. People parasail, dine by the sea, collect seashells, and scavenge for amber.
Liepāja Seaside Park: Sprawling over 3 kilometers, the Liepāja Seaside Park is a gorgeous place to stop and rest. It has over 170 indigenous and non-indigenous tree species, a footpath and bike trail, cafes, a playground, and football pitches as well as basketball and tennis courts. Concerts are fairly frequent here.
Monument for the Fisherman and Sailors Lost at Sea: Located in Liepāja Seaside Park, this monument was designed by architect Gunārs Asaris and sculptor Alberts Terpilovskis. It commemorates sailors, seamen and fishermen who have lost their lives at sea. It features a woman standing high on a pedestal looking out to the horizon for family and friends who will never return. It's a popular place to take photographs and commemorate Liepāja's long history with the sea. An attached plaque also commemorates US airmen lost when a US military spy plane was shot down near Liepāja in 1950.
Peter's Market: Designed by architect Louis Melville in an Art Nouveau style, Peter's Market has been a space where local farmers and craftspeople have sold their goods since 1910. It's open every day from 8am-6pm, except Sundays when it closes a few hours earlier at 2pm. Usually there are in-season vegetables, fruits, forest items (like foraged mushrooms and herbs), flowers, fresh baked breads and pastries, as well as souvenirs and antiques available. The market spills out of building and into the square nearby.
St. Joseph's Cathedral: The inner walls of St. Joseph's Cathedral will greet you with beautiful murals from the 19th century. This Catholic church, the largest in Kurzeme, is well worth a stop, especially for those who want to get a sense for the religious and architectural history in Liepāja and how it has progressed through time. In 1747, a small stone church was built on the site, but as the congregation grew, a newer, larger church was designed by architect Louis Melville in 1896 in a Neo-Romantic style. The old church was incorporated into the design of the new one, instead of being demolished, and can still be seen today by looking to the left side of the church at the Chapel of the Virgin Mary. A model ship hangs from the ceiling, a gift from a ship's crew that prayed for safe passage before setting sail.
Holy Trinity Cathedral: Consecrated in 1758, the Holy Trinity Cathedral is a late Baroque-style building with classical features and a Rococo interior. The church is known for its luxurious interior with gold finishing and its tall towers, which visitors can climb for ~3€. Another unique aspect of the church is its pipe organ, which is the largest and oldest unreconstructed mechanical organ in the world. It was built by Heinrich Andreas Contius in 1779 and has been used in services and for demonstrations to visitors ever since.
Great Amber Concert Hall: The Great Amber Concert Hall is a lovely place to spend an evening listening to music or attending a show. The hall hosts any number of events from conferences to visiting musicians and shows by the Liepāja Symphony Orchestra. A ticketed hour-long tour is also available for anyone who wants to learn more about the history and construction of the building.
St. Nicholas Orthodox Naval Cathedral:  Built in a 17th century Russian Orthodox style, the St. Nicholas Orthodox Naval Cathedral catches the eye with its large size and shining golden domes. It's a dominant and imposing spiritual and cultural figure over the area, considerably different than the concrete apartment blocks surrounding it. The church originally was built to serve Russian imperial navy servicemen. Tsar Nicholas II himself was present for the ground-breaking ceremony in 1901 and for the church's consecration in 1903. Following World War I, the cathedral was converted to a Latvian Lutheran church to serve the Latvian navy and in the Soviet era was converted again to a cinema, sports hall, and gym for soldiers and sailors. It was returned to the Latvian Orthodox Church and today it holds services and functions as a regular cathedral. It can be visited by non-church members on certain days.
Northern Breakwater: The Northern Breakwater is a long jetty built at the end of the 19th century. While it still protects Liepāja from the full force of the Baltic Sea's waves, today it's a nice spot to go for a walk and see the sunset and a long strip of the city.
Karosta Prison: Perhaps not for the faint of heart, the Karosta Prison is the only former military prison in Europe open to the public. It also functions as a hotel. The building was never intended to be a prison—it was built as a military hospital—but throughout its long history it has been used by all of Liepāja's ruling governments from the Tsarist era to its closing in 1997 to house military and political prisoners. Visitors today can tour the prison to learn more about its history, try an escape room, and eat at a Soviet era buffet.
Liepāja Museum: The Liepāja Museum preserves a wide range of the city's historic and cultural heritage. It has several permanent exhibits exploring architectural history, art, and anthropology. In addition to this, new exhibits regularly showcase art exhibitions from modern artists in the Latvian art scene and global art world. The museum is free to visit for all. The Kurzeme National Costume Information Centre is also located on the premises where visitors can learn more about regional and national costumes and traditional dress.
Jewish Victims of Nazism Memorial and Jewish Cemetery: A Jewish community was established in Liepāja in the early 1800s and by the end of the century the community had grown to around 9,400, almost one-seventh of the city's population. Shortly after it was occupied by the Nazis during World War II, thousands were massacred. Many who survived were later sent to ghettos or concentration camps. When the city was finally liberated in 1945, only a handful of the original community remained. Today there is still a small Jewish community in Liepāja. Both the memorial and cemetery, which has a large memorial wall commemorating the victims and survivors, serve as a reminder of this history.
Where to Eat
In Liepāja you can find food to suit all tastes from pizza to burgers to Russian cuisine, however, the city is particularly known for its local seafood and Latvian dishes.
Spīķeris: Located right by the canal in an old warehouse, Spīķeris offers delicious local seafood and craft beers on tap. They have a range of options from mussels to fried sea bass and trout. The fish and chips are particularly delicious. Meals can be had for around 17.50 € with a typical beer costing 5 € and all of the cocktails cost 8.50 €. If you have a party to split it, try the local cheese with seasonal raspberry-balsamic sauce, which will go nicely with any of the fried or grilled seafood dishes on the menu.
Vējš Café: If you're looking for a nice café to pop into or a light breakfast or lunch, you might check out Vējš Café, which has both sweet and savory crepes, egg dishes, and porridge. They also have a collection of teas, wine, beer, and juice as well. The pesto savory crepe is highly recommended. Everything is affordable with prices for the main dishes ranging from 4.50 to 6 €.
Hot Potato: If you want heavier dinner with a Latvian twist, try Hot Potato, near the Liepāja Museum in the city center. Like their name suggests, their main dishes feature potatoes in all of their various forms from fried to baked to stuffed. They have other options like chicken tabaka (which is a Georgian dish), pork medallions, seafood, pasta dishes, and even lava cake. They have several vegetarian options such as a few stuffed pepper options and a vegetarian burger.
RĪSI+NŪDELES: RĪSI+NŪDELES is a surprisingly good little restaurant not too far from downtown. They offer a disparate collection of Asian dishes from different countries. From pad thai with prawns to yaki udon, Singapore noodles, Thai curry, duck, and fried rice, the selection is great and quite affordable. They also have a few different desert options like coconut panna cotta with mango puree, matcha ice cream, and sorbet.
WOOD STOCK Cocktail Bar: This is an excellent bar with a large selection of cocktails and a good atmosphere. The bartenders know what they're doing and can offer you suggestions if you are at a loss of what to order. Everything is reasonably priced. Most of their cocktails are around 8 €, but they also have just about any regular drink you can think of, including both international and local beers. They also have a food and snack menu available.
Conclusion: Visit Liepāja!
Liepāja is a great place to visit for a day or weekend. It's easy to get to and not too long of a trip if you're coming from Riga. With its collection of great restaurants, historic sites, and vibrant cultural scene, Liepāja is a great way to experience another side of Latvia for any student who is studying in the region.
---
You Might Also Like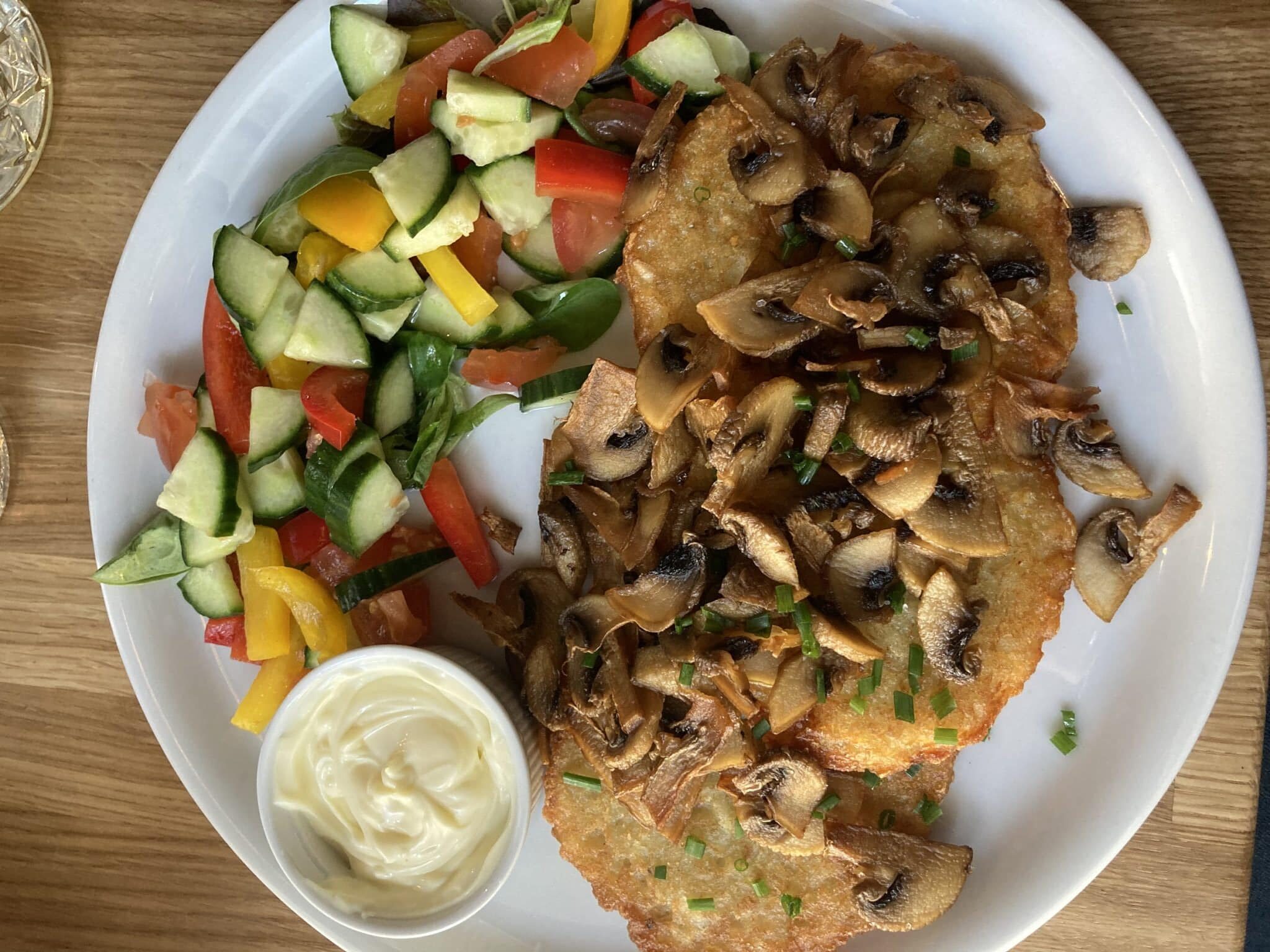 So, you're a vegan or vegetarian thinking about traveling to Latvia. Your family members and friends have probably apprehensively or self-righteously told you that "you'll never survive there as a vegan." Indeed, the national cuisine of Latvia, and, in fact, all of northern and eastern Europe, is not known for being particularly vegan-friendly. This is […]
0 comments