Latvian culture has a long history of brewing. Cider is considered the oldest brewed Latvian drink. These days, herbal balsams (bitters) from Latvia's lush forests are perhaps even better known as the national tipple. Beer brewing also has a long history here, with craft beer becoming more popular each year. As Latvia enjoys a revival in its national culture and food, so too are its bars and pubs reveling in the country's culture and history, providing atmosphere, social spaces, and of course, tasty food and drink. Below are some options found by SRAS students in Riga that they would like to share with you.
This guide is part of the much larger SRAS Guide to Living in Riga.
Kaļķu iela 10
Review by SRAS student Trisha Baillon
Black Magic Bar is a 10 minute walk from the school, though typically when my friends and I come here, we're already in Old Town, and everything there is very close together.
Approaching the bar, you'll immediately notice its unique exterior that sets it apart from other establishments along the street. And once you enter, the atmosphere is quite peaceful, though not intimidatingly classy. You'll see an assortment of chocolates and bottles of Riga Balsam (an herbal liquor that has been in production for 260 years) available to purchase as well as a glass display case full of chocolates for sale. On the counter are also drink menus with specialty cocktails and non-alcoholic drinks. Their hot chocolate, for anyone looking for something non-alcoholic, is especially fantastic. The atmosphere and interior are so unique as it almost feels like you're transported back in time with real candles flickering everywhere, and the waitstaff wearing traditional clothes. It doesn't feel like a traditional bar, which is really nice if you're looking to have a drink, but you're not comfortable in rowdier bars.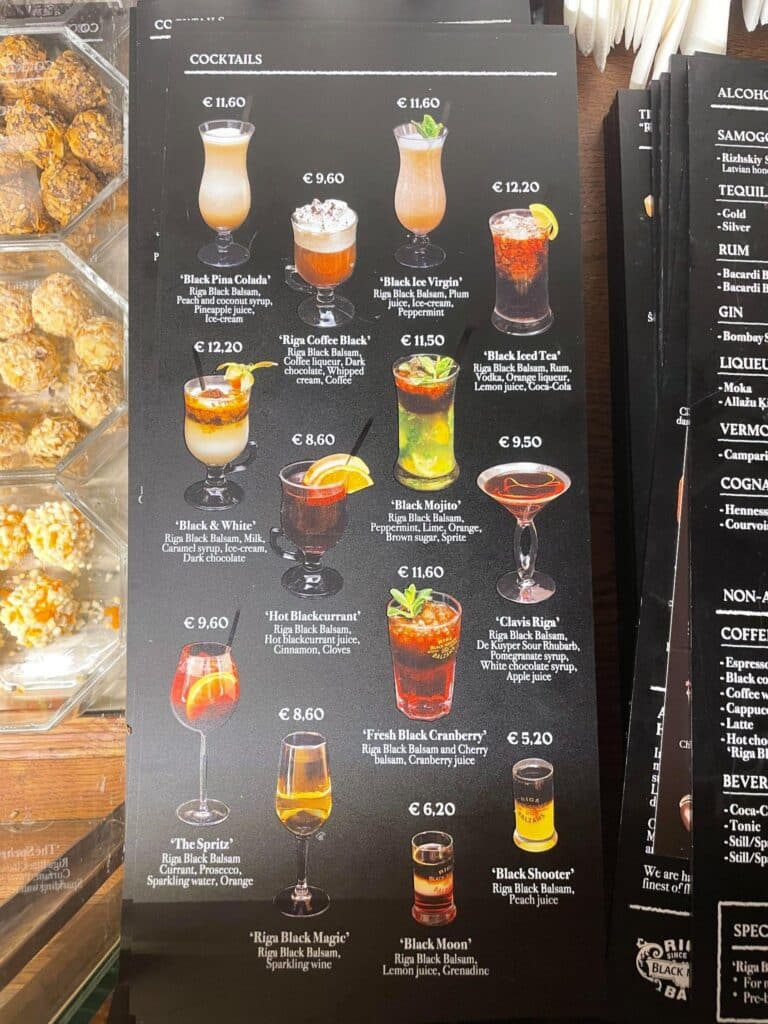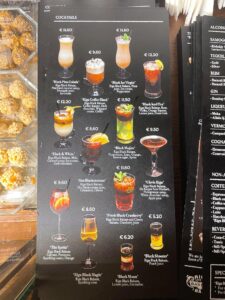 My friends and I have visited this bar a few times since we've been here, and I've found that their prices are quite reasonable, especially compared to nicer bars in the United States. Every drink and chocolate I've ordered here has been delicious and well worth the money, especially if you're interested in high quality and unique cocktails. A favorite of mine and my friends has been the "Black and White" drink that also doubles as a delicious dessert with ice cream and dark chocolate mixed with the Riga Balsam. Not only can you find great drinks here, but their chocolates are so fun to try and also very.
Something unique about this establishment is their specialization in Riga Balsam, which is a liquor specifically made in Riga that used to be medicinal, prescribed mostly for colds, digestive issues, and insomnia, but is now used mainly in cocktails as a bitter. They offer an opportunity to learn about the history of the balsam and how it was made through a group reservation for balsam tasting.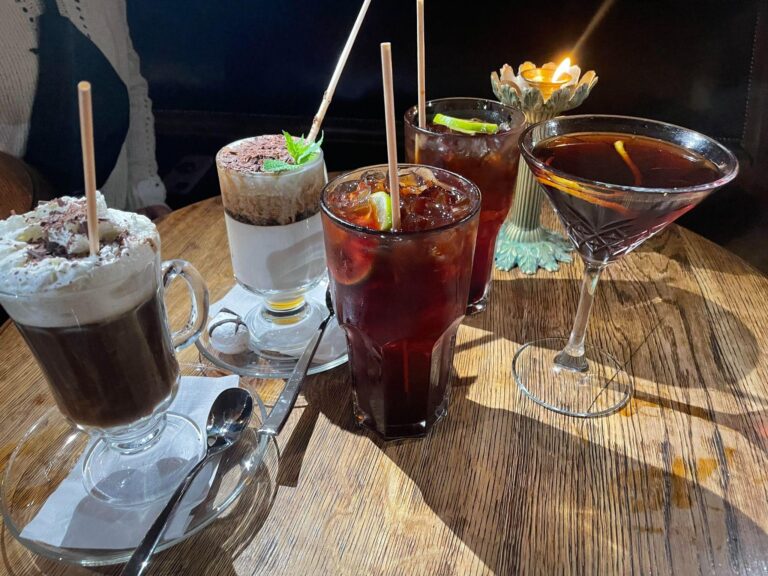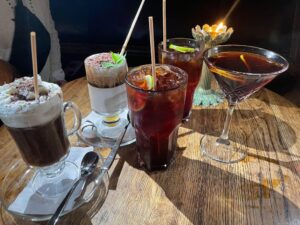 This reservation allows you to be taken to their basement that has been made to resemble the pharmacy the balsam was originally created in. Here, one of the waitresses walks you through the history of Riga Balsam while offering tastes of six different flavors of the balsam. It's not only a very fun and unique way of sampling the tasty drink, but also an insight into an interesting nugget of Riga's history. Even if you decide not to do the tasting, the bar itself is beautiful and has a lovely atmosphere where you can sit in with your friends and chat while sipping tasty drinks or sampling unique chocolates.
---
Skarnu iela 7
Review by SRAS student Brendan McMahon
Kiwi Bar is in Old Riga, about a 10 minute walk from Liden&Denz, just outside of St. Peter's. I was looking for a good sports bar to watch a boxing match, and went here at around 2:00pm on a Tuesday. I was greeted with a fairly typical atmosphere. Jerseys, memorabilia, and event schedules lined the walls and ceilings, with plenty of seating and a patio space.  There are seven TVs in total, able to show three different channels at once. Everything looked inhabited but not dirty, and well-lit enough. It would be maybe a little cramped if you came here with a group bigger than five or so, but perfectly doable if you want to sit outside.
In my time there I had a local lager on tap, Lacplesis (3.50 euro), and two black coffees (2.50 each). Lacplesis is one of Latvia's major breweries. Their lager is matured for four weeks – rather than the usual two, which makes the beer richer and perhaps a bit smoother than some others. The coffee was rather small for the price but it's a bar, so you can't expect much different, and it was fair enough quality.
The beer on tap is generally good and it's the usual selection you'll find in Riga (plus Guinness which is nice). Cocktails are available (6 – 8 euro each), and shots (~4 euro) each as well, but no real unique drinks like some other bars. Service was quick, and the bartender was attentive, with everyone working there fluent in English. Granted, I came at an off-hour, so I can't speak much to service during peak hours. Still, they were able to set up the match for me to watch no problem, and they seemed to have a very impressive array of channels for other sports. It's primarily a rugby bar, though I saw a lot of items for football, F1, and hockey too. When I came in they were actually holding a small press conference for a local team's upcoming event, which was interesting to see. Once the conference ended, a couple more patrons started to come in and relax a bit, and the mood was very friendly overall.
It was nice to watch the match like I'd wanted, but I'd seriously recommend this place as good opportunity to experience the local sports culture of Latvia and to meet some new people. Riga's nightlife can be very focused on clubs and discotheques, so a more familiar pub / sports bar scene can be easier for some, and it makes an easy topic of conversation with the other patrons. There is food here, and some vegetarian options like pita, but there are many other restaurants (including take-out open late) nearby. My recommendation is to eat elsewhere and just stick here for the drinks and the broadcasts. Find an upcoming event that seems interesting and come here to tune in, chat, and see what game night in Latvia is like.
---
Main location at Janvāra iela, 21
Also at the Central Market at Nēģu iela 7
Review by SRAS student Brendan McMahon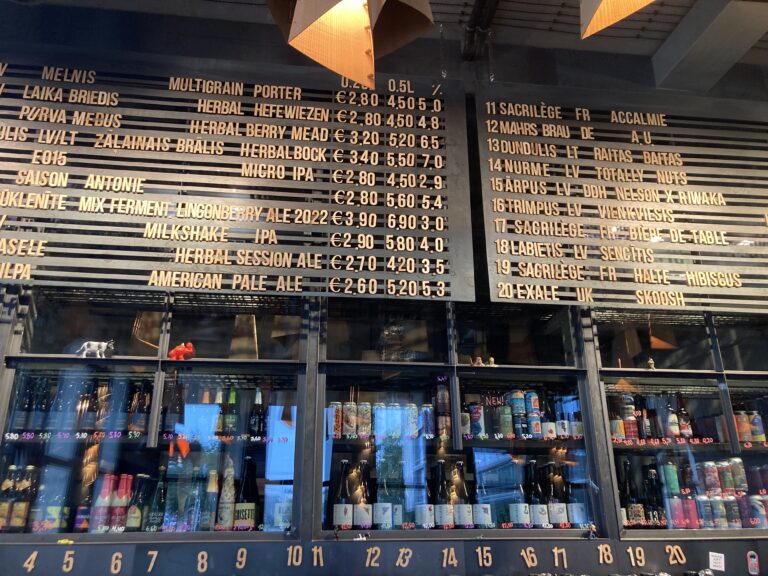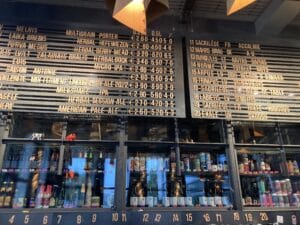 In Riga, balsams (biters) and ciders are considered national drinks, but beer in the Baltics should absolutely be on your list as well. Miezis un Kompanija, located on the southern outskirts of Old Riga, a short walk from the Central Market, is a great craft brewery where you'll be able to try some local flavors. The interior is very modern, with a few long tables and some smaller double tables around the sides of the room able to seat perhaps a maximum of 20 – 25 people. I stopped in on a rainy day for a couple glasses not long after opening, around 4:00pm, and it was quiet aside from the music playing.
The variety of beer is incredible, with 20 beers on tap at any given time, and the selection rotating on a monthly basis. This includes local Latvian brews as well as other Baltic and European selections, all craft. The bartender was more than willing to describe and recommend the various types to me (in English) and small samples are available for free to try before you get a half or quarter litre. If you're indecisive they have a sampler tray, five 80ml glasses of your choice for only six euros.
Some of what was on tap were types of beer I'd only heard of (or never heard of) as an American: kellerbier, table beer, hefeweizen, gose, etc. They also had most other types of beer I had heard of, including meads. I went with one of their Latvian porters, "Totally Nuts" (5.80 for .5l), and a Latvian herbal hefeweizen "Laika Briedis" (4.50 for .5l). Both were very good. The porter in particular was perfect for the weather, though didn't have quite enough head. This could be because, from what I gathered talking to the bartender, they prioritize fresh kegs for in the evening. This is pretty standard for bars so, if you come earlier like I did might have you polishing off the previous day's supply. Come later in the evening (they're open until midnight) to really get the best experience.
At this main location and at their stall in Central Market, they have a large selection of canned and bottled beer, mostly their staple items, but some seasonal as well. I picked up a mead for around 3 euros that, according to the bartender, is based off the oldest recipe they have in Latvia, found on the body of a bog mummy. As far as souvenirs go the Central Market location also has t-shirts and tops, and is open earlier than the main location. Plus their selection on tap is different. I went twice for their amber ale, a personal favorite.
Both locations have small snacks available for around 2 – 4 euros a piece, including vegetarian options. It's enough to keep you going during your session with friends, but either before or afterwards you'll want something more fulfilling. Luckily, there are many food options near both locations. This can be a great way to explore the beer culture that is so central to the Baltics and Europe as a whole. The night scene here is more relaxed than some other bars, typical if you're at all familiar with other craft breweries. No hard liquors are offered, and needless to say if you don't like beer it's not for you. Come with some friends and enjoy.
---
Peldu iela 24
Review by SRAS intern Johnna Warkentine
If you're looking for a different kind of bar, then Sidrērija is definitely the place I'd recommend. It's a cider bar located on the south side of Old Riga near the Daugava River, situated near a slate of other bars, nightclubs, hotels, restaurants and a few residences.
The atmosphere of the bar is cozy: wood tables, exposed brick walls and candles as well as an outdoor terrace and music stage set the mood. When I was in Riga, I visited the bar several times on the weekends and always had a good experience. The food feels more like typical bar food you might find here in the US, but it's all very tasty and much of it is made with local ingredients. The main dishes they offer are different kinds of burgers, BBQ, and a few main dishes such as fish, quiche, chicken, and kofta (a type of meatball-meatloaf-kebab-adjacent dish which at Sidrērija was made of lamb). There are also some vegetarian options like tofu burgers, hummus, and a few types of salads. A few types of local wines and beers are available as well.
The main draw, of course, is the ciders. Cider is popular across Latvia, even though the history of cidermaking as a commercial industry isn't actually that old. Though cider has long been produced in Latvia in the countryside and historically in Latvian culture, the cider industry only really gained foothold in the country after the end of the Soviet period. It has since grown, with new breweries and cider houses cropping up across the country. Latvia's particular climate and apple varieties lends well to cidermaking.
The particular types of cider offered at Sidrērija are constantly changing depending on the season and menu changes, though there is always a variety to choose from to fit any taste: sweet and dry ciders, ciders made of apples and berries (chokeberry, blackberries, etc.), as well as experimental ciders and old classics.
---
You Might Also Like
This guide is part of the much larger SRAS Guide to Living in Riga.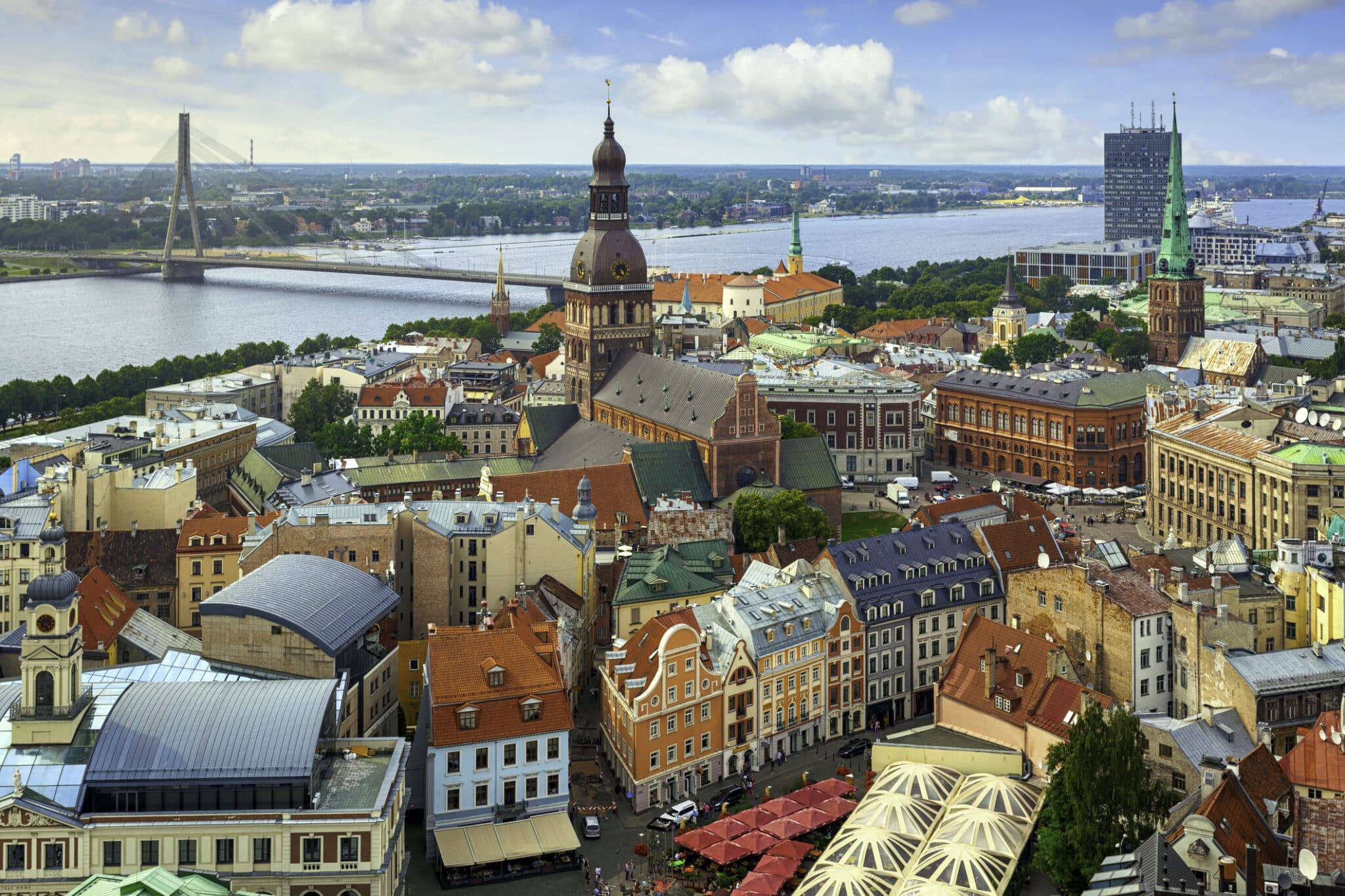 What's it really like to live in Riga, Latvia for a semester? Staying long-term in a city is much different from just vacationing there. You'll need to navigate more of the practical, everyday services of the city and budget to include more miscellaneous and long-term expenses. Thus, this guide covers everything from haircuts to pharmacies […]
0 comments