Like any good European capital, Riga's historic streets bustle with people and are lined with quaint cafes, coffee shops, and bakeries offering a place to sit, relax, and enjoy the sweeter things in life. Below are some options found by SRAS students in Riga that they would like to share with you.
This guide is part of the much larger SRAS Guide to Living in Riga.
Jāņa iela 14
Review by SRAS student Brendan McMahon
Crumble Cake is about a 10 – 12 minute walk from Liden & Denz specializing in desserts. The building is small but cozy, warmly lit throughout, and the radio plays mid-century American classics, big band, swing, and some light blues. The front room has some small two-person tables, but in the back you can find leather armchairs and a sofa. The atmosphere plays between a modern, hip place, and a classic tea room complete with china dishes. At maximum capacity I'd suspect the whole café could seat maybe 15 people, but I've never struggled to find seating when I've visited, and there is outdoor seating as well. The whole place is warm and smells of the baked goods at the front counter. The baristas were welcoming and open to questions about the food, but didn't speak Russian (at least the one time I tried). You'll have to use English here, but they're very fluent in English. Downstairs you can find a clean bathroom. I've come once to sit and study, and it's definitely comfortable for that. The one thing is the Wi-Fi in the back can be a little weak, but it's nothing noticeable unless you absolutely need high-speed internet or need to download something.
On walking in you'll be able to see that day's items on display. There are staple items like the apple and cinnamon signature cake (4.40 €), rhubarb (4.10), cherry and chocolate (4.40), and pear and caramel (4.40) which are all served warm, and a lemon and cream cake (4.40) which is served cold. As well, there seems to be a rotating selection of other cakes, including cheesecakes. When I went on a Friday I saw blueberry cheesecake (4.70) and elderberry (4.70), but during weekdays I didn't see these. Likely they sell more options on the weekend. In any case it's a good reason for multiple visits. Also on offer are a small selection of cocktails and wines, a local beer, and some small-batch ice cream in a fridge by the entrance. They advertise vegan and gluten-free options. Expect to spend around 5 – 10 euros here. You'll pay after finishing your food.
Service is quick. My friend noted that the espresso was small, especially for the price, but strong. The cappuccino was also very nice. The drinks are a bit more expensive than other cafes in the city (by maybe half a euro) but for a non-chain establishment in Riga that's par for the course. And the real reason to come is for cake. The signature cake was exactly what I wanted, not incredibly sugary but more delicate, a good mix of tart and creamy, perfect for a snack. The lemon cake was very refreshing, similarly good quality. Everything is homemade and the quality definitely shows. For the price it was also a nicely generous portion and definitely competitive to other places in the city. Overall my friend and I left very satisfied. On subsequent occasions I've had similarly good experiences.
The location is also great if you've been sightseeing. It's just around the corner from the St. John's Church, and not even 100 feet from the back of the St. Peter's Church. It's right alongside many other shops, restaurants, landmarks, so it's a perfect place to stop after a day in Old Riga. Even if wanting a place to relax after classes, it's not a terribly far walk from the school, especially for the quality of food.
---
Blaumana iela 7
Review by SRAS student Brendan McMahon
BEZE is a café located about 5 – 7 minutes from Liden&Denz. The interior is fairly typical. Wood paneling and warm colors predominate, the radio plays contemporary pop and other recent hits, and the place is clean and comfortable overall. I went at around 12:30 on a Saturday and it was practically empty. I suspect that afternoons and weekday mornings are much busier. Regardless, the clerk behind the counter was attentive and spoke Russian, so it was a good place to practice the language a bit as well. The displays contain a number of chilled desserts, plus some sandwiches and salads, and behind the counter are more baked items. To the side are a number of bagged goods like meringues and other sweets, snack breads, and coffee.
The selection was impressive, and evidently a lot of effort was put into presentation as well. I was pleased to find they served honey cake (2.90 €) which I'd been looking to try. I ordered that plus a pistachio éclair (1.50), and an americano (2.90), coming to 7.30 total. The coffee prices are competitive, just about matching around those of the larger chains in the area in portion size as well. The desserts are especially noteworthy though. The portions are generous for the price, and some of the baked goods like croissants (.90) and pastries (from .50 – 1.10) are the cheapest I've been able to find in the area. And the quality rivals that of the more expensive places I've seen as well. The honey cake did not disappoint, creamy, rich, and mildly sweet. The layers were cohesive, nothing soggy, and again for the price it's a very decent portion. The pistachio éclair was incredible. A very strong flavor, pronounced but not artificial. Nothing that I tried was cloying either, all very well-rounded.
Alcohol and beer are also served, though not quite the cheapest in the area. Cold savory items are also available, but there are better options for lunch in the area unless you're in a rush. There were vegetarian options but I didn't seem to find anything vegan.
BEZE is located about two blocks away from Liden&Denz in the middle of a shopping area, stores ranging from high-end to low. It's also only ~7 minutes from the KGB museum at the Corner House, and even closer to the Old St. Gertrude's Church. There are other independent bakeries in the area, some a little closer to the school, but they can be a little more expensive and sometimes more focused on lunch options. If you're willing to walk the extra block it's worth it, since the price and quality are very hard to beat. They also have to-go options, and large boxes in case you want to stock up on baked goods or desserts. A great place to relax or grab something to go.
---
Terbatas Street 12
Review by SRAS student Quin Evans
Located conveniently a few blocks away from Liden and Denz, Kukotava is an upscale bakery and delicatessen. There are actually two entrances for Kukotava. The first, is right on the corner of Terbatas and Dzirnavu Street. Walking in, you will be greeted by the smell of fresh croissants and a large glass case with all their savory offerings like salads and wraps. Salads are often sold by weight (per 100 grams), so you can get as much or little as you'd like. It's a good place for quick bite. The second entrance is one door down Dzirnavu Street. It offers a wider selection of pastries, cakes, and pies.
The food is all in a glass case and you walk up to order not unlike you would at a Starbucks. I got a Berliner, which was sort of like a giant sugar donut with strawberry crème and jam in the middle. It was €3 and would definitely recommend if you're missing American donuts. My friends got a mousse and a phyllo-based fruit pastry. Both recommended but we wanted to note that the mousses are very heavy and thick so you might be better off sharing with a friend. Their pastries were all about €3 to €4.50 each. Overall, I would recommend this establishment if you are looking for a quick snack after class that you can enjoy while watching the streets of Riga.
---
Zigfrīda Annas Meireovica bulvāris 12
Review by SRAS student Victor Berg
Nestled inconspicuously near the banks of Bastejkalns Park, Molberts Ice Cream parlor has an unassuming store sign and a basement-level entrance that may be easy to overlook. The interior is simple and offers cozy booth and table seating. You can also take your cups or crispy waffle cones to go and enjoy them in the nearby park across the tram tracks.
During our visit, my date and I tried the Lemon Poppy Seed and Cookie Dough flavors, priced at €2.80 each. The Lemon Poppy Seed was refreshing and zesty and the Cookie Dough was rich and velvety. We enjoyed every bite.
Molberts Ice Cream also offers a unique option of picking up a pint in a reusable glass jar for about €9. If you clean and return the jar, you get €0.50 discount on your next purchase.
From their creatively crafted flavors to their eco-conscious practices, this hidden gem is a delightful destination for any ice cream enthusiast.
---
You Might Also Like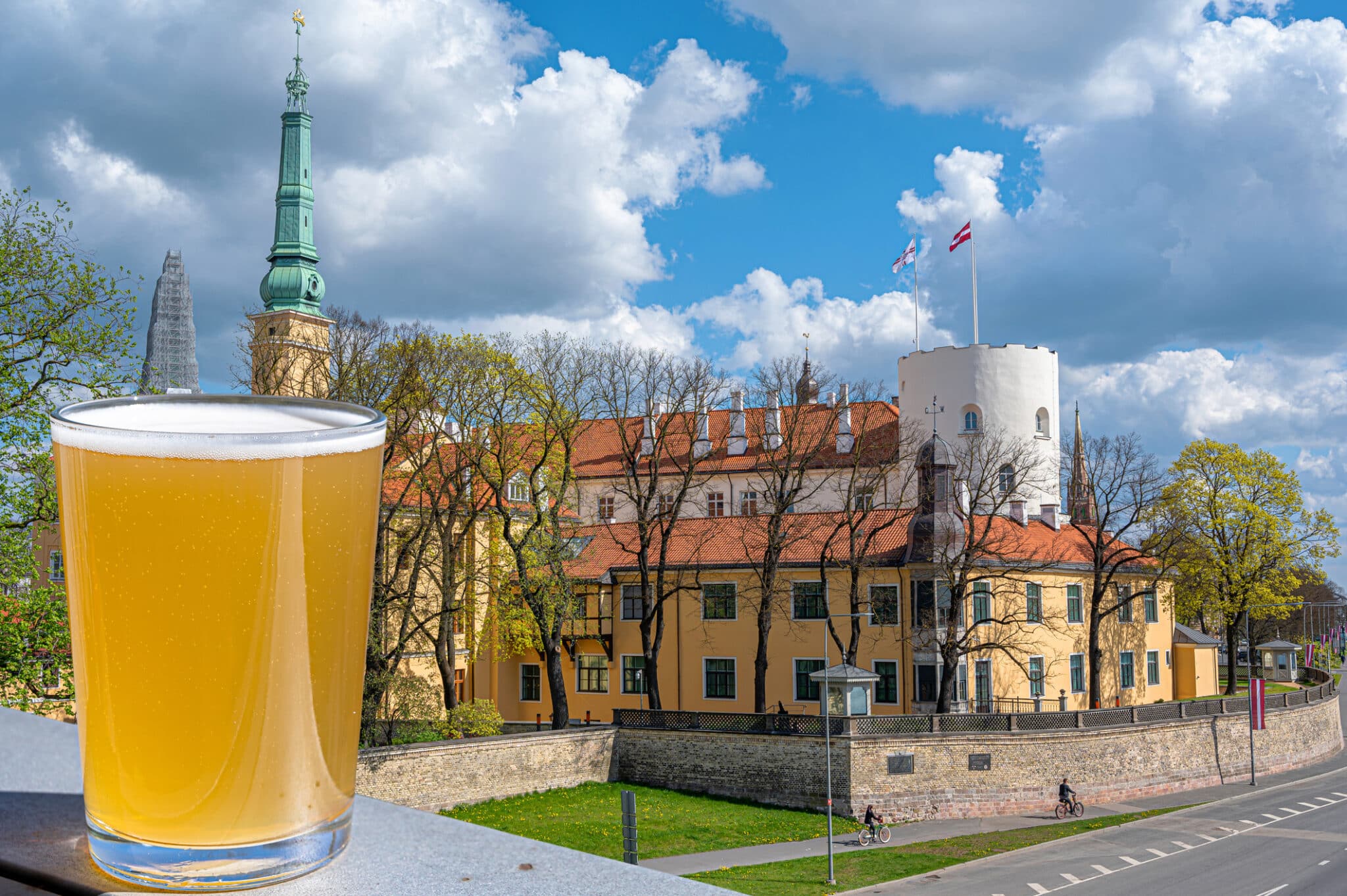 Latvian culture has a long history of brewing. Cider is considered the oldest brewed Latvian drink. These days, herbal balsams (bitters) from Latvia's lush forests are perhaps even better known as the national tipple. Beer brewing also has a long history here, with craft beer becoming more popular each year. As Latvia enjoys a revival […]
0 comments