One of the best ways to jump into a new culture is through the local food. The sheer act of sharing food experiences also gives you instant conversation starter material with locals. Central Asian cuisine, having developed largely from nomadic cultures, is often heavy on grains, pasta, dairy, and meat. We are sure that you will find something on the menu that you'll be missing when you head back home! Below are a few local establishments selling local food in Bishkek, both sit-down options and fast food options, that previous students on SRAS programs would like to recommend to you!
This guide is part of the much larger SRAS Guide to Living in Bishkek.
About Central Asian Food
Kyrgyz food is highly reflective of the nomadic traditions of the local people. Heavy on meat and dairy, most recipes can be made with one or two pots over an open flame and were convenient for a highly mobile and lightly-packed civilization. Central Asian food also includes foods from settled civilizations such the Uzbeks, whose dishes contain many more baked goods and bear considerable Persian and Turkic influences. For more about specific dishes and their cultural and historic connections, these articles from Folkways.
The closest traditional Central Asian restaurant to the London School where SRAS students study is Navat, an ornately decorated restaurant and with a higher end, but reasonably priced menu. Ubiquitous столовая (cafeteria)-type cafes also offer very cheap, and often quite delicious, food—check out the one right across the street from Vefa, which has a good lagman. Don't be afraid to grab a samsa (meat or potato pie) or some manti (meat dumplings) from a stall at the bazaar while you're doing some shopping. Finally, a convenient perk of the London School is its own on-site cafeteria, where friendly local ladies serve up homemade plov, soups, dumplings, samsa, with a cup of tea or instant coffee. You can eat a hearty lunch or grab a snack in the courtyard between classes for about a dollar or two.
Sit Down Options
Kiev St, Bishkek, Kyrgyzstan
If I had out-of-town visitors this summer, I would take them to Jalal-Abad Chaikhana, a teahouse in Bishkek named after the central-western Kyrgyzstan province of the same name. Jalal-Abad Province is located about a 10-hour drive from Bishkek, and it is most known for Arslanbob, the world's largest natural growing walnut forest ("Arslanbob" in Kyrgyz means: "King of Forests.") Legend has it that it was Alexander the Great who, after his military campaigns in Jalal-Abad, first brought walnuts to Greece.
Jalal-Abad Chaikhana in Bishkek provides a classic Central Asian experience: You can dine outside in huts, or on the wooden terrace that snakes around the indoor restaurant. You can also dine behind wooden topchans, Central Asian table-beds on raised wooden platforms. Now that summer is approaching, it's getting warmer, and people are ready to just to relax and slow down for a bit, this teahouse is a great place to kick off your shoes and recline on bright, multicolored, multi-patterned Kyrgyz mattresses and pillows.
Jalal-Abad is best known for its classic Central Asian dishes: laghman, beshparmak, manti, samsi, ashlamfu, oromo, you name it. You will also find some Kyrgyz specialties native to Jalal-Abad, such as larzuro, which is fried beef and vegetables. According to one of the restaurants' waitresses, the most popular dishes with customers are the plov and manti, both cheap and filling, the latter especially because Jalal-Abad offers wide variety of manti with potatoes, pumpkin, and/or meats of various sorts.
One Sunday afternoon, after a souvenir-shopping session at the nearby Osh Bazaar, one of the biggest bazaars in Bishkek, a colleague and I went to Jalal-Abad for two regional dishes. He got the ashlamfu, which is a cold noodle dish with slices of starch jelly. (It's also got the reputation of being the best hangover food.) I got the Kyrgyz classic beshparmak, a hot noodle dish with horsemeat. We also shared a basket of bread, and a dainty saucer of fresh Kyrgyz honey. The honey was so delicious — not too sweet, not too thick — I spooned most of it straight into my mouth. Overall, we were satisfied with our dishes and the service. The beshparmak could have had less noodles (it overwhelmed the horsemeat, which was deliciously fatty and tasty in its own right), and it could have used a little more seasoning, or some kind of punch. But after sprinkling some of the spicy ashlamfu sauce over my noodles, it was quite good.
Locals flock to Jalal-Abad, too. I once went during a quiet Thursday morning around 10am, and in the peaceful atmosphere of the pre-lunch rush were Bishkek locals just enjoying nothing more bread and tea: old couples, young mothers, close friends. One Kyrgyz mother breastfed her baby while talking with her girlfriends. One old Kyrgyz couple, probably in their 70s, sat cross-legged from each other in their topchan, and smiled over their bowls of tea. (They were pretty cute.) Another elder Kyrgyz man sat in his topchan by himself (like me) and read the newspaper. If it weren't for the plastic Coca Cola ads that lined the huts, and the modern clothes, this could have been a scene from the ancient days of the Silk Road, when weary desert travelers stopped at these teahouses for tea and a warm meal.
I therefore recommend Jalal-Abad Chaikhana for a typical Central Asian outdoor dining experience. The standard national fare isn't exceptional, but the experience of sitting (or lying) on a soft pillow mattress in the warm sun, passing the time withblack tea with a good friend, surrounded by others who are equally relaxed, perhaps with a lovely saucer of honey, will make it worth your while.
Eirene Busa
157a Mederova Street, near the intersection with Baitik Baatura/Sovyetskaya
This restaurant is easily the best place near the London School that serves regional food. Faiza offers both table service and takeout, which helps a lot given that there are often no vacant tables at 5 or 6pm on a weekday. While there is often a queue of 2-6 people at the takeout counter, the usual wait time is usually no more than 10 minutes. If you do get a table, the place is very well-decorated. Waitresses wear traditional Kyrgyz clothing against a backdrop of ornate carpets, rugs, and vases, and the place has a very relaxed, family-friendly atmosphere.

The menu covers most of the regional staples: lagman (peppers, garlic and lamb/beef with noodles in a salty tomato sauce), gan-phan (lagman with rice instead of noodles), "plov pa-uzbekskii" (pilaf with carrots and lamb) manti (ground lamb dumplings), and borsch (a traditional Russian beet and cabbage soup with potatoes) for the Russophile palette. The only thing missing is besh barmak (a beef and onion dish with noodles like lagman, and traditionally eaten with all five fingers, hence the name "five fingers" in Kyrgyz), but the other items on the menu are some of the best dishes I've had this side of the Caspian.
As indicated above, most of the items on the menu are fairly cheap. When I went there with a group of students from the London School, I ordered the gan-phan with a cup of coffee, and the total price was in the region of 200 soms ($5). Most of the time, you can get a main course from the Faiza and buy a drink from one of the nearby stores and not spend more than $4.
When writing this review, I had to fight the temptation to go back to the Faiza and order a second serving of lagman or some plov pa-uzbekskii. If you're looking to grab a quick lunch or dinner near the London School, but don't want to go to the "gamburger" places near the Vefa Center, the Faiza is one of the best places in the area.

This is a good place for groups or faculty-led tours if you don't arrive during the rush hours. Try to get there before noon or at 5pm if you want a table.
Peter Bourgelais
Kalinin St. / Cholpon-Antinskaya St.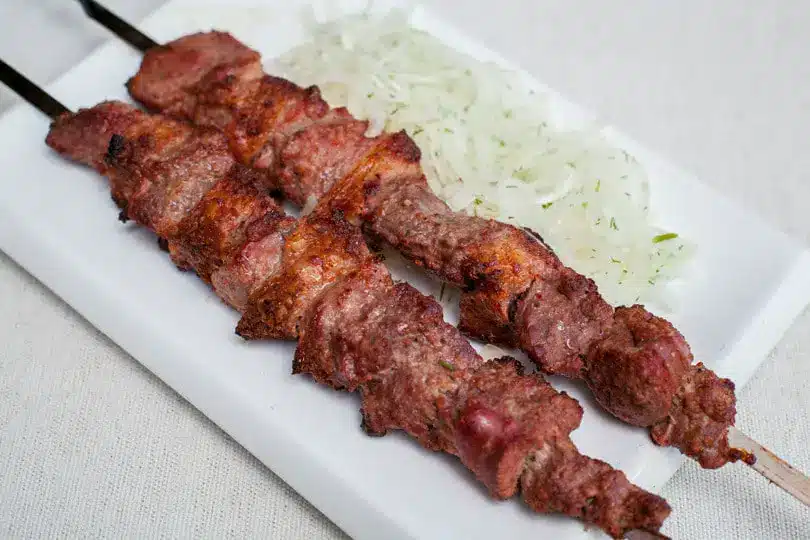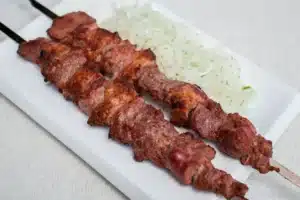 Jasmine is praised by many locals, including professional chef Aziz Kasymov, who is an expert on meat. For those who grew up and live in the city center, the café's location makes visiting it comparable to taking a trip to Alaska. The situation is complicated by the fact that Google Maps, for no clear reason, flatly lies about its location. The shashlik at Jasmine is large, with fairly big pieces of meat and a couple of pieces of fat that add juiciness and complement the meat wonderfully. The meat itself is good, with no tendons or cartilage, like the meat that once constituted almost a full portion of shashlik in the celebrated restaurant Baku Courtyard. The meat is lightly salted, and the chunks compete with each other for toughest. At the end of the meal we found a hair on the plate, which had a significant effect on our positive first impression. All in all, the shashlik at Jasmine is large and tasty, and a single skewer is more than enough to fill one person. But the reviews we've heard calling it "magnificent" are a not quite true to life.
– Translation by Sophia Rhem of local review
Tokombaev St., No. 29
Big Mazay's is famous first of all for shashlik made from rabbit and duck. Most of its customers, from the southern microdistricts and beyond, come here not for the fricassee and Caesar salad, but to taste the meat. They say that recently, Big Mazay's shashlik is not the same as it used to be, and the prices are inexcusably high. The lamb shashlik, however, is just huge – we counted eight full pieces of meat and three pieces of fat, resembling potatoes – and undeniably delicious.
– Translation by Sophia Rhem of local review
Fast Food
44 Street Food

Shawarma, sometimes known as a "doner" in English speaking countries remains relatively unknown and exotic to many Americans. It bears close resemblance to a pastor taco, however, and quickly becomes a favorite of American students abroad in SRAS locations, where the shawarma is a popular street food.
On of the best places to try them in Bishkek, Krygyzstan, is at 44 Street Food. Set between 150 and 250 som (about 2 to 3 USD), these delicious wraps are ideal for a casual lunch or dinner. But with dozens of pop-up shops, restaurants, and vendors to choose from, how does one find the best place to eat between classes or pick up a late-night meal? Luckily, there is an easy answer: 44 Street Food.
Though located only a five minute walk north from London School, this tiny restaurant is easy to overlook. Overshadowed by House Burger, a larger fast-food joint right next door, 44 Street Food is comprised of an order-window, a singular plastic table, and two chairs by the door. This shop is truly the definition of a "hole in the wall." Though not the best place to practice one's Russian, as it is run by a native Turkish speaker, the vendor does understand the essentials (like "spicy," "chicken," and "for here") in both English and Russian so there shouldn't be any difficulties when ordering.
A shawarma lavash is 170 som and can be made with either crispy fried chicken pieces or thin strips of beef. If one of the meats is not prepared, just ask for the other one; however, the wait may be upwards of an hour if the meat still needs to be cooked. Assuming that the meats are prepared, the dish usually arrives in about twenty minutes. Though many shawarma shops have quicker service, the higher quality is worth the wait. As well as the tons of chicken or beef, these wraps also include a few vegetables and french fries. The vendor will ask whether to add onions and/or small pickled peppers for an extra kick; I personally would recommend both. Though it is difficult to tell until the last few bites, the shawarma is extremely greasy– use caution not to drip oil on yourself.
The fries are standard fare both in price and in quality, costing about 100 som (slightly more than 1 USD) and tasting comparable to any other thin-cut fry in Bishkek. However, they do come with decent ketchup– something that you'll learn to value after receiving condiments much more similar to tomato soup or marinara sauce at other shops.
44 Street Food also offers burgers and the chicken sandwich for 120 som is also a solid option. A thick bun loaded with fried chicken, fries, lettuce, tomato, and cucumbers, this sandwich, though a little less filling than the shawarma, still makes for an excellent midday meal.
Though not exactly atmospheric, eating in the shop is plenty comfortable. Think of a Kyrgyz version of a mom-and-pop 50s diner. The room is clean and quiet and, on lucky days, a cat will seat himself on the stoop or even curl up under your chair. Of course there is only room for three or four customers at a time, so if you aren't the first to arrive you may be out of luck if you are expecting a place to sit or to have immediate service.
44 Street Food has some of the largest and most flavorful shawarma around, and at just over 2 USD per meal, it's a mistake not to order it.
Charlotte Sarchet
Горячая кукуруза / Hot Corn
Throughout Bishkek
During the summer months one can find plenty of things to buy on street corners: drinks, snacks, newspapers and the list can go on and on.  One of the more unexpected buys that I saw was corn on the cob.
Especially when in season, one can find corn everywhere being sold out of buckets, steamers and just large insulated boxes.  You also see it being eaten everywhere: at the beach, in the car, on the street.  Being from a corn-growing state I was surprised at how ubiquitous the corn was here.  As such, I had to try it.
The first noticeable thing about the corn is that it is not the typical sweet corn one finds in Illinois that has a "peaches and cream" sort of coloring with both yellow and white kernels.  This corn is just standard yellow and not nearly as sweet as our sweet corn.  It looks and tastes a lot like the plain yellow corn you get from a can back in the U.S. really.  At least, after the second time of eating it that is what it reminded me of.
The first time I had it was on the beach near Issyk-kul, my camera battery was dead by the time the corn was brought out so I could not get a picture of it.  That time though, the corn tasted very, very bland, but it was surprisingly, easier to eat.  The kernels themselves are much thicker and less well attached to the cob compared to U.S. sweet corn.  Meaning that fewer pieces get stuck between your teeth and it is simply not as hard to get the corn off of the cob.  The second time around though, the corn actually tasted very good.
This second time is where the pictures came from and as I mentioned earlier, it tasted like the corn one gets out of the can in the U.S.  I bought mine from a woman who has a specially designed cart for the corn that stores it and tells people what she is selling.  You simply go up to the stand/cart, order however many cobs you want and whether you want salt added to it.  You can, to an extent, pick which cobs you want and they are put into a plastic bag, you pay and you are on your way.
People selling the corn can be found all over the city, there was a stand near the school for a large part of the summer, there are people selling corn near Ala-Too Square, in front of the various shopping centers throughout the city, some people walk around the larger bazaars selling their "горячая кукуруза" (hot corn) to shoppers and others can be seen at Issyk-kul selling to beach-goers.
Ian Walker
Isy Akhunbaeva, 109; Near Tsum
The Soviet-style cafeteria next to Tsum in Bishkek has large banner on it's side that advertises it as tasty, fast, and cheap. That sounded ideal, so today when I needed to grab lunch quickly, I figured I give it a shot.
I walked in and grabbed a tray, sliding quickly through the one, short buffet station. I picked шашлык (shishkebab meat), some carrot salad, plov (Central Asian rice dish, yum), and a small cup of компот (a clear, Eastern European fruit juice). My total bill came out to 160 som (about 3USD) and I was satisfied with the fullness of my tray. This whole interaction took fewer than five minutes. Fast and cheap – check.
The fairly large dining room offers seats by the window, and because it was a nice day, I waited a minute or two for a window-table to become available. The cafeteria is located on a small square that has some park benches, ice cream vendors, and soon-to-be-refilled (I hope) fountains – which makes the window seats in the Soviet Cafeteria ideal for people watching. Although other seats in the dining room are missing out on the pleasant natural lighting, the room is generally comfortable and each table has a couple of vases of flowers (deemed real, upon further inspection). If you're in Bishkek and wondering what a run-of-the-mill Russian cafeteria looks like, it's almost identical to what you'll find here although the flowers, if present at all, will likely be fake.
At my lovely window seat, digging into my food, I was a little disappointed. Tasty – no check. The plov wasn't bad, but it was a little on the greasy side and didn't have much meat. The shishkebab wasn't what expected at all – normally Russian-style (or Soviet style… I guess?) shishkebabs are some of my favorite things to eat. Grilled meat, what's not to like? Unfortunately, The Soviet Cafeteria's were over-salted and smelled strongly of hotdogs, which was just confusing. The compote was regular old compote, and for that I was thankful. The carrot salad was just carrot salad, though kind of lemon-y sour, which was actually a nice surprise.
Overall, the experience was just so-so, with speed, price, and portion sizes balancing out culinary mediocrity. If you've visited a Soviet-style cafeteria before, you can pass on this one and head straight for the ice cream sold at stands right outside.
Olivia Route
Summer Sips on the Streets of Bishkek
Throughout Bishkek
You know it's summer in Bishkek when refreshment stands pop up all over the city. At least, that's how I understand it. What a welcome change from the gray, wintry Bishkek I first knew when I arrived in the dead of winter of January. Kyrgyzstan's capital is now brightened with striped umbrellas, the chatter of vendors distributing refreshments to passersby, and blue and green coolers filled with a variety of chilled drinks, a welcome respite in what is already 90-degree-Fahrenheit weather (and that number is only going to creep up.) There must be at least one refreshment stand on each block — sometimes three or four — and like weeds, their numbers seem to be increasing. If you go to the plaza outside the main shopping complex, Tsum, you will see a whole congregation of them. It's summertime, and Bishkek is alive, bustling, and thirsty.
Here is a quick guide to what locals are sipping right now. At this point I should also clarify that there are beverages, and then there are brands. Shoro, for example, is Kyrgyzstan's largest beverage company that commercially produces national Kyrgyz drinks, but shoro is also a beverage. (It's like how Fanta is a Coca-Cola brand, but Coca-Cola is its own drink.) On the streets of Bishkek, drinks are served non-alcoholic, chilled, and in three sizes (usually, 0.2 liters, 0.4 liters, and 1 liter).
Maksym (Максым)
Let's start with my favorite, maksym. Maksym is a brown, slightly tangy, barley drink made from fermented grains. It is a Kyrgyz classic. Its ingredients include animal fat, wheat flour, cracked barley (talkan), water, and yeast. It is also healthy, rich in minerals and Vitamin B. Though maksym has originally been made in small quantities by women for family consumption, it is now popular known by its commercial product, Maksym Shoro, by the Shoro company based in Bishkek.
Chalap (Чалап)
Chalap is a traditional Kyrgyz and Kazakh drink made of yoghurt, carbonated water, and salt. I would say this drink is an acquired taste, both because of its saltiness and pungent smell. You will find it here as Chalap Shoro (again, by the Shoro company), or Tan (by the Yenesei company).
Carbonated Water, With or Without Syrup (газ вода, с сиропом или без сиропа)
This is a fun drink to order on the streets because it comes from a rickety gray contraption that looks like the Great Gum Machine from Willy Wonka and the Chocolate Factory (the one that makes Veruca turn into a blueberry). While they are not as ubiquitous as umbrella beverage stands, they still have a presence. I long wondered what these machines were for when I first saw them in their unused, abandoned, dilapidated state in the dead of winter, some of them stuffed with discarded cigarette boxes, and most marked with graffiti. But now that summer is here and vendors have taken them over again and cleaned them up, I see that these machines spurt out carbonated water, with your choice of "with syrup" or "without syrup." I also like going to these machines because most of them offer proper glasses, which vendors will carefully wash and wipe for you before serving. (Sometimes chilled drinks just taste better from a sturdy glass.) Just don't walk away with it. The vendor will need it for the next customer.
Green Tea with Lemon (зеленый чай с лимоном)
Now this is a summer drink Americans will be familiar with — chilled sweet tea — especially from where I come, in the southern state of Virginia. This drink is also popular with foreigners who still don't understand why many in the former USSR drink hot tea in hot weather. Or if they do understand it (the biological explanation is that a hot drink causes you to sweat more, so therefore you cool down more), they still don't like it. Meanwhile, Kyrgyz locals don't understand why Americans are "obsessed" with cold tea. Me? I actually am used to drinking hot tea in hot weather now. I learned how to do this while enduring a hot summer spell in Kiev last year, and all my host mother offered me was scalding hot tea. But I will still enjoy a chilled sweet tea now and then.
Kvass (Квас)
Kvass is a fermented beverage made from black or rye bread. It is popular throughout Russia and the Slavic countries, as well as greater Central Asia. Though there is a mild alcoholic content, it is so low that it is often referred to as "children's beer." In Kyrgyzstan, it is often flavored with fruits or herbs such as strawberries, raisins, or mint. There is a kvass vendor near the London School, so I will usually get a small cup while I'm waiting for the mashrutka.
Kompot (Компот)
Last but not least, there is kompot, a natural fruit drink that is prepared by steeping either dried or fresh fruits in hot water and sugar, and then chilling in glass jars. Sounds simple, but it is ten times better than any manufactured fruit drink you will find in the stores; these are often too sweet and too full of chemicals. You will find kompot in many flavors, including apple, cherry, pear, and apricot.
—–
Of course, there are other ways to keep hydrated in Bishkek aside from the sidewalk umbrella stands. There are pivnie bari (beer kiosks) where you can enjoy the ever-popular brews of Nashe Pivo ("Our Beer"), Zhivoe ("Alive"), and Baltika (for whatever reason, Bishkek prefers Baltika #7, so you will always find it in abundance in small neighborhood shops and supermarkets…one local says it's because Baltika #7 is "not too strong, and not too weak"). There are many ice-cream and soft-serve stands, especially around the capital's parks and squares. And of course, you can buy any of the drinks mentioned above by the bottle in most stores. The options for quenching your thirst are numerous.
So stay cool, Bishkek. And take a swig of summer.
Eirene Busa
You'll Also Love
This guide is part of the much larger SRAS Guide to Living in Bishkek.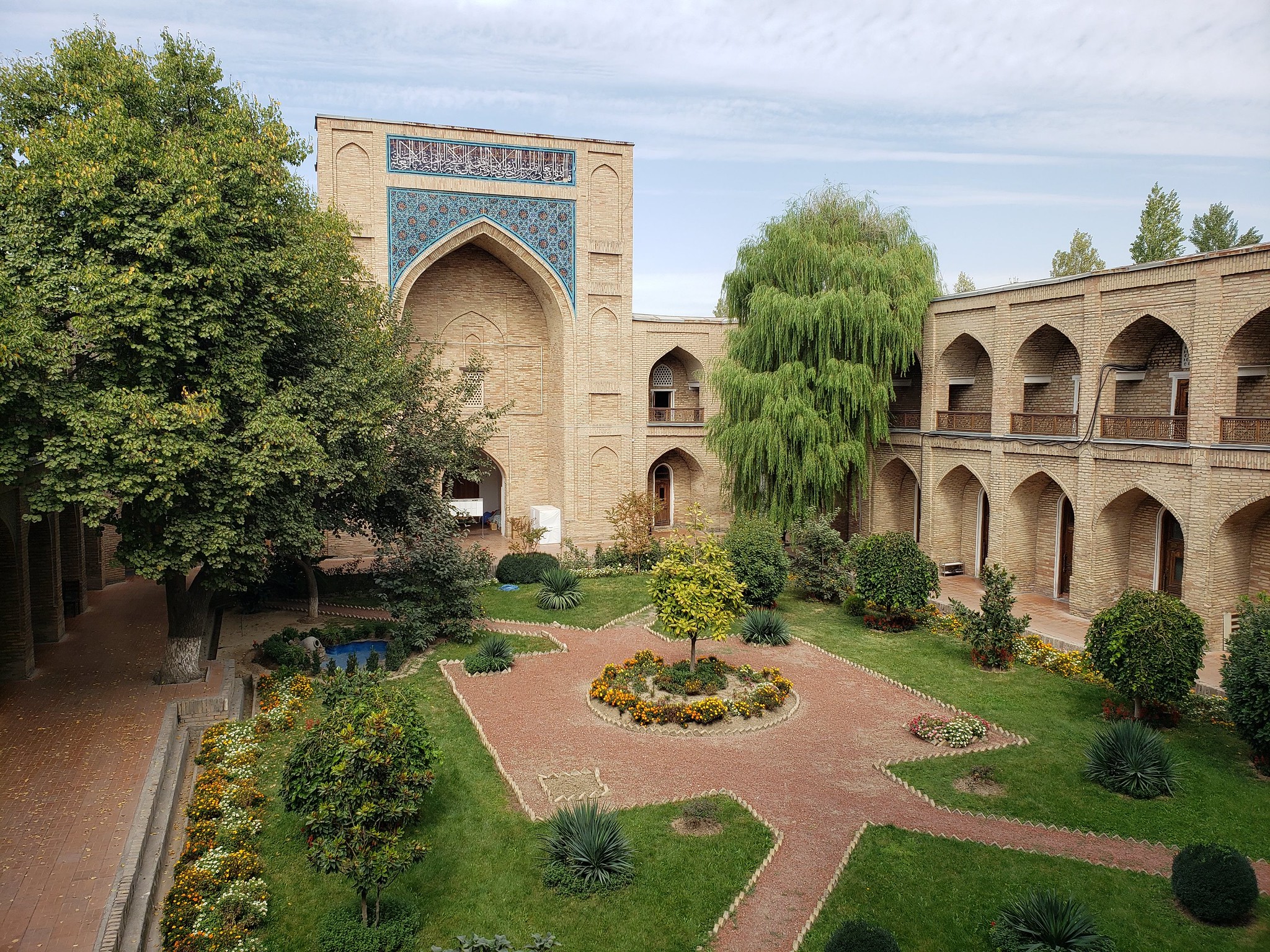 My Central Asian Studies Program with SRAS in Bishkek included a fantastic 9-day trip to the major Silk Road cities of Uzbekistan—Khiva, Bukhara and Samarkand—which was book-ended by visits to Tashkent. At the end of my program, I made the trip to the capital of Uzbekistan again, this time independently. I stayed there for three […]
0 comments