Georgia is one of SRAS' fastest growing study abroad locations. Students that head to Batumi or Tbilisi return home with incredible stories of a friendly, architecturally interesting city, fabulous food, breathtaking mountain adventures, and, very often… dogs.
Georgia's stray dogs are remarkably well-kept by Georgian society. They are generally well-fed, well-behaved, and even fully vaccinated. There are also an incredible number of them, seeming to move through the city and village streets of Georgia just like any other citizens.
The below was written by Ava Ferrigno, a student at Connecticut College who studied with SRAS in Georgia in 2023, about her experiences with the stray dogs of Georgia.
The Street Dogs of Study Abroad
When I recall the street dogs of Georgia, many images come to mind. I remember, for instance, visiting Stalin's childhood home in Gori, the tour guide leading us up those rickety, rotting stairs to the porch. She didn't shoo away the terrier that followed us, hanging on to her every word about the history of this place. Instead, our guide kneeled down and embraced the dog. The dog moved to enter Stalin's house, but, as if sensing the evil it once harbored, recoiled, and began sniffing its perimeter before raising a leg to urinate on its foundation.
The dogs of Georgia had a great sense of humor, as I would come to realize over the next six weeks of my stay. They were as much a part of the SRAS program as the students, professors, and staff at Nova Mova. Jerry, a musky coonhound, often barged into the school and plopped herself atop the orange couch in the main room, her large, copper head resting on one of our bags. While we practiced our Russian, she would nap there. Her tail wagged whenever we emerged from the classrooms, ever our supporter.
On my first night in Batumi, I had gotten myself lost while walking back to my homestay. My phone had no signal, and the Google Maps' compass just kept spinning and spinning. Being alone in an unfamiliar city and unsure of where to go, I began to panic. To buy myself time to figure out what to do next, I sat next to a dog by a bar and began petting her. She flipped over on her back, exposing her belly, and grinned up at me. Her plump body reminded me of a potato, and so I called her Картошка (kartoshka), the Russian word for potato.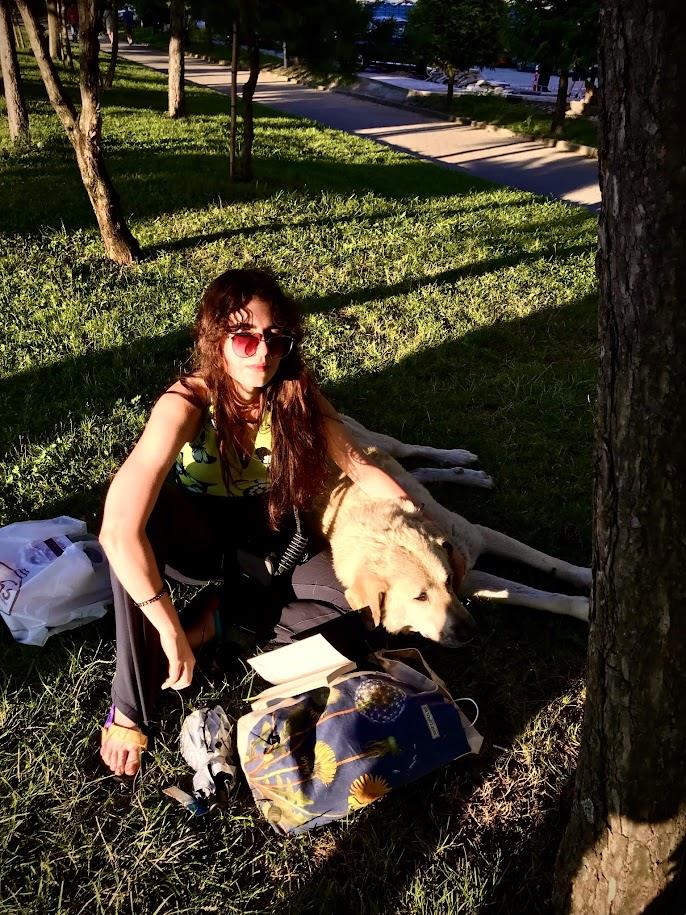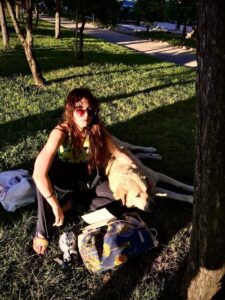 After talking with her for a time, I sighed and stood up, ready to face the reality of being lost. To my surprise, she stood up, too, and began waddling behind me. People laughed at us, the girl and her plump dog. Картошка brought as much joy to them as she did to me. Suddenly, the city seemed less scary. The locals weren't staring at me out of malice, but amusement. I figured that with a dog by my side, no harm could come to me. Картошка and I visited Europe Square, resting on the grass and climbing Medea's monument. She gave me a street-dog's tour of Batumi. Since I was no longer panicking, the streets began to look familiar. Soon enough, I found my homestay and Картошка followed me all the way.
The dogs of Georgia kept me safe. A large black Belgian Malinois my friends and I named Batman warded off drunk men who otherwise would have approached us. Another mountain dog, Big Fluff—who plopped down next to me while I was reading Dante's "Inferno" by the beach—rumbled at large men who got too close. But as much as these dogs are guides and defenders, they are also in need of help.
In Svaneti, my friends and I were returning from a late night of karaoke. On the way back to the hotel, we passed an alleyway. A small shadow bounded out from the darkness, outlined in a silver silhouette by the streetlights. I stopped walking and watched the little shape scuttle across the ground. Was it a squirrel, a cat, a guinea pig? None of us could tell until the animal ran out of the alley.
A puppy, one so small he looked as if his eyes had only just opened, approached us—so brave and pitiful and naive—squeaking like a mouse. I scooped him up, and he nestled against my neck, content to be in the arms of something living and warm. He was so trusting and lost like I was during my first night in Batumi. Alone, I walked through the alley, searching for his family, emboldened by his courage to brave the dark streets of Svaneti. There was no one.
Against the advice of my friends, I smuggled the puppy—Robin, I named him, in honor of Batman—into the hotel. We watched The Blair Witch Project with him on my lap on the fourth floor of the hotel—an unused barroom. I slept on the floor with him, creating a bed out of blankets and pillows, and watched over him throughout the night. We fed him hard-boiled eggs and bread, which he gobbled down graciously. Robin didn't whine or bite or scratch at us. He was the best-behaved puppy I've ever met. We were told he would have probably died that night had we not taken him in—he could have been hit by a car, attacked by a dog or a person, or fallen and gotten injured. I couldn't stop the tears from falling when one of the hotel staff adopted him right as we were leaving for Batumi.
Organizations Helping Street Dogs in Georgia
As with stray dogs the world over, so many dogs like Robin never find homes in Georgia. Many fall victim to starvation, diseases, and abuse. An estimated 80,000 dogs roam the streets of Tbilisi alone, while the entire country may be home to around 500,000 stray dogs.
According to the nonprofit organization, the Georgian Society for the Protection and Safety of Animals (GSPSA), there are few non-state-run animal shelters in Georgia due to rampant poverty and funding challenges. Stray animal adoption rates remain low, and many dogs who require consistent treatment cannot be reintroduced to the streets. Legislation protecting domesticated animals is lacking in Georgia, and many dogs and cats are kicked out of their homes if they fall ill because their owners can no longer afford (or refuse to seek) veterinary care. Organizations like the GSPSA, D.O.G., Dogs' Ambulance, Elizbarashvili Dog Shelter, and Geo Dog Refuge work tirelessly to care for, sterilize, vaccinate, and find homes for stray animals in Georgia, but without government funding, they rely on donations and volunteers to support these dogs.
Street Dogs as Part of Georgian Society
While the scope of the animal shelters' care is limited by resources and legislation, the citizens of Georgia take up the mantle. Restaurant owners, shopkeepers, and local residents place metal water dishes and plastic containers containing meat and bread on the street for the dogs to consume, keeping them well-hydrated and fed. Makeshift dog houses line alleyways, providing shelter for cats and dogs during storms. It's clear that Georgians make sure the stray animals in their neighborhood are cared for.
In Tbilisi, I watched as an old woman hobbled over to a pack of street dogs, a cane in one hand and a plastic bag full of fresh slabs of meat from the butcher in the other. I wondered if she would need to fling the beef away from herself, so the dogs wouldn't swarm and bite her as my own rescue dogs—overwhelmed with excitement—would. But these dogs gently took the cuts from her hands and politely sat down in bushes or sprawled across the cobblestones to enjoy their dinner. This woman noticed me watching her in bewilderment. She said something in Georgian and smiled at me, gesturing to the happy dogs around her.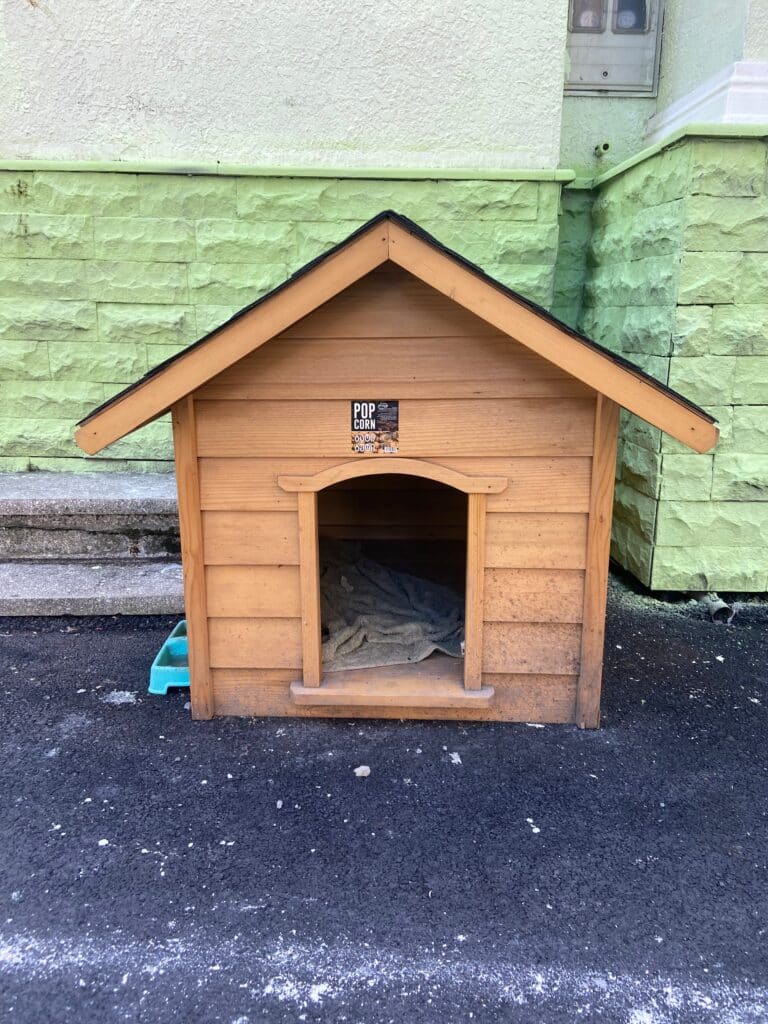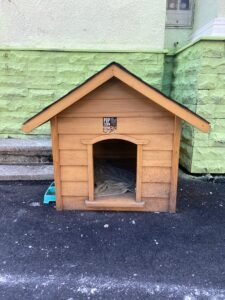 Like the beef-bearing woman, many Georgians embrace the presence of these creatures. The staff of a café in Svaneti welcomed Batman into their establishment with open arms, allowing the large Belgian Malinois to lie on the floor while my friends and I drank our coffee. A pub in Batumi, Sinner's, allows stray dogs to sit beneath the tables, eat leftovers, greet patrons, and listen to the live music—some of the dogs even howl along to the songs. These animals are the lucky ones. Not only are they surviving on the streets, but they're thriving. It is the affection they receive from locals and tourists that makes these dogs so kind and trusting.
So while I learned that owning a foreign purebred here is a status symbol—that some actively seek out breeders and consider stray dogs vermin—the people of Georgia (particularly the youth)—adore the dogs and are pushing for legislation to protect them.
Jerry, Картошка, Batman, Big Fluff, and Robin are not vermin. They, like all street dogs, are worthy of having companionship and homes. They pee on dictators, protect lost women, go to school, and watch horror movies with a bunch of college students.
When my family asks me what the street dogs of Georgia were like, I tell them how the dogs defy a world that tries to smother them, and how they still unconditionally love the makers of that world.
---
You Might Also Like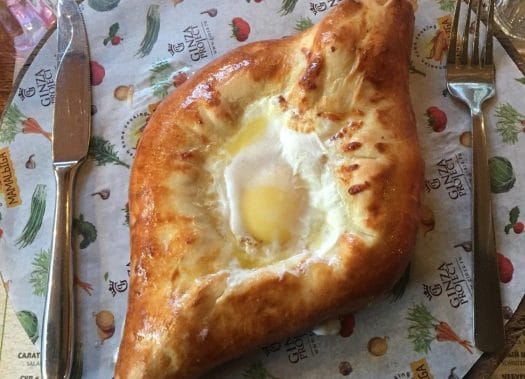 One of the most exciting things about travel is the ability to try new combinations of flavors and textures! Local food can not only delight your senses, but also introduce you to important parts of the local culture and history. Georgian food is one of those cuisines that are exotic and yet everyone  Study, eat, […]
0 comments