Georgia, despite being only about the size of West Virginia, offers an incredibly diverse array of landscapes and cultures to explore. The bustling capital of Tbilisi is located relatively near the country's center, meaning that adventurous travelers can take in many of Georgia's unique regions as comfortable day trips.
The three such day trips below are described by Leah Mayerhauser, an undergraduate American student who visited Georgia as part of a two-week Faculty-Led Program with SRAS through Connecticut College. Keep reading for more on the day trips the group experienced. Similar trips are also included with many regular SRAS study abroad programs in Georgia.
Kakheti: Wine and Food
Located about two hours east of Tbilisi, the Kakheti region is best known as the main wine-producing region of Georgia, with over 200 varieties of grapes grown over hundreds of vineyards. Georgia is home to some of the oldest winemaking technology on earth. Pride in its diverse wines and their history makes up a distinct and important part of Georgian identity. Each of the many wineries in Kakheti has their own unique take on the wine making process – with many using variations of ancient, traditional Georgian methods. Our trip was stuffed with food and culture.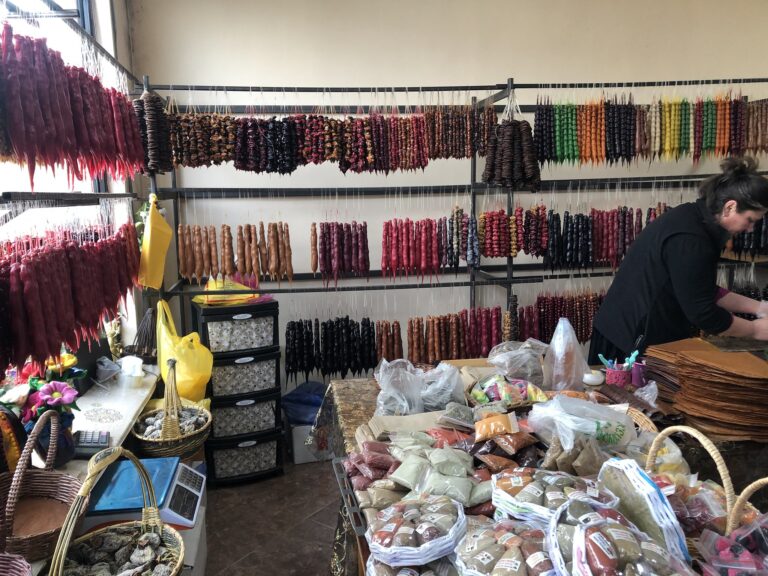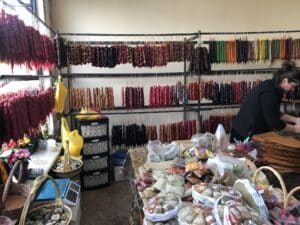 The main event of our journey was a winery tour and tasting to learn about the history of wine in Georgia, but along the way we made various stops to interact with locals and learn more about what life in Georgia is like for those outside of the capital of Tbilisi, where we were based. Our first stop of the day was about thirty minutes from our base to a small roadside shop that sold Georgian delicacies and handicrafts. While there, we sampled a variety of flavors of churchkhela, a traditional Georgian candy made from thickened fruit juice and nuts.
We then headed to a family farm and put our baking skills to the test by making shoti, a traditional Georgian bread that is shaped like a crescent and baked inside a tandir oven. While it was baking, we were able to converse with the owners of the farm and learn about what a day in the life of a farmer in the Georgian countryside looks like. They discussed what they produce, how they produce it, and where they sell their products. After about fifteen minutes our bread was done and we were given some homemade sulguni cheese to pair with it.
Our last stop in Sighnaghi was to Kusika Restaurant and Hotel, where we enjoyed a tasty array of traditional Georgian dishes and stunning views of the Caucasus mountain range. It was a little chilly, but the staff brought us blankets to ensure our comfort. Each and every dish we were served here was flavorful and delicious, but the Megrelian khachapuri and ojakhuri (a simple but delicious meat-and-potatoes dish) were some of the best we had the entire trip!
Lastly, we came to the main attraction. Located about a twenty-five minute ride from the restaurant, we visited two wineries to learn about the history, production, and storage of the wine as well as attend a wine tasting. We first stopped at the JSC Corporation Kindzmarauli, the makers of one of Georgia's best-known and unique wines. We were led on a tour through the wine production area, stopping at each stage to hear firsthand from the winemakers about the process. Our guide then took us to the tasting room where we sampled four of the most popular wines that Kindzmaruli produces and learned proper wine etiquette. Full of delicious food and wine, we made our way to the last stop of the day, Khareba Winery. Built into the mountains, this famous winery is known for preserving the traditional Georgian winemaking process, using clay qvevris for aging. For a more in depth look at the winery, check out this article written by an SRAS study abroad student: How Tea and Wine Are Produced in Georgia.
After a very long day of exploring the region of Kakheti, our group began the journey back to Tbilisi, which for most of us consisted of a much needed nap!​​ While it wasn't our first trip out of the city, traveling through Kakheti was the first opportunity we had to get an in-depth look at life outside of the capital. At every stop along the way, we gained a new perspective of the different aspects of Georgian culture ranging from agriculture to art, and learned the importance of how different viewpoints contribute to one's understanding of a new culture.
Kazbegi: Rugged, Friendly Mountains
A three-hour road trip north of Georgia's capital of Tbilisi will bring you to snowy Kazbegi, a region of rugged mountains in north-eastern Georgia near the Russian border.
Heading towards Kazbegi, we first made a stop at Jinvali Water Reservoir for a great photo opportunity of the Aragvi River and its surrounding green mountains. Several vendors are set up on the lookout for anyone interested in local souvenirs and treats. We then continued to Ananuri Fortress, which dates back to the 13th century. Its castle walls, Orthodox Church, and lookout tower are open to the public. Its architecture contains many distinctly Georgian elements but also recalls that Georgia has had multiple cultural influences, including from the Greco-Roman, Byzantine, and Persian Empires. While there, be sure to ask a local about the story behind how the fortress became known as "Ananuri"!
Lunch for the day was at Dariali Restaurant, located in Gudauri, the ski capital of Georgia. Surrounded by the Caucasus Mountains and several feet of snow, this restaurant had the feel of a cozy ski lodge and served us a full Georgian meal, introducing us to many traditional dishes like shkmeruli (chicken in a garlic cream sauce) and kebab, which were both delicious. During this meal, I also learned the art of a Georgian toast, as I happened to sit at the head of the table and was thus given the role of tamada (Georgian toastmaster) and led a toast to our travels!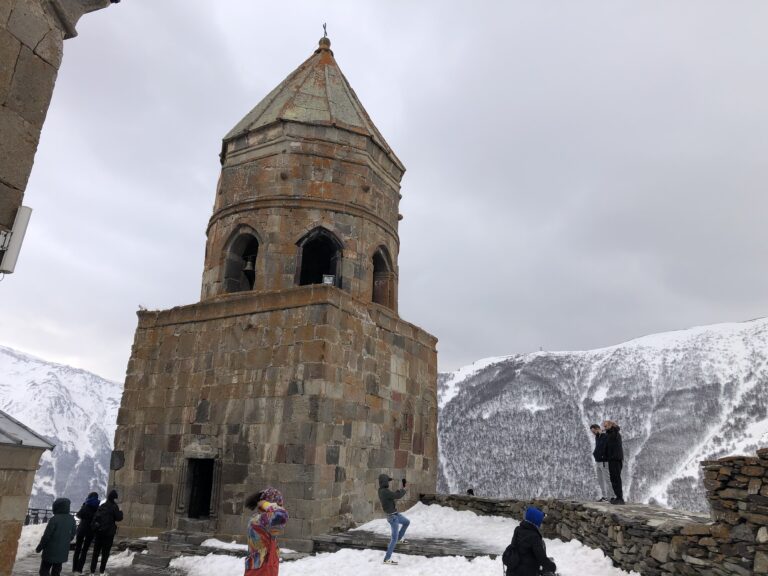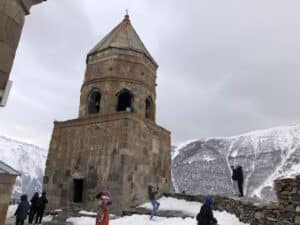 Finally it was time to head to the main attraction of the day: The Gergeti Trinity Church located at the top of one of the region's soaring mountains. After more winding roads and steep climbs, we had only reached the town of Stepantsminda, at the base of the peak we would ascend. Here, we had to transfer from our cars to special vans with professional drivers that would be able to make the 7,000 ft climb to the top. The effort was worth it, though, as, at the top, we were greeted by an incredible Georgian church and snow-covered mountains in every direction, a majestic and iconic image that has become a symbol for Georgia itself. If it wasn't for the chilly weather and high winds, we could've spent hours just looking at the view and trying to figure out how to fit the incredible views into photos.
Coming down from the mountains was also an adventure. Due to avalanche conditions, several roads on the route had been closed leaving a single, thin road from Russia back into Georgia. Miles of tractor trailers carrying goods between the countries lined the roads waiting for their turn to use the tunnels through the mountains. What was supposed to be a three-hour ride turned into a very long six hours, so just something to keep in mind if traveling through the region.
There is truly no comparison for what Kazbegi has to offer in terms of scenery and the friendliness of the locals. While there, you are sure to have an experience like none other and gain a new appreciation for how diverse Georgia's natural landscape is!
Shida Kartli: Georgia's Long History
A short one-hour drive outside of the Georgian capital of Tbilisi lies the Shida Kartli Region, a great place to take in Georgian history from ancient times to the troubled 20th century. Our group made stops in Uplistsikhe, Gori, and Mtskheta.
Our first stop of the day was to Uplitskhe, an ancient cave city and one of the oldest settlements in the Caucasus. While we climbed through the caves, our guide pointed out what inhabitants of the city would have used each room for, including a ceremonial hall, theater, and even underground wine storage! The amount of detail within these hand-carved caves along with the surprisingly advanced technology that these ancient residents implemented is sure to amaze any visitor!
We then made our way to Gori, the capital of the region, and the birthplace of Joseph Stalin. Before exploring the city, we grabbed a bite to eat at Joseph Restaurant. The restaurant serves mainly traditional Georgian cuisine, but does offer lighter fare options like grilled chicken and simple salads for those interested. Every dish was delicious, but be sure to order the khinkali, Georgia's famously large dumplings, as they were bursting with flavor (and juice)!
Much of the city center of Gori is taken up by the Joseph Stalin Museum, which is divided into three sections, the main museum, Stalin's former house, and Stalin's railcar. Visitors have the option of taking a guided tour with a docent or exploring on their own, but I highly recommend opting for the guided tour for English speakers as most of the information is written only in Georgian and Russian. The museum details the life of Stalin, from his humble beginnings in Gori to his rise to power in the Soviet Union. While making your way through the museum it is hard not to feel emotional as a portion of the museum is dedicated to the atrocities that the Georgian people faced under Stalin's rule. It was fascinating to see how the city of Gori acknowledges this as part of its history while also trying to shape a new future for itself.
Heading back towards Tbilisi, our last stop of the day was to Jvari Monastery and Mtskheta, the former capital of Georgia and a UNESCO World Heritage Site. Jvari was built in the 6th century and is one of the oldest and best-preserved pieces of Georgian architecture. It has long been held as an archetype of traditional Georgian style. It overlooks Mtskheta as well as the point where the Mtkvari and Aragvi Rivers intersect, creating a beautiful contrast between the waters from each river.
Mtskheta is one of the oldest continuously inhabited cities in the world. It was a major political capital when Georgia became the world's second officially Christian state and was once a vibrant intellectual and religious center. The Georgian Orthodox Church considers it a "holy city." Walking through the main street of small, quiet Mtskheta today, you'll find a wide variety of souvenirs and shops selling homemade Georgian treats. Before leaving, stop at Svetitskhoveli Cathedral, Georgia's second largest church building and a UNESCO site itself.
From Mtskheta, it is only a quick thirty minute ride back into Tbilisi, making this the perfect loop for a day trip.
Conclusion: Georgia for Slavic Studies Students
Reflecting on this trip as students of Connecticut College's Slavic Studies department, we gained a new perspective on how post-Soviet countries are moving forward and creating their own narratives independent of their ties to Russia. You can find out more about the changing face of study abroad for Russian majors and more about our Faculty Led Program in a debrief podcast on the SRAS blog.
---
You Might Also Like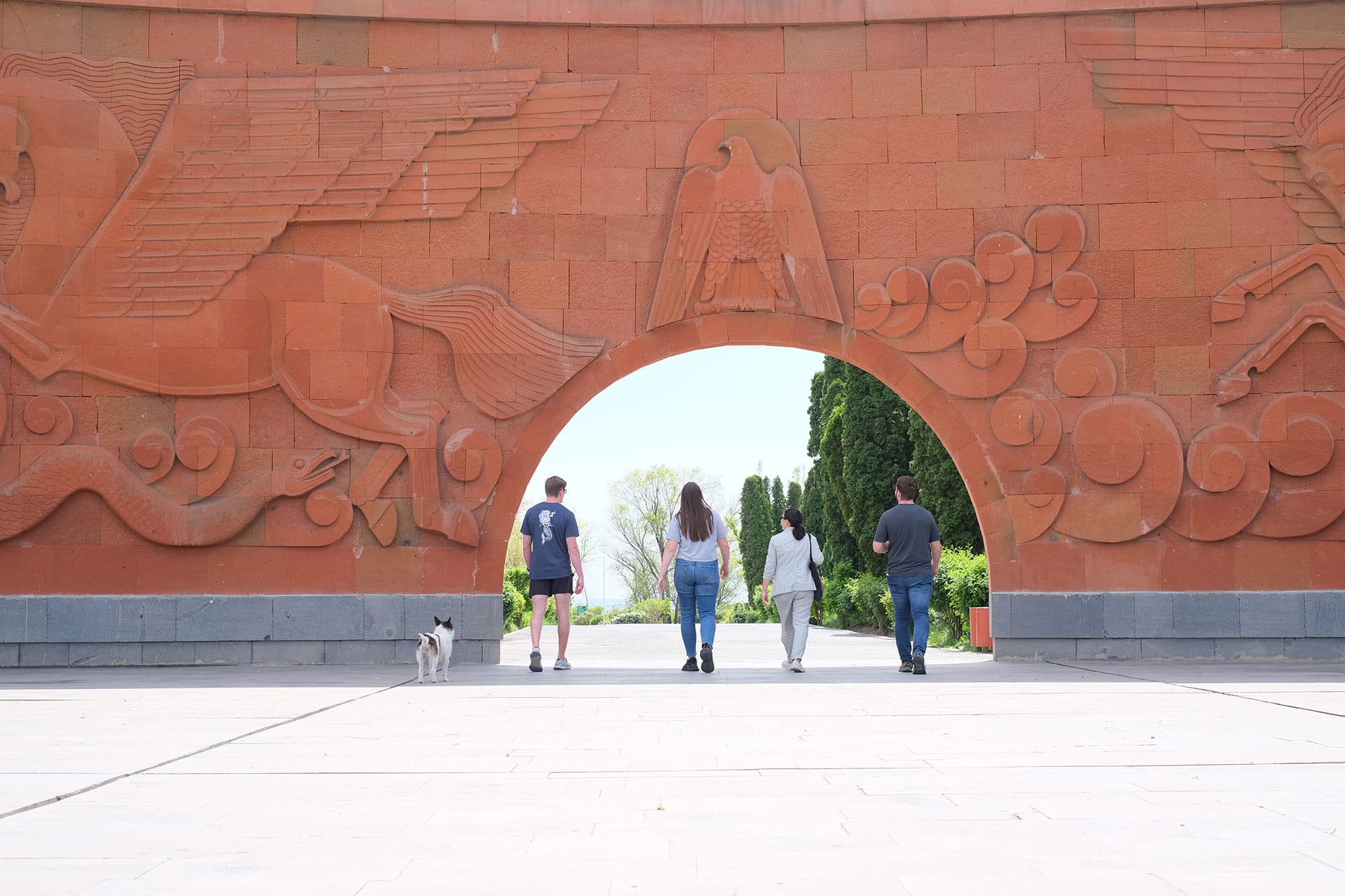 One of the most exciting aspects of SRAS's Identity and Conflict in the Post-Soviet Space program is the opportunity to travel to Armenia and Azerbaijan while you are based with your program in Georgia. The opportunity to see all three of the countries of the South Caucasus clarifies the diverse circumstances and attitudes in not […]
0 comments