Batumi brims with shopping outlets. From large shopping malls to tiny kiosks and traditional bazaars, from antiques to the latest fashions, this guide hopes to introduce you to some of the best opportunities that students on SRAS programs in Batumi have found!
Tbel Abuseridze str. #5
Review by SRAS Student Ashley Pan
DS Mall is the closest and most substantial mall in proximity to the school. Although the exterior may look small, the building is deeper and labyrinthine throughout. It's a little like the bazaar, but cleaner and quieter. The mall consists of two floors with the second floor primarily selling clothes, towels, shoes and jewelry, and the first floor with a wider assortment of items (phone accessories, a supermarket, a store full of antique looking furniture and kitchen supplies, and more). This mall also offers an entire nail store and the equivalent of a yarn barn for those who want to pick up supplies for a hobby. It also has a small makeup shop that I found to be the only store in Batumi that carried individual bottles of eyelash glue. Most other stores only sold it in a full eyelash kit. Overall, the DS Mall is a little bit on the pricier side (comparable to boutique shops within the city), but proves to be a pleasant surprise with its assortment of goods and speciality shops.
---
32 Agmashenebeli St
Review by SRAS Student Ashley Pan
While famously full of ruckus and an overstimulating amount of products, bazaars are one of the best places to shop cheaply and smartly. They are also a long-held tradition in Eurasia and a great cultural experience for Americans who have likely not experienced the bazaar, where most locals go to shop for everyday items. Here, you'll find prices halved from the inflated prices that you'll find in the tourist sections of Batumi on just about everything from swimsuits to pringles.
Batumi is a very walkable city in general and it is possible to walk to the bazaar (about 30 to 40 minutes from the NovaMova school), but in case walking is not preferred, taxis or public transportation will work perfectly. Taxis will get you there in 5 minutes for around 4 lari ($1.50) or public buses in 10 minutes for 30 tetri (0.3 lari). In comparison to the Central Asian bazaars I've seen before, I found Hopa to be somewhat smaller, but overall cleaner and more enjoyable to navigate. Quite literally everything and anything can be found there. From American snacks to clothes to commercial kitchen equipment, the bazaar is a great place to purchase at a fraction of the normal price, or, if you have it in you to bargain, even lower. There are some things I would not recommend relying on the bazaar for certain thin. For instance, on every street there are small shops with fruit being sold at the front so it's not really needed to make the trip out to the bazaar everyday for this. Also, makeup and hygiene products are more disorganized in the bazaar than they will be in shops which makes me question the quality somewhat. I would recommend going to Hopa for everyday, miscellaneous items like flip flops, souvenirs, cutting boards, household items, etc).
---
Lech and Maria Kachinskaya st. 1
Review by SRAS Student Ashley Pan
The Metrocity Mall is one of the closest approximations to an American mall that you will find in Batumi. Although it has most of the stores you'd expect in a mall, it also has an Old Navy equivalent store called LC Waikiki, a store that most closely follows modern Western fashion called The New Yorker, and a kitchen supply shop that sells just about anything you'd need from silverware to porcelain plates, tupperware, and pots and pans. There is also a supermarket on the bottom floor of the mall. The restaurant scene isn't all too diverse with a Burger King, a Doner stand, and an overpriced Georgian restaurant being the major savory options – but I would recommend the Luca Polare ice cream and Turkish Delights candy stands on the second floor.
Transportation is also incredibly convenient with the entrance of the mall itself serving as a bus stop for several lines. The Metrocity Mall is located at the West end of the boardwalk and is about 50 minutes away walking from the NovaMova school. In comparison to the smaller boutique shops located more inwards of Batumi, Metrocity Mall is best for casual clothes shopping as several stores offer prices comparable to the bazaar.
---
Tbel Abuseridze str. #5
Review by SRAS Student Ashley Pan
Mosaic is a large makeup and hygiene products store that is no more than a 10 minute walk from Nova Mova. Conveniently located right next to the DS Mall, its size as a standalone shop is impressive. Cleaning products and laundry detergent can be found in the back of the store and a plethora of skincare and makeup products more towards the front. Everything from sanitary pads to face masks and snail gel is available here. In particular, almost anything you would want for skincare is probably in this one particular store. The one thing I looked for but couldn't find was false eyelashes and eyelash glue, but those can be found in the makeup shop in DS Mall next door. I also found that the sunscreen sold in this store is cheaper than what other stores usually charge. Please note that popular makeup brands that we would usually find in a Sephora in the United States are not widely carried in Batumi. Products in this store are equivalent to that of drugstore makeup and are of fairly decent quality.
---
You Might Also Like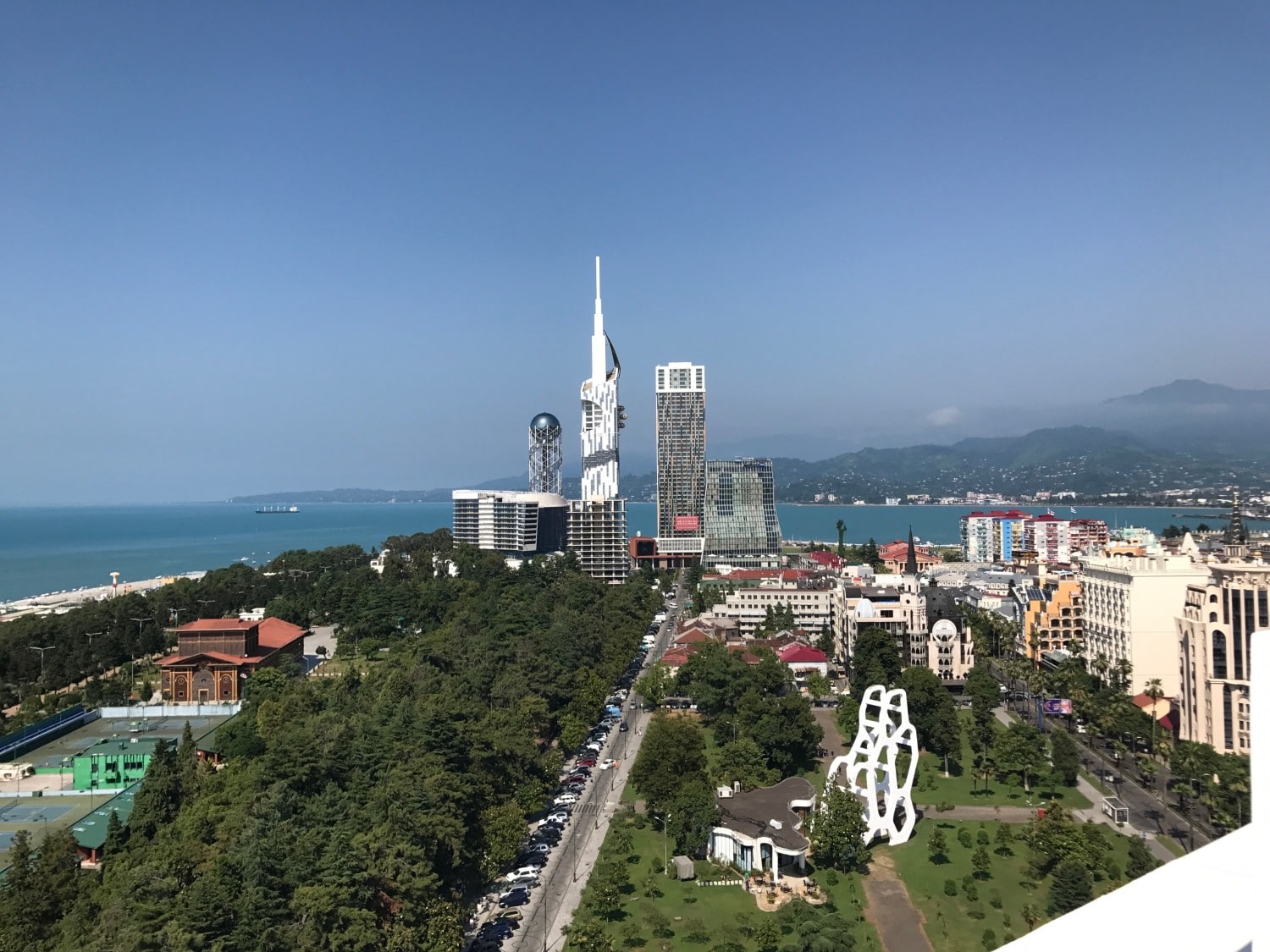 In the summer of 2017 I attended the 2017 SRAS Russian as a Second Language program in Batumi, Georgia. My heart had always been set on studying in Saint Petersburg, but after researching various SRAS programs to see what else was available and looking at photos of Georgia and the Black Sea I could not […]