One of the most exciting things about travel is the ability to try new combinations of flavors and textures! Local food can not only delight your senses, but also introduce you to important parts of the local culture and history. Georgian food is one of those cuisines that are exotic and yet everyone  Study, eat, speak, and learn to make the most of your study abroad experience in Batumi! Below are some options found by SRAS students in Georgia that they would like to share with you.
54/62 Zurab Gorgiladze St
Review by SRAS Student Justin Frigault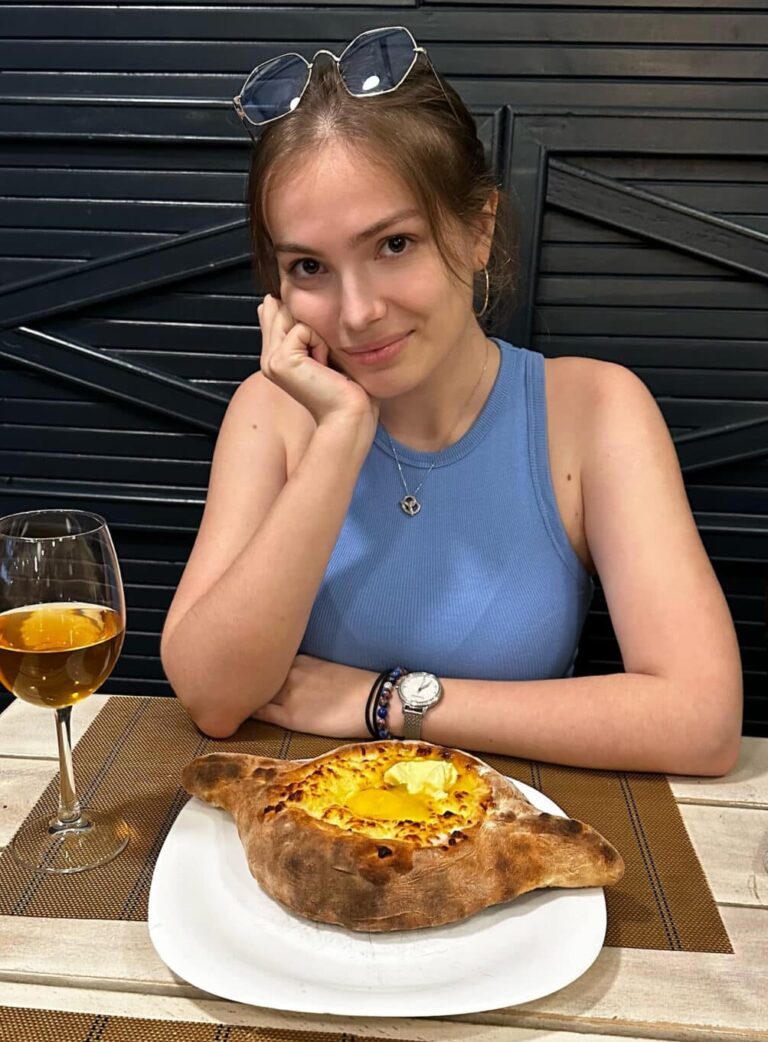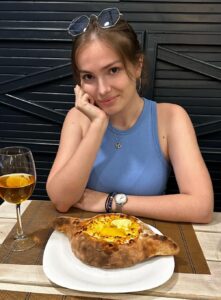 Retro is a restaurant that specializes in Adjarian khachapuri, a boat-shaped bread that is filled with butter, cheese, and topped with a runny egg. It is named for Adjaria, the region of which Batumi is the capital, so it's a local tradition and something you must try while in Batumi. The restaurant is relatively close to Novamova's classrooms, where SRAS programs in Batumi are held. It's just three streets up – seven minutes by foot.
I went with my girlfriend and we ordered kharcho soup for 16 lari (about $6.25), ojakhuri with pork for 22 lari ($8.50), a small Adjarian khachapuri for 15.50 lari, and an Adjarian khachapuri with mushrooms and sulguni cheese for 22 lari. The khachapuri was fantastic. Perfectly cooked, freshly made, and came out pretty quickly. Knowing the restaurant specialized in khachapuri, I was surprised that the ojakhuri was also one of the better examples of this dish I have tried. It was not as oily as others, and the pork was very tender. I thought it was a bit expensive, but worth it for the dish's quality. The kharcho was also very tasty and a bit different as usually it is red, but here it is the green version. We each also got a glass of their homemade white wine for 6 lari each and thought it was perfectly balanced between sweet and dry. You might check whether what they have is sweeter or dryer to match what you like.
This restaurant has a branch in Batumi and Tbilisi, renowned in each location for having the best Adjarian khachapuri around. You can even order your khachapuris with the regular thick crust or with a crispy thin crust. You can also get it with different additions such as sulguni cheese, mushrooms, and ham. Their other dishes are excellent.
To get there, you will turn right when you get to Gorgiladze Street after exiting the school. Walk up the street past two main streets (not including the small side streets). At the third street, you will cross the road and walk towards the sea. You will see an area on the left-hand side with outdoor seating with umbrellas labeled "Heineken." The restaurant is behind this with the small "Retro" sign above the door.
---
12 Memed Abashidze Ave
Review by SRAS Student Justin Frigault
Ga•zapkhuli is a Georgian restaurant that is about a 20-minute walk from the Batumi school. It offers a modern twist on classic Georgian dishes.
Shkmeruli (28 lari; ~$11) is my favorite dish in Georgia, but this one is the best I have had by far out of all the cities I have tried it in during my time here. It's chicken with creamy garlic sauce and usually, the chicken is cooked in the sauce, so it is not crunchy but soft. Often, other Shkmeruli use parts of the chicken with many bones and not much meat, but this one is two good size legs with lots of meat on them. The chicken was so crispy, the meat tender, and when dipped in the sauce it was perfect. The sauce is also delicious and thick, perfect for coating each bite. There is also lots of sauce, making a side order of bread perfect for dipping in the sauce once the chicken is finished.
We also ordered the apkhazura (33 lari; ~$13), which was perfectly cooked beef that is juicy and flavorful on top of a creamy potato puree with reduced grape juice, tashmijabi sauce, barberries, and pomegranate surrounding it. It all went together perfectly, the flavors of the beef, puree, the tartness from the berries and pomegranate seeds, and the two different sauces.
We also had the spicy soup with mini khinkluks (16 lari; ~$6.25) which turned out to be quite lite. It has a broth seasoned with, pesto, garlic, and a pepper that's something like a jalapeño. It has a mild spiciness initially that quickly fades and does not stay with you. My girlfriend is pretty sensitive to spicy food, and this dish was okay for her. Simple yet tasty, and the 6 khinkluks are just mini beef khinkali (dumplings) which are tasty but not spicy. A good dish for something lite, but the other two were our favorites.
There were also plenty of other affordable options, including vegetarian options.
The contemporary twists this restaurant puts on its traditional Georgian dishes makes it unique in comparison to more traditional Georgian restaurants.
---
JMX7+WF2, E70
Review by SRAS Student Justin Frigault
Fishlandia is a restaurant on the sea that specializes in seafood and is located next to the fish market. It's four kilometers from the school, on the other side of the harbor where cargo ships offload. It is about a 50 min walk or a 10-15 min car ride.
However, the experience is recommended as it is in the fish district with a fresh fish market and several other seafood restaurants. The whole point is that things are incredibly fresh. You can also shop for your own ingredients at the market and bring them to one of the restaurants to cook for you.
We ordered directly from Fishlandia's menu, as they also get fresh seafood from the fish market every day, so this seemed a simpler option. The service was excellent, the people were friendly, and we were checked on often. The food was exceptional. It came out quickly and was still so hot we had to let it cool off. It is a beautiful atmosphere, enjoying the sounds of the waves hitting the shore next to you, feeling the sea breeze, watching people fish nearby, and enjoying the view of Batumi and the sea. There is also a beach which you can walk onto from the restaurant. We went in the evening to enjoy the sunset on the water as we ate. There were vegetarian options available on the menu.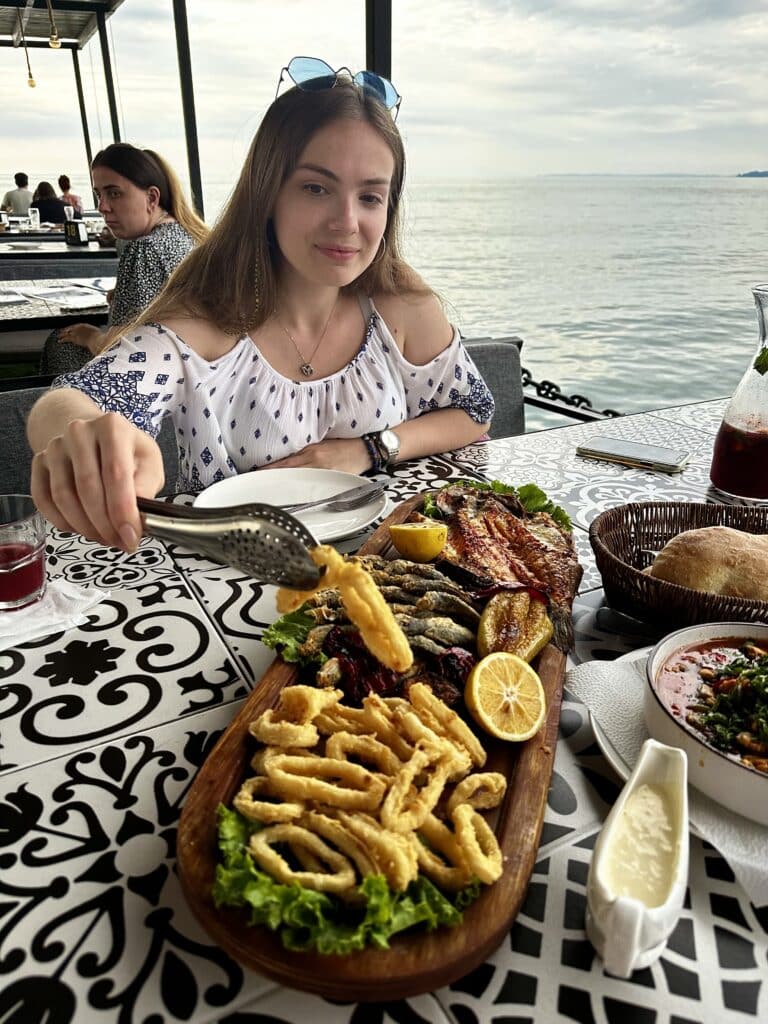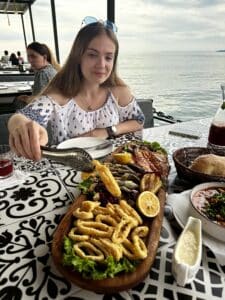 My girlfriend and I ordered grilled seabass, 30 lari ($11.50), fried horse mackerel, 20 lari ($7.75), mussels with tomato sauce, 35 lari, and fried squid (calamari), 35 lari. We also ordered a liter of their house-made lemonade (sprite, berry lemonade, lemon, and mint) for 20 lari, Georgian 'shoti' bread, 1.50 lari, and some white garlic sauce, 1 lari. The grilled seabass was fresh, perfectly cooked, with crispy skin but soft and tender meat. The horse mackerels were a surprise as we were expecting one big fish, but it was many small mackerel. We found they had excellent crunch from the frying. When we pulled the meat off, and it fell right off the bone, and the inside was still moist and soft, not overdone at all. The squid was done much the same but seemed a bit less crispy than the mackerel, which we liked because it retained the chewiness of the squid, which we enjoyed.
The coating for both the mackerel and squid seemed to be simply some flour and salt, focusing on the freshness of the seafood and their natural flavors. If you are a fan of more robust flavors or like to mask the taste of fish a bit like my girlfriend, I recommend getting some sauce The platter also comes with some vegetables, which are grilled and seasoned quite a bit, but wow, they were delicious, and we ate them all. The lemonade was good, but the same as you can find in most restaurants. The bread seemed like it had just come out of the oven; it had a great crispy crust while the insides were still steaming and soft.
There is an obligatory 15% service charge added to your final bill to be aware of before going.
Note also that when you will arrive, you'll need to walk between buildings to a hidden walkway lined with seafood restaurants. An archway in the center says Fishlandia and points you to the front door. The entrance will be on your left. Across from the entrance is the separate kitchen, where they prepare all the dishes, grill the fish in a brick outdoor oven, and prepare the fish for cooking. You can stand at the windows and watch them work if you would like. Upon entering the restaurant, you will see a very openly designed restaurant so all tables can see the sea and feel the breeze. Many of the tables are set up on the water itself, and there is a little beach to walk on and go up to the water from the restaurant.
The Agricultural Market nearby is also a plus – it is an easy 20 min walk away. They have fresh produce there, fresh churchkhela, and other cool home-made treats which are a must try. Way better than anything in stores.
---
78 Zurab Gorgiladze St.
Review by SRAS Student Ava Ferrigno
Sazandari is a restaurant across the street from the school.
The restaurant is dimly lit with big wooden tables and a textured wall. The first time I went to Sazandari, we were greeted and seated by a server, but the next time I went, I wasn't seated by anyone. I sat near the kitchen/bar, and I could see that the waitstaff was very friendly and personable. The menu is large, with a lot of dishes and plenty of vegetarian options.
My friends and I ordered a Caesar salad (15 lari) and fries (5.9 lari) to share. The salad was gigantic; my friend and I had three servings each, and we were stuffed by the end. Today the chicken in the salad was not amazing, but we really enjoyed it in the past. Since we split the check, my meal came out to 10.5 lari, or about $5. My friend also ordered a tequila sunrise (13 lari) which was quite large and tasted good, according to her.
Sazandari has an extensive menu that also includes a lot of traditional Georgian dishes and vegetarian options. For example, I have seen other patrons share khachapuri and homemade lemonades. When I visited the restaurant earlier, I shared five khinkali with my friend. The khinkali were filled with beef, but there were also traditional options (pork) and vegetarian options (cheese and mushrooms). The minimum khinkali order was 5, with each one costing 1.5 lari. The menu also had a barbecue section, with grilled chicken and roasted vegetables.
What makes this restaurant unique is how large the portions are. The plates are easily shareable by two (or even three) people. One thing to note – the staff can be pretty pushy, especially the men. One server has repeatedly attempted to give us his Instagram handle and invited us to his party on the beach. If one is uncomfortable by this, I suggest looking for a waitress instead.
41 Vakhtang Gorgasali St.
Review by SRAS Student Ava Ferrigno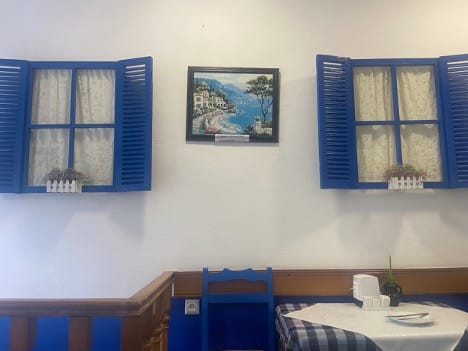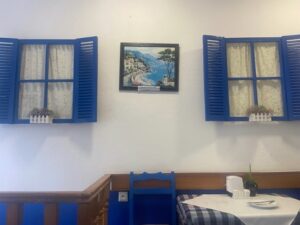 Cafe ELLADA stands out from the other restaurants on Gorgasali Street with its brilliant azure facade. Its sigil, a columned Parthenon surrounded by the Greek key, signals the nature of its cuisine. I had the privilege of living above Cafe ELLADA in my host family's apartment. From my balcony, I could smell the rich scents of olive oil, feta cheese, and pita bread carried by the sea breeze.
The Greek restaurant was always bustling with customers, and at times my friends and I were unable to secure a table due to the minimal indoor and outdoor seating options. Still, we frequented this establishment the most because of the delicious food, generous portions, and inexpensive prices. My go-to meal was the pita bread with tzatziki sauce (2.50 lari, or ~$1). For a side dish, the portion was enormous. The outside of the pita was crispy, the inside fluffy, with olive oil drizzled on top. The tzatziki sauce was a flavorful and refreshing accompaniment to the dish. I sent my Greek grandmother photos of the meal, which she gave her stamp of approval. My friend ordered the cabbage salad (5.00 lari), which she gushed over; the dish was crispy and well-seasoned. As vegetarians, there were plenty of options for us to choose from at Cafe ELLADA, such as pea soup (8.00 lari) and mushrooms in a pot (8.00 lari). In addition to Greek, ELLADA also has affordable Georgian and Russian food.
---
You Might Also Like
What's it really like to live in Tbilisi for a semester? Staying long-term in a city is much different from just vacationing there. You'll need to navigate more of the practical, everyday services of the city and budget to include more miscellaneous and long-term expenses. Thus, this guide covers everything from haircuts to pharmacies and […]
0 comments