Batumi's restaurants offer just about everything. Whether you are looking for just great food, for instagramable moments, for vegan fare, or just about anything else, you can find in Georgia's resort city! Below are some options found by SRAS students in Georgia that they would like to share with you.
6 Griboedov St
Five minutes away from NovaMova across the street is the famous Freeduchio Cafe. Ranked #2 out of 393 restaurants in Batumi by Tripadvisor, this cafe was my favorite place to lounge with friends after class. They label themselves as a breakfast cafe but also serve lunches and even cocktails. Besides their outdoor tables, there are various indoor seating options such as a large round table for big groups, a cozy lounge area with couches, and a line of smaller tables.
The staff primarily speak Russian, but most also understand English and all are very kind. The owners are Russian and can be seen relaxing here quite often, making this cafe an excellent spot to practice speaking the language.
Food can run anywhere between 8-24 lari ($3-9), but most items are unlike anything in the U.S, so it is a great place to experiment and try new things. As a breakfast cafe in Georgia, they serve dumplings, eggs, smoothies, and burgepuri (large sandwiches with the option of cheese, salmon, beef, or falafel and hummus). They also offer a variety of vegan options such as salads, oats, and quinoa – one of the students in our group is vegan and was always able to find something she liked each visit. The coffee here is also exceptional, and they are very flexible with customizing orders. On the other side of the menu, they provide small desserts and even alcohol at average prices (5-15 lari for desserts and 14 lari per cocktail).
The average cost of a meal is around 25-30 lari ($9-12) per person, and although service can take a bit of time, the food is always worth the wait and they will even refund you the cost if they feel they took too long.
My all-time favorite dish from my stay in Georgia was the halva stuffed dumplings served with strawberries and sour cream (14.9 lari) offered only by Freeduchio. Instead of the traditional cheese or meat, the Ukrainian method of stuffing with sweet halva (almost nutella-like) was a pleasant surprise and had me searching every grocery store for straight halva. I also commonly ordered their burgepuri with salmon (22.9 lari) which is essentially a very large bagel sandwich served with smoked salmon and eggplant – this meal is more than enough for even a hungry student.
A couple of things to note: they do not like splitting checks (we usually had one person pay via card and then Venmo'd them back), they prefer the person who is paying to approach them at the counter when ready to pay, and they always add a 10% service charge.
In conclusion, this cafe was probably my most frequently visited place due to the comfortable setting and amazing menu. The decor and art all felt very homey, and I could spend hours of my day getting work done with their free Wi-Fi. Their halva dumplings are truly one of a kind and cannot be found anywhere else at the quality they serve it. A must-visit location for any student studying in Batumi!
---
4 Sherif Khimshiashvili St
Lovita, a six-minute walk from the Nova Mova summer school, is nestled in between the 24/7 MacDonalds and the beach. This cafe serves a variety of foods, including sushi, ramen, pasta, burgers, pancakes, coffee, and alcoholic beverages. With its vibrant pink decor—its fuschia walls, neon lights, and dangling cherry blossoms, Lovita is easily spotted from across the street.
Upon entering the establishment, I was overwhelmed by a blast of cold air, the sugary smell of fresh croissants, cakes, and mochi, and the tunes of American and French pop and indie artists (think Lana Del Rey, Melanie Martinez, Stromae) playing from the speakers. Scattered across the cafe are numerous places and props to take aesthetically pleasing photos of yourself and your friends. A large bathtub filled with flowers marks the transition from the front of the cafe—where freshly baked goods are showcased—to the back dining room area. The tables against the walls have charging outlets and the Wi-Fi is free and fast, making Lovita a great place to get some work done. The outdoor seating on the balcony overlooks an apartment complex. Servers may either come to take your order, or you can call them over with the call button attached to the table.
Unfortunately, the cafe allows for little customization regarding your order. A friend of mine was told that Lovita could not do a cheeseburger without cheese and I was told that if I ordered the "brioche with avocado, salmon, and poached egg" without salmon (as a vegetarian), I would still have to pay for fish. Additionally, dishes that initially appear to be vegetarian on the menu may have meat in them, such as the children's macaroni and cheese (which came with the surprise addition of bacon). However, the french fries, pancakes, omelets, oatmeal, and green salad are suitable for vegetarians. The vegetarian sushi rolls on the menu can only be ordered as a 42-lari set. Despite these limitations, the cafe does have non-dairy milk (soy and coconut) and will make substitutions for your caffeinated beverages.
There are two bathrooms, which are spacious, clean, and well-lit, and the entire cafe is air-conditioned.
My meal consisted of a large velvety pink latte macchiato made with raspberry syrup and coconut milk (14 lari) and the pancake romance—a 25-lari mountain of pancakes, bananas, peaches, gold-flecked chocolate, and whipped cream. Both the drink and dish were so rich and delicious, I couldn't bring myself to finish either. The dishes at Lovita are slightly more expensive than others in Batumi, but the portion sizes, culinary artistry, and ambiance make up for it. The 7-lari french fries make for a satisfying, salty snack if you're craving American cuisine. A friend of mine ordered a Baileys cream coffee (16 lari), spicy pork noodles (12 lari), and a Philadelphia roll (26 lari). He found the coffee and sushi to be delicious and filling, but thought that the pork noodles could be spicier.
Overall, Lovita is a cute, romantic cafe that is a great place to come to at least once while in Batumi for the decor alone. As the dishes are a bit more expensive, it is best saved for special occasions.
---
6 Griboedov St
Artumi Pizza is a café and pizzeria just down the street from Novamova where SRAS classes are held in Batumi.
It looks cute and deceptively small from the outside. If you walk in and turn left, there are two large, well-decorated rooms full of seats and places to relax. The walls have large murals painted on them and the decorations are very cozy. There is also outdoor seating, with painted tables and umbrellas to protect customers from the sun. It can be hard to communicate with the wait staff, however, since they are a bit younger and spend a lot of time talking to one another.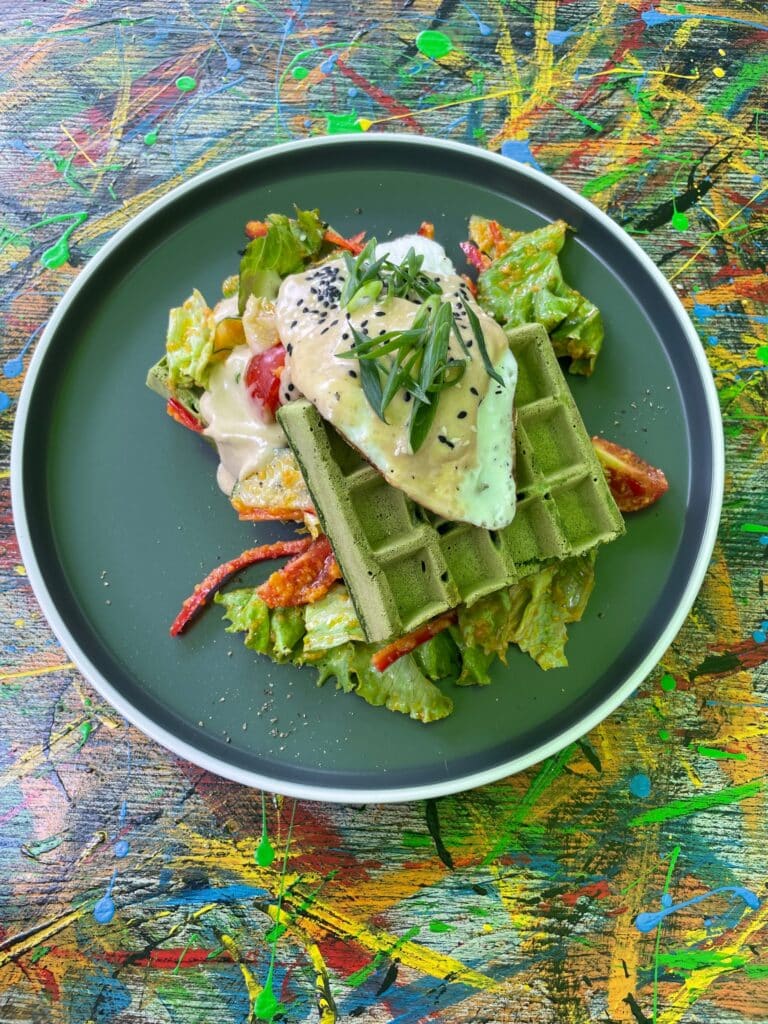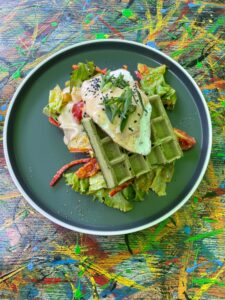 I ordered "waffles with vegetables and egg." It cost 16 lari (~$6), which was more on the expensive side, yet comparable to other restaurants and cafes in the area. The waffles were made from spinach, so they were bright green. There were also vegetarian pizzas and salads. The plate was very colorful and full of fresh vegetables, making it a nice change of pace from some of the more carbohydrate-heavy dishes Batumi has to offer. The menu has a lot of pizza options, including sharing sizes and personal sizes. Smaller pizzas cost about 11 lari (~$4.25), while larger ones averaged at 22 lari (~$8.50). They also had a café with served coffee, tea, and matcha.
This establishment is unique because of its proximity to the school and its cozy interior. The meals could easily be shared between friends, and the wait staff speaks English (though I communicated in Russian). Also, Artumi Pizza has free, working Wi-Fi and a place to charge electronics, making it a great place to work or relax.
---
23 Melikishvili Street
Go Vegan Café, located in the old city across from a Greek-pillared park, is one of the few restaurants in Batumi catering entirely to vegans. The establishment is near second-hand shops, bookstores, and only an 8-minute walk from my home stay.
A large bookshelf filled with tabletop games, books, plants, quirky figurines, and sketchbooks (that patrons can draw in) separates the entrance of the café from the seating area. The walls feature mosaic tiles, the seat cushions are plush, and sparkling lights dangle above the ordering counter. Go Vegan commits to the earthy aesthetic, making it a welcoming and perfect place to relax and study. You can seat yourself and wait for the staff to come to your table, or you may approach the counter to order.
Sitting next to a white cat that frequents the establishment and plays with the feathery toys scattered across the cushions, my friends and I ordered the tofu burger (18 lari; ~$7)—which came with crunchy dill potato wedges and a tangy sweet and sour sauce—falafel rolls (16 lari; ~$6), and a chocolate smoothie (11 lari; ~$4.25). The tofu in my burger was perfectly tender and crispy, leaving me fully satisfied. My non-vegan friends devoured their falafel rolls and had trouble finishing them because the hearty pita wrap was a behemoth and stuffed with falafel, tomato, hummus, and lettuce.
Though slightly pricier than other cafés in Batumi—with the 18-lari "burgers" being the most expensive dishes on the menu and the 13-lari bumble coffee the priciest drink—Go Vegan allows for the customization of your order and the menu is explicit about the allergens present in each dish. I would recommend this café to vegans, vegetarians, others with dietary restrictions, and meat-eaters alike!
---
You Might Also Like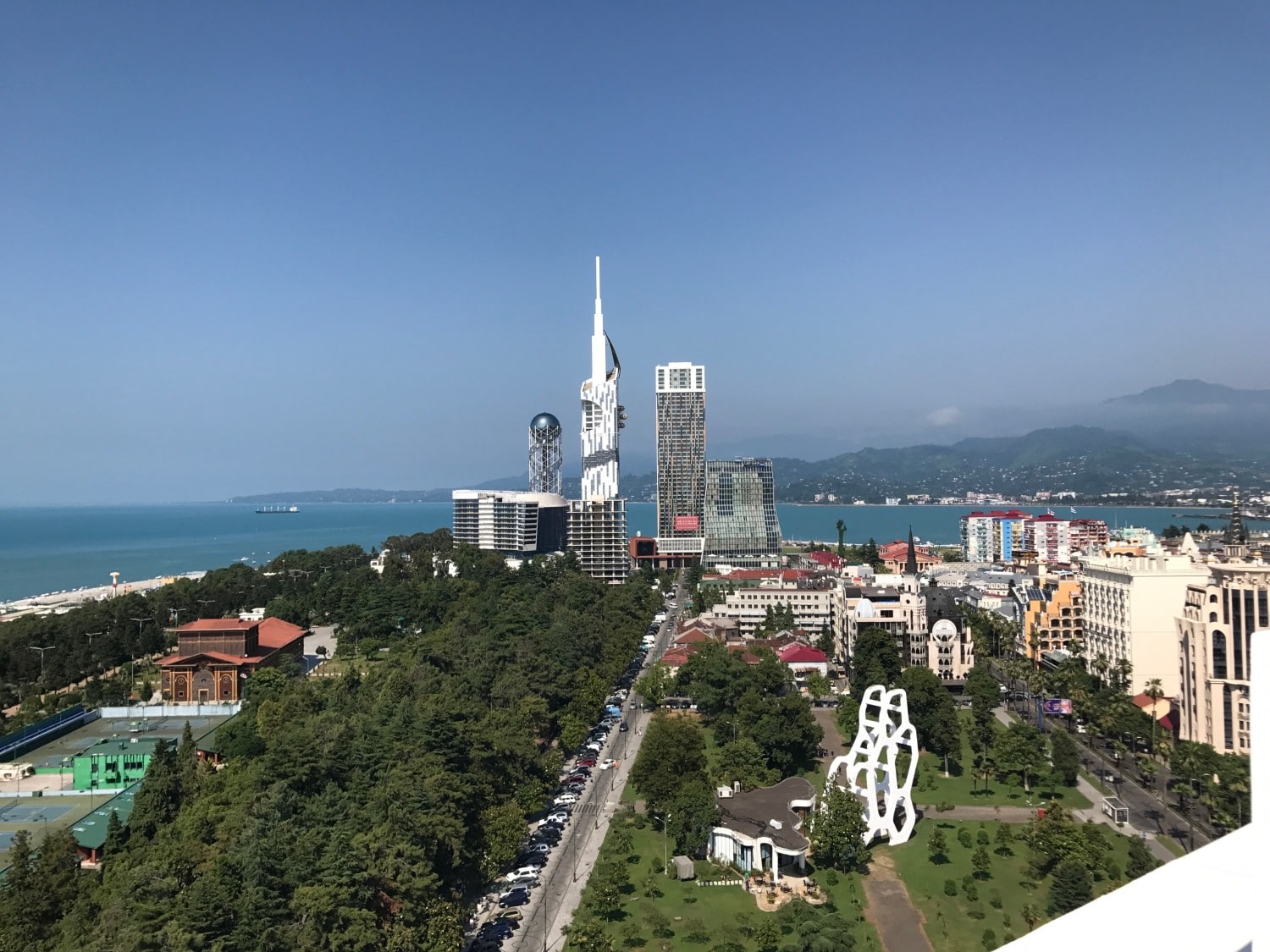 In the summer of 2017 I attended the 2017 SRAS Russian as a Second Language program in Batumi, Georgia. My heart had always been set on studying in Saint Petersburg, but after researching various SRAS programs to see what else was available and looking at photos of Georgia and the Black Sea I could not […]