Whether you're buried in books or basking in the sea breeze, these cafes will undoubtedly become your go-to spots for fostering productivity and unwinding in the remarkable study abroad destination of Batumi! Below are some options found by SRAS students in Georgia that they would like to share with you.
66 Zurab Gorgiladze St
Review by SRAS Student Justin Frigault
Li'mania Bakery is a pastry shop to get dessert pastries like cakes and tarts. The bakery is very close, just one street up from Novamova's classrooms, where SRAS programs in Batumi are held.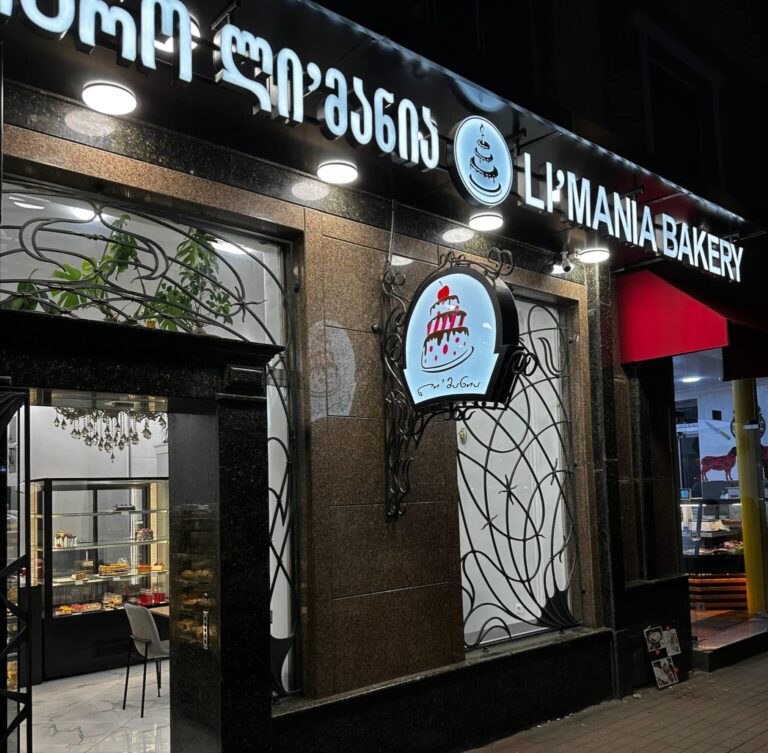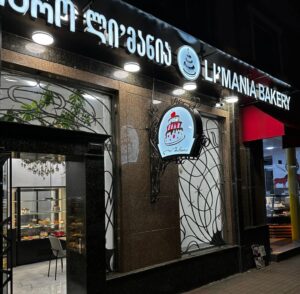 I have ordered slices of chocolate cheesecake, blueberry cheesecake, Napoleon cake, and carrot cake from this shop before. A slice of carrot cake is 5 lari ($2), a piece of cheesecake is 6 lari, and a Napoleon cake is 5 lari. Everything there is around 5 lari and is delicious and affordable! Everything is vegetarian, but there are no vegan options.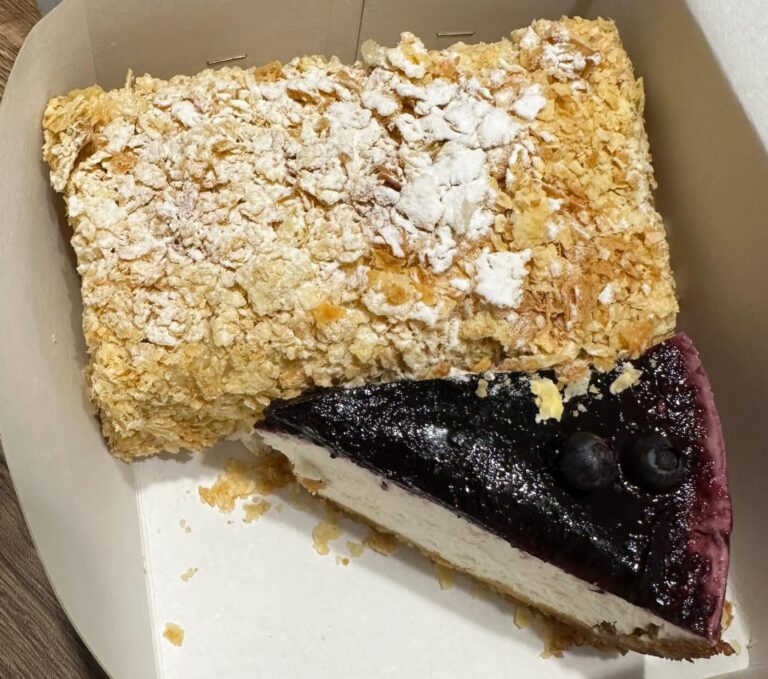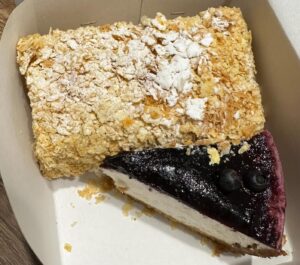 I have stayed in Tbilisi and Batumi for many weeks and have gotten many desserts as I have a sweet tooth. Hands down, this is the best pastry shop I have come across here. Often, cheesecakes here are drier and crumblier, which is not how I like them. The cheesecake at this shop is very dense, moist, and so delicious! Their other cakes never disappoint, always delicious and moist. And their carrot cake is so good! It also has a hint of lemon in the cream, giving it a nice little twist. The price is also the same, if not cheaper, than other desserts in restaurants and pastry shops, yet the desserts at this shop are so much better. It is also so convenient, right up the street from the school. So, if you need a little sugar boost between classes during the break, you can easily pick one up and return with time to spare. It is also spotless, has excellent food safety, and has friendly service where you can practice your Russian and learn new words as you try their different desserts. Note that they don't have coffee or really much else besides the deserts – but you can bring in your coffee if you would like to.

You will turn right when you get to Gorgiladze street after exiting the school. Walk up the street to the next light. You will cross to the other side of the road and continue walking straight (away from the school). The pastry shop will be on your left-hand side, about halfway between the street you just crossed and the next road ahead of you. You enter a spotless shop filled with delicious desserts and are greeted by a lovely lady who works there. It is very friendly, clean, and the pastries are the best I have had in Batumi and Tbilisi.
---
4 Pirosmani St
Review by SRAS Student Michael Kee
One block south west of the school is the small Capybara Coffee Shop. The owner, Oleg, and his family were forced to flee their country due to the war, so they decided to move to Batumi and open up this small business. Oleg is very friendly and loves to talk with students from surrounding schools who study Russian – he speaks perfect English and Russian and is very open about his experiences in Ukraine. He became a great resource to learn more about the war and to practice speaking after a day of classes. I was introduced to this location by my Ukrainian language partner, and it quickly became one of my favorite safe spaces to relax.
Although the shop is small, I always found space to sit comfortably and study. The traditional coffee options here are nothing too special, but they offer unique variations such as their Maple Raf and Cappuccino Pistachio. They also offer tea and can make drinks with alternative milk. The prices of the coffee are average compared to others in the area, at about 5-12 lari (~$2-5) for a cup, but I felt better knowing I was supporting a small family-owned business directly impacted by the war. They also offer freshly made sandwiches (9 lari) and desserts (7-10 lari) that change weekly. Mousse cakes, a berry yogurt dessert, quiches, and a vegan sour-lime frozen yogurt can be seen in the picture, but they have also offered things such as pistachio-raspberry tiramisu, sweet-tubes (blini with a condensed milk filling), and their famous Lviv syrnyk (a sweet cheese fritter) in the past. Lviv syrnyk is named after the city of Lviv in Ukraine and has a citrus flavor with raisins and a chocolate glaze.
Even though I only discovered Capybara Coffee in the last weeks of my program, I kept returning for the friendly atmosphere and Oleg's encouragement to pursue the Russian language. For many students in my group, this shop was on the way to and from school, so it was not uncommon for us to stop by for some energy before class. Due to the incredible service, kind owners, and location, I recommend Capybara Coffee to any future student studying in Batumi.
---
16 Zurab Gorgiladze St
Review by SRAS Student Marina Garfield
Café Grotto is a small café about a 10 – 15 minute walk from the Novamova's classrooms, where SRAS programs are hosted in Batumi.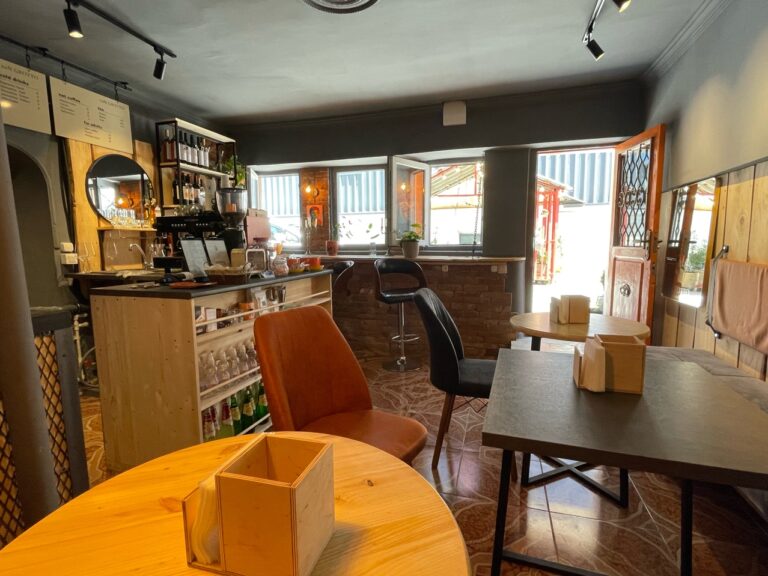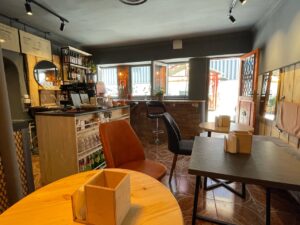 It is small and cozy, with decor and dim lights that make you feel like you're in an exclusive underground cave. The staff is very personable; I've observed that they enjoy talking to customers. I tried ordering in Russian, and the waitress was very patient, which I appreciated. However, she also spoke English, and would explain something in English if I did not understand. Calm lo-fi music plays in the background.
I ordered a matcha frappe, and it cost 14 lari ($5.50), which I thought was a bit pricey. The drink was refreshing, but I believe this cafe's atmosphere is more appealing than its menu. As I did some homework in the cafe, the waitress brought me a pitcher of lemon water, which I thought was a generous gesture. Although I did not order food, I noticed that the menu is breakfast-oriented, featuring porridge and an English breakfast (8 lari and 15 lari, respectively). Lastly, there were a few sandwiches on the menu (8 lari). I was originally drawn to this cafe because of the sign I saw advertising 5 lari coffee, but the sign was somewhat misleading, since many items on it cost more than 5 lari. The staff also seemed more than happy to adjust their sandwiches in order to make them vegetarian.
What I think makes this place the most unique is its private, cozy atmosphere and a good environment for doing homework. Café Grotto is a great place to visit if you feel overwhelmed by classes, or the study abroad experience. The cafe has outdoor seating options, as well as seats near big, open windows. Even the view outside is cute and quaint, contrasting some other cafes.
---
MJ3H+6MV, Batumi, Georgia
Review by SRAS Student Ashley Pan
Luca Polare is a quaint dessert shop known for its ice cream and proximity to the beach. Although a little small from the outside, its unique structure catches your attention as you walk along the boardwalk. Entering the shop, you can immediately tell that no space is wasted. The interior is modern and clean and you're greeted with a row of ice cream flavors. Although there is space to sit inside, many opt for the upstairs deck in open air. While coffee and milkshakes are offered here, the primary attraction is the unique selection of flavors and quality ice cream that you wouldn't be able to find in convenient stores or other dessert shops.
The majority of flavors were just below 5 lari (about $2) with a few exceptions. I ordered the Raffaello Crash in a cone which can be described as a vanilla base with hints of coconut and bits of nuts within. Usually it comes with a white Raffaello ball unless they run out by the end of the day. This flavor in particular is popular and is slightly more expensive than normal flavors (5.9 lari). The first time at Luca Polare, we went together as a class with cohort members getting different flavors such as Milk and Cream, Almond Caramel, Drunken Vanilla, etc. The general consensus among our group was that it was a good ice cream shop and was also recommended by people who were in Batumi from previous years. One student ordered a milkshake however, and thought it to be just alright because it came out warm. Milkshakes in this part of the world, we found out, tend to be just flavored milk – so be forewarned.
There are two locations of Luca Polare along the boardwalk–one closer to the Nova Mova School and one towards Old Batumi. Either way, Luca Polare is a convenient spot for a treat as it features a second story lounge spot to overlook the sea while enjoying a snack. Nothing beats a quality cone of ice cream from an established dessert shop especially at their prices.
---
13 Memed Abashidze Ave
Review by SRAS Student Ava Ferrigno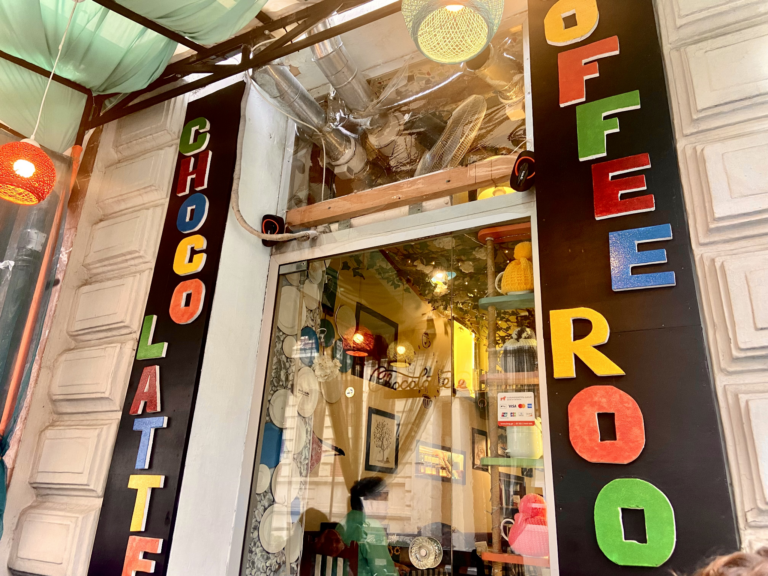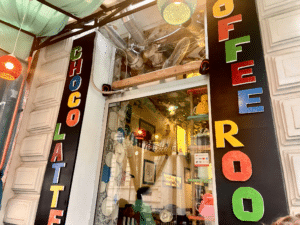 Nestled across from a rustic antique shop and just a stone's throw away from the seaside, you'll discover Chocolatte Coffee-Room. This cozy café fosters a quaint charm with its adorned walls, book-filled shelves, flourishing potted plants, and intricately crocheted cup sleeves that match Batumi's vibrant nature.
Their menu offers lunches, breakfasts, and snacks for meat eaters, vegetarians, and vegans alike. At Chocolatte Coffee-Room, you can enjoy omelets, potato pancakes, French toast, waffles, yogurt, and an array of coffee blends—three of which are chocolate-based beverages that aptly live up to the café's name. Additionally, they offer a selection of soups, pasta dishes, alcoholic beverages, and teas. Whether you prefer savory or sweet dishes, you are bound to find something delicious on the menu.
The coffee shop—a seven minute walk from my homestay—has both indoor and outdoor seating, with the latter being shielded by flexible, transparent plastic that allows you to comfortably endure a storm with a book in one hand and a cup of coffee in the other. The staff were incredibly friendly and didn't mind that I spent two hours reading Shirley Jackson's We Have Always Lived in the Castle at my booth.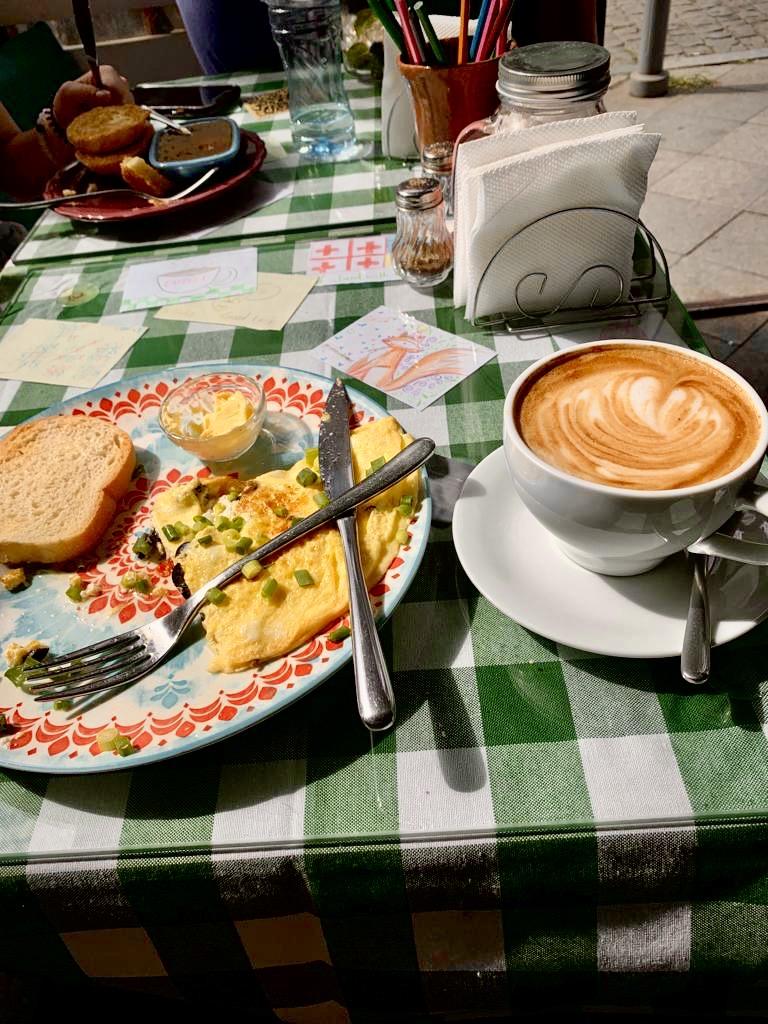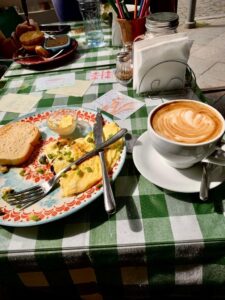 If you possess an artistic inclination or simply wish to unleash your creativity, you can draw on white slips of paper and slide them beneath the glass tabletop. Each table displays the artwork of previous patrons from various corners of the globe.
The portions are rather large and reasonably priced. The coffees range in price from 6 lari ($2.33) to 24 lari ($9.33) and the main dishes vary from 10 lari to 20 lari. My 7-lari cappuccino, 11-lari French toast, and a 5-lari side of marmalade made for a filling meal. The French toast was both fluffy and crisp, and tasted delicious with the sugary jam. For those opting for non-dairy milk, such as soy, an additional charge of 5 lari applies to the beverage.
Chocolatte Coffee-Room, with its calming atmosphere and proximity to the beach, is the perfect place to seek solace from the sun, finish a book, study, or chat with friends.
---
6 Irakli Abashidze St
Review by SRAS Student Justin Frigault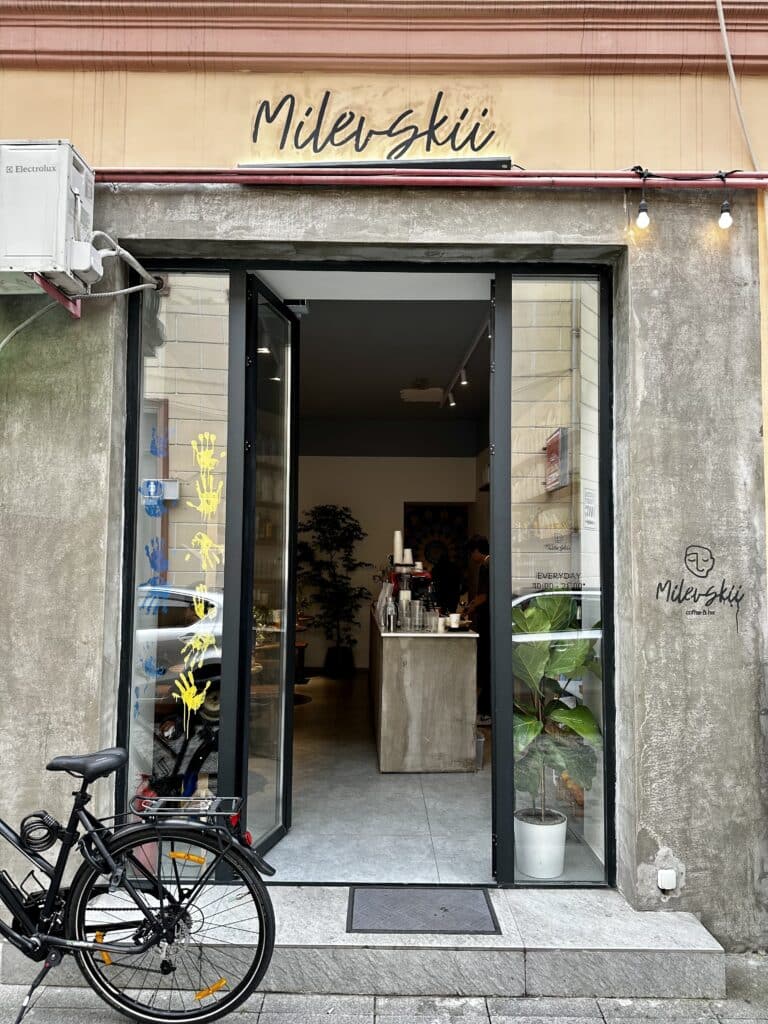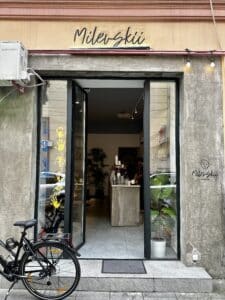 Milevskii Coffee & Bar is a café about an 18-minute walk from Novamova's Batumi location, where SRAS programs are hosted. Located around the corner from Euro Square, my girlfriend and I agreed it was a perfect café, ideally located for a stop during a walk around the central area.
We ordered a cappuccino, 9 lari ($3.50), a flat white, 12 lari ($4.66), brioche benedict with salmon, poached eggs, and hollandaise sauce, 27 lari, and caramel French sandwich with coconut cream and fresh berries, 22 lari. The coffee was exceptional; we did not need to add sugar. The cappuccino was mild, not too strong, and the coffee had a hint of a sweet/fruity flavor. The flat white was more robust, with a bolder flavor and just a slightly acidic bitter bite, but not overly strong, and we could still pick up the fruity notes in the coffee.
The food was incredible! They use brioche bread, which is thick, sweet, dense, yet fluffy. The benedict was very well balanced, and the hollandaise sauce was thick, not too buttery, and not overwhelming to the dish/other flavors.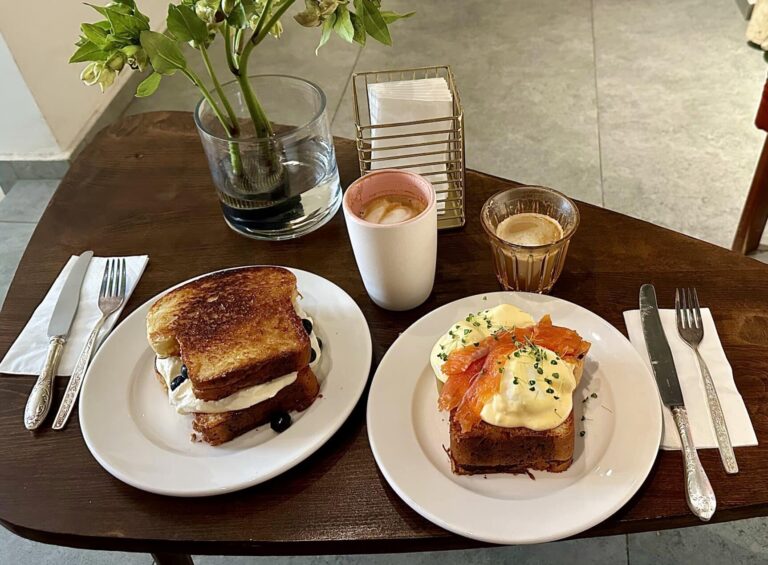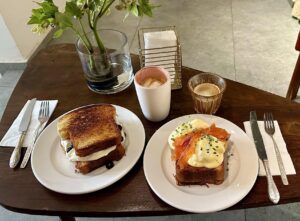 All the flavors came through, and it was such a new experience trying eggs benedict on brioche bread. They slightly overcooked our eggs, so they did not have an entirely runny yoke, only partially, which was a downside. Still, we will be back as we love trying different eggs benedict when we travel, and this is up there with some of the better ones we have had. The caramel French sandwich was two brioche bread slices fried in butter, and the filling was coconut cream with fresh berries. Wow! The sweet crispiness/crunch of the butter fried brioche crust contrasted with the brioche's fluffiness was amazing. Then filled with the dense coconut cream and tangy fresh blueberries and raspberries. This dish is definitely for people with a sweet tooth, but wow, is it good.
The café has Wi-Fi and AC but minimal indoor and outdoor seating. It is very minimalistic yet comfortably designed/decorated. While they have other food, their brioche bread is delicious and adds a different twist on the offered meals. There was care in the selection of their coffee beans, and you can buy some to take home. You can also get your coffee over ice to cool off on the hot Batumi summer days. You cannot beat a cool café with delicious food and excellent coffee.
---
Multiple Locations
Review by SRAS Student Sadie Brink
One of the most popular bakeries in Georgia is called Dona Bakery. It was founded in 2003 and there are now two locations in Batumi. The first is at 41 Gorgasali St., located in the Old City with outdoor seating. I lived in the apartments above this location while studying abroad with SRAS in Georgia. It is a 15 minute walk to the dancing fountains, and only five minutes from Europe Square. The other location is at 121 Parnavaz Mepe St. This location has more seating, and it is all indoors. If you are planning a trip with a group of people, the Parnavaz bakery is more likely to have seating. This location is about a ten minute walk from NovaMova, and four minutes from Central Park.
At Dona Bakery in Batumi, single-serving desserts cost anywhere between 1.50 lari to 6.00 lari (~$0.50 to $2 USD). My personal favorites were the berry tart and Snickers cake. While the berry tart has various options of berries, my go-to was raspberries, strawberries, and red currants. They also had tarts with just one type of berry, such as blueberries. The Snickers cake is a dark chocolate cake, with dark chocolate frosting, a walnut caramel filling, and topped with more walnuts. Other desserts they have include eclairs, cookies, tiramisu, cheesecake, baklava, and more!
When you walk into the bakery, you can look at the display cases of desserts. A worker will come up to you and ask you what you want. The workers will most times not speak English, but do speak Russian. Depending on how busy the bakery is, it may take a while before you are approached by a worker.
All of the desserts have signs with prices and descriptions in Georgian. When ordering, you can just point at which desserts you want if you don't speak Russian or Georgian. The workers are patient and understanding to foreigners. After ordering, you move to the register area to pay. At the register you can also order coffee or tea.
You have the option to dine in or take out at both locations. If you dine in, the process for ordering is still the same. Like most other Georgian restaurants and cafes, you seat yourself. The workers will bring your order to you, but will not check in with you again. To order more or seek assistance, you just go back to the ordering area. Dona Bakery is a popular destination, especially for tourists. If you go during the summer, there will almost always be a line and limited seating.
This was one of my favorite spots to hang out at in Batumi. The atmosphere was very friendly and relaxed, with the dining areas kept clean. If there was no seating, my friends and I would order to go and eat it on the beach. The quality, convenience and atmosphere of Dona Bakery makes it a must-see when visiting Batumi!
---
You Might Also Like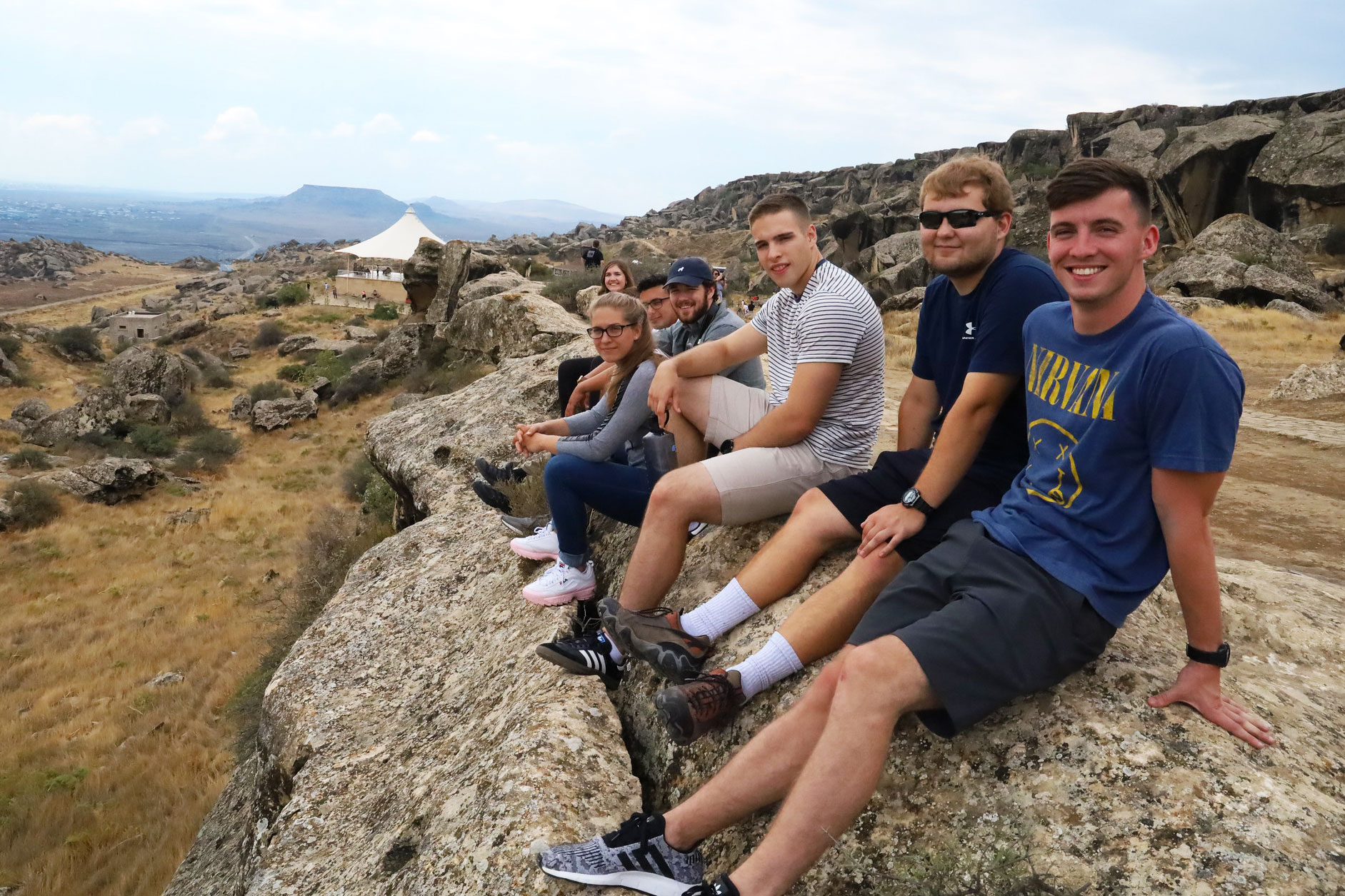 If you'd have asked me on June 10th, 2022 when I landed in Tbilisi if I'd be here, in Georgia, almost a year later, the answer would have almost definitely been "no." However, I had so many great experiences and met so many extraordinary people that summer abroad that I felt the need to return […]
0 comments