While studying abroad with SRAS in Georgia, we had the opportunity to leave the city and explore the wider country. We also had a lot of free time to explore the incredible city and all the attractions that surrounded us everyday. Here, I'll share some of the memorable places I enjoyed most. I definitely recommend Batumi as a travel destination so that you can see these places – so many more – for yourself!
Batumi Dolphinarium
Batumi Dolphinarium is one of the city's top attractions. At the time of its opening in 1975, it was among the world's largest dolphinariums. Given its popularity among Georgians and tourists alike, the dolphin quickly became the official city symbol; dolphin statues can be seen along Batumi Boulevard, and practically all Batumi souvenirs have dolphins on them.
The dolphinarium's amphitheater holds over 880 seats. Currently, there are about eight dolphins that partake in the show with their trainers. Elements of the performances include dancing, ring and ball tricks, balancing on the tail, splashing audience members, whistling and clicking, and more. To make it even more fun, popular movie themes are played during the show, including Mission Impossible and Pirates of the Caribbean.The shows are offered in Georgian and English; the one I went to with my host mom and aunt was a mix of both. It is a fun place to visit and definitely a great way to kick off summer in the dolphin city!
Ali and Nino Statue
Ali and Nino are known as the "Romeo and Juliet of the Caucasus." During World War I, Ali, an Azerbaijani Muslim, fell in love with Nino, a Georgian Christian girl. However, Ali was tragically killed in the war. Their story was penned by an unknown author (but it is often attributed to Kurban Said), It is a beloved story in Azerbaijan and Georgia.
The statue of them was made in 2010 by Georgian artist Tamara Kvesitadze. It stands by the beach and consists of two figures made of stacked metal plates. These figures (one Ali and the other Nino) continually move in their own small circle until they merge. Their metal plates slide by one another so that they never touch before they then move back into their respective circles away from each other, representing their tragically never-ending attempts and failures to find love.
Adjara Museum of Arts
The Adjara Museum of Arts is certainly modest, but it strikes the balance of beauty in simplicity. It houses works by world-renowned Georgian painters Niko Pirosmani, Lado Gudiashvili, Gigo Gabashvili, Elene Akhveldiani, and Rusudan Petviashvili. On top of that, the museum building itself is among Batumi's oldest historical buildings and is often considered a work of art in its own right. The museum contains two relatively small floors and offers personal and group exhibitions in Georgian and English. Occasionally, the museum also hosts musical events.
Batumi Botanical Garden
The Batumi Botanical Garden was founded in 1912 by Kharkov University professor and Russian botanist Adrei Krasnov. At the time, it was one of the Soviet Union's largest gardens. The upper gardens (although not given that designation then) were created in 1892, by geographer and botanist Pavel Tatarinov, who built his country house on the land and landscaped it as the avid botanist does. Sitting between the Chakvistavi River Estuary and the Green Cape (Mtsvane Kontskhi), the botanical garden is only a few miles away from Batumi and contains an impressive variety of flora.
Before the garden was created, the area was covered mostly by native willows, oak, fern, linden, and cherry laurel forests. The garden currently has roughly 2000 species and over 5000 individual plants. The plants are grouped into nine phyto-geographic zones based on their place of origin: Australian, New Zealand, East Asia, Himalaya, North America, Mexico, South American, Mediterranean, and Caucasus. Batumi's humid subtropical climate allows for all these plant varieties to thrive. Among the plants are North American redwood, Japanese sakura, bamboo varieties, avocado, different flower species, Australian gums, venus flytraps, and more. The nine sections are connected by many walking paths and trails that all boast beautiful views of the plant life and Black Sea next to it.
Batumi Boulevard
Batumi Boulevard is a top attraction and was probably where I spent most of my free time while in the city. Construction began in 1881 under Batumi district governor Mekalov, making it well over 100 years old. The boulevard runs parallel to the beach for over four miles, with lanes for those walking and those riding bikes and scooters. Trees follow the boulevard, creating a path for those wanting to take their walk in the shade. Restaurants, bars, cafes, ice cream stands, amusement rides, calisthenics spots, fountains, monuments, sculptures, and small parks offer still more amenities for amusement and comfort.
The dancing fountains were added in 1977 and were the work of Georgian architect Erkomaishvili. The fountains are operated late at night – the water is lit up while musical classics are played. The night I was there, it was Disney themes.
Conclusion
Ah, I already miss Batumi! The city has much to offer, and the old town atmosphere makes it feel so homey. Even with all the attractions, sometimes the best nights were those sitting on the beach with friends and watching the stunning sunsets. I hope this short article has given you some insight into what Batumi is like and hopefully encouraged you to make a short (or long!) stop in this wonderful Georgian city.
You Might Also Like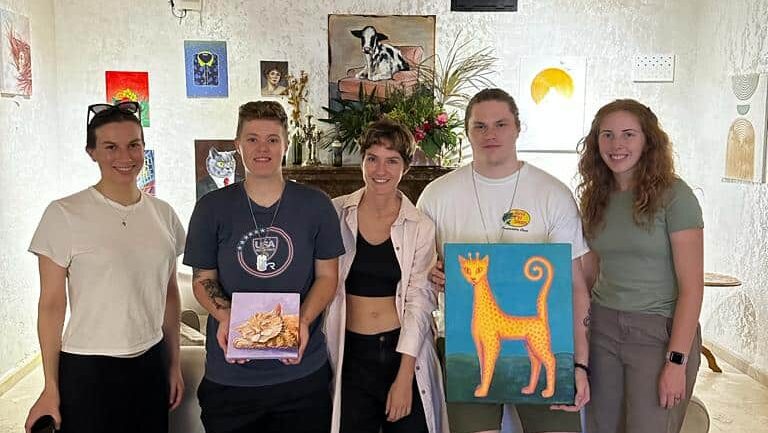 SRAS students studying in Tbilisi take a weekend trip to see Batumi, a major resort city and port along Georgia's Black Sea coast. Over three days and two nights, we had peer coaching, a city tour, a lecture for ICON students, and plenty of free time to explore the city. I greatly enjoyed the food […]
0 comments