What's it really like to live in Yerevan, Armenia for a semester? Staying long-term in a city is much different from just vacationing there. You'll need to navigate more of the practical, everyday services of the city and budget to include more miscellaneous and long-term expenses. Thus, this guide covers everything from haircuts to pharmacies and from gyms to computer repair. Its advice comes from SRAS staff on the ground in Yerevan as well as graduates of SRAS Programs abroad.
A Practical Introduction to Yerevan
Yerevan is set in the majestic Caucasus Mountains and has a long history that has been intertwined with Russia's, Turkey's, and Iran's. Armenia is a country proud of its language, its Christian heritage, and its culinary and hospitality traditions.
For students studying Russian as a Second Language, Yerevan offers a great opportunity to connect to immerse yourself in an environment where most locals speak Russian, Russian is still widely taught in public schools, and where a large Russian immigrant community has formed. Most people you meet on the street will be able to speak Russian fluently.
Yerevan experiences a semi-arid climate with hot summers and cold winters. During the summer months (June to September), temperatures can reach up to 40°C (104°F) during the day, but drop to around 20°C (68°F) at night. Yerevan is friendly and surrounded by beautiful nature to explore. So, you'll want mostly light clothing.
It's also advisable to pack some comfortable walking shoes, as Yerevan is a great city to explore on foot, and perhaps a light, waterproof jacket as it does rain and can feel chilly when there is wind.
Budgeting Basics for Yerevan
Students in Yerevan report spending about $60-100 a week average over the course of their stay. This covers groceries and moderate eating out, city transport, school supplies, modest weekend entertainment, and other general living expenses. Note that this guide assumes ֏385 (the local currency is called a "dram") is about $1.00. Prices current as of April, 2023.
Packing beforehand: Bring clothing appropriate to the region (tank tops or other skin revealing clothes should be avoided), gifts for friends and/or host families are encouraged, a water bottle with a filter, and any prescription medication you are taking in amounts to last the duration of your time abroad. Check our packing guide for more information on preparing for your trip.
Card Fees. Call your banks and credit cards! Let them know the dates you'll be abroad, otherwise, they tend to shut them off when they appear abroad – assuming they've been stolen. Note that most US banks will charge fees for every transaction you make abroad. $5 and/or 3% for every ATM withdrawal, for instance, is common. Make sure you understand these fees and factor them into your budget. See our Guide to Managing Cash Abroad for more information.
Use Local Currency with Card Transactions: You will often find while abroad that, when you use your card to pay for something, you will be offered the option of pricing in dollars or local currency. Pricing in dollars may seem like a convenience, but it is always priced higher than what you will pay if you just chose local currency and let your own bank make the conversion.
Recommended Banks/ATMs: ATMs are everywhere in Yerevan and generally trustworthy. Some major banks to look for include ACBA-Credit Agricole Bank, Ameriabank, Ardshinbank, and Converse Bank.
Flexibility: You should always plan some flexibility into your budget. There will always be expenses that you didn't plan for – a new umbrella, a better coat, a short trip that a new friend invites you on that is too good to say no to, you get the point.
Food and Shopping in Yerevan

Average weekly total food spending: ~$50-70 per week
Groceries: While the need for groceries is minimal when living in a hotel, Yerevan has a wide range of supermarkets and rynoks. Carrefour, SAS, and Evrita Supermarket (Էվրիկա Սուպերմարկետ) are some of the most popular supermarket chains in Yerevan, carrying all of the essential perishable products an American supermarket would. Oftentimes these markets will serve prepared meals as well, making for a quick and inexpensive lunch. Yerevan is also home to the GUM street market as well as many street merchants which are home to lots of homegrown and homemade products.
Cafeterias: In and around the center of Yerevan, one can find plenty of Soviet style "Stolovayas," (such as Fourchette Buffet) which many Armenians call "buffets" (буфет). These are inexpensive cafeteria style eateries, focused on providing cheap food to workers and students alike. Expect to spend $3-5 per meal for fine, if not outstanding, food.
Eating out: For fast food, expect to spend around $3 for a meal, while for street snacks, you can spend anywhere from >$1-5. Fresh fruit, for example, will cost around $1 per kilogram(!). You will recognize some American fast food restaurants which have found a market in Armenia, such as KFC and Cinnabon. A mid-range sit-down restaurant will run you maybe $8-15. Even some of the classier restaurants found in and around Yerevan will only cost about $30 for a filling and high quality meal.
Transport in Yerevan

Average transport spending: ~$20-30 per month
Yerevan's metro system runs between the hours of about 6am and 11pm for ֏100 ($0.25) a ride. Yerevan's busses and taxis are also cheap and reliable.
Maps: To navigate the city, Yandex and Google Maps prove sufficient for getting directions. It should be noted that while these apps do provide relatively reliable directions, infrequently construction, historical areas, and unexpected events may affect the feasibility of certain routes. In terms of navigation, Yandex maps is the most reliable, but to search for specific stores or restaurants, it's best to search on both Yandex and Google, as neither of them contain complete information.
Public transportation: Yerevan's public transport is a mostly cash-based system, although there are metro cards available if one so chooses. While the metro card works fine, they aren't always accepted on marshrutkas, so your mileage may vary. Each ride costs just ֏100  (~$0.25). To get on the Metro with cash, simply approach the staffed help window and hand the attendant the required amount – if you're going one-way, pay ֏100 and collect an orange plastic token in return, round-trip, pay ֏200 for a pair of tokens. You feed the turnstile a single token to pass through. Cards can be purchased or refilled in any metro station, either at machines or the staffed help windows.
Taxis: Use Bolt or Yandex Go smartphone apps. Both use a complex algorithm to calculate the cost of each ride when you order it (weekends are more expensive, for instance). A ride from the airport to the center will likely run ~֏2,500 ($5-8), but taxis around the center are often not more than ֏1200 ($2-4). Do not hail cabs from the street. The apps are much more secure. Connect your credit card to the account for maximum security (no bargaining or cash involved!). The Yandex Taxi app is especially useful in conjunction with the Yandex Maps app – download both, and you can order the taxi directly from the mapping app.
More: Bikes and electric scooters can be rented around the city for a small fee.
Marshrutki: These are vans (think Sprinter van)  that often duplicate city bus routes, and run further into the outskirts of Yerevan. These should be paid in cash (again, for about ֏100 per ride). While these are similar to buses, you will need to flag one down at bus stations as they do not automatically stop. You will also need to tell the driver to stop when you are near your destination.
Communications in Yerevan
Average total spending for communication: $7.5-13 per month

See our Packing List for more information about bringing electronics abroad.
Mobile service and data: In general, Armenian phone plans are more affordable compared to their American counterparts. A sufficient plan with 20GB of internet data and plenty of minutes costs $13. While not required, smartphones are recommended, as they will allow you to use online maps and taxi service apps. If you plan to use a smartphone, ensure it is "unlocked" by your carrier as it may not work with the local sim card otherwise. In addition, if your phone has the option of adding an "eSim"; this option can be the most painless, as you won't even need to remove your American sim card from the phone. Students may also opt to use an inexpensive "button phone" which is suitable for calling and texting.  Most cell plans in Armenia have a simple monthly fee and no long-term contract.
High-speed Internet: Both the hotel and university you use on your SRAS study abroad program will come with internet, though it may not always be perfectly reliable. For the most part, though, it works well enough to get work done or even video call.
Co-Working Spaces / City Hotspots / Free WiFi: While Yerevan is home to a lot of modern, clean, and quiet co-working spaces, they can be rather expensive. Some offer hourly rates and others operate on a monthly subscription model. While these spaces are great for working, finding a cafe with free WiFi will always be a more affordable option. Free WiFi is available in restaurants and city-provided hotspots (like much of the universities and public transportation systems). Often, you'll need your Armenian mobile number to register on the free networks.
Phone and Computer Repair: Yerevan has countless computer and phone repair stores. While most are probably of decent quality, be weary. As most of these are found in bazaars and street markets, there is no consistency between locations. Use discretion and look at reviews online before going out – or if you've made local contacts, you can ask their advice on where to go. Given the number of Russians with careers in IT who have moved to Armenia recently, there will be no shortage of good options.
Post: There is an Armenian Post office (Haypost/Айпост) located only two blocks from the hotel, right on Republic Square (28 Mikael Nalbandyan) and is suitable for sending postcards, letters and packages alike. A postcard will cost — to send to America ($2), packages will vary in price depending on weight. While sending light mail is rather affordable, packages tend to be much more expensive to send and rather slow.
Health and Medicine in Yerevan

Budgets for health and medicine can vary based on student lifestyle and needs. Any SRAS student concerned about this category is encouraged to discuss it with their SRAS representative.
Water: Yerevan's water is safe and the city filtration system is modern. Regardless, bottled water is cheap, usually costing ֏200 ($0.50) for a personal bottle, and often you will be served bottled water at restaurants.
Gyms and Fitness: Yerevan has a range of gyms, although their monthly prices vary drastically. In general, memberships toward the center of the city range from $60-$110 per month. Tsitsernakaberd/Tumanyan Park and Akhtanak Park are two public spaces that offer ample space for working out and running. Exercise and dance classes can be easily found online and yoga is also very popular in Yerevan. There is a good public basketball court in Tumanyan Park, though it does see plenty of use, especially on weekends.
Eyeglasses and Contacts: There are lots of optometrists around the city – they can easily be found in Yandex maps. If you know your prescription, no doctor visit is needed. If you don't, then they can test you there. They can also help you with the acquisition of contact lenses.
Pharmacies: Bring a supply of needed medications with you. However, if you need something, look for the international symbol of a green cross or the word "аптека." If looking for something specific, try looking it up on Wikipedia in English and then clicking on Russian or Armenian in the language menu on the left panel. Ask your local pharmacy if they carry the medicine you require. While many American medications are unavailable in Armenia, there may be an alternative available. In general, you can tell the pharmacist your symptoms and they will suggest the medicines that might help – but keep in mind if you have allergies to make sure that they know about them.
Medical Services: If at all possible, call your insurance before seeing a doctor. Often, there are certain doctors they want you to see. Medline Medical Center (Медицинский центр Медлайн) offers good medical service without much of a wait; however, it is for a fee. In general, if you require medical attention, let somebody know and the problem can be solved together.
Laundry and Hygiene
Laundry: Students on SRAS programs will be at the Olive Hotel, which offers a two-day drop off service. for regular laundry.
Dry Cleaners: There are dry cleaners in Yerevan, although they are not widespread. Yandex or Google Maps will be your best option for finding these locations.
Haircuts: There are many places offering haircuts at relatively reasonable prices ($5-10 for men; $15-30 for women). While there are many to choose from, using Yandex or Google maps to find places near you may be the best option.
Manicure/pedicures: There are many places which offer these services in Yerevan. While most are likely to be good, the more expensive locations are usually where the tourists are. Salons will sometimes offer coffee, tea, and snacks as well.
Hygiene: Shampoo, conditioner, deodorant, and toothpaste – in brands you are likely to recognize – run about $5 per package. Feminine hygiene products are around $4 per box. You can find any hygiene products you need in either a supermarket or in some of the larger drugstores.
Culture and Entertainment
Entertainment and incidentals are the most variable expenses you'll face. For some great local listings in Yerevan (in Russian, Armenian, or English) on what's going on, refer to tkt.am or tomsarkgh.am.
Museums: Yerevan has lots of good museums. Most museums will cost between $0-25 with student discounts.
Performances: A ticket to a movie will run about $5-12. Rock concerts can run from $8-infinity. Theater tickets can run about $3-200. Armenia is also home to a rich history of classical, ballet, and operatic composition – if that is at all interesting, both the Small Philharmonic Hall by the National Gallery and the Opera House are worth visiting – you can find tickets at Opera.am.
Nightlife: Bars in the center will charge around ֏900-1500 per beer, and maybe ֏1200-2500 for a cocktail. Most clubs will charge a cover, anywhere from ֏1500 – 4000 ($4-10) at the higher-class locations.
Travel from Yerevan
You can find several student-reviewed independent trips on this site. See more of the country and wider region and meet more of the people while you have the chance to do it quite inexpensively!
There are marshrutki (scheduled vans) that can get you to nearly all points in Armenia which depart from Avtovokzal Kilikiya. The cost depends on distance, but very reasonable, from $3-5 for a nearby city (i.e. 1 hour) and up to $35 for something as far as Tbilisi (5-6 hours and a border crossing). For shorter distances, there's no reason to make advanced reservations. Usually there are departures semi-regularly on the hour.
Trains are also an option and quite affordable, but limited availability. Look for train schedules at railway.am and call the number at the bottom of the screen to reserve tickets – the website does not allow the purchase of tickets online.
There is also an app called GG Taxi, which is a ride-sharing service much like Uber, Bolt, or Yandex Go. However, this app also allows you to book marshrutkas to other cities along with other random passengers for a good price (just tap the little van icon at the bottom right side of the screen). WARNING: once you have booked in advance, the app will tell you generally where to be and when. It will not, though, tell you what model of van/license plate number until around 5 minutes before you are supposed to leave, so DON'T PANIC. That is just how the app works, so just be prepared to move a little bit to meet your driver in the correct place at around that time.
Let SRAS know EVERY TIME YOU LEAVE YEREVAN! This is for safety, but also because there may be registration or visa issues involved in your trip that we may need to advise you on.
Find Out More About…
More Things to Love About Yerevan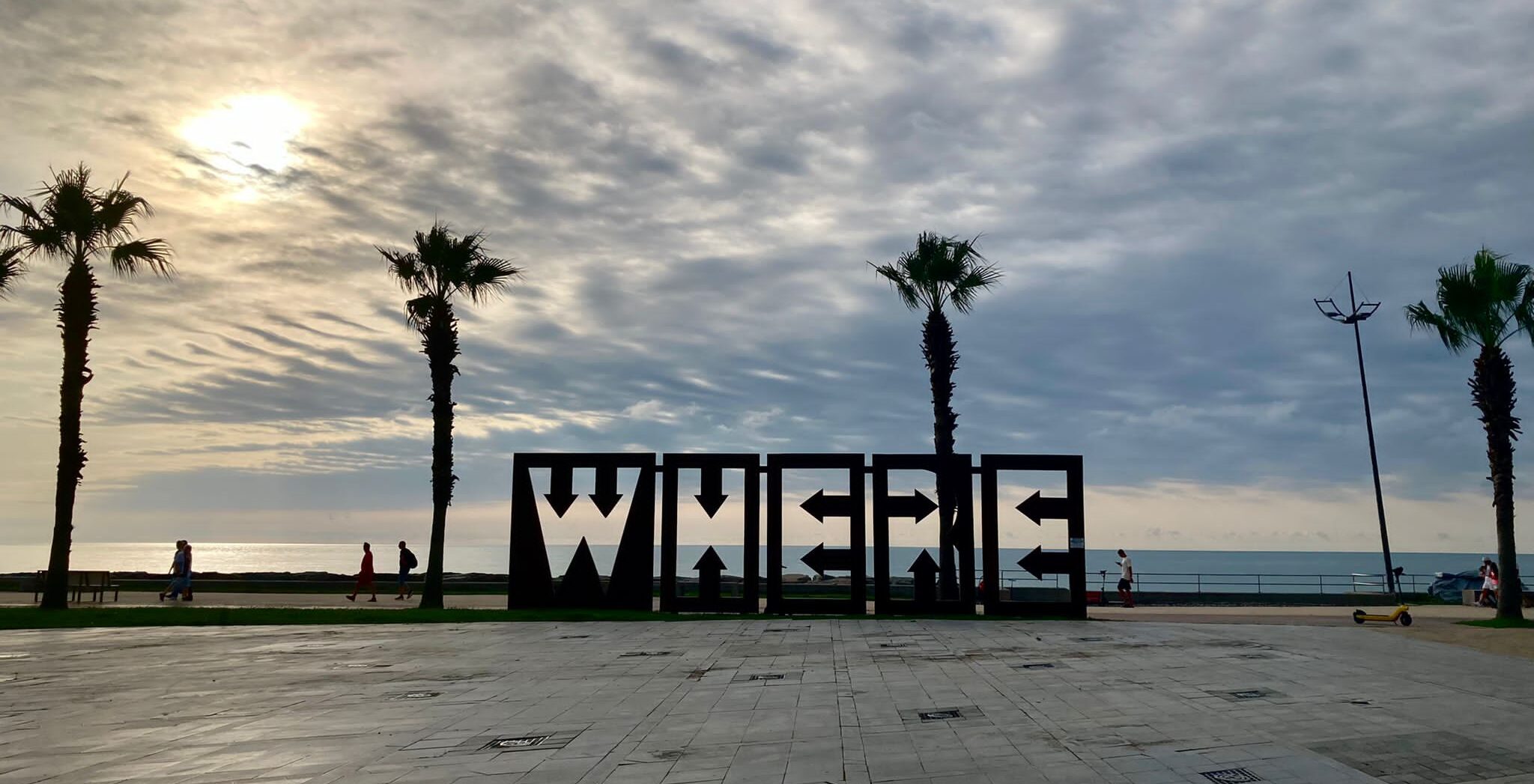 A semester or year stay abroad requires considerable planning. You will need to consider the season and location as well as what you need to bring and what you should find abroad. If you will be spending winter months in most SRAS locations, luggage can quite easily become unwieldy, which can mean airline charges for […]