Central Asian food tends to be heavy in dairy and meat. However, being vegetarian or even vegan in Bishkek is not impossible, but you should be willing to work to both check your foods and explain your needs to locals who may not understand.
Below, Sophia Rhem (vegetarian) and Kathryn Watt (vegan) recount their experiences while abroad on SRAS study abroad programs in Bishkek.
This resource is part of the much wider SRAS Guide to Living in Bishkek.
General Comments
Kathryn (vegan): The first thing to know about Kyrgyz food culture is that it is heavily meat based, due to its nomadic history. It is not impossible to maintain veganism while in Bishkek, but it is difficult, as even vegetarianism is not common here. People assume that it's purely for diet reasons, rather than ethical or environmental, so dietary misunderstandings are regular. The most important thing to do is to check everything and be sure to over-communicate, in a clear and respectful way.
Sophia (vegetarian): Being a vegetarian in Bishkek was not nearly as challenging as I had expected it to be. This incomplete guide covers some of the places and dishes I discovered during my nine months in Kyrgyzstan's capital that made vegetarianism there even easier, and more delicious. I'm not a vegan (I eat diary and eggs), but lots of the staples of my diet in Kyrgyzstan ended up being vegan, and I have tried to make my comments helpful for vegans as well.
Eating Out
Kathryn (vegan): There aren't any purely vegan restaurants or cafes in Bishkek, but there are a number that offer vegan options, or are at least happy to make adjustments upon request. If a menu says something is vegetarian or vegan, it doesn't necessarily mean that it is – always be sure to clarify, as sometimes locals define vegetarian/vegan options as simply vegetable based dishes, rather than meat free.
Most places in Bishkek, from small cafeteria-style eateries to more upscale restaurants, have something vegetarian on the menu or that they are willing to make upon request. Potato вареники (dumplings), манты с тыквой (dumplings with pumpkin), блины (pancakes), and гречка (buckwheat kasha) are good options at many places. It's a good idea, though, to double check that these things are really meatless and to ask the waitstaff what they would recommend for you.
Kathryn (vegan): This is a street food cafe located within Ecoland, across the road from the London School. Here, you can get falafel wraps and burgers, with a selection of sauces such as hummus, chilli sauce and vegan mayonnaise.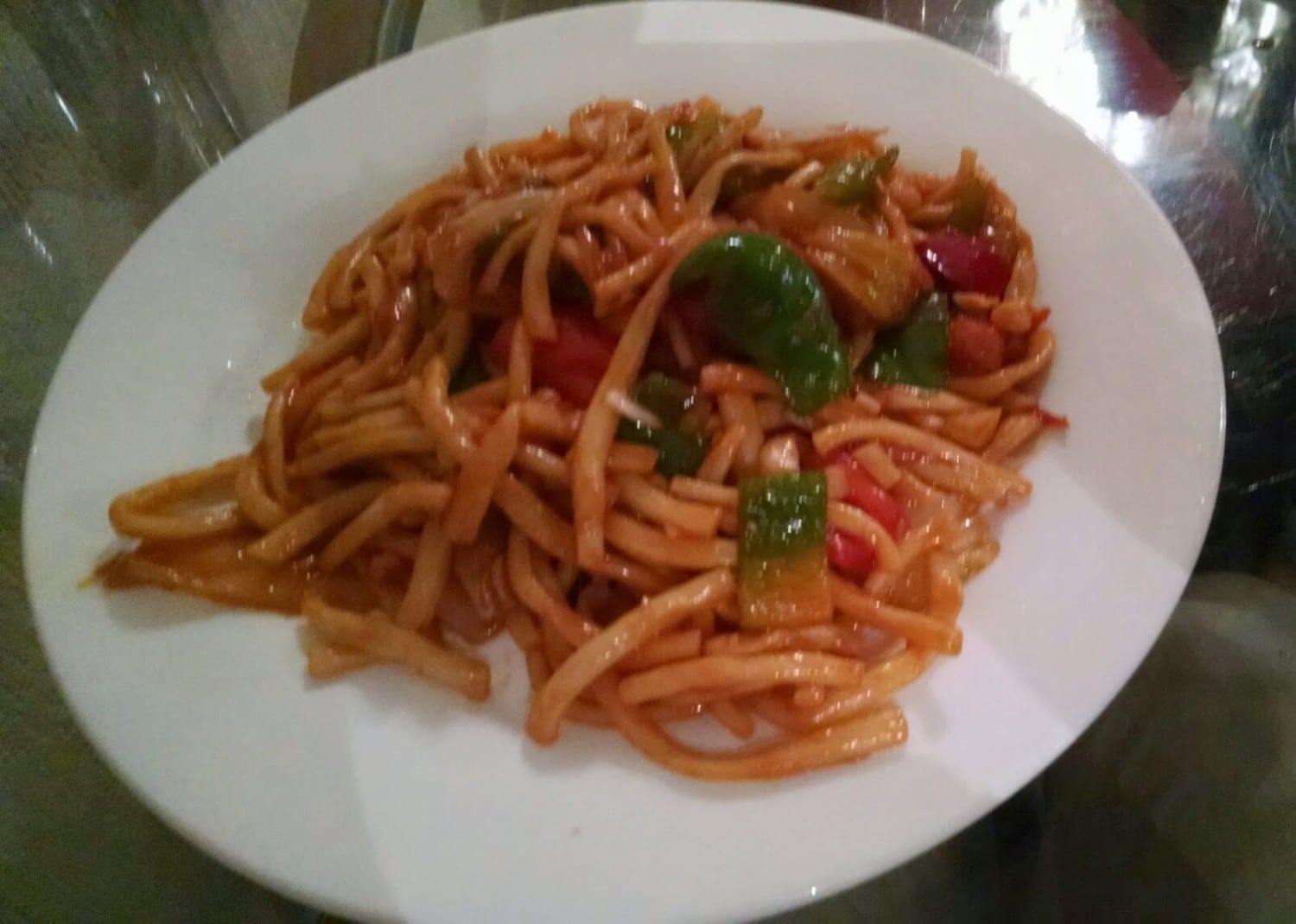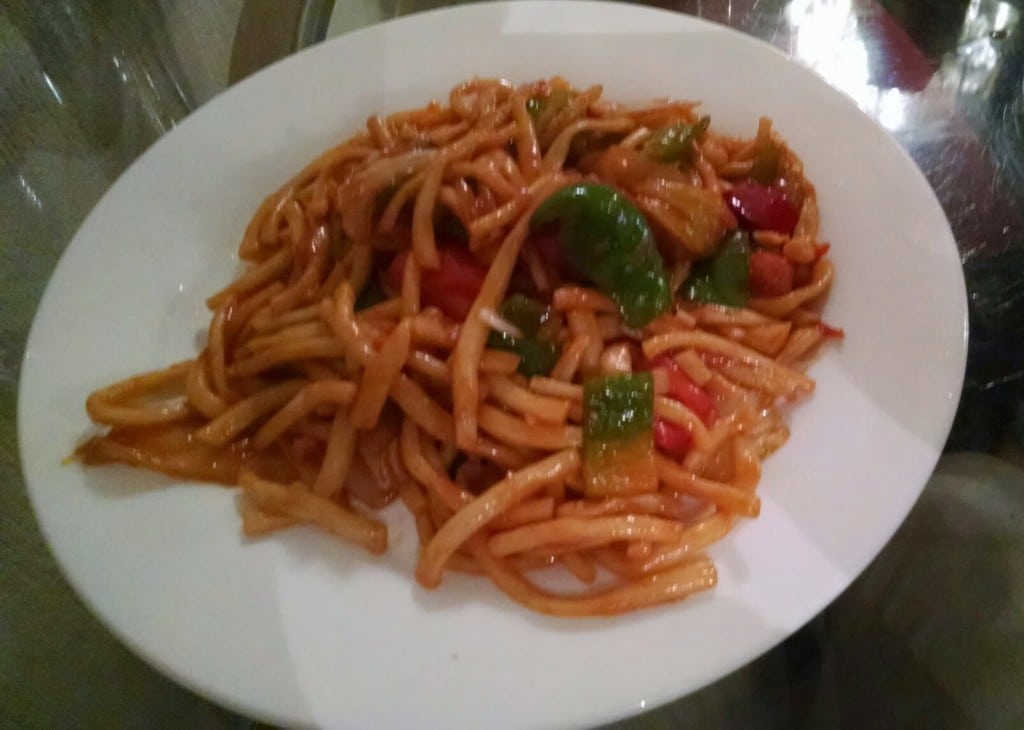 Sophia (vegetarian): This is a very typical-for-Bishkek cheap, casual restaurant chain with mostly local dishes. It's a popular and quick place to eat lunch or dinner, and is usually full of people. What's unusual about this particular place is that, upon request, they make delicious vegetarian босо лагман (fried lagman) – a Uyghur dish of handmade noodles and vegetables.
Kathryn (vegan): Don't be fooled by the name – while Chicken Star does specialize in chicken, there are a couple of tofu based options on the menu that are suitable for vegans. This is undoubtedly one of the most popular restaurants in Bishkek with expats and locals alike. I've never heard anything but glowing reports. The owner is Korean and speaks English, so it should be easy enough to explain dietary requirements.
Kathryn (vegan): This is a well priced Indian restaurant with a wide range of easily modifiable vegetarian curries. Check out our review for more information.
Kathryn (vegan): This as an expatriate bar and restaurant, run by a French/Indian team. One of the owners is vegetarian, so there is a selection of veggie Indian snacks, that can be made vegan upon request.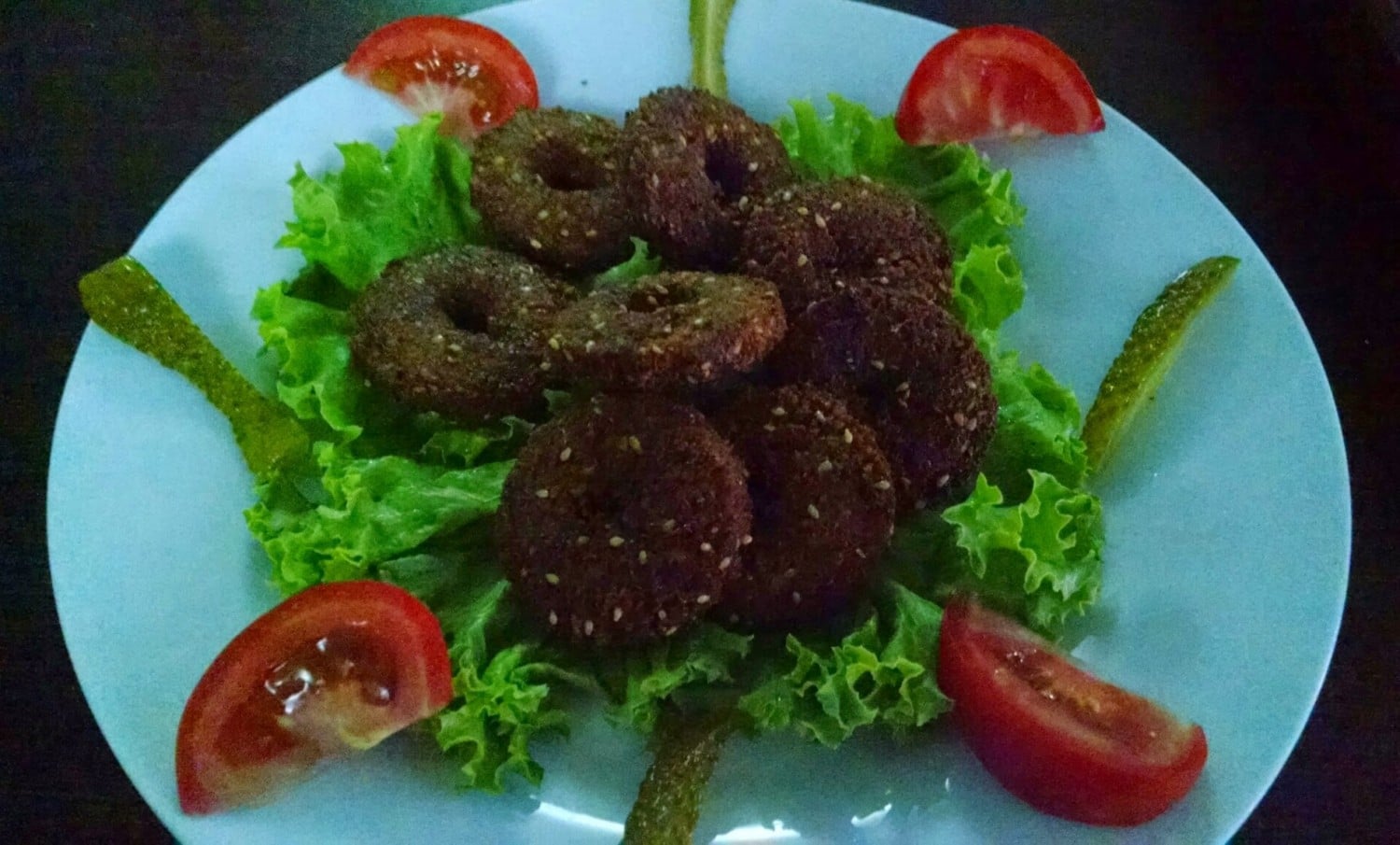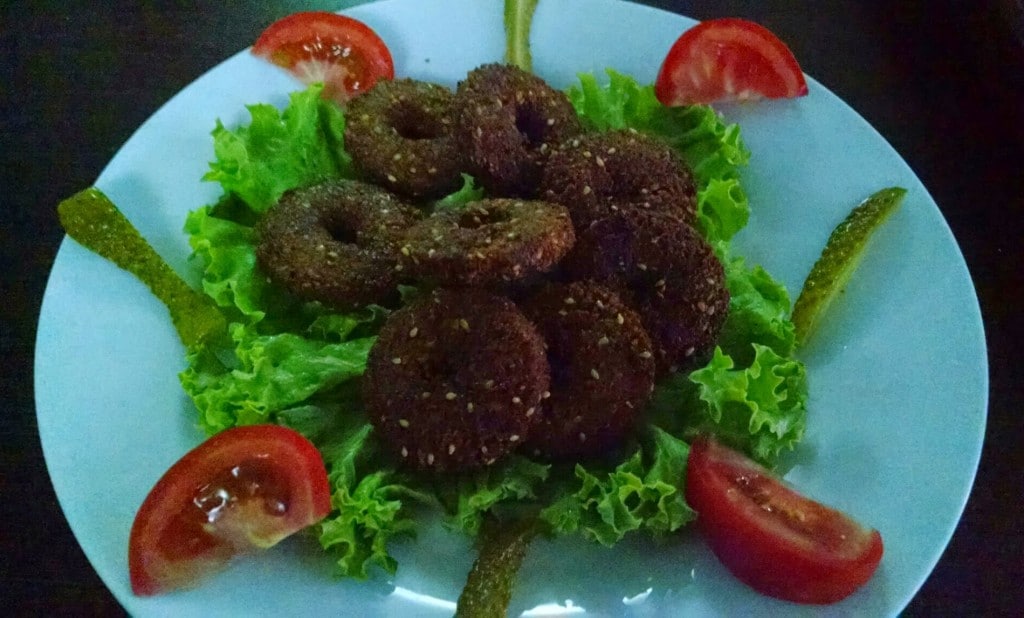 Sophia (vegetarian): I didn't know I could get delicious hummus and falafel in Bishkek until my last weeks in the city, but the discovery was worth the regret of not knowing sooner. Sarya has a large covered patio with a lighted fountain in the center, and the vibe of a casual hookah bar and café. The food is delicious and reasonably priced: lavash – puffed bread that comes out of the kitchen hot – hummus swirled with olive oil, and a plate of crunchy falafel cost a total of 360 som ($6). The мутабаль (mutabbal), a mashed eggplant dish, is also delicious.
London School
Sophia (vegetarian): For London School students, where SRAS study abroad programs in Bishkek are based, the school café is a cheap and delicious place for lunch, and there are almost always good vegetarian options. Chefs Gulya eje and Aida eje both quickly got to know me and my dietary quirks, and would tell me the meatless options for the day before I asked.
Go-to Vegan Food Options in Bishkek

Kathryn (vegan): If you do go to a local restaurant, there are certain options on the menu that are usually vegan or easily modifiable, as listed below:
Cheeseless vegetarian pizza

Potato or pumpkin manti

Vinaigrette (a Russian beetroot salad)

Lentil Soup

Grilled vegetables

French Fries

Lepyoshka (a round Kyrgyz bread)

Meatless Lagmon
If you live in a home-stay or have the privilege of going to a local's home for a meal, there are some things to be aware of. Firstly, the family will likely never have catered to a vegan before, so make sure that you explain your diet in detail and provide options of local food that can easily be veganized. These include:
Plov cooked in vegetable oil without meat or fat

Potato or pumpkin manti

Vinaigrette

Borsh

Lentil Soup

Salads made without fish, meat or mayonnaise

Fried vegetables and potatoes
It is also customary to bring a small food gift such as sweets or baked goods when going visiting – you can use this as an opportunity to bring something vegan and share some of your own cuisine. In terms of explaining veganism, be honest with your views but also be gracious if people don't understand. The Kyrgyz people were not traditionally farming communities, but nomadic hunters, so the ideologies here are not the same as in the West. However, as most Kyrgyz people are Muslim and don't eat pork, this is an easier starting point for explaining why you don't eat certain things. From my experience, people are sympathetic towards health and environmental reasons, but not as much towards animal cruelty, so be aware of this. I would not at present recommend that a vegan lives in a home-stay long term, but if you are staying in dorms and cooking for yourself, it is perfectly plausible to maintain a healthy vegan diet while living in Bishkek.
Go-to Vegatarian Food Options in Bishkek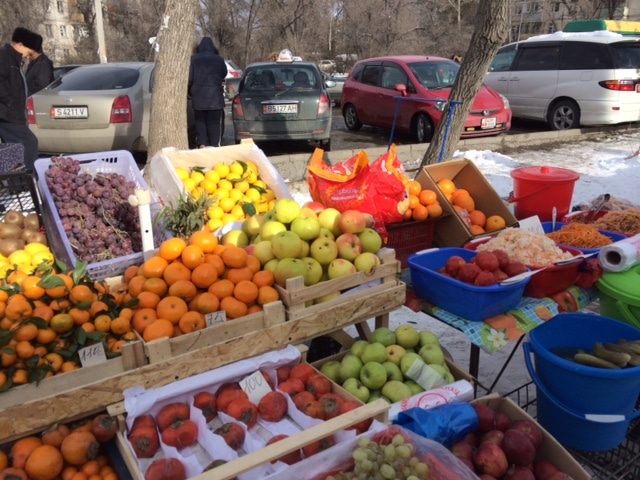 Sophia (vegetarian): I lived with a wonderful host family in Bishkek, and my host mother was practically a vegetarian herself by the time I left. If you plan to live with a family, it is definitely a good idea to alert them of your vegetarianism before arriving. My host mother was understanding and accommodating from the beginning, but admitted later that she had been nervous about it at first. A couple of months into my stay, though, she told me, "Sopha [her nickname for me], there are no accidents in this world, and I think you came to us so that we would eat less meat."
Living with such a wonderful person certainly made my experience easier. But if you plan to live in the dorm or on your own, or if, like me, you just love to cook (and also to carry snacks with you at all times), there are lots of options for vegetarian grocery and snack shopping in the city.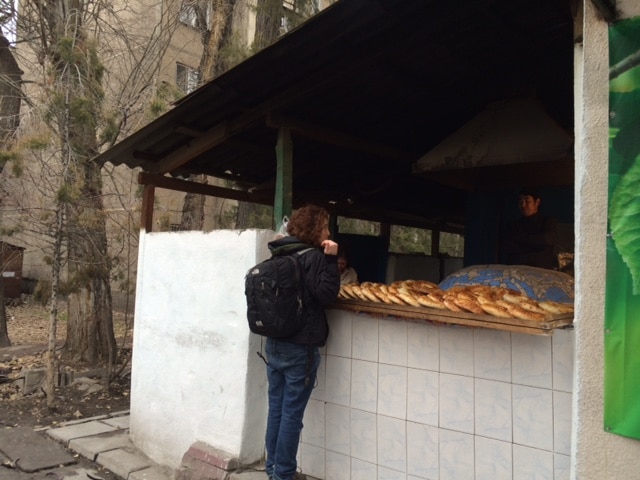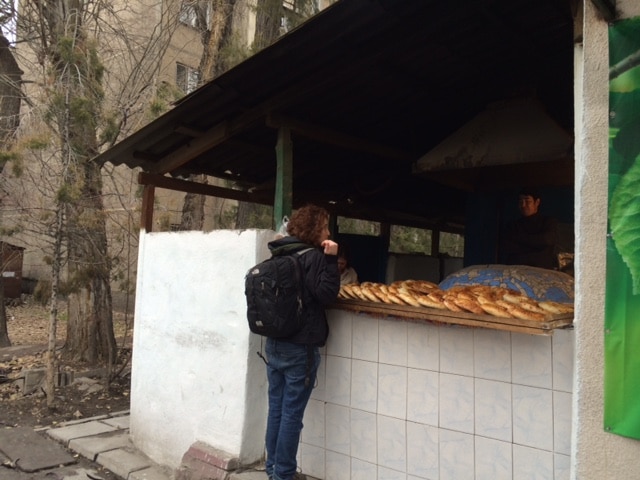 Bread – I love bread. If you do, too, you'll be happy in Bishkek (and throughout Kyrgyzstan). Лепёшка (lepyoshka), round bread, baked in a tandoor oven, that is flat in the middle and puffy around the edges, is my favorite. It's baked and sold hot at small stands around the city, and sold fresh in almost every small food shop. I recommend eating at least a loaf a day. It's delicious with everything, but homemade jams and thick, grainy honey suit it particularly well.
Dairy – Lots of traditional Kyrgyz drinks and snack-food involve dairy. Keep trying things until you start to like them; if you're not used to certain flavors sometimes you just have to develop the taste for them.
Күрүт (Kurut) – Күрүт are little balls of dried curdled milk. They are very salty and a bit sour, and crumbly and chewy at once. I was so impressed at first by the toddlers relishing them on the marshrutkas, eating them the way I was used to seeing toddlers eating lollipops or chocolate at home. The taste was too strong for me until one day when I was hungry and tired and the salty, filling snack turned out to be exactly what I needed.

Күрүт

Kefir/Yoghurt – Kefir and yoghurt are available almost everywhere, and unlike in the States, most yoghurt doesn't contain gelatin.
Cheese – There is a lot of cheese in Bishkek to eat with all the delicious bread. I recommend trying smoked cheese that comes in a braid in supermarkets and is very cheap. If you want some expensive but good-quality sharp cheddar, you can usually find that at the upscale food market next to Chocolate Bar.
Dried fruit and nuts – I could live on almonds and raisins if I had to. I didn't have to in Bishkek, but I still ate a lot of them. Osh Bazaar is a good place for apricots, dates, cashews, almonds, raisins, walnuts, etc. Almonds still in their shells are local and cheap, as opposed to the shelled ones. Just make sure to get yourself a little nutcracker too if you don't want to go crazy trying to smash them open more creatively. Also, you can try dried fruits and nuts at the bazaars before buying them if you ask.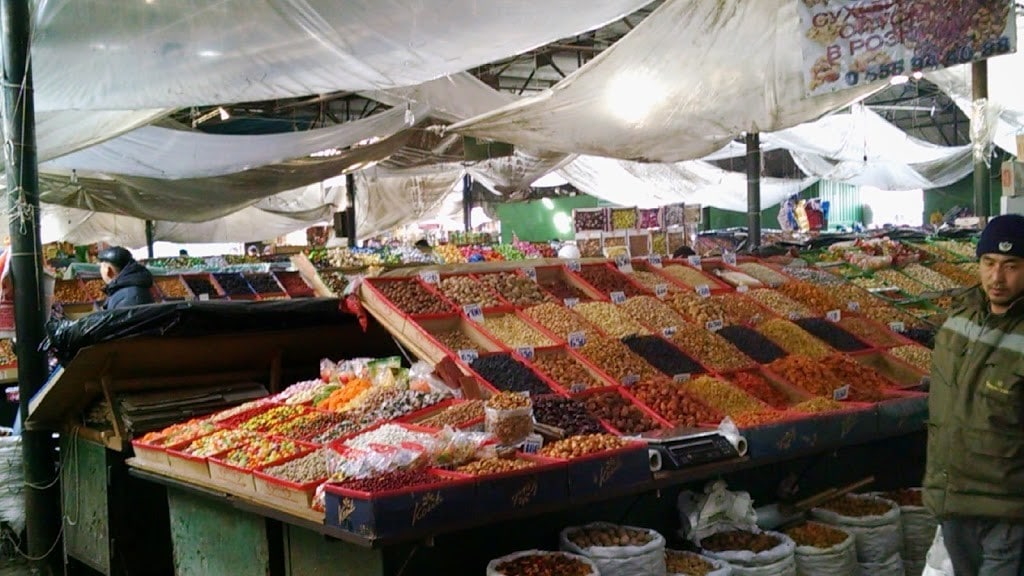 Peanut butter – You can find small jars at the Народный supermarket chain, but the best place to get peanut butter is in the refrigerated section of the supermarket in Beta Stores (Chui Prospekt 150/A), where it is cheaper and better.
Beans –
Dried бобы (beans), sold with the nuts at the bazaar, are salty, filling, and excellent.
Lentils – You can find bags of dried lentils at most grocery stores.
Гречка (Buckwheat) – Dry гречка is sold everywhere, like rice. It's full of protein. In Bishkek, as in Russia, it's often made with milk for a breakfast "kasha," but I love making it with vegetables and eggs as a savory dinner.
Tofu – You can often find tofu at Osh Bazaar out on tables near the produce. But I like to get in in big, cheap blocks from the refrigerator in Гоин (Goin Supermarket, Jibek Jolu/Yusup Abdrahmanov), in the Chinese market on the bottom floor.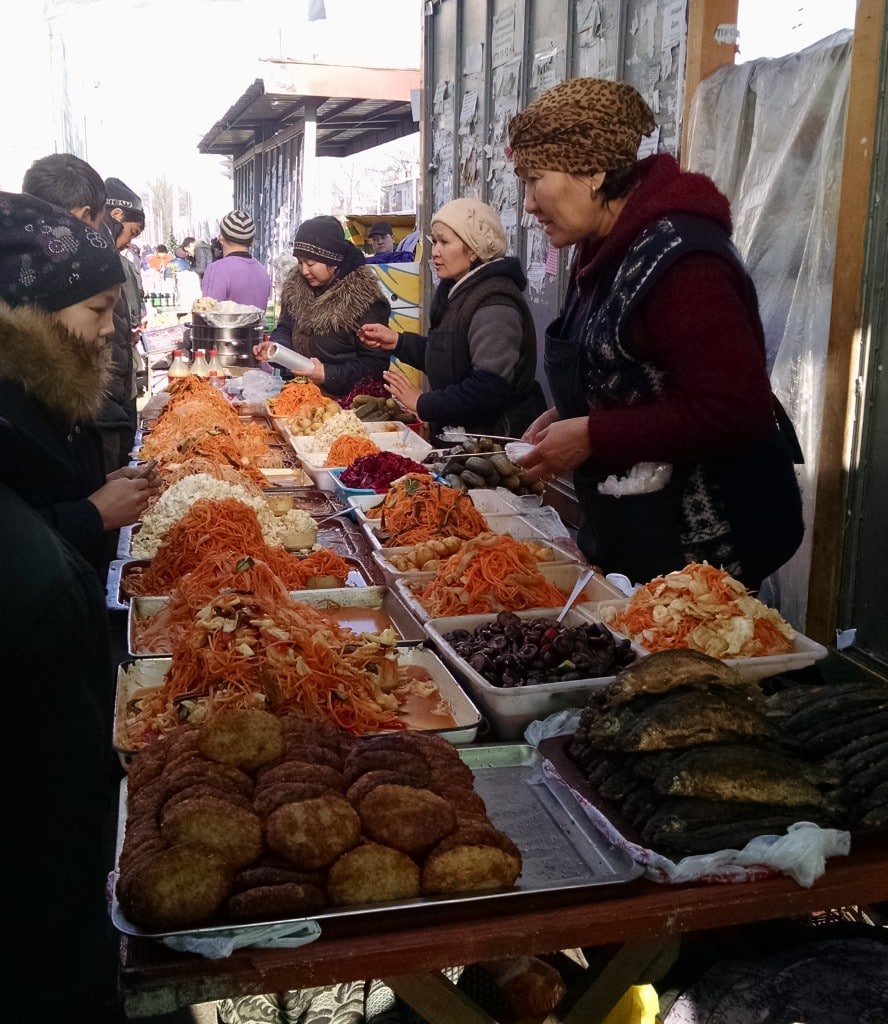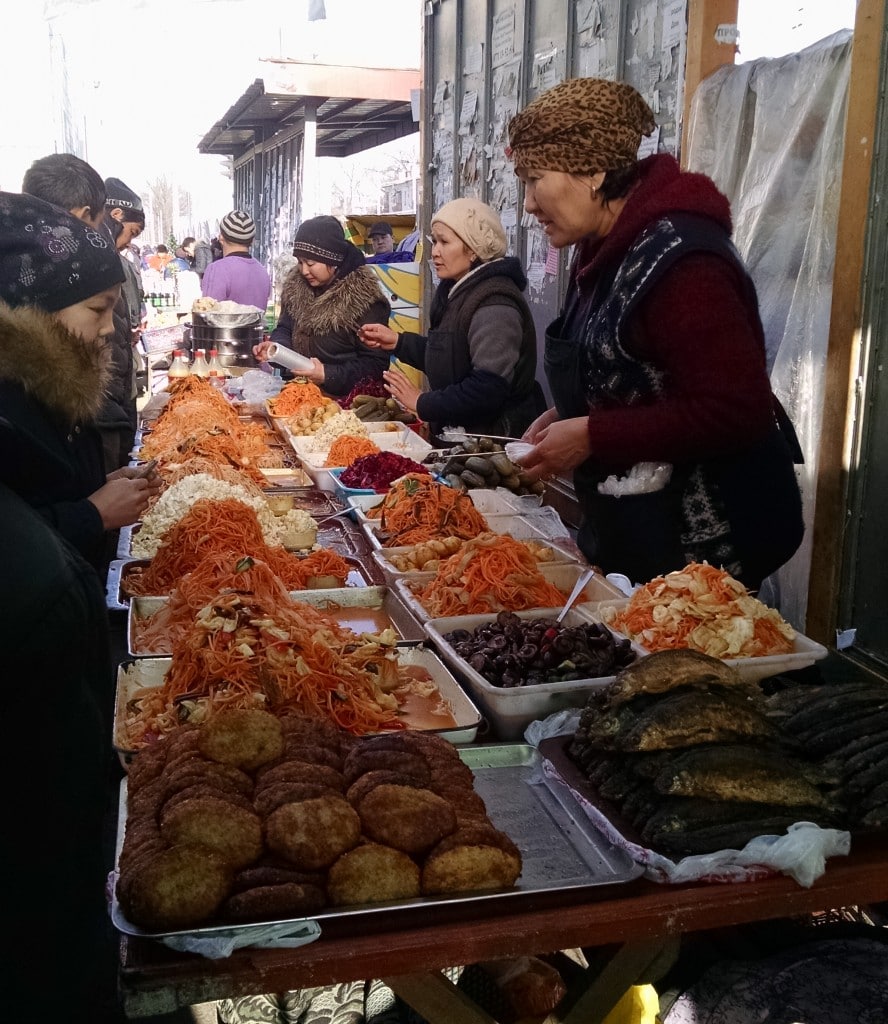 Korean salads – At most small "bazaarchiks" as well as big bazaars like Osh, there is at least one stand of "Korean salads." They are mostly vegetarian: there is vinegary carrot salad; спаржа made from tofu skin; and salads made from different kinds of rice noodles.
Оромо (Oromo) – Oromo is a circular wrapped noodle dish that is sold at food stands and at bazaars, and it is often vegetarian. You should ask if it has meat, but usually it is potato and onion wrapped in noodle.
Пирожки (Pirozhki) – Pumpkin and potato пирожки (stuffed pastries) are also good vegetarian hot snack options.
Максым (Maksym) – Sold along the side of the street in warm weather, along with other traditional drinks made by the Шоро company, максым might take getting used to, but can be simultaneously refreshing and filling. It is made of barley, corn, and wheat.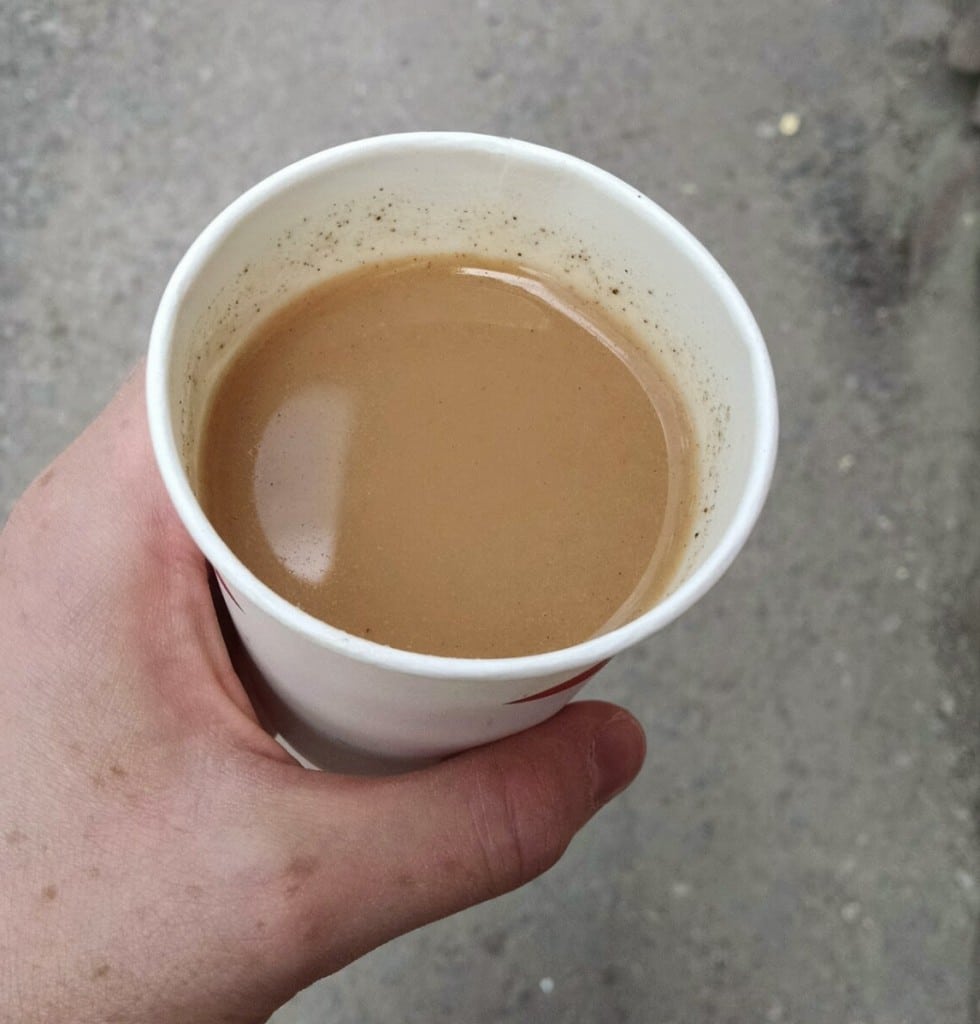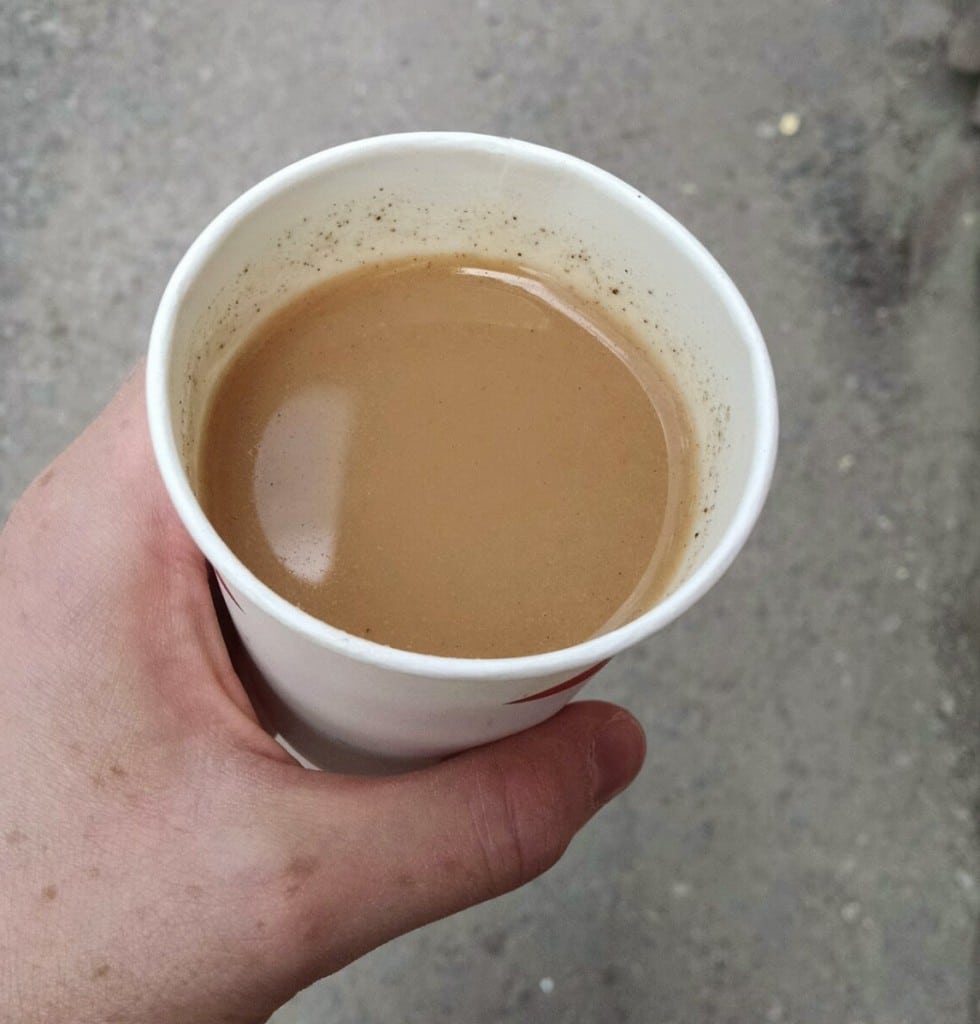 Produce – Seasonal fruits and vegetables are inexpensive and fresh at bazaars and at little produce stands and shops throughout the city.
Sauces/Ingredients – Soy sauce, hot sauce, rice vinegar, and other important condiments and cooking ingredients are sold at bazaars and in small shops. I found sesame oil in a Korean market on Toktogul Street. At Goin, there is coconut water in the refrigerators, which I substituted for coconut milk in curry (though I found coconut milk once or twice at Berlin).
Noodles – Dry noodles are sold everywhere (bazaars, small shops, large stores). I found soba (buckwheat) noodles at the Korean shop on Toktogul.
Sweets – Dessert is always a good bet for vegetarians. Cookies and candy are abundant at bazaars, and it's good to look out for small bakeries in the city, too. And be sure to eat a lot of halva.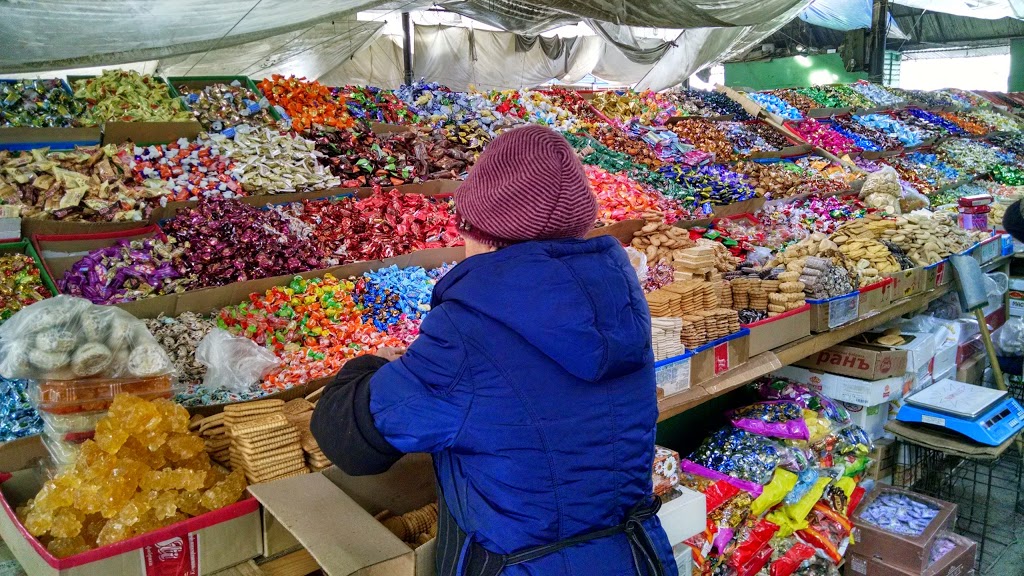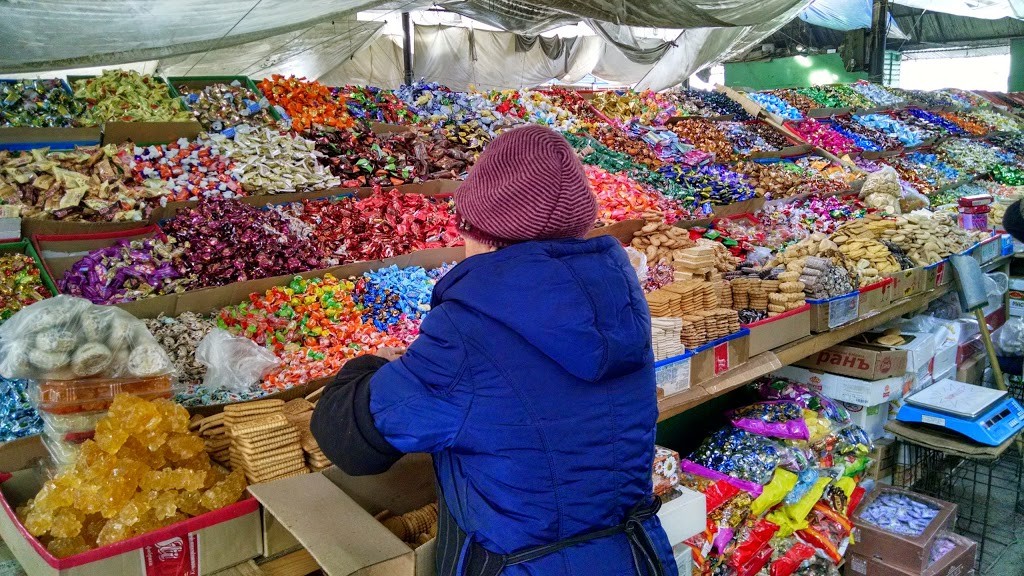 You will not go hungry as a vegetarian in Bishkek. In fact, you will eat very well. I didn't spend much time outside the city, but when I did travel, and when I stayed in people's homes, my hosts never seemed too taken aback when I said (always in advance of their cooking) that I don't eat meat, and they were always very accommodating. When I came home after living in Russia, I didn't particularly miss the potato and cabbage that made up much of my diet. But I expect to really miss lagman, pumpkin dumplings, stir-fried vegetables, Korean salads, and other staples of my food-filled life in Bishkek.
Grocery Shopping
Grocery Stores: The closest place to find well priced vegan milk and peanut butter is 7 Days, about a 20 minute walk from London School dormitories, or at Frunze in the Vefa Center. Vegan milk as well as tofu can be found at Alma, and Globus Supermarket. Vegans at London School should also definitely check out Ecoland (see below) which is across the street and has a large selection of vegan meat, specialty products, and (admittedly overpriced) vegan milks. Goin is a Chinese market where you can buy tofu, soy sauce, produce, and lots of loose-leaf teas. Tofu is also readily available at most bazaars and other helpful items like affordable dairy-free milk can be found at Globus, Alma, or 7 Дней.
Bazaars: The best and closest place to get fresh, high quality fruit, vegetables, and nuts, is Ak Emir Bazaar, about a 30 minute walk from London School. The other two bazaars worth visiting for groceries are Orto-Sai and Osh Bazaar. You can buy all kind of high quality produce in bulk for a really good price – way better than you would find at a standard grocery store.
Ecoland Health Food Store
This health food store stands on its own as a resource for vegans and vegetarians. Even better – it's across the street from London School!
Kathryn (vegan): In the past I have found health food stores hard to find while traveling off the beaten track…not so in Bishkek. Ecoland is a shop located directly across the road from London School and if you don't see it, you'll hear it. Speakers blast feel good music onto the streets from a "cabin in the woods" style hut, out of place among the grey city blocks. When I first stepped over the threshold of Ecoland, I was impressed by its homely feel and the stacks of shelves boasting products that are hard to find in the rest of the city. This article will be useful for you if you follow a specific diet and are worried about finding the right products to stay healthy while abroad. I've categorized products by diet, though this article will also be helpful if you're simply curious about peanut butter prices (peanut butter is still not common in Eurasia!) or where to find Eco-friendly laundry detergent!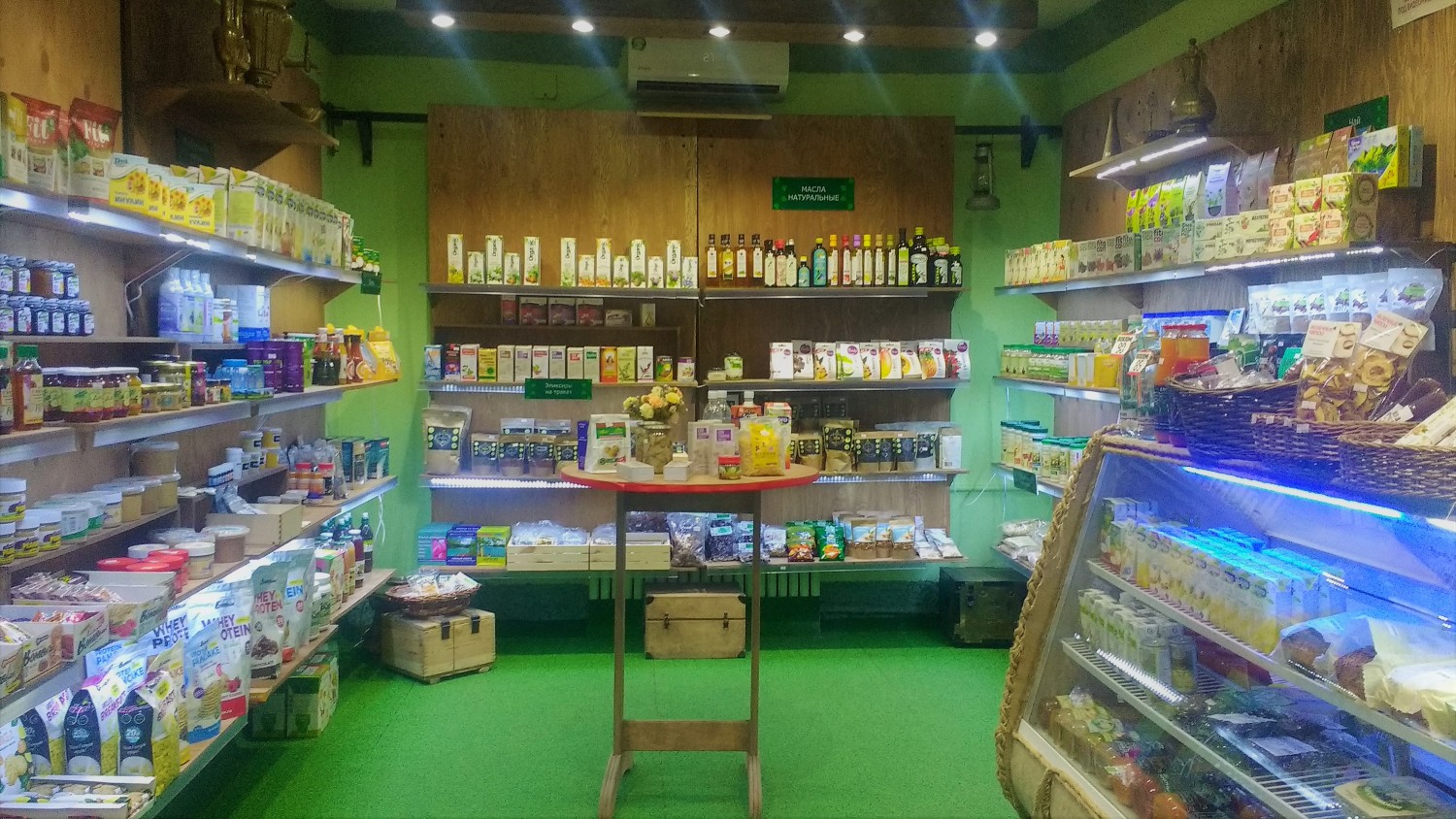 Vegetarian Food Products
The shop is made up of two rooms – the first holds a large counter fridge, within which you can find vegetarian sausages. The second has a freezer at the back on the far left, where you can get frozen veggie burgers and other frozen vegetarian meals. Prices currently are as follows:
Vegetarian sausages: $5.50 – $5.90
Tofu paste: $2.60
Tecto-mecto dumplings: $2.50 – $11
500g frozen berries: $2.70
Vegan Food Products
For meat substitutes, you'll be pleased to know that the vegetarian sausages and tofu paste listed above are also vegan! Other products you can find include:
Bite milks (rice and coconut, almond): $4.60
1L Alpro milk (almond, soya, coconut, chocolate coconut, soya vanilla, oat, cashew, and barista style): $5
250ml Alpro milk (coconut, almond, soya banana): $1.70
180 ml Homesoy can: $1.40
250 ml Aroy-d creamy coconut milk: $1.70
Raw fruit/nut bars: $1.40 – $2
If you're looking for a high quality, B12 fortified vegan milk, Alpro is the way to go. However, due to being imported, these milks are even more expensive than in the West, so economically speaking, there are better options. Personally, I buy my dairy free milk from Globus or 7-Eleven, where there is a choice of oat, wheat, soya, and rice milk for about half the price, if not less.
Gluten Free
The gluten free section is found in the second compartment of Ecoland, on the left from the doorway. Here you can find the following products:
Small gluten free bread: $1
500g spaghetti: $2.30
500g macaroni: $1.70
400g basic pasta: $6.30
500g gluten free flour: $2.40
250g coconut flour: $2.90
100g almond flour: $2.60
Gluten free biscuits: $2.70 – $3
Health Foods
Ecoland boasts a wide range of workout food products, healthy cereals, oils, and nut butters. Everything listed below can be found lining the left and back wall when you enter the store.
Peanut butter: $4.60 – $7.90
Chia seeds: $4.30 – $8.50
Quinoa: $4 – $18
Cereals: $2.60 – $3.40
Cocoa powder: $3.60
Carob powder: $1.70
500ml Olive oil: $6.70
Coconut oil: $7
50g Stevia: $10
Protein powder: $1.40 – $25.80
Protein bars/cookies: $1.20 – $1.70
Cleaning/Cosmetic Products
To the right of the back room, next to the samples section, is also a small collection of eco-friendly cleaning and hygiene products:
Essential oils: $1.40 – $4.90
1.2 kg Eco laundry detergent: $6
48ml Washing up liquid: $6.20
Root 'n' Roll – To Go Foods

Ecoland is not just a shop! Tucked into the corner of the back room is a delightful street food kitchen, boasting a range of vegetarian and vegan options – for the falafel fanatics out there, this is the place to go. A favorite of mine is the falafel and hummus wrap, costing about $2 and ready in 10 minutes. With reasonable prices and food made fresh to go, this is a great alternative to the London school canteen.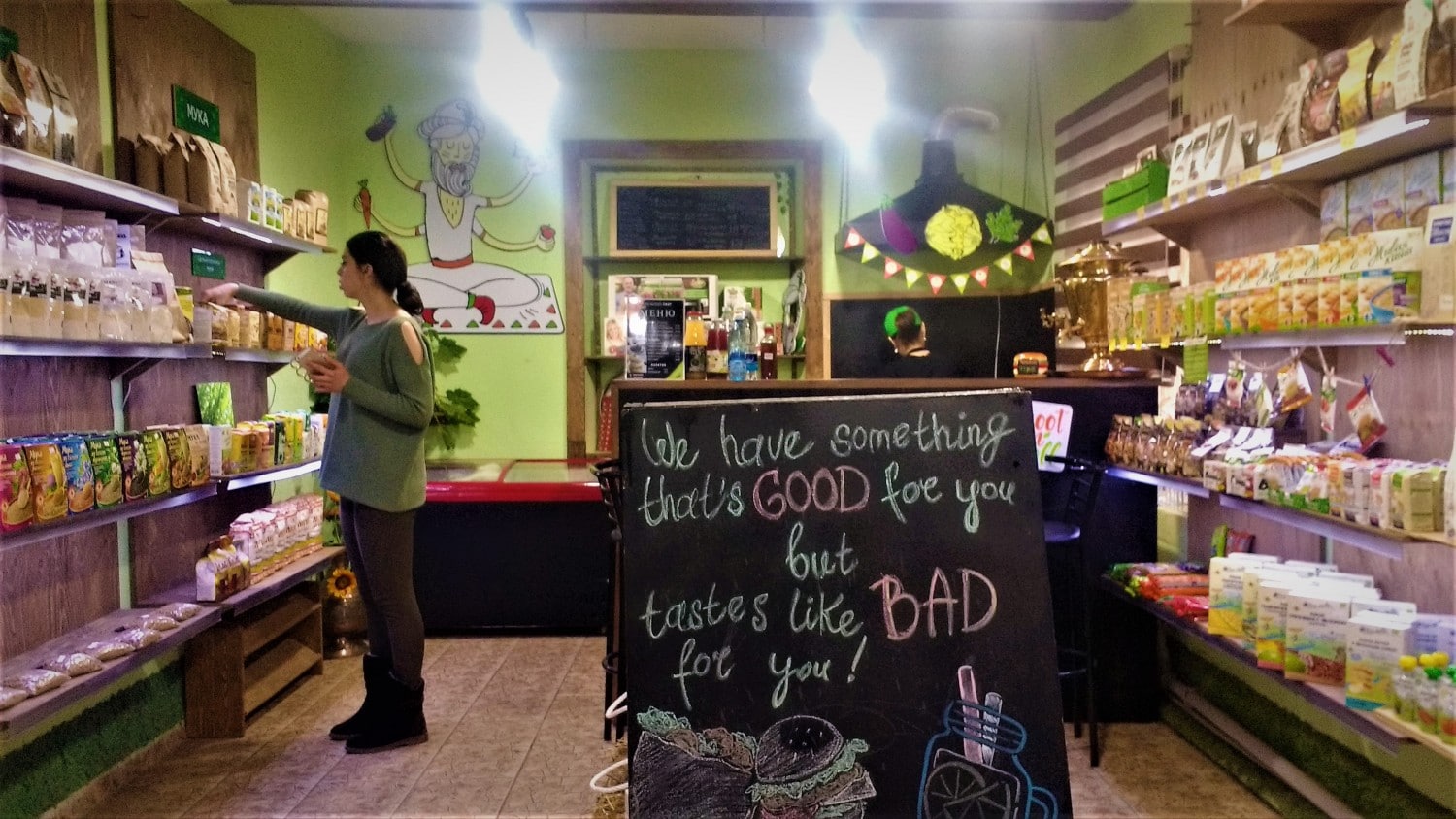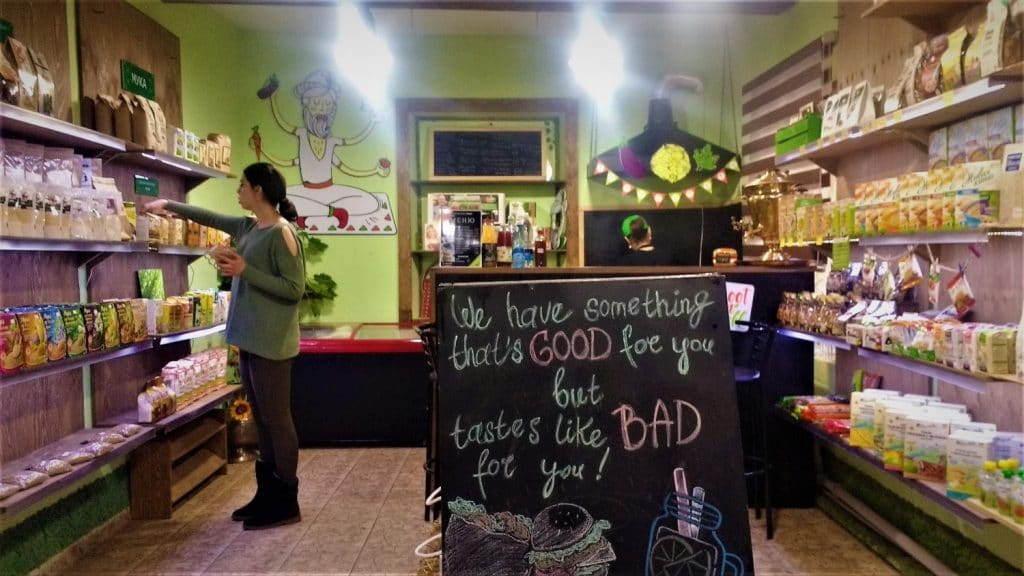 Overall Service
I find the staff at Ecoland to be friendly and helpful, happy to answer questions about products – at least one staff member speaks English and the others are very patient with my broken Russian. Though Ecoland is expensive by Bishkek standards, the products are high quality and there are discounts available. Overall, I recommend Ecoland for its wide range of interesting products, cheerful staff, and warm atmosphere.
You Might Also Like
This resource is part of the much larger SRAS Guide to Living in Bishkek.