Bishkek has seen a wave of investment from many countries – many of them Asian. For this reason, it is not so odd to find international visitors and cuisines in Bishkek. From Indian and Chinese to Japanese and Korean, Asian food is not hard to find in the Kyrgyzstan's capital. Below are several that students on SRAS programs abroad have found and would like to share with you.
This guide is part of the much larger SRAS Guide to Living in Bishkek.
Sovietskaya St., 204
The exterior of The Host may fool you into thinking it's a "Bar and Grill" – so don't be surprised when you enter to find a classy Indian–themed restaurant. Traditional instruments hang on the walls and linen cloths cover the tables, which are lined with comfy sofa chairs. It was nearly empty when we first entered, so we were attended to by about three different waiters during our meal. Soon after we were seated, Russian pop music started playing over the speakers, quite out of place with the decor. A waitress came over and gave us a couple of slightly greasy menus, which we started to leaf through.
As a vegan, I was concerned about whether there would be options available for my dietary requirements. However, I needn't have worried. Most of the cuisines were meat based but I flicked to the Indian section and found a couple of vegetarian curries. When ordering, I made sure to specify that the curry I had chosen was meat free and asked the waitress to make a note to the chef to not include any dairy products. Unfortunately, a lot of ordinarily vegan curries, such as dahl, include cream, so it's always a good idea to double check ingredients.
In many restaurants the Kyrgyz definition of "vegetarian" is "a meal that includes vegetables" as I found in an unfortunate incident where I ordered a dish advertised as "vegetarian" only to find small pieces of meat all the way through it. Many people also don't know what is meant by a "milk product" so it is a good idea to give a specific list of what you mean. You can never over-communicate! We also ordered a butter free garlic nan, some rice, a pot of green tea, and a bottle of water for the table.  
Our food arrived in traditional metal Indian dishes, and I was delighted by my mushroom curry. It was a wonderful aroma of Indian spices, blending beautifully with the creamy mushroom flavor. Alongside crispy garlic nan and fluffy basmati rice, my meal was complete. The portion sizes were perfect, enough to fill us up without leaving us bloated.  
I was impressed by our waitress for receiving my complicated order without batting an eyelid, not making a fuss over the adjustments and assuring me that the chef would be informed. Our food was served all at once after about 15/20 minutes, and when we requested a top up of rice, it was brought to us within 5 minutes.  
All in all, The Host is an excellent restaurant for up market comfort food and well-priced drinks. The food is pricier than a lot of cafes and restaurants in Bishkek but compared to prices in the West, it's still cheap. In total, our bill came to about $4 per person. There is also an "all you can eat" buffet Monday to Friday for about $2, making The Host another great lunchtime location for vegetarians, vegans, and omnivores alike!  
Kathryn Watt
Erkindik, 30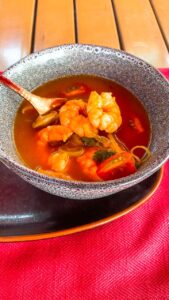 Sushi Room is a beautiful place to go during warmer months, as they have an amazing patio with comfortable and cushy seating. They have an expansive menu with so many Japanese favorites, from great ramen, sushi, bento boxes, and great tofu dishes. Ramen prices range from 460-630 som/$5.60-$7.65 USD; their portion sizes are average. If you are really hungry, I suggest a bowl of ramen, plus an appetizer or a small sushi roll. The staff at Sushi Room are very friendly and most speak English very well, they are very accommodating, and they are honest about which dishes are favorites and which are not. If you prefer to eat indoors, Sushi Room is elegantly decorated with Japanese murals, chandeliers, and comfortable and welcoming seating.
Maria Holderbaum
117 Chuy Ave
Located on one of the main streets in Bishkek, Chui Prospect, the Lanzhou Noodle Restaurant is one of the few Chinese-owned restaurants in Bishkek. Owned by a Chinese woman who was born and raised in Bishkek, the restaurant caters for Chinese expats and locals here who love the delicious and diverse flavors of Chinese cuisine.
The food at the Lanzhou noodle restaurant, prepared by ethnically Chinese chefs, includes a variety of dishes, from Chinese salads to noodle soups. However, it is known best for its beef noodle soup, which can also be made spicy for those who miss the taste of chile and the sensation having their mouth on fire (Central Asian food is generally not spicy).
When I first walked into the restaurant, the hostess greeted me in Russian, but I responded in Chinese for double language practice. Much to my surprise, all of the restaurant staff were either native Chinese speakers or Kyrgyz people who have been learning to speak Chinese either for work, passion, or just interest in the country next door. I was very impressed by the restaurant's ambiance and passion for bringing some of the many delicious Chinese culinary traditions to Bishkek. As a Chinese major, it was a very exciting experience for me to find a piece of China in this study abroad location that is located so close to, yet so far away from, the Middle Kingdom. It was paradise for me to learn about cross-cultural connections between Central Asia and China. I hope to return back to this restaurant and chat with the employees about why they have moved to Kyrgyzstan. (Some were born and raised in Kyrgyzstan but are ethnically Chinese.)
At the restaurant, I ordered Zongzi (a glutinous rice treat often served during the month of June for the annual Dragon Boat Festival), a tofu salad, and the restaurant's famous Lanzhou beef noodle soup. The food arrived fast and tasted amazing. The service at the Lanzhou noodle restaurant was also very professional, and the watchful staff was eager to make sure I was enjoying the food. I also had the chance to chat with the owner about her life in Bishkek; she even asked whether I would like to come work for her as a translator for Chinese, Russian and English. In the dining room, I also saw many Chinese expats meeting and chatting amongst themselves about family and work.
After lunch, I was in a state of pure happiness — the taste and smells of the food reminded me of when I was studying abroad in China a few years ago. It has been so long since I had authentic-tasting Chinese food, and eating at the restaurant was a very satisfying experience that I would highly recommend to students, locals, travelers, and expats who love good traditional Chinese food (no General Tso or orange chicken are included on the menu). The Lanzhou Noodle Restaurant is by far one of my favorite Chinese restaurants that I have tried during my stay in Bishkek.
Kathleen Connell
Киевская 71 and other locations
Cooksoo has become one of my favorite restaurants in Bishkek since I arrived five weeks ago. Between the close proximity, great prices, friendly service, and quality food, it is hard to describe how great this establishment is. Cooksoo offers Korean food at low prices. The menu is, of course, in Russian and the staff speak exclusively in Russian as well. That being said, you can purchase multiple types of ramen, sushi, and a few other dishes that are typically rice and egg based. For an average cost of around 200 som, or roughly $3, you receive an incredibly large portion of food. I've taken to coming to Cooksoo just to do homework and order a cup of coffee, which is also great by the way. The atmosphere is friendly and very clean. Over time, and by making an exorbitant amount of trips, we have become friends with the girls who work behind the counter. While ethic Kyrgyz food is great, it is refreshing to go to Cooksoo because the spices and flavors make a nice change from the usual meat and onion based food in Kyrgyzstan. My personal favorite is Oodan Ramen which is fairly cheap and comes with an assortment of toppings.
Cian Stryker
Cooksoo also has a location close to Ala-Too Square; it is a great place to meet friends, eat ramen and enjoy the lovely service Cooksoo has to offer. They have a wide selection of Ramen dishes, from Classic Ramen to Seafood Ramen, to a nice Veggie Ramen. Prices start at 220 som/$2.66 USD and go to 450 som/$5.44 USD. They also have an extensive Korean menu with great dishes such as tteok-bokki, kimbop and Korean corn dogs. The service is impeccable, the servers are extremely nice and welcoming, and the food comes out quick! Cooksoo is always busy, so if you are coming with a large group, I suggest coming during off-peak hours and try to get there early on weekends.
Maria Holderbaum
Bokonbayeva Street, 132 (between Logvinenko & Razzakov)
If there's one thing most in Bishkek can agree on, it's that restaurant service here sucks. There is no sense of urgency, no sense of accommodation, no desire to please, definitely no smiles, and an overall attitude of Maya xata s kraiu (literally, "My hut is on the edge," but figuratively, "Not my problem, dude.") What will "service" get you here? A sleepy, bored devushka or molodoi chelovek (literally, "young girl" and "young man," but also the standard terms for "waitress" and "waiter") at the entrance; one menu when you really need three; 20 minutes to get your beer refilled; bad live music; being charged for bad live music; being charged for items you didn't order; the list goes on.
At first, I wrote off this unfortunate aspect of Bishkek with an attitude of "Nu, ladno, that's Bishkek for you!" But a new restaurant just moved into town. And it has decided that Bishkek can do better. This restaurant, dear readers, is called Furusato (which means "hometown" in Japanese) and it just opened its doors in June 2013. After dining there several times, I am convinced that restaurant hospitality can work in Bishkek. For the first time in a long time, I was reminded that dining out can be a sweet experience.
Everything about Furusato screams sincerity, thoughtfulness, and quality, from the architecture's elegant architecture (there is a peaceful stone garden in the front) to a wait staff that almost accosts you with cries of "Irashyaimase!" ("Welcome!" in Japanese) when you first enter. The first time I walked in, I actually looked behind me when I heard the ringing welcoming cries. Are they talking to me?! The restaurant seems to operate on the motto, Anything for You. When I once asked if I could have the Thursday lunch special (mackerel simmered in miso sauce) instead of the Friday lunch special (ramen soup), the devushka said, "surely." When my vegetarian dining companion asked if the chef could prepare one dish sans meat, the devushka said, "no problem." When one of my other friends wanted more wasabi, the waiters promptly came back with an extra plate of wasabi, and didn't charge him for it. When I wanted a glass of ice, the devushka came back with two, just in case my dining companion wanted one, too. If that doesn't sound impressive, the wait staff smiles. In a city where smiles are not normal'no in the public arena (smiles are usually reserved for people you know, not for strangers, and definitely not for business transactions), a sincere, free, and happy smile is a beautiful thing, like a rainbow, or a four-leaf clover, or a shiny quarter on the street. Furusato hands them out in spades.
Furusato is the brainchild of a Tokyo-native businessman and chef who has lived, worked, and cooked Japanese cuisine in the former Soviet Union, most recently in the Caucasus, for the past 15 years. He is a friendly man, with a shaved head and a warm smile, and you will see him dart in and out of the kitchen to the main dining room to mingle with his dining guests. While he was cooking, I asked his head waitress why he chose to move to Kyrgyzstan. She said it was because of the strong and friendly relationship between the two countries. She said Kyrgyzstan was one of the first countries to come to Japan's aid during the 2011 tsunami, with water supplies. Later, I found out Kyrgyzstan President Atambayev's first official foreign visit of 2013 was to Japan. Azernews called this visit symbolic of a "new page in the relations of Kyrgyzstan and Japan," which will build on their already strong relations in energy, transport, communication, agriculture, processing, industry, training of specialists, and tourism. I say, if Furusato is a byproduct of warmer Kyrgyz-Japanese relations, that's foreign policy at its finest.
Furusato is not only a place of smiles, but of tradition. This makes the restaurant a fun cultural experience for those who have never been to Japan but like to imagine what it must be like. The wait staff serves everything to you with two hands, and then bows after every exchange. The head chef personally greets every table, and then converses in either Japanese, Russian, and sometimes in broken English, depending on the clientele. On the walls are colorful traditional Japanese paintings. There is even a flat-screen TV in the main room, which plays Japanese music videos, anime, and other TV shows — which, surprisingly, does not distract from the otherwise elegant décor. What makes Furusato the most "traditional" is the sound of the Japanese language bouncing off the walls in loud, excited, animated fervor. One Thursday evening, my friends and I were the only non-Japanese diners on the main floor. As we watched this ethnic diaspora of Bishkek come together in this small space, bowing and laughing and giggling and talking excitedly with the head chef, we all thought — and one of us said aloud — "Now, this is a part of Bishkek I have never seen." And then we talked with each other about Japan, and who's been there, and to what city. In this way, the head chef has already succeeded in this restaurant endeavor — he has inspired, through food, our imaginations.
Furusato has a wonderful extensive and fresh menu, with daily specials, such as last Thursday's Duck Stew in a Pot, with soba (buckwheat) or udon (chewy wheat) noodles, or rice (500 som). So far my favorite dishes have been the spicy miso, ramen, and corn soup (300 som), smoked salmon sushi (160 som), which they will dramatically caramelize in front of you with a fire torch, and the ginger-fried pork with rice (380 som). Furusato's current specialties of the house include pork cutlets, chicken teriyaki, cabbage omelets, and ramen. It is telling that when I dined with 12 other people one evening, every one of us raved about our orders. It is also telling that the vegetarians in the group were particularly pleased with Furusato's fresh, creative vegetarian options. My friend inhaled his fresh tofu and soybean dishes as if lapping from a well in the middle of the Kara-Kum Desert. From what I understand, being a vegetarian in meat-based Kyrgyzstan is not easy — and not only gastronomically, but culturally. (You need thick skin here to be able to explain to Kyrgyz mothers why you won't eat most of their national food.)
As if the food wasn't good enough, that same Thursday evening the chef sent out complimentary "tasting" plates to the dining floor. First it was a sushi plate. Then a pasta salad. A fruit bowl. A pot of black tea! Again, little things, and maybe part of the restaurant's efforts to woo Bishkek during its initial honeymoon period, but these little delights are what turned the evening from "dinner out" to "dining out." Furthermore, the meal wasn't expensive. Most people in our large group paid about $10 for their meal, and everyone agreed it was a steal. Again, Furusato has shown Bishkek what can be possible here: Delicious food and exceptional service at reasonable prices.
Eirene Busa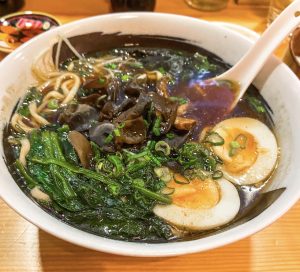 In my opinion, Furusato is the best Japanese restaurant in Bishkek, they have amazing ramen, and other Japanese dishes, the décor looks like you have been transported to Japan and every single person who works there is super friendly and accommodating. The prices are on the higher end with ramen starting at 690 som/$8.35 USD and maxing out at 805 som/$9.74 USD, however, you truly get what you pay for here, the food is phenomenal! Furusato is always busy and usually there is a wait, so if you are coming with friends, I suggest making a reservation, even for lunch. If you come alone, they will most likely sit you at the counter in front of the sushi chef- which is a fun experience on its own. Furusato checks all the boxes-value, service, and a wonderful cultural experience!
Maria Holderbaum
Baitik Baatyr Street, 49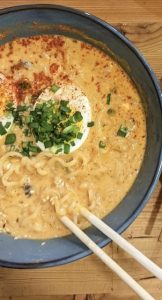 Tatami Café is an unassuming ramen joint that is located right next door to The London School. Tatami Café offers good ramen, fast service and their prices are extremely reasonable. For 150 som/$1.81 USD you can get a large bowl of Classic Ramen and for 190 som/$2.30 USD you can get a large bowl of Creamy Ramen. You can add additional items, such as egg for 20 som/.24 cents USD more or meat for an additional 40 som/.48 cents USD. The ambiance is pretty no frills, but when you are on your lunch break from The London School, this is the perfect place to chow down and make it back in time for your next class.
Maria Holderbaum
You Might Also Like
This guide is part of the much larger SRAS Guide to Living in Bishkek.
Other articles on this site also include: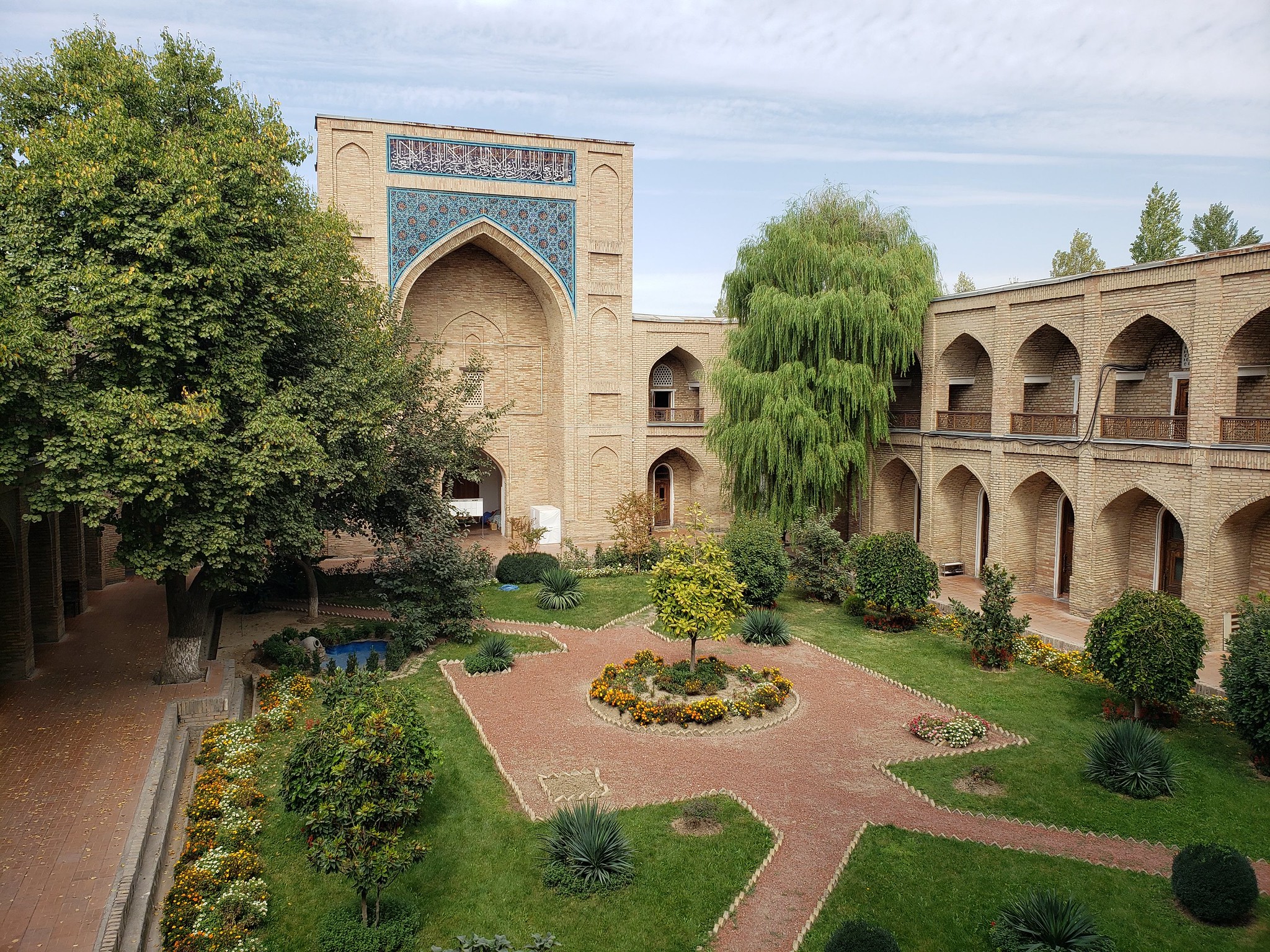 My Central Asian Studies Program with SRAS in Bishkek included a fantastic 9-day trip to the major Silk Road cities of Uzbekistan—Khiva, Bukhara and Samarkand—which was book-ended by visits to Tashkent. At the end of my program, I made the trip to the capital of Uzbekistan again, this time independently. I stayed there for three […]
0 comments