While abroad, it's natural to get a bit homesick and start craving the comfort foods we are used to. While we recommended that you dive into the local culture as much as possible, sometimes seeing foreign takes on American classics can be interesting and educational… right? Here's a list of six fast food places that students on SRAS programs have found comfort in in Bishkek, Kyrgyzstan.
This guide is part of the much larger SRAS Guide to Living in Bishkek.
General Recommendations
Metro Pub – also known by its former name of "The American Bar" – has Bishkek-style American and Mexican food. The place has seen better days, but if you take a place at the bar you're likely to encounter a few expats. Torro Grill and Bar has good steaks and burgers and real mozzarella sticks. Dinner with a carafe of house wine and appetizers will cost around $15-20. You can also find a number of Italian restaurants and pizza places throughout the center, notably DoDo Pizza, Cyclone, and Dolce Vita.
Begemot
Chuiskii prospekt, 158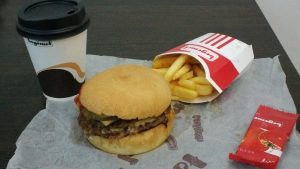 After spending enough time in a place like Kyrgyzstan, one thing I (and perhaps many visitors) begin to miss is a good ol' AMERICAN burger and fries and Coca-Cola. While many of the fast food places in Bishkek do sell a "гамбургер," which is often beef or lamb schwarma shavings in a hamburger bun topped with with cabbage, french fries, ketchup, and mayo, nothing comes as close to real American fast food as Begemot. The menu includes the absolute basics of fast food: single/double hamburgers and cheeseburgers, chicken burgers (which, unfortunately, aren't breaded and deep fried), french fries, and several kinds of soda. The prices are roughly the norm for local fast food places, if not cheaper, and a burger, fries, and a drink will rarely cost more than 150 soms ($3.25).
Peter Bourgelais
Burger Club

150a Chui Prospect
At some point during everyone's time in Bishkek they are going to think to themselves, "Wow I really want American fast food, like maybe a Burger King." Well, that's honestly impossible unless you're willing to drive to Almaty, Kazakhstan. The good news is, however, there are equivalents in Bishkek. Foremost of which is Burger Club, a small Canadian fast food restaurant roughly 10 minutes from the main square. Easily accessible, incredibly cheap (at round $3), and decent enough to satiate a fast-food fix, I've visited Burger Club a fair amount during my time here in Bishkek. Nothing about it is particularly remarkable, but it does exactly what it needs to: deliver a cheap, americanesque burger experience. If you go there I recommend the King Burger, which is surprisingly massive considering its price.
Cian Stryker
Burger House

71 Kievskaya Street
There comes a time for every American student in Bishkek, when he/she just wants American food again. Having spent quality time exploring every popular expat option available in the city I can help anyone out. Burger House is the closest thing to a Five Guy's Burger that you can come to. Food prices are around $5, the quality is excellent and it is incredibly fast. They have staples such as hot dogs, milkshakes, and burgers, alongside specialty dishes like a Chili Cheese Dog, which I recommend to everyone. Located near the main square, it is very easy to access and has become a go to option for our entire program. Also there is trivia night in English every Wednesday Night, which is really fun.
Cian Stryker
Dodo Pizza

101/1 Shopokov Street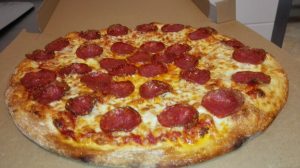 Soon after arriving Bishkek my friend and I decided to find the best pizza restaurant in the city. We now have a shortlist, narrowed from the extensive list of pizza venues, of the two best. One is Imperial Pizza. The other is DoDo pizza. Although a Russian chain, DoDo feels like a western pizza place. It resembles a fast food place, but with much higher quality food. The prices are very reasonable, usually around $3 and if you go during lunch time you can get your drinks for free. The options are incredibly varied from your basic Pepperoni to the amazing Ranch Pizza. Speaking of which, I recommend the Ranch Pizza both because it's delicious, but also because ranch is a very rare flavor in Kyrgyzstan. Anyone living or studying in Bishkek, who happens to love pizza, should definitely go to DoDo pizza.
Cian Stryker
Imperia Pizza

27/1 Gorky Street
Imperia Pizza is one of the two best pizza places in Bishkek in my personal opinion. (The other is DoDo, see above.) Imperia Pizza also has the advantage of being close to the school (less than a three-minute walk), is very affordable, and offers interesting pizza options. Every pizza costs around $4, but with every two pizzas bought you receive a liter and a half of Coca-Cola for free. Pizza choices are very interesting and range from Pepperoni to Chili to Shashlik, but honestly they are all very good so it's safe to experiment. If I had to choose one to recommend I'd say go for the Hawaiian pizza, which comes with pineapple (another rare topping in Bishkek). In general, any student at the London School should go to Imperia Pizza since it's delicious and ridiculously close, just inside the Vefa Shopping Center.
Cian Stryker
You Might Also Like
This guide is part of the much larger SRAS Guide to Living in Bishkek.