One might not often think of combining a spa day of pampering with study abroad. However, in many SRAS locations, the cost of doing so can be surprisingly low, making it a great way to decompress and improve your mental health. Plus, many locations share traditions of the banya, which is not only a cultural experience, but a great way to relax, socialize, and walk away feeling clean mentally and physically. Below are several experiences of pampering themselves that SRAS students have had in Bishkek, Kyrgyzstan.
Tai Massage in Bishkek
I have been having issues with my neck ever since I got to Bishkek. Whenever I turn my head, I hear my neck crack. I'm not sure what caused this – perhaps it was the long plane ride. In any case, I decided to explore massage therapy and was quite excited to find out that a one-hour massage at Kamin Tai Massage Boutique could be had for only $20.
The recommended clinic on the list was called "Kamin." It is fairly centrally located at 141 Toktogul Street on the second floor above a store called Podium Boutique. It can be fairly confusing to try to find. If you are facing the building, the path to get into the building will be on your left. The door is big, bulky, and metallic, and will cause you to momentarily feel as if you are walking into an apartment building.
When you reach the top of the stairs, you will see a bunch of hay in the corner under a large poster with many stretching poses and the name of the massage boutique. Inside, everything is very modern-looking, yet simple. The individual massage rooms are separated by fabric partitions. For that reason, you are asked to speak only in a low voice. Because it was my first time, I had to fill out a form providing my personal information so that they can keep a confidential record for me on file, much like at a medical clinic. I was asked to take off my shoes and they hung my jacket for me and put away my backpack. I took my shoes off and my massage therapist washed my feet as I sipped the homemade lemongrass tea that was given to me as I prepared for my massage.
I was then escorted to my room and given time to change. Since I don't think that I've ever actually gotten a formal massage in my life, I was a little bit confused as to what to do, and didn't exactly realize that a full body massage entailed being completely naked under a towel. When the woman returned, she told me I needed to remove undergarments as well. I was given a cap to put my hair in to keep the oil that would be used out of it, and a set of one-size sheer blue shorts that came wrapped and that would serve as some sort of underwear.
I explained my complaints to the massage therapist and she tried her best to work out the problems. She did release one side, but not the other. This caused me to schedule another massage for the following week that, instead of full body, focuses only on the upper body.
Kamin offers many different types of massages. For instance, the full hour herbal massage with oil, which is what I got, was only $20, and it is on the mid to more expensive end of the services that they offer. Kamin also offers member benefits, such as 50% off of any service on your birthday.
After I finished my massage, I felt much more relaxed than I had when I walked in. I was given more delicious homemade tea while I put my shoes on in addition to a couple of cookies, all of which I took my time enjoying. I enjoyed the ambience and helpful customer service of this establishment and am certain that I will return at least a handful more of times before I depart from Bishkek.
– Mikaela Peters
Gel Manicures in Bishkek
Whether you are a regular at the nail salon or are thinking about getting your first manicure, Bishkek is one of the most affordable cities to treat yourself. Finding a quality manicurist can be difficult, especially when you are in a new city. I, along with a few of my girlfriends have tested out a few salons in Bishkek and we have all concluded that Nails.kg is not only one of the most affordable salons, but the quality is top notch, and the service is impeccable!
At Nails.kg they specialize in gel manicures, which means the nail polish is cured with UV or LED light to secure it into place for long-lasting wear. The main difference between regular polish and gel polish is gel polish lasts longer on average, the polish rarely chips, your nails will keep their shine throughout the duration of your manicure, and you do not have to sit and wait for your nails to dry, as the UV or LED light dries them within 30-60 seconds!
At Nails.kg the manicure process takes approximately two hours; your nails will be cut, trimmed, filed, and shaped and your cuticles will be removed to achieve a flawless, smooth finish. A base coat will be applied first, to protect your natural nails and then you will have your pick of hundreds of nail polish colors. It is up to you if you would like just one color on all your nails or if you would like multiple colors, a design, glitter and/or jewels. Depending on the design, the amount of glitter and/or jewels you request, there will be an additional charge per nail (usually an additional 50 soms per nail/.62 cents USD). Your nail color and/or design will be applied and dried and then they will apply a glossy, clear topcoat that seals in the color and leaves your nails glossy and shiny for up to three weeks!
A gel manicure will cost you between 800-1000 soms/$10.00-$12.50 USD plus an additional charge for special designs. This is an incredible bargain, as in the United States a standard gel manicure (with one nail polish color) will cost you between $30.00-$70.00 USD.
Nails.kg has three locations throughout Bishkek, you can locate each location by visiting their website, which also allows you to book appointments online. I highly suggest booking online, especially if you would like to get your manicure on a Friday or Saturday, as these days are the busiest times in Bishkek.
Overall, I have had multiple gel manicures at Nails.kg, and I have been very satisfied each time I go!
Summer Swimming in Bishkek
Don't get me wrong: I love summer. But the mercury's been hovering around 95 degrees in Bishkek the past two weeks, and everyone's desperate for a way to beat the heat. Luckily, Bishkek has its fair share of pools. Some can best be described as concrete swimming holes in a school, and while those options may be inexpensive (100 som/hour, or about $2/hour), they're a little short on relaxation. Enter Sun City.
With four swimming pools, a bar and restaurant, and an adjacent sports complex, Sun City invites you to come in, relax, and cool off in style. It is pricier (650 som/day or about $13, plus any food or drink), but since I've spent at least 6 hours there each time I've visited, I'd say I got my money's worth. Two of the pools are kids' pools, and Sun City is full of families. While one of the kids' pools is a shallow splashing pool, the second makes me wish I was a child again. It's chock full of toys, inflatable glaciers to climb, and multiple water slides; if kids aren't your cup of tea, I'd recommend snagging a seat far away from the shrieks of joy that emanate nonstop from this pool.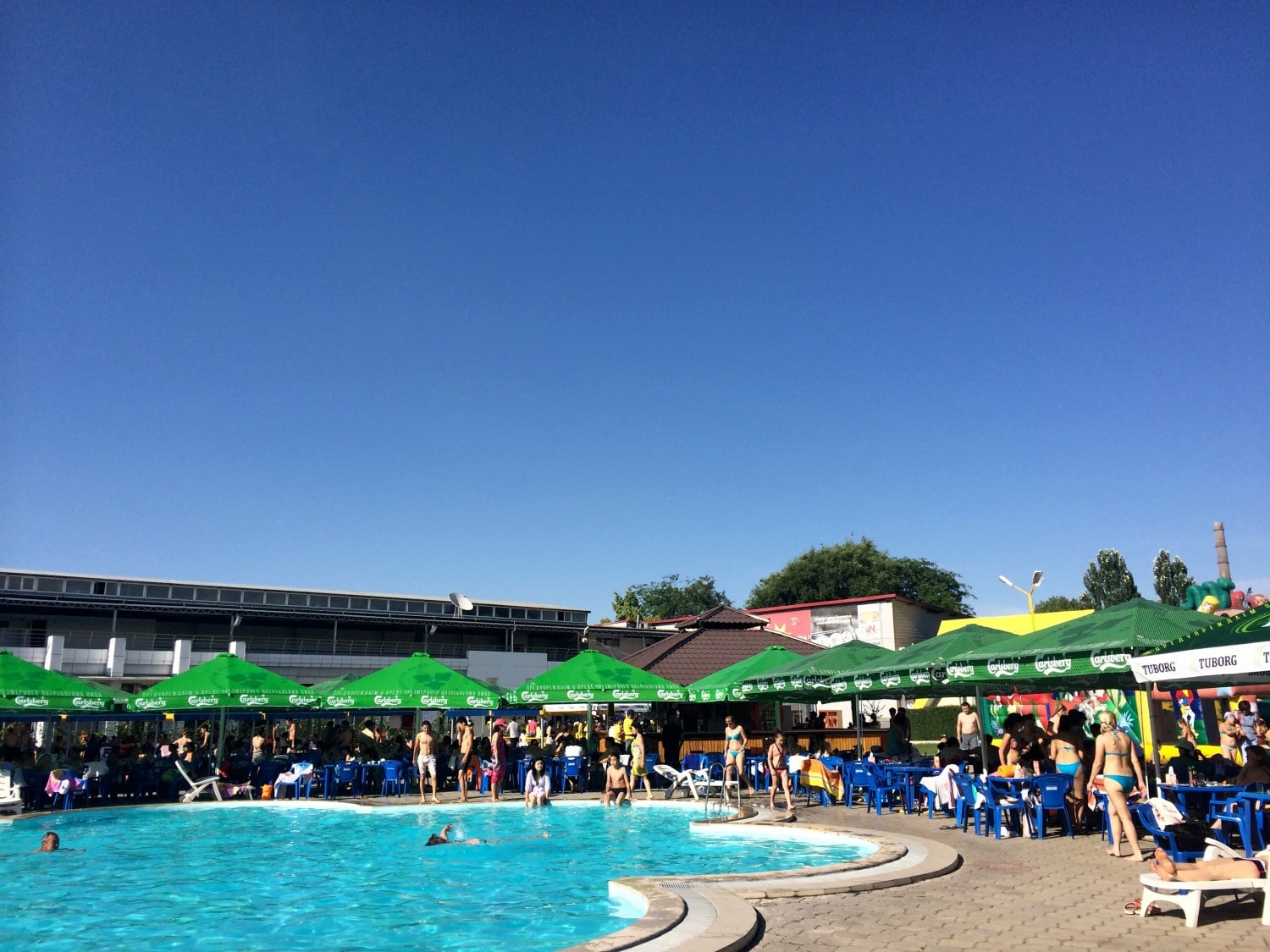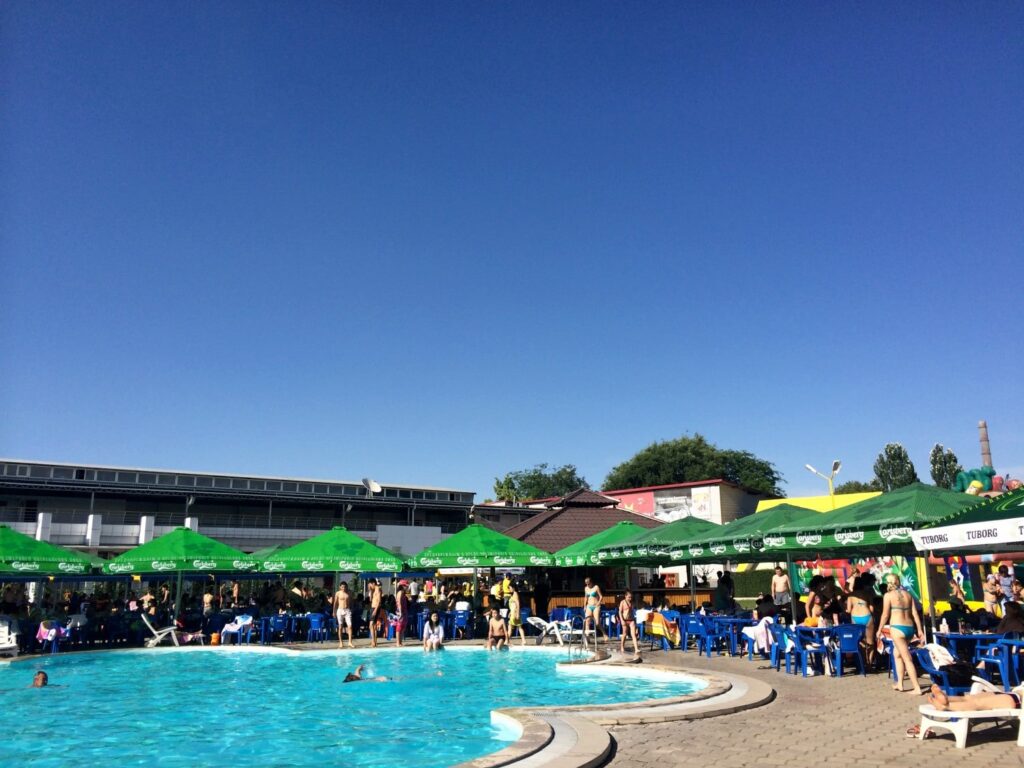 The other two pools cater to the adults. One is large, with both shallow and deep ends, while the other is smaller and flower-shaped, and about 5' deep all around. The water is very cold, but one jump in and you'll quickly forget that the air temperature is pushing 100 degrees. The smaller pool is usually less crowded, and right in front of a stage with DJs playing club remixes of popular English and Russian songs. Lifeguards roam the borders of all the pools, and while diving is permitted, the one rule I've learned is that you're not allowed to wear your sunglasses into the water.
After hours in the sun, you're bound to get hungry and thirsty. Each pool is surrounded by tables, so you don't have to leave the scene to get food. Servers in yellow shirts run around taking and delivering orders, but despite their appearance of hustling, the service is incredibly slow. The menu is large and diverse, with everything from salads to pizza to sushi, and plenty of cocktails and drinks. Prices are a little more expensive than other restaurants in the city, but only by about $0.50 or so. When the food does finally arrive, it's quite tasty and always hits the spot.
As the temperature keeps pushing upwards this summer, I'm sure I'll be back as Sun City for another dip in the pool!
Lauren Bisio
You'll Also Love
This guide is part of the much larger SRAS Guide to Living in Bishkek.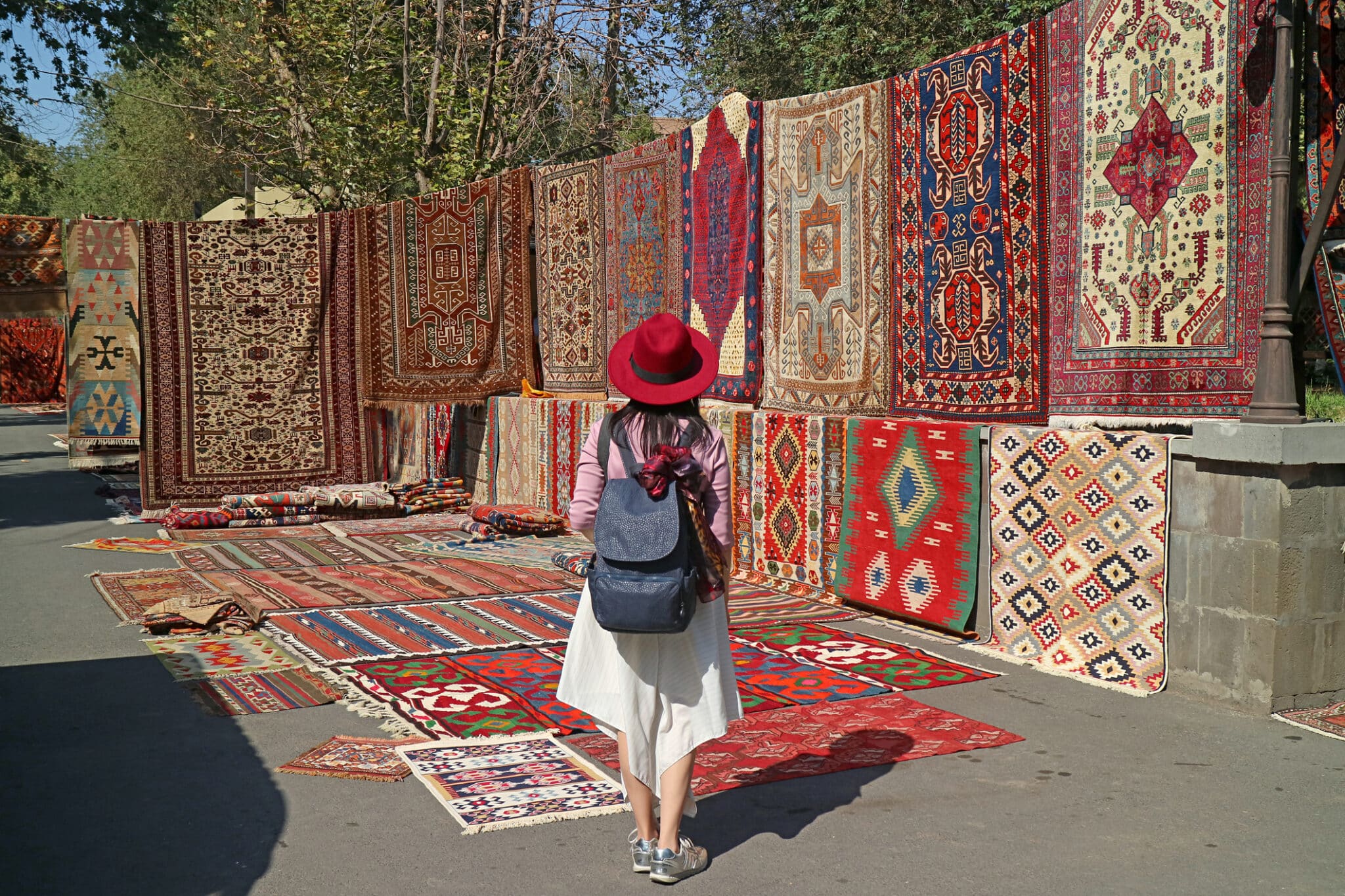 What's it really like to live in Yerevan, Armenia for a semester? Staying long-term in a city is much different from just vacationing there. You'll need to navigate more of the practical, everyday services of the city and budget to include more miscellaneous and long-term expenses. Thus, this guide covers everything from haircuts to pharmacies […]
0 comments