One hot Friday night, a group of fellow students and I made our way to a nightclub. Little did I know I would end up spending each of my subsequent free weekends dancing the night away in various Bishkek nightclubs. They are fun and cheap, so if you go with a group of friends, you're sure to have a good time. Going to a club also allows you to meet locals. People are more open to conversation and meeting new people in a club than they are on the street, so if you want a way to burst out of the English-speaking bubble, finding a club with a friendly crowd is certainly an option.
Finding nightclubs in Bishkek can be difficult. Clubs come and go, but many that have long ago gone out of business still show up in Internet searches. Most of the clubs we went to were free for us to enter (clubs want Americans to come because they think we'll spend a lot of money).

When traveling to and from clubs, marshrutkas are the cheapest option. The Namba taxi app is ideal when returning. Namba has a pickup fee of 50 som (about $0.75), and costs 10 som ($0.14) for each kilometer. There is no cost for extra riders, so the ride can be very cheap when split among friends. There is an app you can download, or you can order the cab online. You need a local number to contact the cab, however, so use the number of someone with a local SIM card or the phone given to you by the school. Namba calls/texts you to let you know there is a cab on its way and to alert you when it arrives. You can also hail a cab outside the club, but it will be much more expensive, especially if you don't negotiate the price.
The dress code is consistent across clubs. Generally, you don't want to wear just a t-shirt and shorts. Men usually wear pants and a nice shirt, while women's wear ranges from dresses and heels to nice tops and jeans. Most of the local women didn't wear shorts, but it's not improper to rock shorts with a cute top. Essentially, men should wear pants and nice shirts and women can wear whatever they'd like.
This guide is part of the much wider SRAS Guide to Living in Bishkek.
– Daphne Letherer
16 Cholpon-Ata St
When you search for nightclubs in Bishkek, Promzona always pops up. It's considered one of the best nightclubs in Bishkek, and it's been around for many years.  We took a cab, which was only about a ten minute drive from the school, and cost 120 som ($1.75) for four of us (resulting in a cost of only 30 som each for the ride). The entrance fee was a little steep, at 450 som (about $6.60) on a Friday night after 11pm. It was the only club where I paid an entrance fee. Promzona is also the smallest of the clubs I attended. The inside is intimate, very dark, and has an industrial theme. There are tables along the left half, a dance floor, and a bar along the right wall. Prices are similar to Metro Pub (see below), with the cheapest shots costing 150 som ($2.20) and mixed drinks ranging from about 250 to 450 som ($3.70-6.60). Promzona usually has a live band that plays rock and pop music, including throwback and modern. The dress was overall casual, but you'll want to dress up a little bit to fit in. If you're new to the club scene, or just prefer more lowkey clubs, Promzona is definitely worth checking out. I was only able to go once because they began renovation in the middle of my program.
– Daphne Letherer
168 Chuy Ave
Metro Pub is easily my favorite nightclub in Bishkek. It didn't show up as frequently as Promzona and Zavod when I was researching nightclubs, but it is one of the most popular clubs. It has both a large dance floor that plays EDM (electronic dance music) and a more intimate stage with a live band. There is no cover fee, and it is always crowded on the weekends. There are two zones in the club. In the back room, you might feel like you're dancing in a mansion, while the front of the club sports dark wood and a more hipster feel. It is sort of like a combination of Zavod and Promzona because you can have both the flashing lights, fog, and DJ as well as the live band that plays rock and pop music. Prices are similar to those at Promzona, with the cheapest shots being 150 som ($2.20) and mixed drinks ranging from 250 to 450 som ($3.70-6.60). Metro Pub also serves food and has a VIP section in a balcony that overlooks the large dance floor.
Metro Pub is about a 20 minute marshrutka ride from the school, past Ala-Too Square. It's a popular place for tourists, but the crowd isn't always very friendly. Generally, Saturdays are better than Fridays, with a bigger crowd throughout the night and more open dancers.
– Daphne Letherer
32 Razzakov St
Bar 12 is one of the high-end bars in Bishkek that also has dancing space. It was the most expensive club I attended, but it's not terribly expensive if you think in terms of US prices. It's on the top floor and goes onto the roof, where you can overlook the city. We went on the weekend at about midnight, however, and no one was there. I hear it gets more crowded as the night goes on, but we ended up going to Metro Pub after a couple of drinks. While you can rock t-shirts at the other clubs, you'll have to leave them at home if going to Bar 12. You don't have to wear heels or a suit, but make an effort to look nice.
– Daphne Letherer
43 пр. Чуй

I will start  by saying that if I had to guess places on earth that I would most likely see a Bob Marley cover band, giving one of the greatest live music performances that I have ever seen in my entire life, that Bishkek, Kyrgyzstan would probably not be high on the list. However, that is how I spent last Thursday night.
I always considered myself a rock and roller, and I can honestly say the stuff runs in my veins, so it only made sense that I would come into contact with rock and roll at some point on my journey in Central Asia. As luck would have it, one of my friends from my SRAS study abroad program, who has already spent several months in country, and knows all the good spots, invited me to hang out one night at a rock and roll joint that he frequents called "Рок-Бар Цеппелин" (Rock Bar Zeppelin).
He told me that it was going to be an event honoring Bob Marley's birthday (February 6th) and that there was going to be a Bob Marley cover band playing. I liked this idea, of a Kyrgyz Bob Marley cover band in a rock and roll bar in Bishkek. We agreed to meet at the bar at 8:30.
I hopped a cab, which came out to about 150 som ($2.97) to get from The London School to the bar. It wasn't too far, and by the time I got there I saw the large neon lights for the place. On the outside it looked a little desolate and for a second I thought I might have not been in the right place. I approached the entrance and was greeted by a bouncer. After getting the customary pat down to make sure I didn't have anything I shouldn't have, I was cleared to enter.
The entrance fee tonight was 200 som ($3.96), and that also got you one beer and a bowl of potato chips. I entered a pretty empty bar. I thought maybe it was going to be cancelled, but people started funneling in soon after me. I got myself a Балтика (Baltica) beer (which is the pervasive, omnipresent brand in the post-Soviet space) and my bowl of chips and found a table to sit at and wait for my friend. The interior looked like a generic rock club. There were a lot of pictures and posters on the wall of different bands and artists, both American and Russian alike. I thought it was pretty cool to see Виктор Цой (Victor Tsoi) next to KISS.
My buddy showed up, and we had a few beers and relaxed and shot the breeze. One Балтика goes for 140 som ($2.77). We sat and relaxed for about an hour and a half while more and more people trickled in, but no band yet. We half expected the band to no show. As great of a story as it would have been, being stood up by a Kyrgyz Bob Marley cover band in Bishkek, that wasn't what was in the cards for us tonight.
The band eventually showed up and announced their name: "Сафари" (Safari). Then they started their set. I admit that I wasn't expecting much, so I foolishly put these guys in my blind spot, but oh boy… once they started playing. These guys tore it up. Not only were the band members each shredding on their own instruments, but the front man sang beautifully (in Russian, of course) while busting out on the rhythm guitar too. My knowledge of Bob Marley's work is pretty limited. I only really know a few songs, and they are all the ones that everyone pretty much knows (Jammin', Buffalo Soldier, Three Little Birds, No Girl No Cry). Yet these guys made me really like Bob Marley… or so I thought. Later that night when I got home I listened to the originals. I was actually a little underwhelmed by Bob Marley in comparison to Сафари. Heck… did Сафари do Bob Marley better than Bob Marley? We stayed for about 45 minutes, then decided we were going to head off to satisfy our hunger. Conveniently the bar was right next to a pizza joint. I like the Bishkek Rock and Roll scene. Awesome Russian covers of great music with good, cheep beer next to pizza joints. What's not to love??
– Nick Cappuccino
Get Out and Dance!
If you find yourself wondering what to do over the weekend, the club scene in Bishkek is worth checking out. This guide has covered just a few but there are many more – such as Retro Metro Discotec. There is a club for every kind of experience. Most of them use Instagram as their primary mode of advertisement, and it's the easiest way to check if a club is open and get a feel for the crowd. Of course, be safe when going out. My friends and I never had any issues or dangerous encounters, but you still want to make sure to keep an eye on your friends. Dancing on the weekend is a great way to relax, make friends, and experience the culture of Bishkek.
You Might Also Like
This guide is part of the much wider SRAS Guide to Living in Bishkek.
See also this article about Pubs and Craft Beer in Bishkek.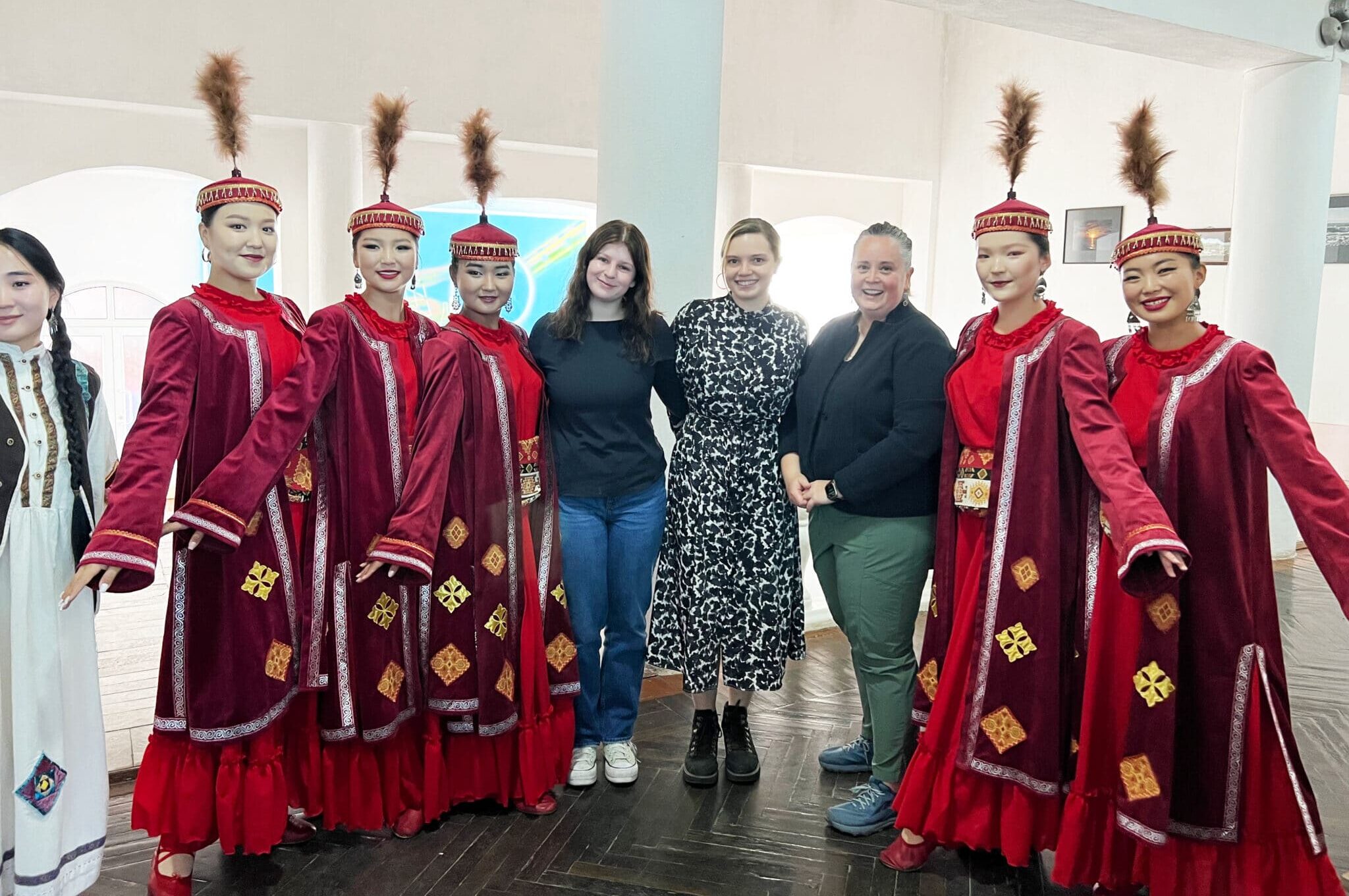 Caroline Southworth is studying diplomacy at Gustavus Adolphus College in Minnesota. She had the opportunity to serve as a student ambassador in a program run by the US embassy in Bishkek, Kyrgyzstan while studying abroad on SRAS' Central Asian Studies Program. As a student ambassador, she visited the K. Tynystanov Issyk-Kul State University in Karakol. […]
0 comments