Pubs and good, local craft beer have arrived in Bishkek! Below are some options found by SRAS students in Bishkek that they would like to share with you.
This guide is part of the much larger SRAS Guide to Living in Bishkek.
For the Music
Chicken Star is great for their food (Korean fried chicken), company (everyone is very friendly there), frequent concerts, and Saturday open-mic nights. Blonder Pub (24 Ibraimova) also often has live music. Somewhere Bistro (Jibek Jolu 487), a popular expat spot, has live music on the weekends and trivia night on Wednesdays. Also check out this Guide to Bishkek Nightclubs.
Steinbrau offers freshly brewed beer and German dishes, plus local favorites like shashlyk.
193 Tynystanov St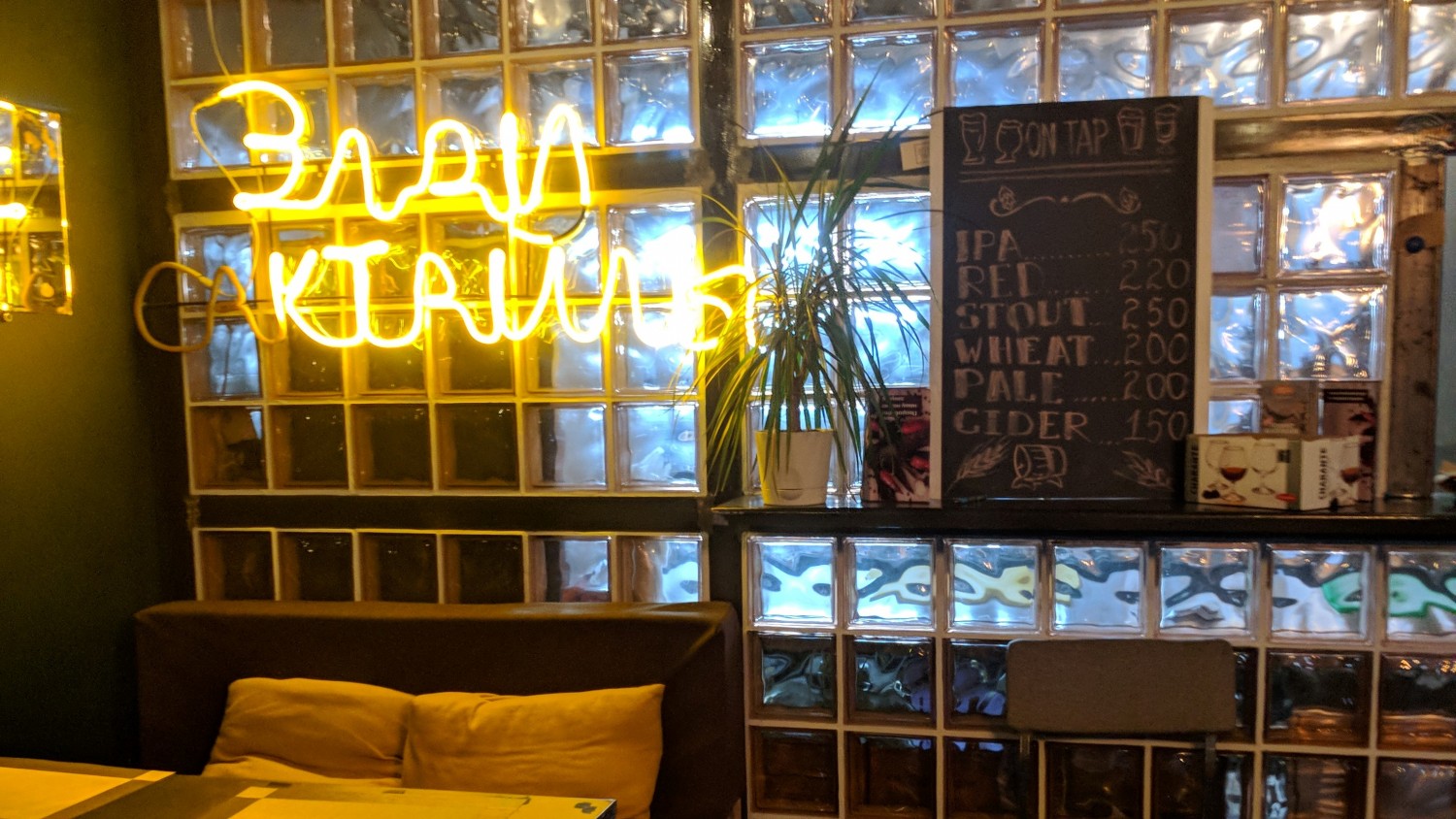 Next is the all-female owned and operated Save the Ales brewery and taproom. Founded in 2016 as a safe space for LGBTQ+ employment in Bishkek, the trendy space is great for sipping on a cold beer and snacking to your heart's desire. I brought some friends here on a Thursday night in November and found it fairly chilly and empty, but quick and friendly staff kept our drinks flowing. On tap offerings include: IPA, pale ale, red ale, stout, wheat ale, and cider ranging from 150 to 250 som in cost (2.15 to 3.60 USD). The beers' IBUs (International Bitterness Unit) and ABVs (alcohol by volume) aren't listed, but the waitstaff is knowledgeable about what's on tap and are happy to let you know about their beer offerings. We were really impressed with the food menu, as well. Burgers, brats, steaks, and salads are all offered as main courses, ranging from 350 som (5 USD) to 600 som (8.60 USD).  Between the four of us, the "beer set" snack platter was perfect: Vienna sausages, onion rings, deep-fried chechil, french fries, croquettes, cheese puffs, and chicken skewers for 800 som (11.50 USD).
– Camryn Vaughn
Moskovskaya/Orozbekova St, Bishkek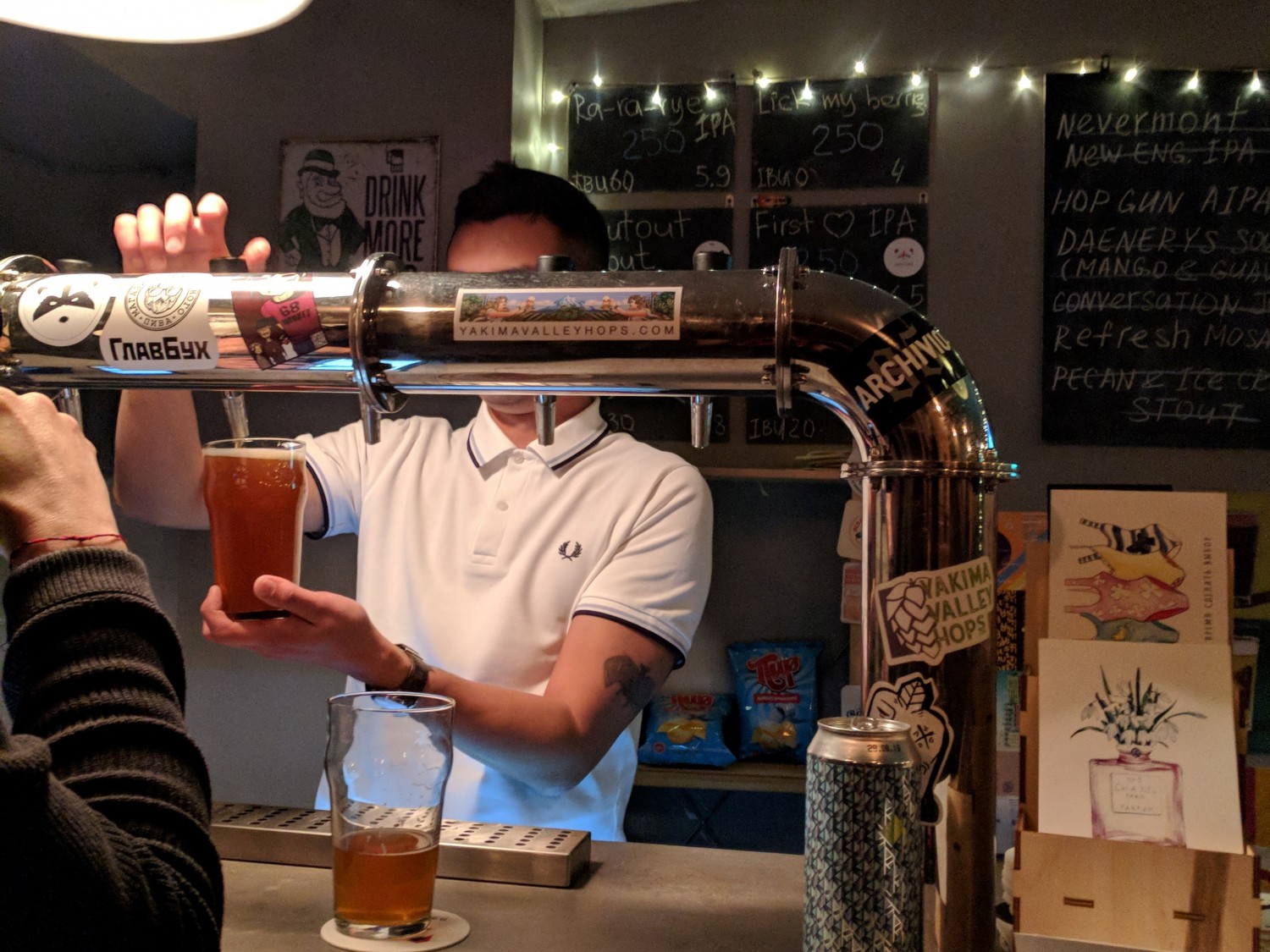 Brewster is my number one pick for brew. The perfect destination for a winter night, this cozy bar is located in the basement of its building. It is popular with expats; a soccer or rugby game is always playing on the TV and the space is small enough that it's very likely that you'll strike up a chat with fellow patrons. The bartender is super knowledgeable about the beers he's serving – ask for a recommendation! There are usually six beers on tap from Raccoon Brewery Co, a local Bishkek brewery. You can also find about ten additional bottled and canned craft beers from various breweries (Russian, usually). What I like best about Brewster is that the beers' IBUs and ABVs are listed on the menu and the bartender can help steer you towards a good choice based on your taste and preference. Plan to eat before you visit, however. Only beer snacks such as nuts and chips are offered. Prices of the beer ranges from 150 (2.15 USD) to 350 som (5 USD); draft usually costing around 150 to 250 som (2.90 USD) while the bottled and canned beers can cost 200 som (2.90 USD) to 350 som.
– Camryn Vaughn
Ул. Ибраимова, 24
I've learned the Russian word for sweet tooth (сладкоежка), and it seems appropriate here in Kyrgyzstan. Streets are lined with food stalls selling ice cream out in front, local honey varietals abound, and there are numerous supermarket aisles dedicated to cookies, cakes, and candies. Having a bit of a sweet tooth myself, I can certainly appreciate the many local ways to satisfy it. When it comes to sweet spirits, however, I find the flavors more perplexing than appealing. Wines ranges from sweet (сладкое) to half-sweet (полусладкое) to half-dry (полусухое) to dry (сухое); all but the driest fall decidedly on the syrupy-sweet end of the spectrum. And while imported beers taste as you would expect, the locally brewed beers at Blonder Pub in Bishkek fall prey to this same sugar craze.
I went to Blonder with a large group to celebrate a fellow student's upcoming departure, and it was a great venue for such an occasion. Styled like a German pub with a beautiful "biergarten," we were seated in a spacious and plush outdoor booth. Blonder is the only local brewery that I've heard of (so far), and they offer nine different types of beer on tap. Luckily for our group of seven, their menu also features the "Meter of Beer:" seven beers of your choosing, discounted 15% and with complimentary bread sticks. Over the course of the evening, we tried the Irish Red, Blonder Beer, English Stout, Krušovice Light, and the pomegranate beer. Surprisingly, all had a strong, sweet aftertaste. We even confused the English Stout for the pomegranate flavor at first, because it was so sweet! General consensus was that the beers were good…but different. Personally, I'd go back and order the Krušovice Light, but I'm just as happy with the ubiquitous Baltika 7.
The food at Blonder was actually much better than the beer. Their menu is extensive, with lots of appetizers and plates made for sharing. They offer pages of different kinds of meats, though I was disappointed to learn the rabbit dishes were not available. Highlights of our meal included the shared fried cheese balls and the Russian snacks, and everyone around the table was very satisfied with their entrée. Prices were on the higher side for Bishkek, however, it is quite easy and delicious to choose from the more economical and traditional preparations including lamb, chicken, sausages, and shashlik. When all was said and done and we had divided up the check, we each paid 800 som (about $16), more than I usually spend on a Thursday night dinner, but perfectly appropriate for a festive group celebration.
– Lauren Bisio
You Might Also Like
This guide is part of the much larger SRAS Guide to Living in Bishkek.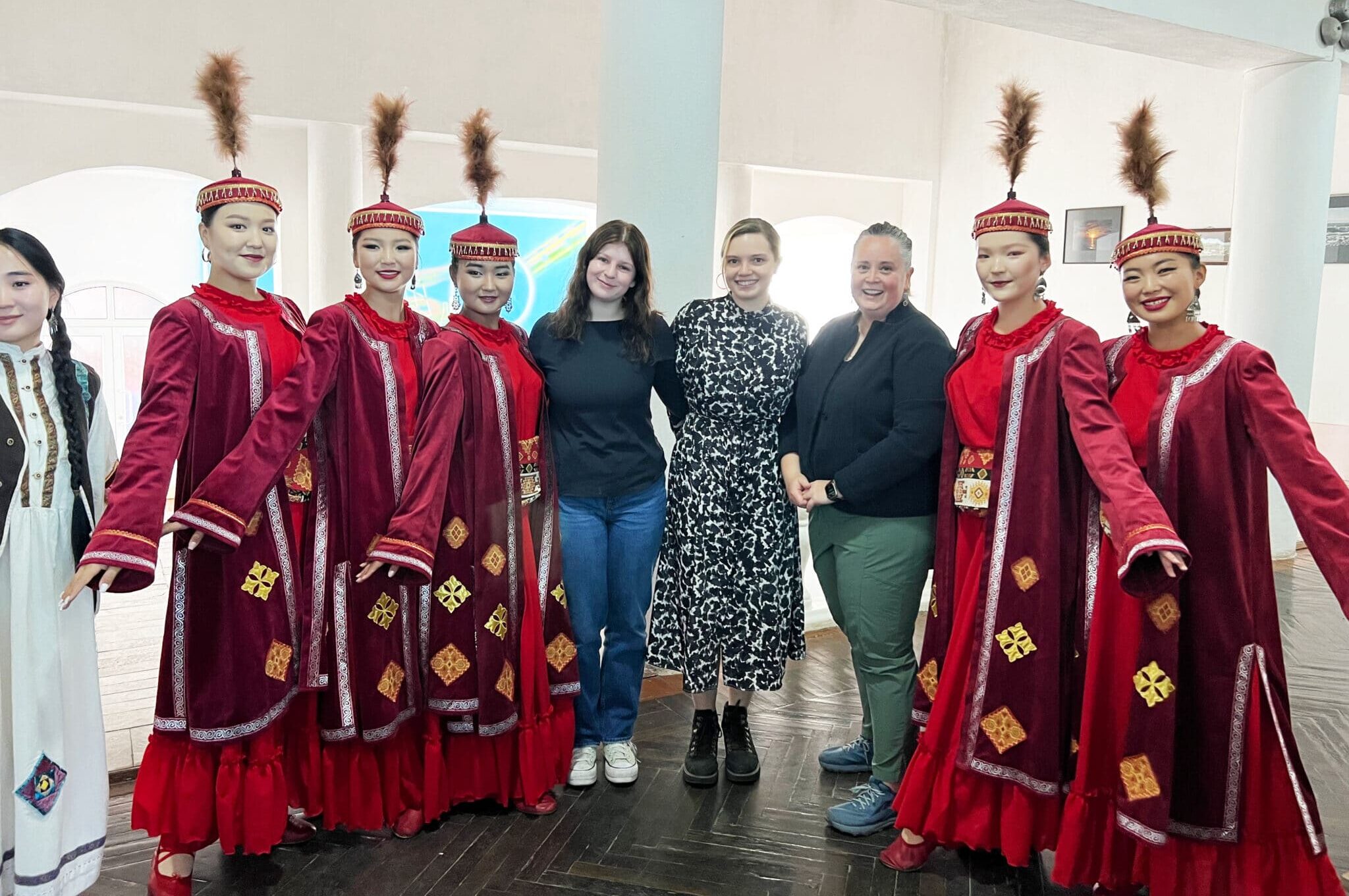 Caroline Southworth is studying diplomacy at Gustavus Adolphus College in Minnesota. She had the opportunity to serve as a student ambassador in a program run by the US embassy in Bishkek, Kyrgyzstan while studying abroad on SRAS' Central Asian Studies Program. As a student ambassador, she visited the K. Tynystanov Issyk-Kul State University in Karakol. […]
0 comments