There are affordable gyms, scenic jogging routes, and other fun ways to stay fit while in Batumi! Below is some advice on how to take advantage of all that city has to offer. It comes from SRAS staff on the ground in Georgia as well as graduates of SRAS programs in Georgia.
This resource is part of the much larger SRAS Guide to Living in Batumi.
91 Zurab Gorgiladze St, Batumi 6010 – Same building as NovaMova
Within the same building as the NovaMova school is a very convenient and well-kept gym.  The entrance point to the gym is facing Zurab Gorgiladze Street, and upon entering the door you must use the stairs to the second floor.
There is a small reception area when you enter the gym where you can buy a membership.  Your first membership must include the 10 lari membership card along with a membership length, but you can continue to add time onto your initial card.  This card is needed for both entering and exiting the gym, along with securing your belongings in the locker room.  You must also provide a picture of your passport and a phone number to become a member – my international U.S. phone number worked fine.  Although the gym is very expensive (even for U.S. prices), it is located in a very convenient location relative to the school and offers an amazing environment.
The men's locker room provides secure lockers, showers, and a bathroom.  The membership card is used to both lock and unlock your locker, but sometimes you may need to call down an employee if it does not unlock.  They offer towel rentals at 10 lari per towel, but I would advise you to bring your own.  Many students worked out and showered before class to kickstart every morning because it is so close to the classroom.
The gym has all the necessary weightlifting equipment, aerobic machines (treadmills and bikes), a free-weight rack, free water dispensers, and a stretching room.  All of the equipment is in pristine shape and there is no problem finding a machine for every muscle.  Although some hours of the gym can be very busy, after 16:00 can be a great time to work out when it's relatively empty.
I visited this gym for my first 30 days in Batumi, and despite the cost, do not regret it.  The culture and ambiance of Reformer Fitness were incredible, and all the staff were very professional and kind (there is also a ton of natural light flowing into the gym which is always nice).  Furthermore, there are always a couple of personal trainers roaming the gym, and they will even provide some counseling if someone is struggling.  I can see why the cost would be a barrier to most, but due to their location and professionalism – I cannot recommend this gym enough.
Batumi Mall (88 Zurab Gorgiladze St, Batumi)  – Directly across the street from the school
This gym's best discount is actually not on the menu that they have displayed on their desk. Come in to sign up with 2-3 additional friends and ask for the family plan. This will result in each person paying just 109.50 lari for the month, which is the lowest price for gym membership in the area. Family plan members can still come in at any time of the day, so there is no time restriction like on some other discount options.
Upon purchasing a membership, you will be asked to provide your phone number each time to enter – I had an international plan and my American phone number still worked fine.
Aspria Fitness is located at the back on the fourth floor of Batumi Mall, directly across the street from NovaMova, where SRAS' Batumi programs are based. There is also a supplement store neighboring the gym, where you can buy things such as protein powder and creatine.
When you walk in, there are always two workers who speak Russian, but the majority of the employees also understand English very well. You will find a schedule of events on the desk listing when boxing or aerobic meetings are being held that week (which are free to all members).
All of the equipment in the gym is in very good shape, although there is not nearly enough to compensate for the high volume of members during busy hours. The gym has aerobic machines (treadmills, rowing machines, bikes), a free-weight rack, and just about every machine necessary to cover every muscle group. I recommend attending the gym anytime between 7:00-10:00 in the morning as this is when it is most empty (as seen in the pictures). If you go in the afternoon-evening, expect to have to work in with other members as there is usually a lot of traffic.
The men's locker room is not great, as the lockers do not actually lock and the bathroom is usually dirty. I always just haul my backpack around with me to ensure it does not get stolen, but the gym is quite spacious so it does not generally get in the way. There are also eight showers in the locker room, usually clean, but bring your own towel and shower shoes.
I visited this gym for the last two weeks of my stay in Batumi because of its flexible plans and prices.  My overall experience was average as there were often a lot of people in the gym, and I always had to work in with people if I didn't go in the early morning. However, it is very close to NovaMova, and the family plan price is an excellent deal, if you are shopping for a gym based on price point.
Available throughout the city, especially along the beach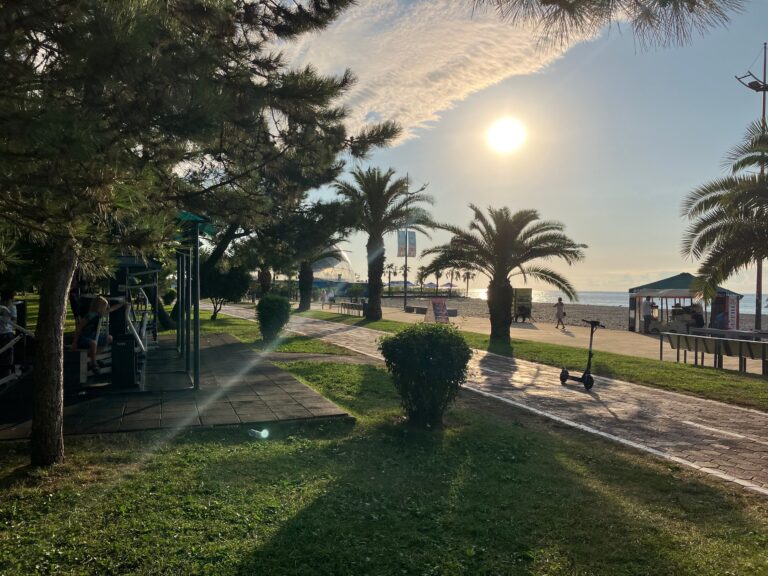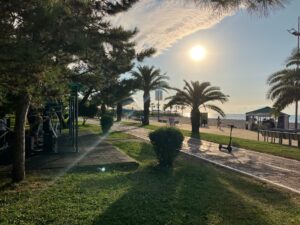 Scattered around Batumi are small outdoor gyms free to everyone to use. Each gym offers the same eight-to-ten machines, with some including a neighboring calisthenics zone. The website linked in the heading above provides the locations of some of these outdoor gyms, but there are many around Batumi that are not listed. The majority of the outdoor gyms marked on google maps and on the websites are located along the beach. My favorite one is located directly next to the Luca Polare ice cream shop, where my group would frequently meet up on beach days. This was very convenient for a quick workout before/after our beach day, as the established gyms near the school are a 30-minute walk away from the beach.
Anyone in homestays are likely to find these nearby as well – the closest to mine was about five minutes away in a nearby neighborhood. These free gyms are abundant around the city.
All of the photos here of the machines are from the same outdoor gym near my homestay, but they are identical to the machines I saw at other locations. Because every machine utilizes the bodyweight of the user, some are better for muscle activation than others. While the chest press and rowing machines felt great with my body weight, the leg press was a little too light. Nevertheless, I was able to get decent workouts for my upper-body whenever I used these outdoor gyms, as the dips and abs machines were always reliable. Although I would still recommend any student purchase a membership at a gym near the school, these outdoor gyms are very convenient for students who live far away and/or want to avoid the costly gym prices.
Even though the gyms near the school (Aspria and Reformer Fitness – see above) both offer a plethora of cardio equipment, I achieved all of my cardio on the paths along the beach. There are three long stretches that run parallel to the beach for about 6km (Batumi Airport – Ali & Nino Statue). The one closest to the beach does not offer a lot of shade, but offers benches and stores where you can buy water, snacks, or souvenirs. The other two paths are also mostly under the open sky, but at some points run through parks/Europe Square where there are benches and shade as well. The paths are entirely flat, and there are a number of shoe stores around school where one can buy running shoes if needed. You can find many suggested routes and advice on Great Runs including for more adventurous routes through trails outside the city.
---
You Might Also Like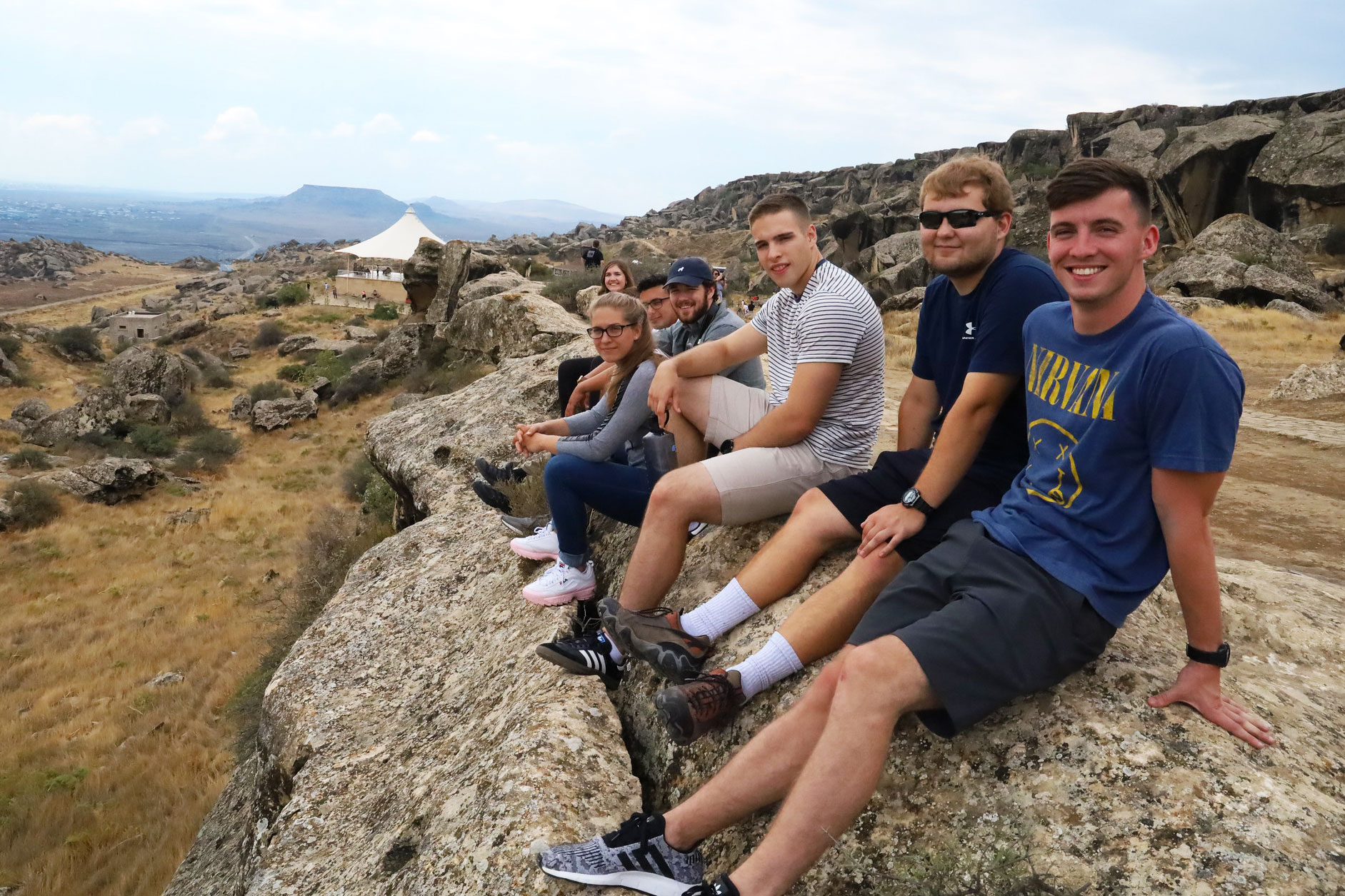 If you'd have asked me on June 10th, 2022 when I landed in Tbilisi if I'd be here, in Georgia, almost a year later, the answer would have almost definitely been "no." However, I had so many great experiences and met so many extraordinary people that summer abroad that I felt the need to return […]
0 comments