My Central Asian Studies Program with SRAS in Bishkek included a fantastic 9-day trip to the major Silk Road cities of Uzbekistan—Khiva, Bukhara and Samarkand—which was book-ended by visits to Tashkent. At the end of my program, I made the trip to the capital of Uzbekistan again, this time independently. I stayed there for three days before flying back to Bishkek.
Hi! I'm Lily Nemirovsky. Tashkent is an amazing place that I highly recommend anyone to visit, but especially those spending time in nearby Central Asian countries such as Kyrgyzstan or Kazakhstan, since there are quite short, direct flights. I found it to be quite different from Bishkek; it seems to be more orderly and spacious, and a few unique architectural monuments still remain from pre-Soviet times. I've put together this guide for anyone else who would like to explore Tashkent.
Know Before You Go: Phone Service, Currency, and Packing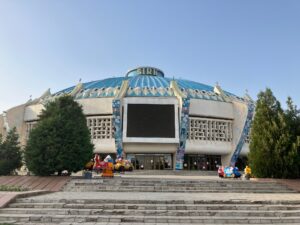 In terms of packing, I had been prepared for extreme heat, but even at the end of May, it was still quite comfortable to explore the city by foot. Definitely come prepared with sunscreen and a good hat, as the sun is quite strong and summer days tend to be dry and clear.
If you are coming from Kyrgyzstan and already have a Beeline KG SIM card, turn on your roaming before you leave the country. Data currently costs 50 som/50 megabytes of data. You can also get an Uzbek SIM while you are in Tashkent. There is a Beeline mobile operator stand in the arrivals hall of the airport. The stand is not always working, however, and you may need to wait to purchase a SIM at the main Beeline office in the city. SIMs are not widely available in Uzbekistan and must be purchased from specialized, official locations. It's a good idea to make sure your roaming is on so that you won't be caught without cell service.
There is also a currency exchange booth in the arrivals hall – although, again, it may not always be open. There are plenty of ATMs in the airport and around Tashkent that you can withdraw Uzbek som from directly. The exchange rate is currently around 11,500 Uzbek som to the dollar, so you'll want to take out a healthy amount and be prepared to carry a wad. You should not assume that credit cards will always be accepted.
Before You Go: Accommodations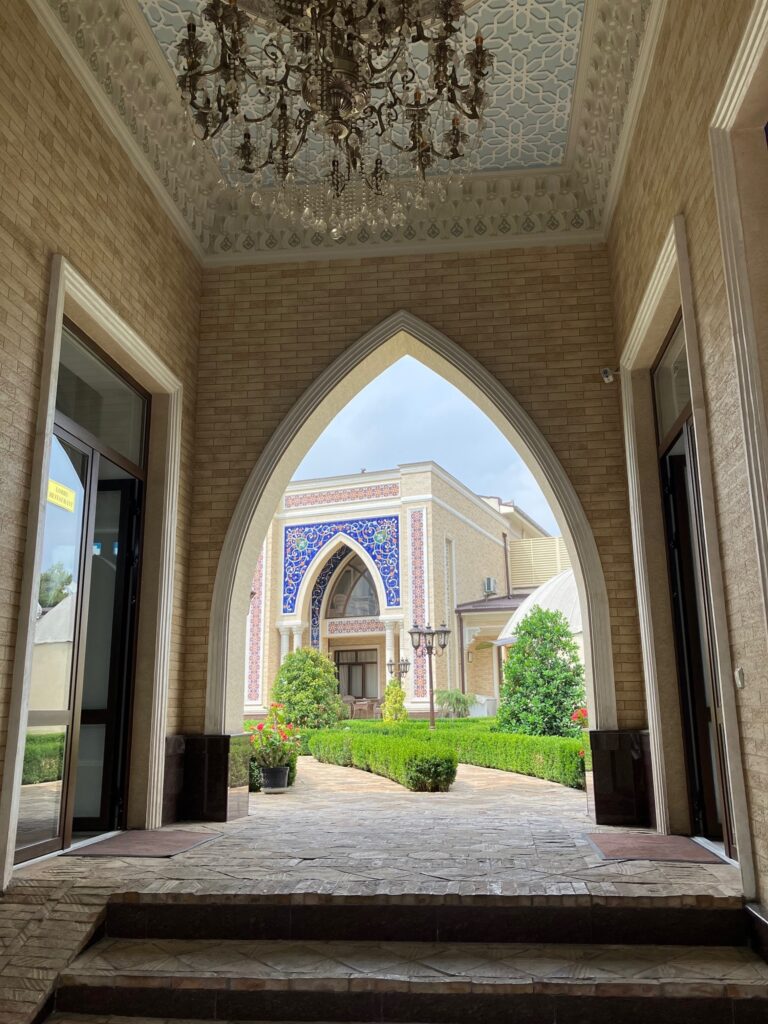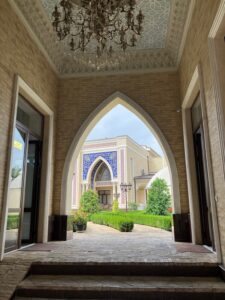 We stayed at the Mirzo Boutique Hotel, a cute hotel with a beautiful courtyard and an interesting history. It served as a caravanserai (a place for caravans to rest and refuel) during the Silk Road over 600 years ago. A twin or triple room costs $60-75 per night, and a great breakfast buffet is included each morning. It is ideally located right next to the Circus of Tashkent and the nearest metro station is only a 5-10 minute walk away.
You might also try the Hotel Uzbekistan – built by the USSR to be the city's premier hotel in the very center of the city. You can get rooms for as low as $55 that come with a full breakfast buffet.
Tashkent is not as well developed for hostels as many other capitals. There are a few that are fairly modern, centrally located and quite cheap. Hostel Topchan is one of the highest rated and has beds for around $15-20.
Before You Go: Plane Tickets and City Transportation 
Flights from Bishkek to Tashkent are, unfortunately, not incredibly cheap. Round trip prices range from around $200 to about $450. The least expensive and only direct flights are run by Air Uzbekistan. However, Air Uzbekistan does not offer flights everyday, so if you are looking to save on airfare, you'll need to plan a trip of at least a few days. If you plan out well in advance, you could add this to the end of your program, flying first to Tashkent and then back to the U.S. via Turkish Airlines, which runs regular flights to Tashkent and offers deals on long layovers in Istanbul as well.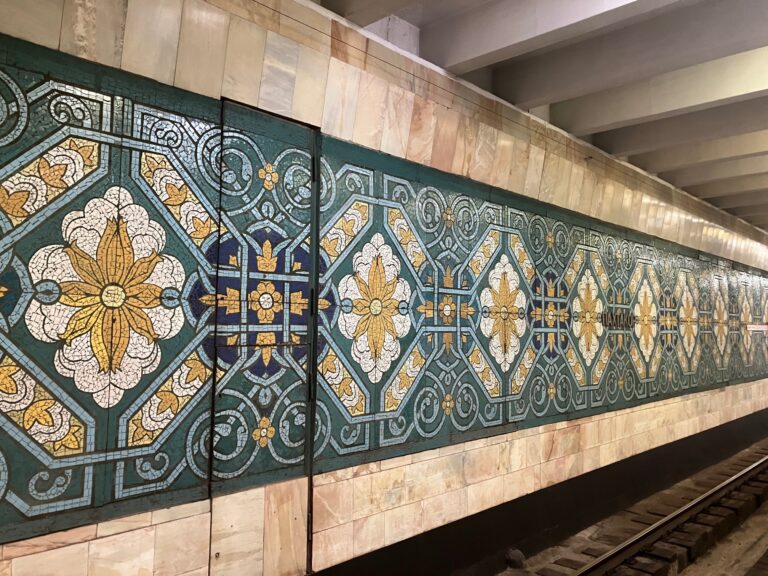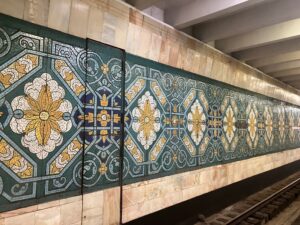 When you arrive in Tashkent, you'll find waiting in the airport parking lot plenty of taxi drivers offering rides into the center of the city for about 20,000 Uzbek som ($1.75). Definitely don't pay much more than this.
Once inside the city, the metro, buses and taxis are all options for getting around. The metro is quite limited with only three lines, but getting a 1,400 som ($0.12) single-ride ticket is well worth it simply for the opportunity to see the unique stations, each with its own theme. The stations are stylized in a way that combines beautiful tilework and tells the story of a snippet of Uzbek history. I'd recommend the Kosmonavtlar and Alisher Navoi stations for a combination of Soviet and pre-Soviet Uzbek points of pride. Buses cost 2,000 som ($0.17) per ride and are a nice way to travel longer distances while still being able to see the city pass by. I used Yandex Maps to find bus routes and stops. I used Yandex Go when calling a taxi, which tended to cost around 13,000 som ($1.14) for a ten minute ride.
What to See: Museums 
Tashkent offers a wealth of museums for anyone interested in local history or art.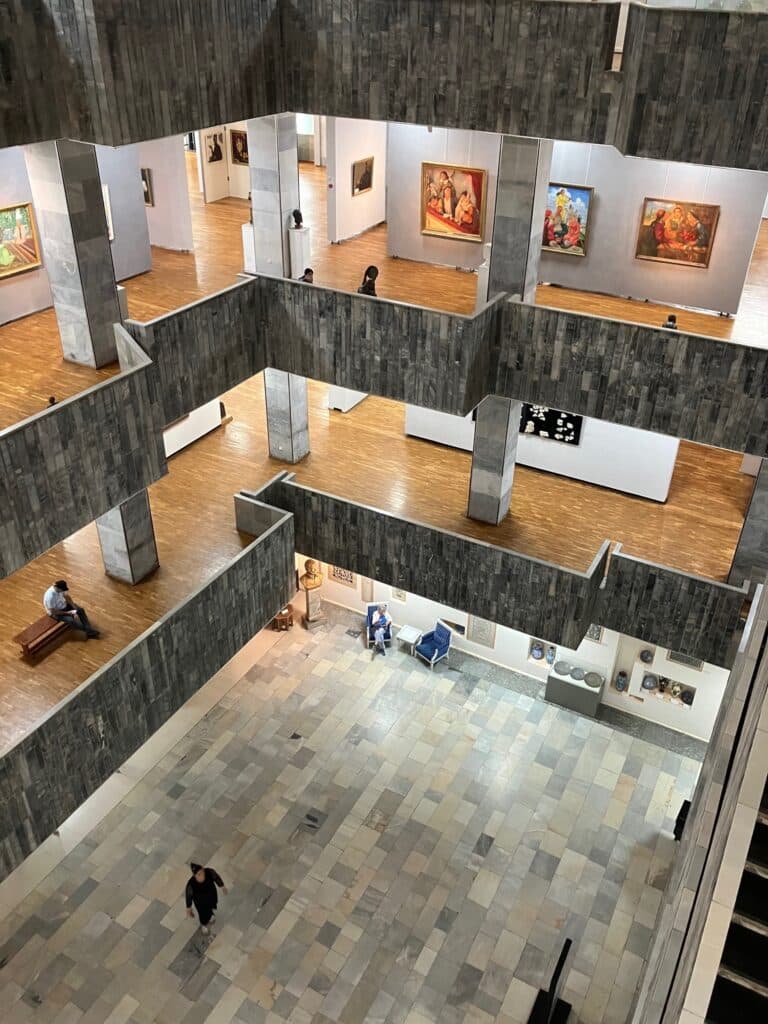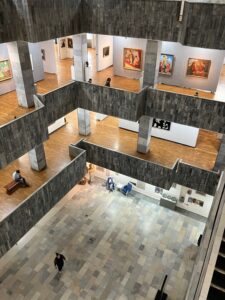 State Museum of History of Uzbekistan
Located in the heart of Tashkent, this museum showcases the rich history and cultural heritage of Uzbekistan. It features a vast collection of artifacts, including ancient manuscripts, archaeological finds, traditional costumes, weapons, and artworks.
Amir Timur Museum
Dedicated to the famous Central Asian conqueror Amir Timur (Tamerlane), this museum explores the life, achievements, and legacy of this historical figure. It houses a diverse range of exhibits, including Timurid-era artifacts, weapons, miniature paintings, and historical documents.
Museum of Applied Arts of Uzbekistan
Housed in a beautiful 19th-century mansion, this museum exhibits an impressive collection of applied arts, including ceramics, textiles, carpets, woodwork, metalwork, and jewelry. It offers a glimpse into the rich craftsmanship and artistic traditions of Uzbekistan.
State Museum of Fine Arts
The State Museum of Fine Arts is a great place to spend a few hours. The first floor displays a nice collection of traditional Uzbek pottery and embroidery dating back 1500 years, while the upper three floors are home to galleries of international pieces such as European paintings and East Asian dresses. There are also relics of decorative wall mosaics from Bukhara and Samarkand. Entrance tickets cost 20,000 som (~$2) for students and 40,000 som for adults, and photography on a phone (but not on a professional camera) is allowed.
What to Eat in Tashkent
While you can find places that will serve burgers and pizza, or even other regional favorites like Georgian, we recommend that you focus any short trip on eating local. Here are a few suggestions: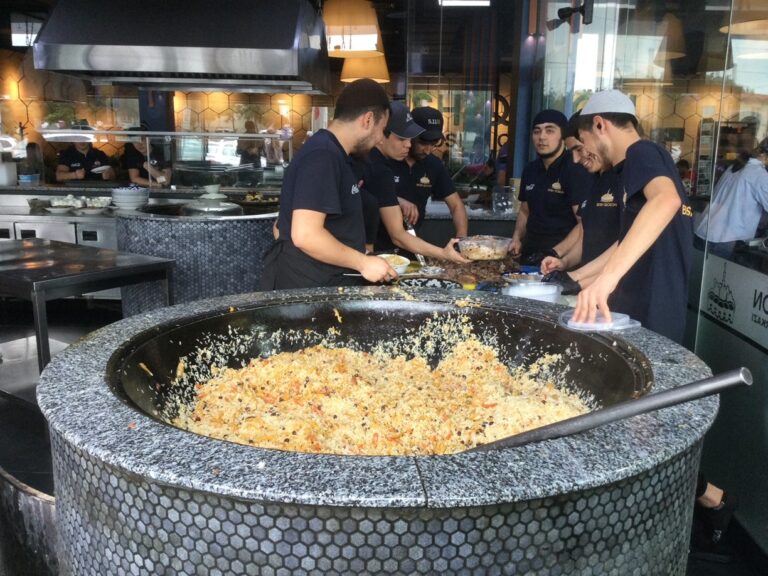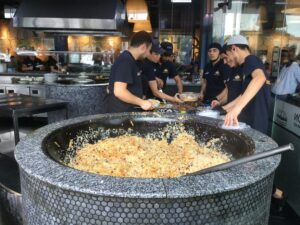 Center of Plov (Besh Qozon)
While in Uzbekistan, it is essential to try their national dish, plov. Each major city claims to have their own unique version, and the best place to get it within Tashkent is the Center of Plov, also known as Besh Qozon. There one can see plov being prepared in enormous metal kazans, methodically scooped onto plates, and whisked away to be distributed to the hundreds of people who come there everyday. We ordered the wedding plov (rice, raisins, shredded lamb shank, eggs, chickpeas) and chaihana plov (rice, lamb chop, roasted garlic), which each run about $3 for a generous portion. I recommend getting a fresh tomato and onion salad and green tea to help wash down the oily rice and fatty meat.
Afsona
If you are looking for a wider range of Uzbek cuisine, you might try Afsona, which also offers manti, chebureki, chalop, and numerous meat dishes all served on traditional Uzbek dishes in a classy environment but still at affordable prices.
National Food
Or, if you are looking for a more proletarian experience, you might try the creatively named National Food, which offers traditional dishes in a canteen-style environment. Not as classy, but it is cheap, fast and filling!
Where to Shop in Tashkent
Chorsu Bazaar
Chorsu bazaar is the biggest bazaar in Tashkent. A beautiful teal dome shelters rows and rows of vendors from the sun, mostly selling dairy products, Korean salads, meat and honey. The central dome is surrounded by winding alleys of fruit, clothing and home goods stalls. Across the street is a pottery workshop which sells a variety of ceramics, including Afghan, Chinese, traditional, and modern styles. The owner was super friendly and eager to speak Russian and practice his English with us.
Amir Timur Square and Broadway
Our first night in Tashkent, we went to Amir Timur Square, where an impressive statue of Amir Timur stands proudly against the backdrop of the iconic Hotel Uzbekistan. Across the traffic circle is a pedestrian-only street strung with lights dubbed "Broadway" (and actually called Sayilgoh), where there are fair booths with shooting games, artists offering sketch portraits, a souvenir shop, some art dealers, and stands selling corn dogs, hamburgers, and ice cream.
What's Changed in Tashkent Since Soviet Times? 
My trip was partly personal. I met my parents there so that we could explore the area through my dad's eyes, who had grown up in Tashkent during the Soviet Union. For those who are interested in how the city has changed since the fall of the USSR, I'll share that my dad was amazed at how clean and well-maintained the city had become; many neighborhoods had thriving gardens and fruit trees out front, young men were out bicycling, and the wide streets and sidewalks were pretty much free of litter. Culturally, he noticed that the city had become both more conservatively Muslim in some ways and more European in others. In the section of the city near our hotel, which also happened to be near one of the city's five working mosques, most women and girls had their hair, arms and legs completely covered, which was not as common during the Soviet times. However, other parts of the city, such as Mirabad Street in the Gospitalniy neighborhood, feel almost like Europe, with lots of liberally-dressed foreigners walking about and many high-end shops and restaurants.
More To See From Sasha Love

The following section has been written by SRAS graduate Sasha Love.
Greetings! – or "salam alaykum!" as they say in Uzbekistan. Rather than having a single city center, Tashkent has multiple districts each with their own "center." This setup makes the city feel spread out. I had the opportunity to explore Uzbekistan while on SRAS's spring break study tour, and below I've listed some of my favorite places to see.
Metro Stations
Tashkent is the only city in Uzbekistan with a metro system. Its metro stations are works of art; each one has a different design and architectural elements reflective of its individual history. The metro in Tashkent was the first underground system of travel in Central Asia. It also functioned as a bomb shelter for many years. The first metro line was constructed in 1977 after a massive influx of people came into the country in the 1960s. Currently, there are 48 stations across four lines.
The Alisher Navoi metro station, completed in 1997, is the interchange station between the Ozbekistan and Chilonzor lines. It is named after the 15th-century Uzbek poet and writer of the same name whose work was important during the Silk Road period, one of Uzbekistan's most significant and cherished parts in history. The ceiling of the station consists of blue domes with flowers and other intricate designs. These patterns are reflective of the mosques and madrassas built in Uzbekistan during the times of the Silk Road. Along the walls by the metro rails, there are blue and turquoise murals depicting Alisher Navoi himself as well as images from his poems and stories. Some of the murals, for example, portray a musician or trees and flowers.
Pakhtakor station is on the Chilonzor line and connects to the Ozbekistan line at Alisher Navoi. It was also opened in 1977. The Persian word "pakhtakor" means "cotton-grower." This name suits Uzbekistan as it is the sixth largest cotton producer in the world, producing over one million tons of cotton each year. One can see beautiful mosaics along the walls of the metro station. The blue, green, gold, and white tiles depict cotton plants in bloom and various geometric designs.
Mustaqillik Maydoni was one the first metro stations opened in Tashkent (November 1977). The central square of Tashkent of the same name is located at ground level above the station. The square and station were originally both named after Lenin ("Lenin Maidon," or Lenin Square). However, after the fall of the Soviet Union and Uzbekistan's declaration of independence in September 1991, the station was renamed "Mustaqillik Maydoni," which translates to "Independence Square." Unlike some of the other metro stations which contain mosaics, Mustaqillik Maydoni is almost entirely marble. The marble comes from the Kyzylkum desert in western Uzbekistan. The tall columns, stunning lights, and geometric ceiling patterns create a unique palace-like atmosphere. The chandeliers consist of small glass tubes connected by golden rods, and the ceiling patterns include star and hexagon shapes and 3D lines.The floor is studded with star patterns to represent the achievements of the Soviet-era cosmonauts.
Alisher Navoi National Park
Alisher Navoi National Park is the largest park in Tashkent at 65 hectares in addition to 9 hectares of lake and water channels. The park was founded by the Komsomol members of Tashkent in the 1930s and was built on the site of a former brick factory. During the Soviet era, the park was called the Central Park of Culture and Reaction after Lenin Komsomol. It now honors Alisher Navoi.
The Alisher Navoi monument is located on a hill in the center of a park. The monument is under an open rotunda with a bright blue dome and tall, white columns. The inside of the dorm has blue, green, and white intricate designs and an inscription honoring those who have fallen for the freedom of Uzbekistan. Other landmarks in the park include the Oliy Majils (Parliament of Uzbekistan),  Navruz Wedding Palace, Itsiklol concert hall, an exhibition hall, and the Abulkasym madrassah. Two wooden bridges cross over the water, and the park is well-maintained with grassy  areas, small bushes, and flower beds.
The Museum of Victims of Repressions is also located in the park. This museum reflects on a tragic period in Uzbekistan's history. During the 1860s, the Russian Empire waged its colonial war against Central Asia and suppressed those who fought for their freedom. The Soviet government, following the October Revolution, continued this campaign and persecuted those who were even only suspected of dissent against the regime. Tens of thousands were arrested and thousands killed under Stalin, making his regime one of the bloodiest in Uzbekistan's history. The museum of Victims of Repressions remembers the people arrested and killed because of the Soviet government's persecutions in Uzbekistan. The exhibits include photographs, documents, personal items, maquettes of the concentration camps, and the People's Commissariat for Internal Affairs' "prison van" which was used to arrest "dissenting" Uzbeks.
Independence Square
Independence Square ("Mustaqillik Maydoni") is located in the center of Tashkent city, right above the metro station of the same name. It is a representation of modern Uzbekistan. The square is distinguished by its sixteen white marble columns and turquoise arches forming the Arch of Independence. At the center of the tallest arch in the middle, there is a sculpture of a silver globe and three storks representing peace and freedom. The park stretches out around this grand monument with green lawns, flower beds, and fountains.
In 1865, the General Governor of Turkestan built his military fortress at this spot. The square was later named for Lenin during the Soviet years, and a statue of him was placed in the center. It was also during this time that the fountains and gardens were made. The square was renamed to Independence Square after Uzbekistan declared its sovereignty and statehood in 1991. A globe with the outlined borders of Uzbekistan replaced the statue of Lenin. It is accompanied by a monument of a sitting woman (the Happy Mother) with a baby in her arms. She is the symbol of a mother taking care of her child, the motherland and the future. Today, the Square functions as the site for important holidays such as Independence Day and New Year's. From Independence Square, visitors can see government and administrative buildings such as the Cabinet of Ministers, the Ministry of Finance, and the Senate.
The Glory and Memory Alley is on the opposite side of the arches. The colonnade was constructed in honor of the soldiers who died in World War II. 400,000 soldiers, or 60% of Uzbekistan's population at the time, died in the war. The open hallways have engraved wooden columns on one side and Memory Books on the other. These "books" are part of the inner wall and have large, metal pages with the names of the Uzbeks who fought and died for their motherland. There are fourteen galleries of such books, one for each region of Uzbekistan.
The Mourner Mother depicts a sad woman sitting on the ground. It is one of the central monuments of the Square and is located at the end of the Alleys. There is a large metal pit in front of her containing an eternally burning fire, called the Quenchless Flame. The memorial is in honor of the soldiers who sacrificed their lives and the mothers they left behind. Uzbeks visit the Mourner Mother on Memorial Day (May 9) and other significant holidays to lay flowers by the monument. Many newlyweds also visit the Square on their wedding day.
Minor Mosque
Minor Mosque is one of the newer constructions as well as one of the largest Muslim sites in Tashkent. It was opened on the eve of the Muslim holiday Eid al-Adha in 2014 and is located on the bank of the Anhor canal in Tashkent city. It is surrounded by landscaped, green areas, and flower beds. Minor mosque was constructed in the traditional oriental Uzbek style but is unique in its white marble finish compared to the older brick mosques. It has engraved wooden pillars, two 38-meter high minarets, and a large turquoise dome which glimmers in the bright day sky. There is also an open front area with terraces and walkways in addition to a grand hall with gold decorations, artistic elements, and Quran texts. The hall has two entrances opposite one another, one for men and one for women. They are not divided from one another on the inside, but there are two ceiling domes that designate the areas for men and women respectively. The inside of the mosque is decorated in the Naqsh style, and there is a gilded mihrab (a niche in the wall indicating the direction of Mecca towards which congregations pray) with Quranic texts.
Tashkent Television Tower
Tashkent Television Tower is a difficult site to miss as it can be seen from almost every part of the city. At a height of 375 meters, it is the tallest tower in Central Asia and twelfth tallest in the world. 220 meters of that height is used for satellite TV, cellular, and broadcast communication and programming. Because Uzbekistan experiences frequent earthquakes, architects Y. L. Semashko and N. G. Terziev-Tzarukova created the tower in such a way that it can withstand earthquakes of up to 9.0 on the Richter scale: a lattice design for the trunk with three slanted supports that resemble a tripod. The tower is open to tourists. Foreigners often need to present their passports, but the entrance fee is minimal (I paid $4). The lobby of the tower contains a "mini museum" hallway with replicas of the tallest buildings and towers across the world. Visitors take one of three high-speed elevators to the observation deck which boasts incredible panoramic views of the city from every angle. There is also a restaurant (Koinot Restaurant) with two main rooms: the Red Room (104 m height) specializes in European cuisine, and the Blue Room (94 m height) offers local food. The seats and tables are on a slowly revolving belt, so diners gradually rotate around the tower and have breathtaking views of the city while enjoying their meals and drinks.
Magic City
Many describe Magic City Park Tashkent as Uzbekistan's "Disneyland." It has many small streets with dainty shops, restaurants, cafes, and other attractions, including an aquarium and cinema. Each street follows the architectural style of a particular city in the world – Barcelona, London, and Paris to name a few. There is a large open area with a pond and fountain plus a stage where artists perform. Large fairy-tale castles and the venues' pastel colors make for a delightfully friendly atmosphere appropriate for all ages. Children greatly enjoy the variety of games and family-friendly entertainment.
My favorite stop by Magic City while I was in Uzbekistan was for the Nowruz celebrations. Nowruz is a series of spring festivals that last a full week starting March 15th. Young boys and older men in traditional Uzbek dress played their instruments and walked along the streets of the park.
Go See Tashkent! 
While the Central Asian nations share a lot of culture and history, each country is unique in its own way. Being only an hour flight from Bishkek, Tashkent is an easy trip for students studying in Bishkek to visit, and doing so is a fun and memorable way to round out one's understanding of such a diverse and rich region.
You'll Also Love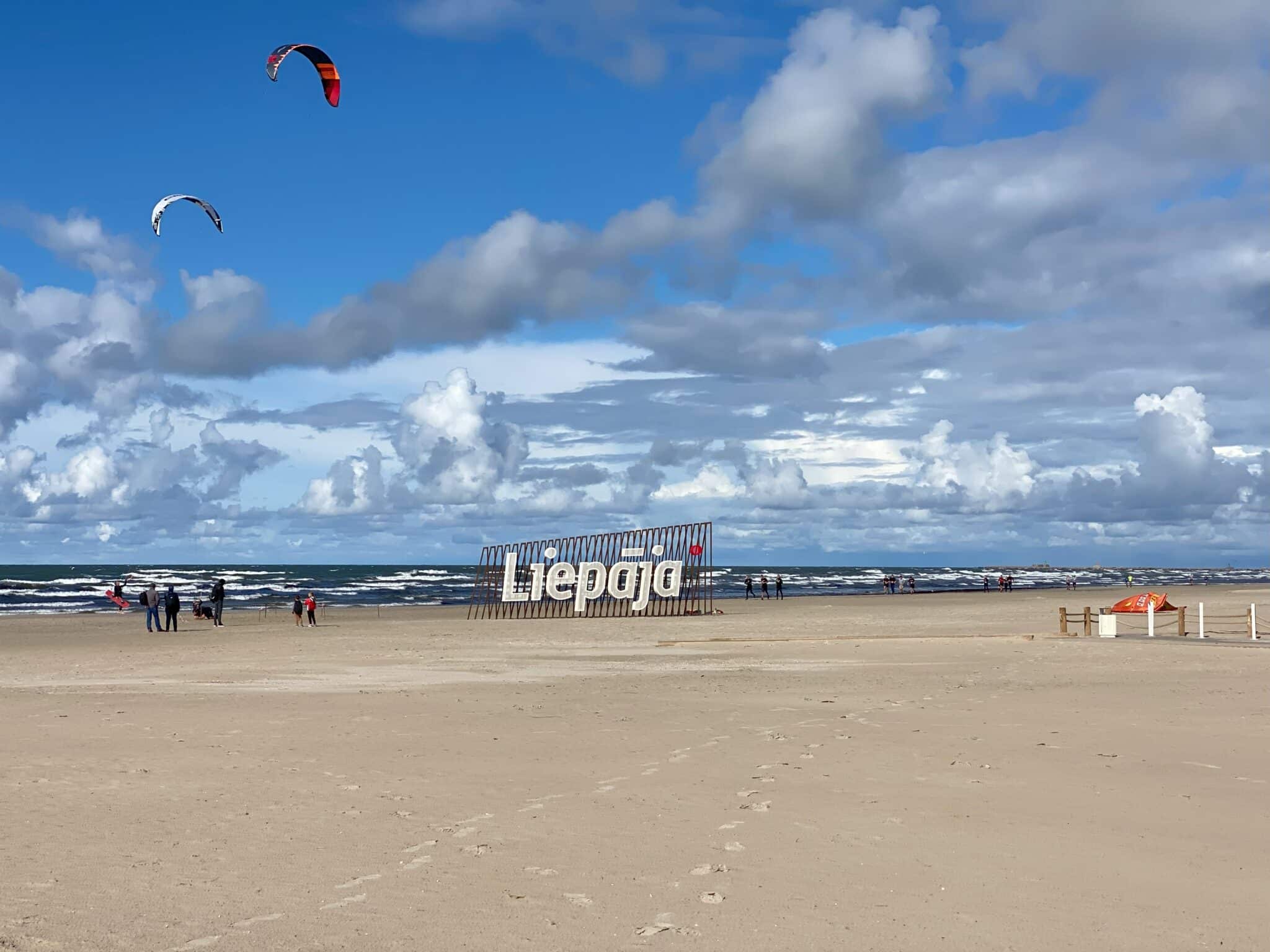 Liepāja is Latvia's third largest city and future European Capital of Culture in 2027. A mid-size port city on the western-most Baltic coast of Latvia, it is known by some as the "city where the wind is born" due to the constant ocean breeze blowing inland. The city has had many lives as a fishing […]
0 comments