So, you're a vegan or vegetarian thinking about traveling to Latvia. Your family members and friends have probably apprehensively or self-righteously told you that "you'll never survive there as a vegan." Indeed, the national cuisine of Latvia, and, in fact, all of northern and eastern Europe, is not known for being particularly vegan-friendly. This is true. Most of the national dishes depend on meat or dairy products.
That said, never fear! You can not only survive as a vegan in Riga, but you can be well-nourished and even enjoy some delicious local food. Riga is a cosmopolitan city, used to many tourists, and you can find all sorts of food for all tastes.
Vegans and Vegetarians in Latvia
In keeping with global trends, vegetarianism and veganism is rising in Latvia. According to the most information I could find, 1% of the Latvian population is vegan. In comparison, .5% of Americans, 2% of Brits, and 3.2% of Germans (the highest in the EU) identifies as vegan, with even larger percentages identifying as vegetarian, pescatarian, or flexitarian. A spate of articles from the last five years with supermarket analysts reflects how these stores are noticing and responding to the increasing demand for plant-based products. Furthermore, just as in the USA, non-dairy milk is almost always an option at coffee shops.
In my experience for the last two months in Riga and Daugavpils, people are generally aware of veganism and its general parameters, even if they are fuzzy on the exact details. Outside of vegan-friendly establishments, it's best to be specific about what you need ("no cheese," "no dairy") rather than expecting them to understand the exact meaning of "vegan." Know that you are not going to be met with shock and horror, or served lamb as an alternative to meat à la 2002's My Big Fat Greek Wedding, or be stuck eating a single steamed potato like Elijah Wood's character in Ukraine in 2005's Everything is Illuminated. 
Tools for Vegans in Riga
Happy Cow: every vegan and vegetarian traveler out there should both a) be aware of Happy Cow and b) contribute to Happy Cow. This app and website is a repository of veg-friendly restaurants around the world, and it could not operate without contributions from travelers all over the world. Since restaurants are constantly opening and closing (especially post-Covid), I always check the dates of the reviews I'm seeing on Happy Cow and check the Google reviews and social media accounts of restaurants I find on Happy Cow to make sure they are still open and offering vegan items on their menu.
Social media: Most restaurants in Latvia have a Facebook or Instagram page that will help you stay up-to-date with their opening hours, specials, and menu items. It's become a habit of mine to check any restaurant's social channels before setting out, just in case there is a change or special event.
Specialty Social Media accounts and sites: In addition to the accounts of individual restaurants and cafes, you can often find vegan influencers or vegan-centric accounts in a particular city. At the time of writing, @vegan.finds.riga is posting about both restaurants and specialty vegan products available in Riga. Vegan.lv, with the help of Google translate, can also be a good resource to navigate life as a vegan in Latvia.
EU Allergen Warnings: eggs and dairy are common allergens that any food-service establishment should be able to account for. Indeed, all across the EU, you'll see many restaurant menus that list warnings for the 14 most common food allergens. Since Latvia requires all information be written in Latvian, you may want to familiarize yourself with the following terms for non-vegan common allergens and ingredients: piens (milk), siers (cheese), olas (egg), vēžveidīgie (crustaceans), zivis (fish), and gliemji (molluscs).
Google Lens: Most things in Latvia are written in Latvian, which poses a problem for anyone who does not speak that language. While many restaurants in Riga will have an English menu, there may be times where there is no English or Russian text available. Enter Google Lens, Google's image recognition technology, which can translate text present in an image. This has been invaluable to me for reading food labels and signs.
Where to Buy Vegan Specialty Products
This supermarket chain, thankfully, is a reliable source for vegan specialty products. While their mini-markets can be a mixed bag, their super- and hyper-market locations in Riga and Daugavpils have special refrigerator and freezer sections for vegan specialty products, such as vegan cheese, non-dairy milk, tofu, vegan ice cream, vegan pelmeni, yogurt, and mock meats. Some of these brands will be familiar to Americans (Violife, Beyond Meat, Ben & Jerry's non-dairy).
Other brands that I have come to like include "Oddly Good" (an unfortunately named vegan cheese brand), Alpro (a British producer of non-dairy yogurt, milk, and pudding), and Wao (their mango and passionfruit mochi ice cream is vegan.)
You can also easily find such "American" and vegan friendly staples as peanut butter and energy bars. My local Rimi hyper-market also stocks plant-based protein powder. I have had some success at the Maxima supermarket chain, but not very much luck at Mego, another major supermarket chain. Rimi remains my go-to store.
Specialty organic stores:
I'm listing the two of these stores that I have visited, which are also close to the Liden&Denz School, where SRAS programs in Riga are based. You can find even more of this type on Happy Cow. Here, you can find even more specialty and niche vegan and organic food products, as well as toiletries and self-care products. While you can find many snacks and convenience foods here, these stores are also great for vegans who are cooking for themselves–here you can find nutritional yeast!
Vegan-friendly cafes in Riga
---
You Might Also Like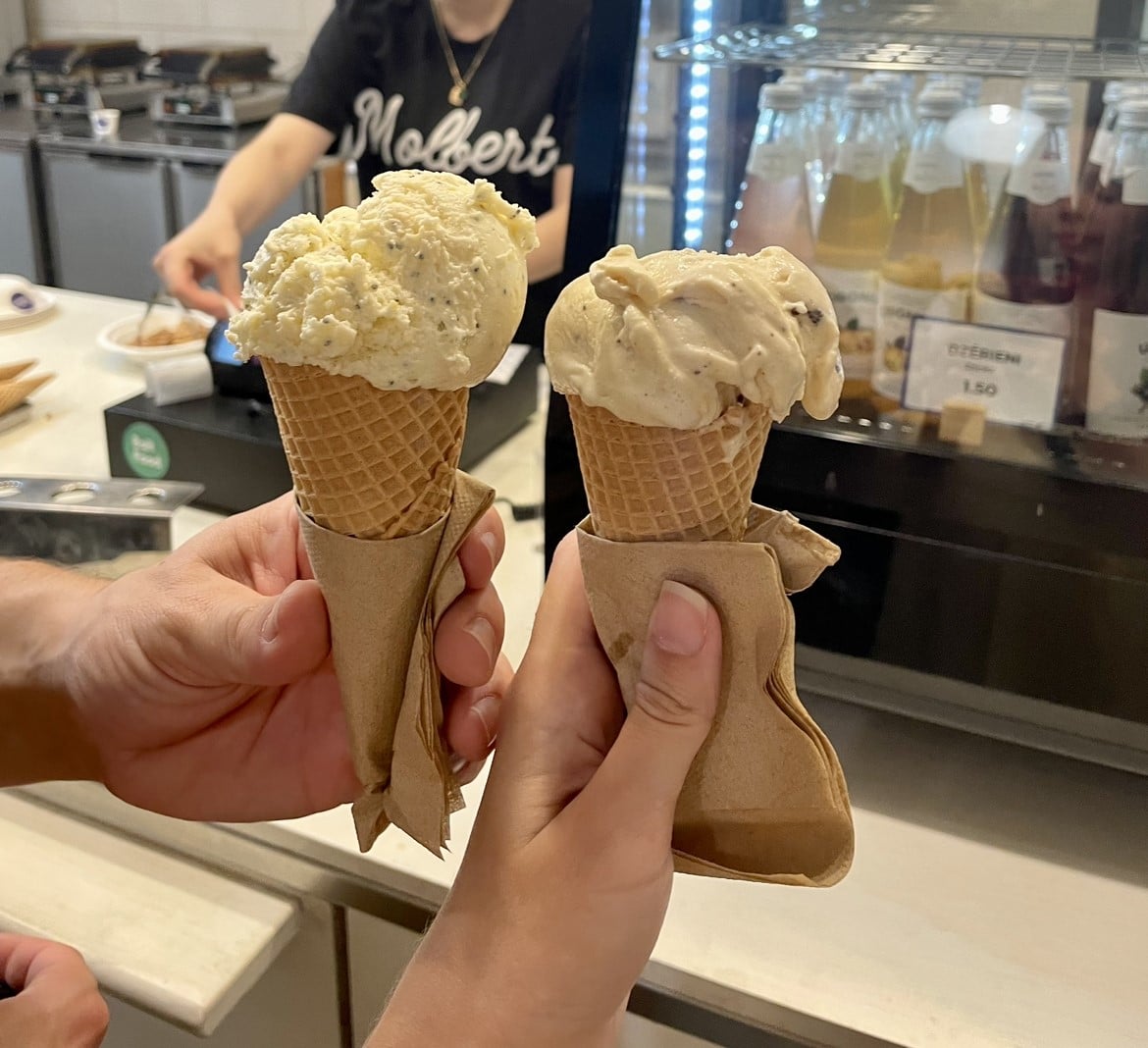 Like any good European capital, Riga's historic streets bustle with people and are lined with quaint cafes, coffee shops, and bakeries offering a place to sit, relax, and enjoy the sweeter things in life. Below are some options found by SRAS students in Riga that they would like to share with you. This guide is […]
0 comments