Students in Kyiv report spending about $50-70 a week average over the course of their stay. This covers food, city transport, school supplies, modest weekend entertainment, and other general living expenses. Note that this guide assumes 27 Ukrainain Hryvnia = 1 US dollar. Prices current as of May, 2020.
In This Guide
1. Getting Started
Packing beforehand: Bring appropriate clothing, any electronics you need, and any prescription medication you are taking in amounts to last your time abroad. Check our packing guide for more information on preparing for your trip.
Card Fees. Call your banks and credit cards! Let them know the dates you'll be abroad, otherwise, they tend to shut them off when they appear abroad – assuming they've been stolen. Note that most US banks will charge fees for every transaction you make abroad. $5 and/or 3% for every ATM withdrawal, for instance, is not uncommon. Make sure you understand these fees and factor them into your budget.
Local Currency or "Your Own Currency?" Some ATMs, retailers, and cafes will give you this option. Always pay in the local currency. It may sound convenient to have your bill brought in dollars, but it will always be higher. You will be paying at the store/ATM/cafe internal exchange rate. This is always worse than the exchange rate you will get from your bank or credit card company if you simply use your card to operate in the local currency. Always use ATMs that are connected with banks. Avoid those machines that are unbranded or privately branded.
See our Guide to Managing Cash Abroad for more information.
After You Arrive: Students live with homestays in Kyiv, which usually provide everything you need. However, you might spend $10 on pens/erasers/school supplies or perhaps $5-20 on an adapter or converter if you didn't bring one. School supplies are generally affordable – basic notebooks run $1-2.
2. Incidentals & Other
Flexibility: You should always plan some flexibility into your budget. There will always be expenses that you didn't plan for – a new umbrella, a better coat, a short trip that a new friend invites you on that is too good to say no to, you get the point.
Hygiene: Shampoo, conditioner, deodorant, and toothpaste – in brands you are likely to recognize – run about $2 per package. Feminine hygiene products are around $4 per box.
Gyms: Gym memberships vary depending on location and quality – but $30-100 will generally by an all-inclusive package (equipment, classes, pool, etc.) Fitness Life is an affordable option (~$20/month) for people who are looking for a basic gym without all the bells and whistles. Another great place to look for (often free) various sports-related activities and hangouts is the SportGuide Kyiv Facebook page.
Laundry: Is generally included in the homestay.
3. Food and Shopping

Groceries: Students in Kyiv are provided homestays with breakfast and dinner every day. Thus, grocery expenses tend to be for the occasional snack or packing a lunch. Average weekly grocery bill: ~$0-4 per week.
Lunch in the Novamova area: the school is centrally located and surrounded by a variety of options. Two favorites include Puzata Hata and Marketplace, both cafeteria-style. There, or at one of the "business lunch" specials around the area, lunch will cost you around $4-8. Average weekly lunch bill: ~$25-35 per week.
Eating out: For fast food or street snacks, you might spend $1-$7. A mid-range sit-down restaurant will run you maybe $7-15. Fancy sit-down restaurants have meals for $15-30.
Average weekly total food spending: ~$35-$40 per week
4. Transport
Public transportation: A monthly metrocard with 60 rides per month is included in Kyiv programs. Additional rides can be purchased at each metro station, if needed, for a flat rate of 8 UAH (~$0.30) per ride. Trains run from about 6am-midnight. Kyiv also has bus and trams that cost 8 UAH per ride (cash only). Marshrutkas are another, generally less comfortable option, and cost 6-10 UAH (cash only), depending on the length of the ride, you will need to ask for the fare by telling the driver your destination when getting in.
Taxis: Use the Uber smartphone app. Rides from the city outskirts to center run about $4-5. Most other rides will be less. Use an app for hailing cabs. Do not use cabs hailed from the street. Always know where you are going (general direction at least). Taxis that wait outside of bars and clubs or which already contain other passengers pose a high risk for scams.
Average weekly transport spending: ~$0-10 per week
5. Communications
See our Packing List for more information about bringing electronics abroad.
Mobile service and data: SRAS will supply you with a simple mobile phone while abroad. Students that use only these phones to call and text report spending around $1 dollar per month. Students with unlocked smartphones who get local SIMs for data and calling report spending $5-11 per month for generous-to-unlimited data and local texting. Cell service in Ukraine is usually pay-as-you-go with a monthly fee or prepaid service. You will not need a long-term contract. Students can also look into international plans through T-Mobile, Verizon, or Google Voice that can be handy if you plan to talk a lot to folks back home while abroad. Activate these before coming abroad. Internet is free while at NovaMova and if you ask waiters at restaurants, they will most likely give you the restaurant password.
High-speed Internet: Homestays will generally have WiFi and Novamova has WiFi on premises.
Average total MONTHLY spending for communication: $1-11
6. Free Time, Other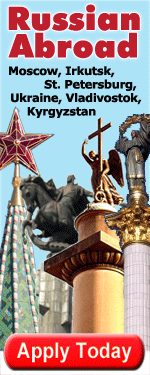 Entertainment and incidentals are the most variable expenses you'll face.
Most state museums are free to enter. Otherwise, tickets are rarely more than $5 and tours can be had, even in English, for about $10. Movie theaters only charge 100-150 UAH ($4-6) for one ticket. Kyiv Cinema is a popular movie theater that many NovaMova students go to on the weekends.
The Buena Vista Social Bar in central Kyiv is also a great place to go for cheap food/drinks and entertainment. They often host International Nights for travelers and foreign students. Many bars and pubs around Kyiv also host special concerts and karaoke nights, and admission is typically around 40-90 UAH.
There are coffee stands on pretty much every corner, and the average cost is 15-75 UAH ($0.75-3.00), depending on whether you get a coffee/latte/cappuccino. Pubs and bars serve 0.5 liter beers for 40-60 UAH. Smaller, more local pubs serve beers for 30 UAH.
There are several banyas around Kyiv, although most of them are more male-oriented. Women typically only go to the banyas on Saturdays, and are almost always in groups. Some banyas only allow women on certain days of the week, so be sure to research which location you want to go to beforehand. One visit to a banya costs around 200-250 UAH, and additional massages or scrubs cost around 100 UAH.
Travel: If you are going to blow some money in your budget – SRAS recommends you do it on travel. See more of the country and wider region and meet more of the people while you have the chance to do it quite inexpensively. Look at travel options described on this for info about in (and out) of country destinations. Travel in Ukraine is quite inexpensive. You can generally expect:
Bus ticket (one way): 250 UAH (~$10)
Night train ticket (in sleeper cabin-pillow and blanket provided): 550 UAH
Note: Planning your weekend trip ahead of time isn't absolutely necessary in Ukraine, but night train tickets are typically cheaper at least one week before departure.
Hostels: 125-200 UAH per night (I highly recommend Dream Hostel in Lviv- only costs 123 UAH per night, and is super cozy!)
Flights: Flights within Ukraine and to neighboring/nearby countries can be found for $60-120.
Meals: 100-250 UAH per meal (This definitely depends on your personal preferences, but finding cheap meals is not difficult to do around Ukraine.)
Souvenirs: 50-250 UAH (Again, this depends on your preferences. Small souvenirs and postcards also make for great gifts to bring back to your host families).