Students in Warsaw report spending about $80-100 a week average over the course of their stay. This covers groceries, eating at the university cafeteria, city transport, an occasional meal out, school supplies, modest weekend entertainment, and other general living expenses. Note that this guide assumes 3.7 rubles = 1 US dollar. Prices current as of February, 2016.
In This Guide
1. Getting Started
Packing beforehand: Bring appropriate clothing, any electronics you need, and any prescription medication you are taking in amounts to last your time abroad. Check our packing guide for more information on preparing for your trip.
Card Fees. Call your banks and credit cards! Let them know the dates you'll be abroad, otherwise, they tend to shut them off when they appear abroad – assuming they've been stolen. Note that most US banks will charge fees for every transaction you make abroad. $5 and/or 3% for every ATM withdrawal, for instance, is not uncommon. Make sure you understand these fees and factor them into your budget. See our Guide to Managing Cash Abroad for more information.
Local Currency or "Your Own Currency?" Some ATMs, retailers, and cafes will give you this option. Always pay in the local currency. It may sound convenient to have your bill brought in dollars, but it will always be higher. You will be paying at the store/ATM/cafe internal exchange rate. This is always worse than the exchange rate you will get from your bank or credit card company if you simply use your card to operate in the local currency. Always use ATMs that are connected with banks. Avoid those machines that are unbranded or privately branded.
See our Guide to Managing Cash Abroad for more information.
Start Up Costs: Will depend on your housing situation.
Electric kettle: $10 (for coffee/tea/instant noodles/oatmeal)
Pot/silverware/plate/cup: $10
Water filter: $10-15 (or $2 for 5 liter bottles – folks generally don't drink from the tap)
Pens/erasers/school supplies: $10
Textbooks: $0 (generally they are given free or public access online)
2. Incidentals & Other
Flexibility: You should always plan some flexibility into your budget. There will always be expenses that you didn't plan for – a new umbrella, a better coat, a short trip that a new friend invites you on that is too good to say no to, you get the point.
Hygiene: Shampoo, conditioner, deodorant, and toothpaste – in brands you are likely to recognize – run about $2 per package. Feminine hygiene products are around $4 per box.
Gyms: Information coming.
Laundry: Information coming.
3. Food and Shopping

For general recommendations, see our Guide to Eating, Shopping, and Services in Moscow.
Groceries: With food and groceries, it's easy to live on $10-15 a week if you cook for yourself.

Eating out: An average restaurant is usually $5-10 for an entree.
Average weekly total food spending: ~$10-$30 per week
4. Transport
Public transportation: For 30 days of unlimited rides on all forms of transit (trams, buses, metro, suburban trains), you'll pay about $15 with a student discount of 50%. For 90 days, you pay just $34. Here is the city transit site with the price list in full. For further information about city transit, see this article.
Taxis: Use the Uber or Eurotaxi smartphone apps. Warsaw's cabs usually cost between $2-6.
Average weekly transport spending: ~$3-10 per week
5. Communications
See our Packing List for more information about bringing electronics to Russia.
Mobile service and data: SRAS will supply you with a simple mobile phone while abroad. Students that use only these phones to call and text report spending $1 or less per month. Students with unlocked smartphones who get local SIMs for data and calling report spending around $2-4 per month for texts, calls, and 4G.
High-speed Internet: Private ethernet companies charge around $20 per month, but if you have this, you'll likely be with roommates and splitting the cost.
Internet cafes / City Hotspots / Free WiFi: Internet cafes cost around $1-3/hour and are becoming rarer. Free WiFi is available in restaurants.
Average total MONTHLY spending for communication: $1-4
6. Free Time, Other
Entertainment and incidentals are the most variable expenses you'll face.
Random: Movie tickets will range from $5-10 depending on where you go, and galleries will be $10-15. Museums are $5-15, but generally a student discount will keep the price below 10 for any of these. Going out at night is surprisingly cheap too: $5 cover charges at central clubs with $3 for a beer, or $5 for a cocktail.
The Erasmus student group and the CC International Group are both fairly active too, so sometimes they'll organize gatherings at a club or bar downtown and offer discounts. This is probably one of the reasons Warsaw is so popular for students. Another example would be ice skating, which costs about $10-20 depending on where you go.
Souvenirs: Information coming.
Travel: If you are going to blow some money in your budget – SRAS recommends you do it on travel. See more of the country and wider region and meet more of the people while you have the chance to do it quite inexpensively. Look at SRAS's extensive travel site for info about in (and out) of country destinations.
Housing Costs
As with one's budget anywhere, my major expense is housing. I live in a room in a rented flat that I arranged myself and I have two flatmates. My study abroad program helped by sending me recommendations for classified ad sites and student Facebook groups which are really active. I'll mention those below as well as discuss apartment hunting in Warsaw in more detail.
For my room, I'm paying about $280 per month, though this certainly isn't the average. My particular flat is in the city center (15 minute walk to the Palace of Culture, where my classes are), and newly renovated in full, so I know I'm paying a bit higher than average for that. I know from other students that rooms and flats are usually cheaper, but they will be further away from the center, perhaps of lower quality, or in an older building.
From what I've seen on classified listings and Facebook groups about Erasmus student housing, the lowest prices are around $215-230 per month, usually for a flat about 20-30 minutes away by transit that vary in age and quality. The cost of a room in an apartment is equal if not cheaper to rent than a single room in a dormitory.
While public transit here is generally reliable and well-connected, there are a few areas of the city that can be inconvenient to get to, which is what I heard about one of dormitories operated by Collegium Civitas and one reason I decided to go with a private apartment. Other students I met said that there were only one or two buses that would go from the center to the dorm's location, and even then had really sparse arrival times. This situation is definitely rare for Warsaw and its transit, but it can happen.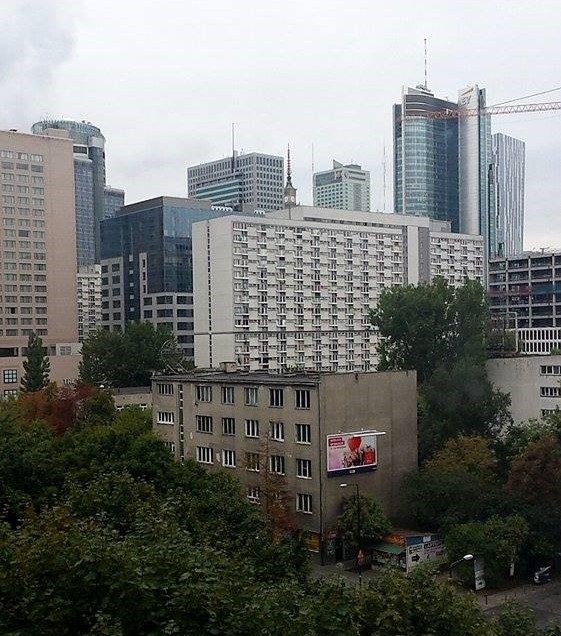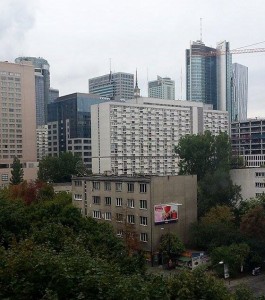 Bills may or may not be included in the rent for a private apartment, but even if they aren't, utilities prices are quite reasonable. The bills are divided between myself and two others, so my share of the internet bill for a 4 month period was about $20, and this internet service is extremely fast. Certainly can't complain about $5 per month for internet. My share of the electricity bill for a 4 month period was $35.
Apartment Hunting
Hunting for the right apartment can be a painful process on its own. I had the added difficulty of searching for an apartment in Poland while I was in Kyrgyzstan studying and working. Back in August I must have sent a hundred different emails and inquiries about available rooms, and it worked out that a few owners were willing to arrange meetings and room viewings with me even though I was still in Bishkek.
I found my flat through gumtree.pl (the Polish Craigslist, basically), though the site is only in Polish, so it was only a matter of luck whether or not a listing had a small part of the description in English, or if the owner speaks English. So, on top of the normal issues like making sure the flat was in a good location and in my price range, I had to be sure that the owner spoke English (or perchance, Russian), was willing to set a meeting though I wasn't in Warsaw, and was willing to let me rent for this irregular period of 10 months. After a month of stressful searching, it fortunately paid off and I was able to arrange a few meetings within 2 or 3 days after my arrival. Thankfully I was able to stay a few days with a friend who lives in Warsaw, and I used that time to view rooms and get oriented. This is the kind of method I would recommend for someone else coming to study here. Invest a lot of time into searching, set appointments for meetings before arrival, then find somewhere to stay for a few days while you look, be it a hostel, Air BnB, etc.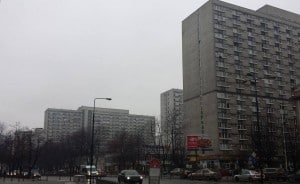 My flatmates are a Norwegian medical student and a Croatian businessman that works for an international company based in Warsaw. Basically we all found the flat through the same method at different times, with this online listing from the owner.
If you're planning to study in Warsaw and looking for a room to rent, be sure to search for its location on Google Maps, and then search for directions to the Palace of Culture, where SRAS and CC have their classes. Google has a function that will search for approximate travel time by city transit. It's good to know going in what your commute will be like.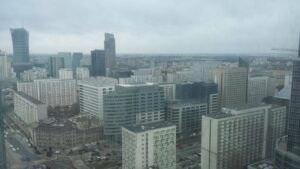 I would also search for the same route on the website warszawa.jakdojade.pl. The name 'Jakdojade' is from the Polish phrase "Jak dojadę", meaning "How do I get there?" This is an extremely helpful mapping web program which you can use to plan out any kind of travels in the city, so I recommend you search for what kind of transit options are available to get to your potential flat, especially for night buses. Type in two locations, and it will give you a list of available routes you can take by any method of transit. Search for one particular bus or tram number, and it will show the full route and timetables for when it will arrive at certain stops.
Even better, when you do decide to come study in Warsaw, this site is also available as a mobile app. I have to travel to various places all around Warsaw for work (teaching English, which you can read more about here), many of which I've never been to before, so I live and breathe by this app. Transit times and routes are updated with internet, and will show the most readily available route and the time various routes will take. You won't have any surprises about the changes in bus frequency on the weekends, for example. And even better, this app works for the public transit in 22 other cities in Poland. I used it to navigate around Kraków despite knowing nothing about the city upon arriving.
Some final resources I would recommend for apartment hunting include Erasmus. This is the network of study abroad programs for the European Union connecting students from universities all over the EU to study abroad for a semester or year in another EU country. Almost everyone in the English language program at Collegium Civitas is studying here through this regional program. The international community in Warsaw as a whole is strong, and Erasmus programs are quite popular here for a number of the universities. The student networks based on Erasmus are accustomed to a high turnover rate, and short term housing is always available to some extent. There's about 4-5 main Facebook groups for finding housing, a few of which are focused on students specifically, and these pages and listings are more or less consistently in English. Finding a room can be seriously competitive though, listings don't often last long.
Main classifieds site: www.gumtree.pl
Warsaw City Transit Site: warszawa.jakdojade.pl
Accommodation in Warsaw: https://www.facebook.com/groups/485933348146385/
Accommodation in Warsaw (Erasmus): https://www.facebook.com/groups/197539920440472/
Warsaw Student Accommodation Group: https://www.facebook.com/groups/WarsawSAG/
Roommate Finder: https://www.facebook.com/groups/roommateswarpol/
Other Erasmus group: https://www.facebook.com/groups/esn.kozminski/