Seven Things to Love in Almaty
By Eirene Busa
For those looking for a spring weekend getaway in Central Asia (and who isn't?), book a trip to Almaty, Kazakhstan's largest city and previous capital. Almaty is clean, modern, full of spacious, well-manicured parks, and it has a stunning backdrop of the snow-covered Ala-Too Mountains (or, sometimes known by their Chinese name, the Tian Shan Mountains). It is close to Kyrgyzstan, only a one-hour flight (or four-hour drive) from Bishkek. Almaty is also beautiful in the spring. Right now it is in full bloom with tulips and lilac trees.
The only problem you may find once you get there is you'll be tempted to throw out your Lonely Planet book, kick off your shoes, and spend most of your time on your back on a park and munch on delicious local Kazakh chocolates. Don't do it. There are fabulous cultural, historical, and gastronomical pleasures awaiting you. Make sure you do try the chocolates, though.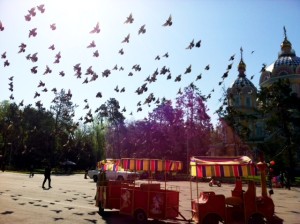 1. Visit Zenkov Cathedral at Panfilov Park
Address: Kazybek Bi Street
While Almaty has no lack of beautiful parks, the Panfilov Park is home to the beautiful mustard-colored, blue-and-white-domed Zenkov Cathedral, one of Almaty's few surviving tsarist-era buildings. This cathedral was built in 1904 by A. P. Zenkov and renovated in 1955. It is a lasting bastion of old-school European romanticism, from its colorful stained glass windows, the beautiful acoustics of its choir, and location in the park's main square that is filled with gelato stands, rollerbladers, cotton candy stands, canoodling lovers, and a French-music-playing accordion player. Add to that swooping, swirling black birds that chase after bread crumbs thrown by kids and their babushki, and you will almost think you're in a nostalgic Soviet film. The park is also infused with history. East of the church there is a Soviet memorial dedicated to the Panfilov Heroes, after whom the park is named. These 28 soldiers of an Almaty infanty unit died fighting the Nazis in a village outside Moscow in 1941. There is also an eternal flame that commemorates those who died in the Civil War (1917-1920) and WWII (1941-1945).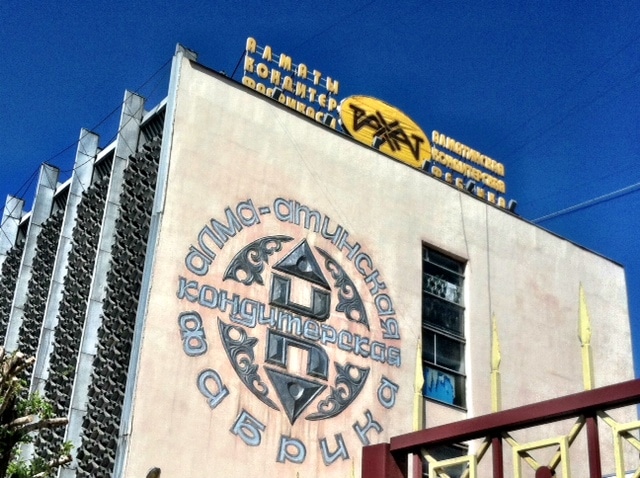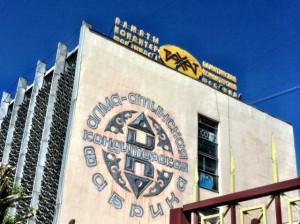 2. Stop by Kazakhstan's Chocolate Factory Store
Address: Zenkova Street, 2а
Indulge your sweet tooth at Kazakhstan's most loved confectionary, Rakhat Chocolate Company. It won't be hard to find. Walk along Zenkova Street and the aromatic waft of chocolate from its factory will hit you like a ton of bricks. It is intense, compelling, almost criminal, and you will be following your nose until you reach the golden gates of Rakhat, which in Kazakh means "pleasure." Though the factory is not always open for tours, you can enter the retail outlet, where you can choose from over 300 varieties of chocolates and sweets, all wrapped in beautifully designed wrappers of different Kazak, Central Asian, and Russian themes. My favorites are the delectable "Kara Kum" and "Pushkin" chocolates. Buy souvenir-ready boxes of chocolates with Kazakh emblems for your lucky loved ones, or select a few pieces for yourself for a late-afternoon pick-me-up.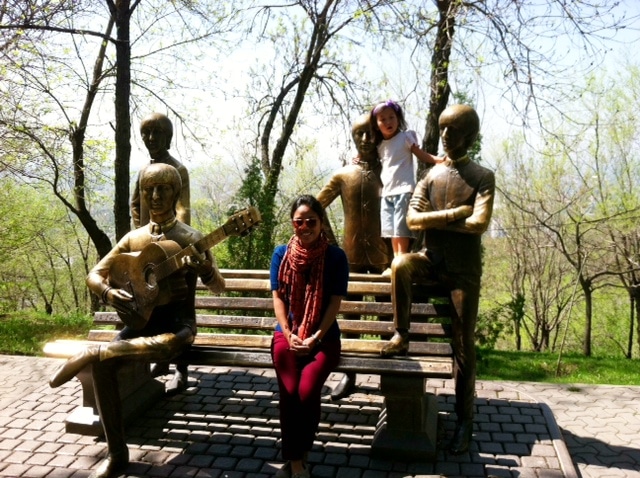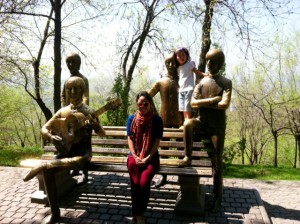 3. Chill on a Bench with the Beatles on Kok-Tobe
Address: Behind Hotel Kazakhstan and the Republican Palace
Cost of cable car one-way: 1,000 Tengre ($6.62)
Take a cable car up the highest point in Almaty, the 1,000-meter "Green Hill," and take a picture with life-sized bronze statues of the four Beatles. This monument, the only in the world showing the Fab Four together, was designed by local Almaty sculptor Eduard Kazaryan and put in place in 2007. After saying "hello, goodbye," check out some of the area's recreational activities. Feed Uzbek Kulangi chickens at the petting zoo, watch young men attempt to ride a mechanical bull, dine at one of the outdoor cafes, and ride a roller coaster that snakes around the mountain. And of course don't forget to take a picture by a fountain of a big apple — since, after all, Kazakhstan is the birthplace of the apple (Almaty's old name, "Alma-Ata" means "father of the apples.")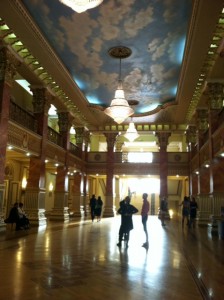 4. Catch a Show at the Abay State Opera and Ballet Theater
Address: Kabanbai Baatira 110, Panfilov Street
Cost of Opera Tickets: 1,200 -2,500 Tengre ($8.00 – $17.00)
Come to this golden, shiny, modern theater, first built in 1934, for a world-class performance. There are at least three or four shows a week, at either 5:00pm or 6:30pm. On April 21st, there was a performance of Guiseppe Verdi's "Un Ballo in Maschera." The local opera company gave a phenomenal performance in Italian to a stirring live orchestra. Not only that, the theater provided simultaneous Russian translations of the Italian opera lyrics on two flat screens left and right of the stage. During intermission, you can wander the golden chandelier-laden hallways, admire portraits and photographs of Kazakhstan's national ballet and opera troupes, watch old clips of past performances on flat-screened televisions, and order a delicious honey cake and mocha from the bar.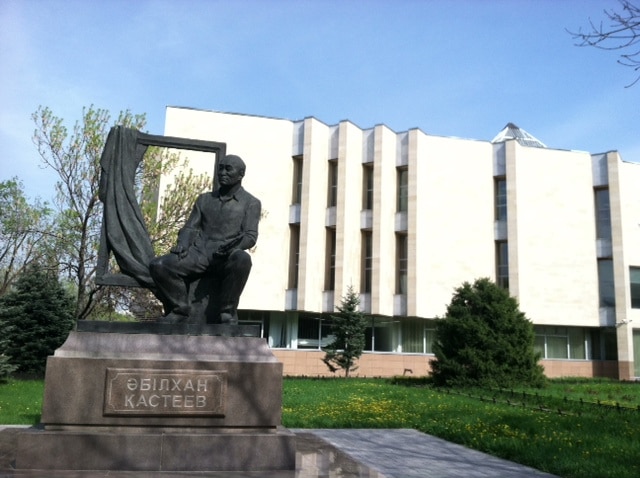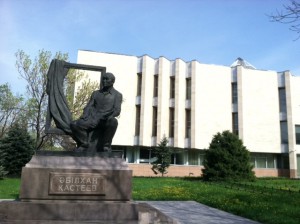 5.Wander the Kazakhstan Museum of Arts
Address: Musirepov 22
Cost of admission: Students 50 Tengre, Students and Pensioners 70 Tengre, Adults 100 Tengre
This sleek museum of arts has a fantastic collection of Soviet and contemporary art from the former Soviet Union and particularly from Kazakhstan. Internalize the Kazakh spirit, history, and soul with representations of nomads, yurts, kumis, traditional dress, and the Ala-Too Mountains. For those interested in a less idealized representation of the region, there is a more cutting-edge section that offers works from green glass elephants made from vodka bottles, to photographs of Central Asian labor migrants. My favorite piece is "Mutation" (1964) by political artist Erbossyn Meldibekov, who molded five busts of Lenin according to different political figures. There is Lenin as himself; Lenin as Mongol warrior Genghis Khan; Lenin as Swiss artist Alberto Giacometti; Lenin as Congolese independence leader Patrice Lumumba; and Lenin as an inverted inversion of himself. It is a refreshing take on a ubiquitous face in post-Soviet Central Asia. Is that you, Dear Leader?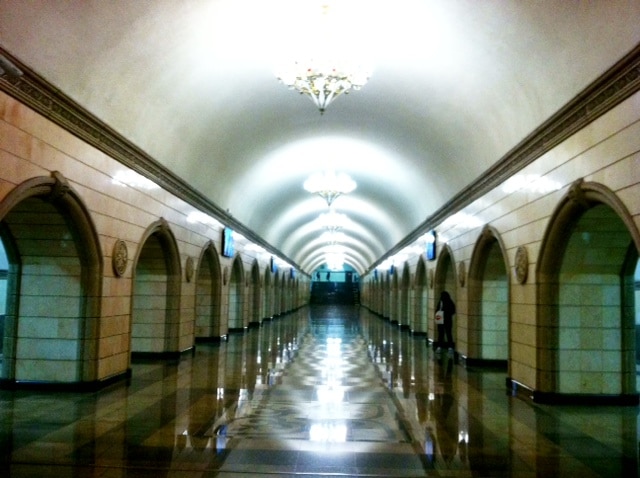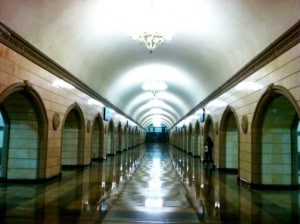 6. Take the Metro, Love the Busses
If you're coming from Bishkek, you will find respite in the public transportation. There are no marshrutki here, only busses, and they are easy to navigate and are quite spacious. In fact, they are almost eerie. What, no elbowing necessary? One ride costs 80 Tengre (about 50 cents.) Almaty also has a spankin' new metro system, opened only in 2011. It is the second metro system in Central Asia (the first was in Tashkent, Uzbekistan), and it is still as shiny as a newly minted penny. Take a ride. It took Kazakhstan more than 23 years to build it. (Long story short: Construction started in 1988, and then stalled after 1991 with the collapse of the Soviet Union.)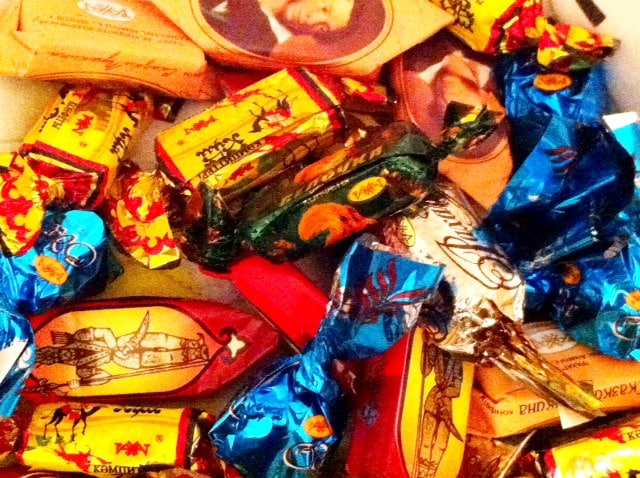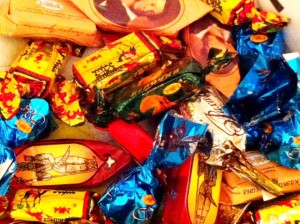 7. Plan a Return Trip
Inevitably, a spring weekend in Almaty will leave you wanting more. Talk to the locals about returning to Kazakhstan to explore other parts of the country, such as its capital, Astana, and the famous Lake Balkhash, the 12th largest lake in the world that is half freshwater, half saltwater (the lake is divided into two parts, separated by the Saryesik Peninsula). Or just make plans to return to Almaty to visit museums you couldn't visit the first time (for me, it was the Museum of Musical Instruments, and the Presidential Park). Or just come to restock on Rakhat chocolates. Don't delay. Almaty awaits.