Jonah Helwig and R.A. Bloomfield studied abroad on the Policy and Conflict program in Kyiv, Ukraine with SRAS and Novamova in Spring, 2020. SRAS is deeply grateful to both for speaking out here about their time abroad as LGBTQ+ individuals.
Did you meet local members of the LGBTQ+ community while in Kyiv? What was their perception of being LGBTQ+ in Kyiv?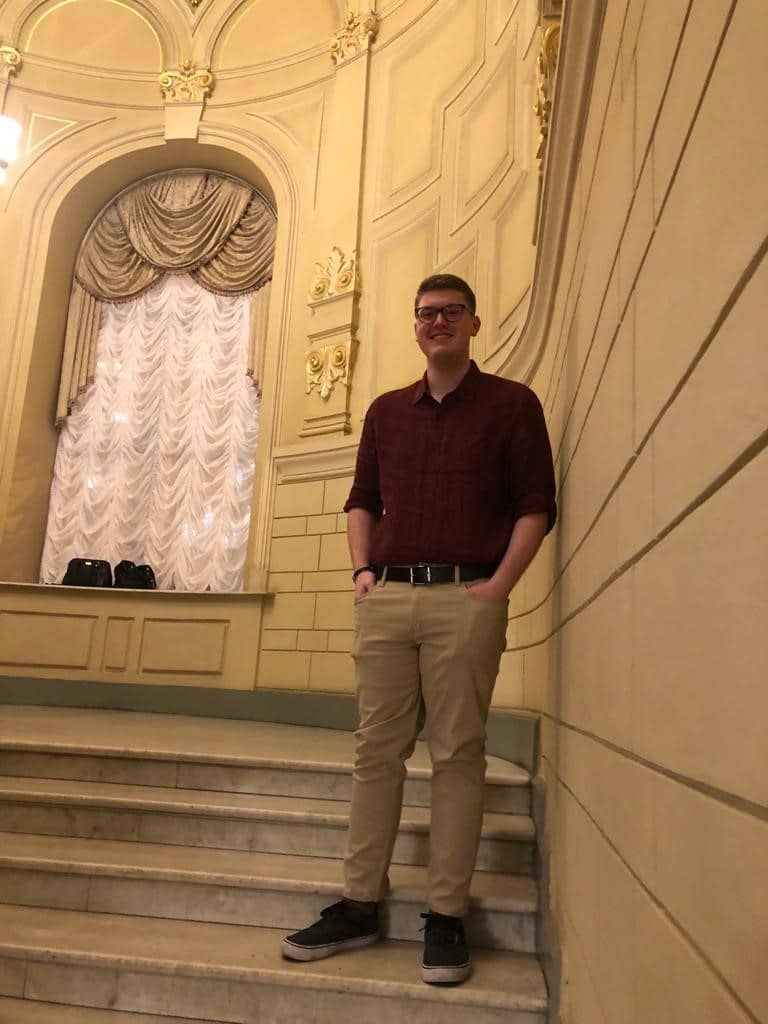 Jonah Helwig: I did meet several members of the LGBTQ+ community while in Kyiv. After about a week in the city I decided to download Tinder out of curiosity and began to talk to members of the community. I met up with two people from Tinder and one of my first questions was what is it like to be gay in Ukraine? All the LGBTQ+ people that I met in Kyiv told me about the same thing: you can be gay in private but not in public. There have been attacks LGBTQ+ people in Kyiv simply for wearing something rainbow or showing public displays of affection. Because of that members of the LGBTQ+ community tend to not show PDA and hide their affiliation with the community unless they feel safe and comfortable.
R.A. Bloomfield: I was lucky enough to encounter a few LGBTQ+ folks while in Kyiv and Odessa. Unlike in, say, my liberal college town in Massachusetts, LGBTQ+ people are not publicly visible in Ukraine. Once, at a coffee shop, someone saw my rainbow laptop stickers and came over to chat about being queer in Ukraine. I also met a lesbian at a bar. Generally though, meeting other queer folks in Ukraine involved putting myself out there and being visible. It was somewhat nerve wracking to offer such vulnerability in a country known for homophobia. However, nothing negative happened to me in Ukraine as a result of my identity, and I got to meet people who were willing to talk about their experiences being queer in Ukraine. I also downloaded Tinder to meet a broader subset of the queer community.
Through talking with people, I got the sense that being queer in Ukraine isn't easy. People attending pride parades run the risk of being photographed and publicly identified. As in the U.S., many folks, especially young people, are out to their friends but not to their families, so they avoid the risk of being outed at pride parades. Pride parades are heavily policed events; police sometimes shut down subway stations so that marchers can safely access parades free of harassment. People avoid wearing rainbow paraphernalia outside of explicitly queer spaces. However, young queer people expressed optimism about the future of LGBTQ+ rights and acceptance in Ukraine. Last year, Kharkiv held its first pride parade, and attendance at pride events is growing. Young people say they feel more comfortable coming out to their friends and feel generally accepted. My sense is that, like in the U.S., there is a stark generational divide regarding the issue of lesbian, bisexual, and gay acceptance. Violence is the price some pay for visibility.
I also talked with two transgender people in Ukraine, a trans woman and a nonbinary person. Both discussed how acceptance of transgender people, especially nonbinary people, lags behind LGB rights generally. The nonbinary person I met spoke of difficulties in finding neutral alternatives to gendered words in the Russian language. They attributed the lack of nonbinary acceptance to linguistic difficulties and lack of education about trans people.
Ukraine's queer community is vibrant and growing. It's just not very visible. The threat of violence, harassment, and being outed discourages many people from publicly demarcating their identity.
Did you find any local community spaces (clubs, organizations, social media pages, etc.) for the LGBTQ+ community in Kyiv? Could you recommend any?
Jonah Helwig: So, the major gay club in Kyiv is called "Lift." I never personally went because I was warned that sometimes people will be waiting outside to attack people leaving the club. I was planning on going with a group of friends, just because that felt safer, but I never got the chance because of coronavirus.
R.A. Bloomfield: Unfortunately, I was unable to visit any specifically LGBTQ+ spaces in Kyiv due my trip being cut short by coronavirus. My sense from poking around on the internet is that many queer community spaces are specifically or exclusively oriented around gay men. Many of these spaces are clubs. I'm not opposed to clubbing every now and again, but I wished there were chiller queer spaces with less emphasis on hookups, like coffee shops or feminist bookstores.
Did you feel safe as an LGBTQ+ individual while in Kyiv? Did you feel accepted?
Jonah Helwig: I felt safe as an LGBTQ+ person in Kyiv mostly because I do not wear anything that would give me away as a gay person. I was hesitant to tell any of the locals I met that I was gay because I did not know how they would react. I think that fear of not knowing if people are going to be homophobic contributes to the feeling of not being accepted. I felt accepted by the locals that I got close to while I was there. For example, my conversation partner was totally fine with it and we talked about it often. However, Ukrainian society as a whole did not come across as accepting. Especially, after researching the topic more I found that there is not a lot of protections for LGBTQ+ people in Ukraine which once again contributed to the feeling that I was not accepted.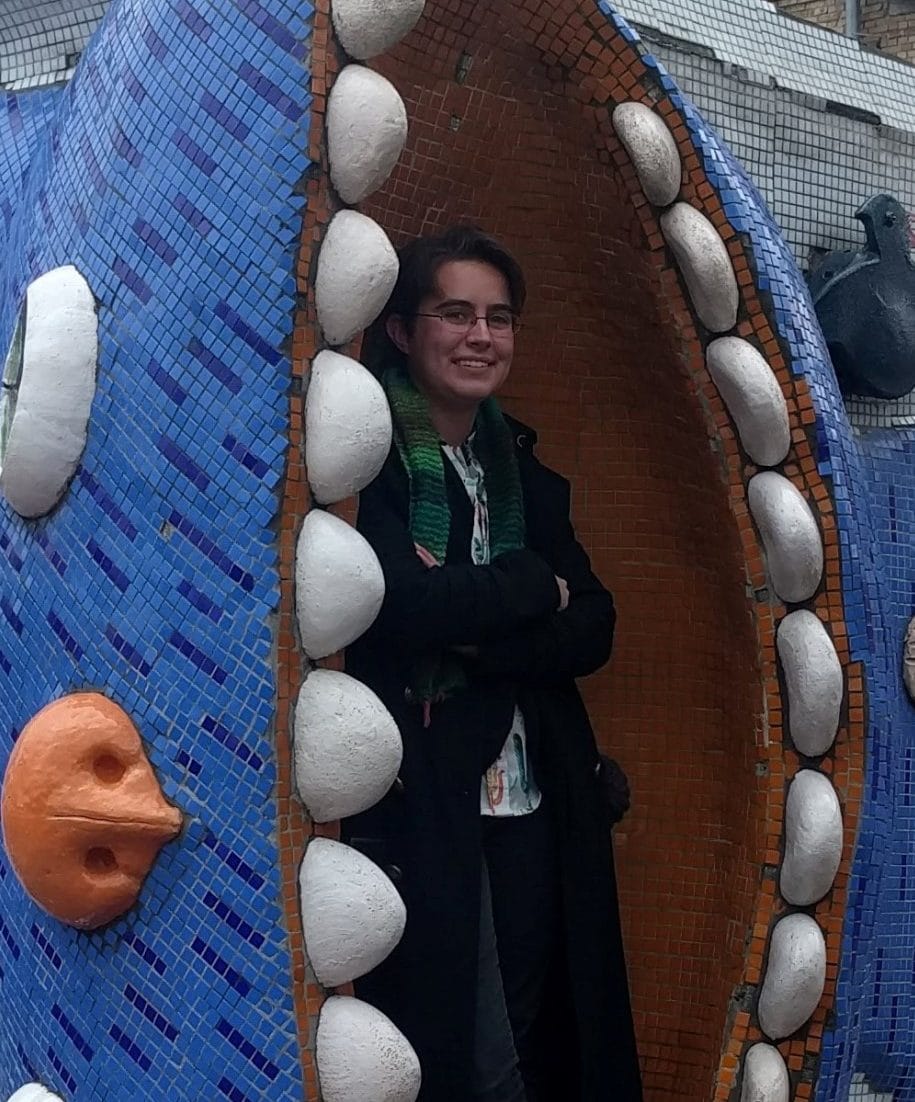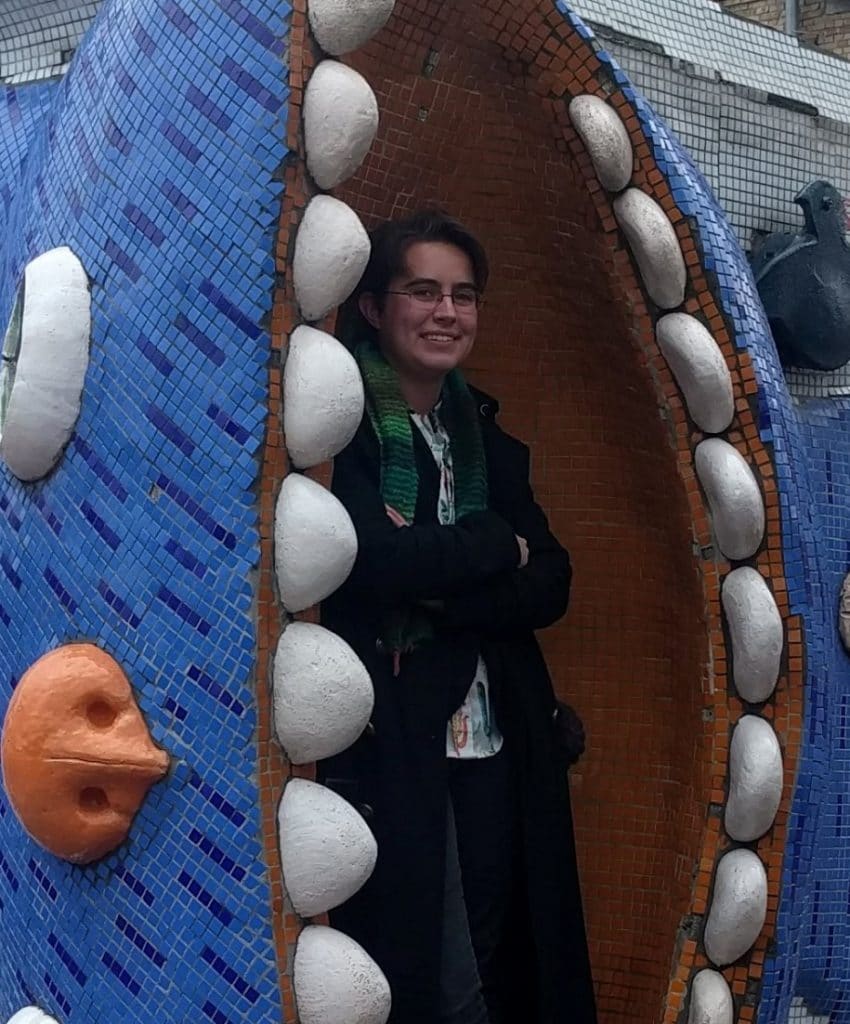 R.A. Bloomfield: I generally felt safe as an LGBTQ+ person, albeit a little uncomfortable at times. Between my short hair and androgynous clothing choices, I occasionally got stares on the metro. (I think I met one other feminine person my age with short hair the entire time I was in Ukraine.) I was a little apprehensive whenever I got out my laptop in public spaces because I have rainbow stickers, but really only positive interactions occurred. To be honest, the nervousness I felt around my identity wasn't significantly different from the way I feel in my conservative hometown in the U.S. Interactions with members of the queer community, my speech partner, and folks at NovaMova made me feel more accepted.
I identify as nonbinary, and I felt uncomfortable bringing that up to locals. Unlike sexual orientation, my name and pronouns are salient identity markers in everyday conversations. Like the nonbinary local I met, I was frustrated that Russian is a difficult language to make gender-neutral. Funnily enough, I felt better about being misgendered in Russian than in English, I guess because English has viable gender-neutral pronoun options. On the gender front, I essentially went into the closet for my study abroad experience. Explaining my gender in a language I was just learning to people who may not be accepting or aware of nonbinary identities was just too much to deal with on top of everything else.
What would you recommend to future LGBTQ+ individuals thinking about study abroad to Kyiv? 
Jonah Helwig: I would recommend that future students simply do not wear or carry anything that would obviously distinguish you as a member of the LGBTQ+ community. I know it feels like you have to give up a part of you while abroad, but once you become settled in Kyiv you will find a way to be yourself. Simply exercise caution and you will be fine!
R.A. Bloomfield: I would recommend reaching out to members of the local queer community. I found that finding queer folks required undertaking the risk of visibility, whether through bringing up my identity in conversation, joining queer Tinder, or displaying pride paraphernalia. In my experience, the payoffs of finding people to compare experiences with and finding people who would accept me by default outweighed the potential risk of harassment. I'd advise LGBTQ+ people thinking about studying abroad in Ukraine to remember that while homophobic people exist, so does a wonderful and vibrant local LGBTQ+ community. The horror stories of violence and harassment directed at LGBTQ+ people are definitely something to keep in mind, but avoiding large risks does not necessarily equal staying in the closet while abroad.