This itinerary will take you from Yerevan to Garni Temple, Geghard Monastery, and Symphony of Stones. You can take a car the full way or combine hiring a driver with a moderately challenging hike of 3-4 hours.
Logistics for Garni Temple – Symphony of Stones – Geghard Monastery
The furthest of these sites is only about 45 minutes from the center of Yerevan. All three locations can be taken in at a leisurely pace with a car within about five-six hours.
The best way to get around Armenia is by car, either by renting one to drive yourself (this can be done with an American license), or by hiring a car with a driver (this is preferable for safety and to allow you to take in as much of the beautiful scenery as possible). Googling "car hire with driver Armenia" will return a number of services, including some from major international brands like Enterprise Car Rental, which also offers drivers in Armenia. You will find that either option is remarkably affordable, especially if you have a friend or two to split the cost with. So, there should be little reason to get out and explore Armenia!
You could also take bus #284 Garni/Goght to Garni from the Gai Bus Station in Yerevan. The one-way fare is just 250 AMD (about 65 cents). Alternatively, you can catch a group car from Masiv Market in Yerevan to Garni. These operate from 10AM to 8:30PM every day, leaving as they fill up. Note that in this case, you'll need to find a taxi to get to Geghard Monastery. Walking to the Symphony of Stones from Garni will take you about 30 minutes one way.
Optional Hiking on Sun Temple Trail
You can extend the day by starting with the monastery and then adding some additional hiking. Start at Garni Temple and then take the Sun Temple Trail through the beautiful Azat River Gorge (it will take you by the Symphony of Stones) and then end at Azot Reservoir about 8 miles away along a moderately challenging trail. It should take you about 3-4 hours. If you've hired a driver for the day, have him meet you at the reservoir to head home afterwards.
Garni Temple
Garni Temple was first built in the 1st century AD by the Armenian King Tiridates I in honor of the Armenian sun god, Mihr. Constructed entirely of locally quarried basalt, it stands on a high plateau in the village of Garni overlooking the Azat River Gorge. The temple was toppled in the 4th century AD when Armenia adopted Christianity as the state religion. However, it was reconstructed in the 1970s using the original stones and now stands as the only Greco-Roman temple in the Caucasus or anywhere in the former USSR. Today, it is a UNESCO World Heritage Site and one of Armenia's most famous attractions.
The Symphony of Stones
The Symphony of Stones is a natural geological formation of tall, columnar basalt that resembles organ pipes. They were formed as a result of volcanic activity millions of years ago. As lava flowed from the volcano and cooled rapidly, it contracted and cracked, forming the hexagonal columns that we see today. The name "Symphony of Stones" comes from the sounds that are produced when wind blows through the columns, creating a musical sound similar to that of an organ. This phenomenon has made the area a popular destination for musicians and performers, who come to play music using the natural acoustics of the stone formations.
Geghard Monastery
Geghard Monastery is a medieval monastery carved into the side of a mountain, surrounded by towering cliffs and rugged terrain. It combines classical Armenian design elements with influences from Byzantine and Georgian architectural styles. The monastery was first founded shortly after Armenia adopted christianity. The name, Geghard, means "spear" in Armenian, is derived from the spear that was allegedly used to wound Jesus during his crucifixion and was brought to Armenia by the apostle Thaddeus. The spear is believed to be kept at the monastery, which is why it became an important pilgrimage site in the Middle Ages.
Khachkar Monument
Khachkar Monument is a memorial complex located in the village of Garni. It consists of a collection of khachkars, or Armenian cross-stones, that date back to the 11th century. The monument is a tribute to the Armenian people who lost their lives during the Armenian Genocide.
Then, head back to Yerevan!
You'll Also Love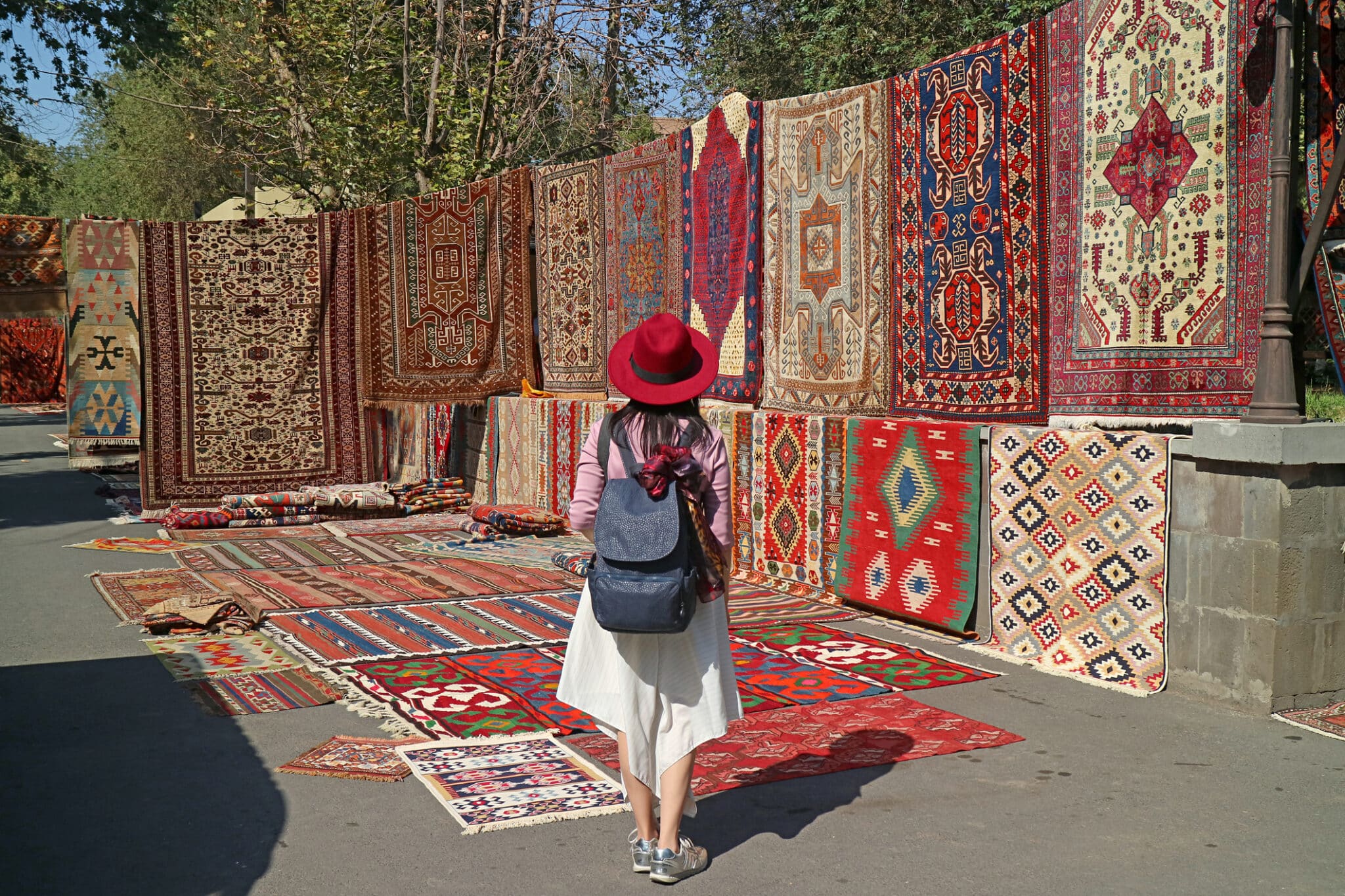 What's it really like to live in Yerevan, Armenia for a semester? Staying long-term in a city is much different from just vacationing there. You'll need to navigate more of the practical, everyday services of the city and budget to include more miscellaneous and long-term expenses. Thus, this guide covers everything from haircuts to pharmacies […]
0 comments