The best parts of Kyrgyzstan summers are weekend getaways to Lake Issyk Kul, one of the world's deepest and highest lakes. Issyk Kul, which means "hot lake" in Kyrgyz, is the ultimate beach destination. It's "hot" because it never freezes – but that is due to its salt content, not because it's actually hot.
Lake Issyk Kul is what the Hamptons are to New Yorkers and the Outer Banks are to Washingtonians. Every other week, Bishkekers will get in a car or mashrutka, drive about four hours through the narrow, winding mountain roads, and escape, at least temporarily, the oppressive summer heat in the capital. Although I am only now spending my first summer in Kyrgyzstan, I already know this well because the moment I arrived in this country in January, in the middle of a colorless, depressing winter, I heard from locals that this is simply what's done; and that if I was smart, I'd do the same thing. The moment the heat arrives, Bishkekers leave.
So this past weekend, I followed suit and went to Issyk Kul, to the southern shore near the small village of Bokunbaeva. Actually, it's not even that hot yet in Bishkek, but after sweating it out the past couple of weeks in my homestay, it was time for a brief respite. It was also an opportunity to celebrate with a friend who was leaving Kyrgyzstan after a two-year career here. This was her final hurrah, her final swim in the legendary mountain lake of the country she has grown to love and cherish.
Now, before the locals start groaning about how it's still too early for beach season (peak Issyk Kul season is end of July through August), and how the northern Issyk Kul towns of Cholpon-Ata and Karakol are where it's really at for said "good times," let me just say, the south gets a bad rap. It's peaceful in the south of Issyk Kul. It's less touristy. And honestly, now is the best time to go to Issyk Kul because, as I hear, the roads are not as clogged with beach-bound traffic, and the beach is not yet completely overrun with tourists, expats, and local university students. The southern shore of Issyk Kul is also just as stunning as the north, and quite possibly even more so beautiful because of its raw, less-developed state. So, dear readers, don't listen to the naysayers. The south is an under-appreciated gem of Issyk Kul.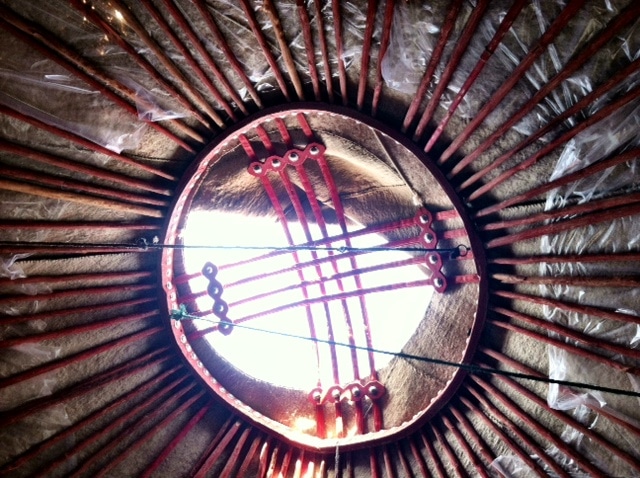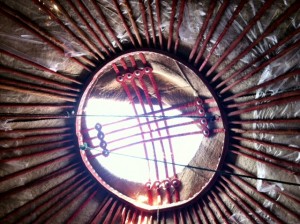 We booked accommodations there through Community-Based Tourism (CBT), a company I would recommend. In Bokunbaeva, CBT has a yurt camp with four medium-sized yurts to sleep in, one outhouse, a dining yurt that serves three traditional Kyrgyz meals a day, and plenty of land to set up personal tents and park your own vehicles. It's a modest, but ideal place for backpackers and low-key Bishkekers who want nothing more than the opportunity to sleep in a yurt at night, and sunbathe during the day. During our stay there, we met backpackers from Germany, Russia, England, and Finland, some of whom even studied and taught at the London School a while back. (Small world!) Just don't wait too long to book a stay. When we visited this past weekend, CBT Bokunbaeva was in the middle of expanding the facility, already completing some stone walls and rooms during our 48-hour stay. So word is traveling fast. (Get there now before it commercializes and gets more expensive!)
There is much to do in Bokunbaeva, and СBT, with its English-speaking staff, can help you arrange it. You can go on an eco-trek into the nearby Terskei Ala-Too Mountains, where the critically acclaimed Kyrgyz comedy Boz Salkyn (2007) was filmed. You can visit the hot springs, a small salt lake, and the Chasha Manasa, the longest waterfall in Kyrgyzstan. You can also go horseback riding and fishing. You can even ask CBT to bring in a Kyrgyz falconer, which some Russian travelers did while we were at the beach; apparently they got to witness a live capture of a wild rabbit.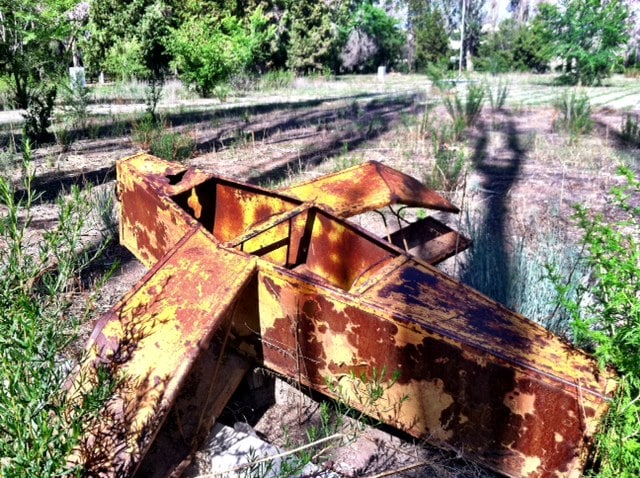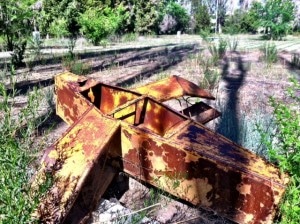 You can also visit an abandoned Soviet pioneer camp, which is about a 10-minute walk from CBT's yurt encampment. This was definitely one of the highlights of my weekend. As we wandered through this facility that once trained Soviet children in survival skills and Leninist values, but which was now overrun by weeds, wild cows, and rust, I could almost hear the ghost voices of marching children in red scarves chanting in unision, "Always love your homeland!", "Respect your elders!", and "Help those younger than you!" I also happen to have a strange fascination for abandoned buildings and Soviet playgrounds. This place, with its lush greenery, chipped murals, broken windows, white-washed dorm rooms, and ant hills, would make a great photojournalism essay about, say, the state of Kyrgyzstan's Soviet past. I can see the National Geographic Magazine story now, the front cover being a faded red star on one of the courtyard walls that conveys a past gone with the wind.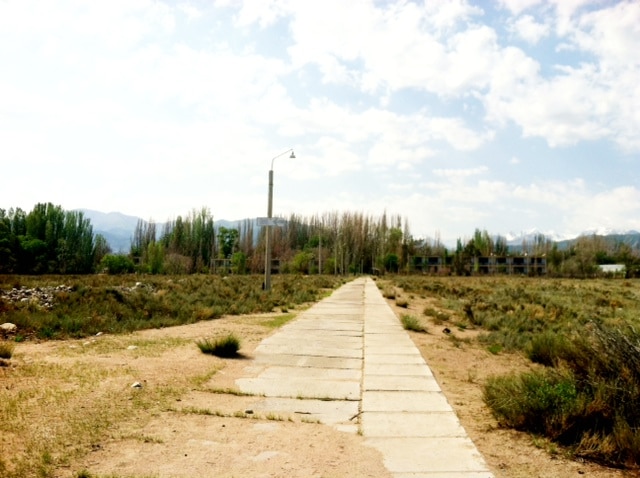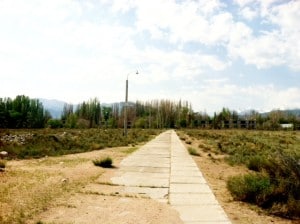 But even that wasn't the best part of the weekend. The best part was stumbling upon a beach that belonged to the Young Pioneer camp. It was smoother, sandier, and even more private than the beach at our yurt encampment. We marched down the paved walkway that led directly from the camp to the water, like victorious scouts that unearthed a great secret. And then we spent most of the weekend there, lying in the sand, wading in the ice-cold Issyk Kul water, and admiring the breathtaking view of the snow-topped mountains in the distance.
Of course, the beach was no secret to the locals. Throughout various parts of the weekend, we had to share the beach with three wild cows and a horse, who also wanted to sunbathe and roll around in the smooth sand. At one point there was even a wild Kyrgyz party of 50- and 60-somethings celebrating a 30-year wedding anniversary with vodka, beer, a videographer (i.e. a young kid holding a video camera, obviously assigned the task of documenting the celebration), and a properly gregarious accordion player. They were definitely a spirited group. At around 1pm, they spilled out of their mashrutkas (which they had parked right on the beach) already intoxicated. The rest of the day they sang Kyrgyz national songs, quaffed from an endless supply of bottles, stripped to their underwear, wobbled and collapsed onto the sand several times, and dragged each other into the ice-cold water in a fit of protesting shrieks and giggles. And some of them were my parents' age, some seemingly my grandparents age! Meanwhile, the rest of the beach, which consisted of families, teenagers, and yuppies just grinned and laughed good-naturedly at this rambunctious party, which was oblivious and/or simply uncaring about the rest of the beach's opinions.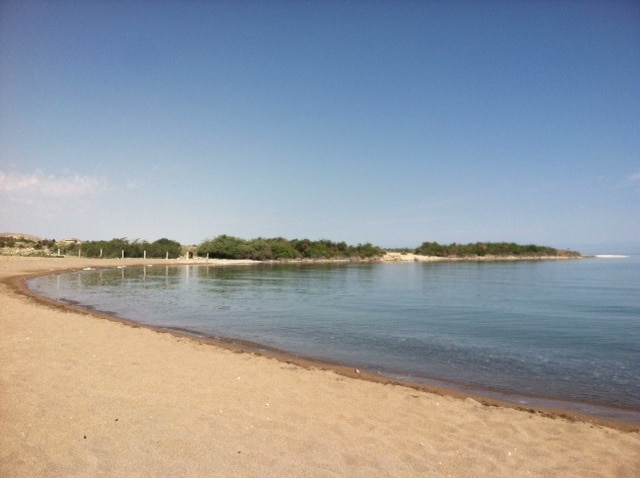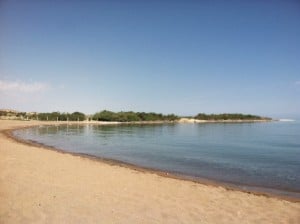 I later learned, upon returning to Bishkek, that what I witnessed on the beach was quite normal. One of my Uzbek colleagues said that people often like to celebrate occasions in a drunken, song-filled lore – although she had to add that this happens much less in the Uzbek-populated south, which tends to be more conservatively Muslim. My Kyrgyz host mom was also unfazed.
Of course, I'm not saying you won't find similar instances of fun, neat discoveries, revelry and joy on the northern shore. I just want to point out that there is also fun to be had on the southern shore. Thus I urge you to not overlook this part of the lake as you plan your weekend excursions over the Kyrgyz summer.
Speaking more generally, I'm also happy to report that summer in Issyk Kul lives up to the hype. I look forward to many more trips to this mountain lake the next couple of months, taking in as much as I can of Kyrgyzstan's natural beauty. And by the way, to the SRAS students who are just now arriving for beach season: The water feels just fine.