As part of SRAS's Central Asian Studies program, students based out of Bishkek, Kyrgyzstan take a two-week class trip to neighboring Central Asian nations. These countries for Fall, 2019, included Kazakhstan, Turkmenistan, and Uzbekistan.
The portion spent in Almaty, Kazakhstan – just a four-hour drive from Bishkek – was the shortest of these trips and the one I'll focus on in this article. We arrived midday on a Saturday and departed late at night the next day. Yet the amount of time spent in Almaty was jam-packed with cultural experiences that even I, myself, having previously visited the city on four separate occasions, had yet to experience.
Upon arrival to Almaty, we ate at a local café that offered a wide range of options, including both local Kazakh dishes, such as lagman, but also western dishes, including anything from salads to pasta. This café was an approximately five-minute walk from Panfilov Park, located right near a KFC and Hardee's, showing immediately the international side of Kazakhstan.
Panfilov Park functioned as our meeting place throughout much of the trip's duration. We parked our marshrutka (van) there and proceeded straight to the famous Zeleniy Bazar (Green Bazar). We exchanged money quickly before proceeding to the bazar, in case we wanted to purchase any souvenirs. When we first arrived at the bazar, we were all very impressed by how much more organized this bazar was than the ones in Bishkek. It seemed like there was a designated section for each type of product, from clothes to food to souvenirs. We had ten minutes to explore here before meeting our SRAS guide back at our designated meeting spot. I personally took advantage of this time to buy souvenirs.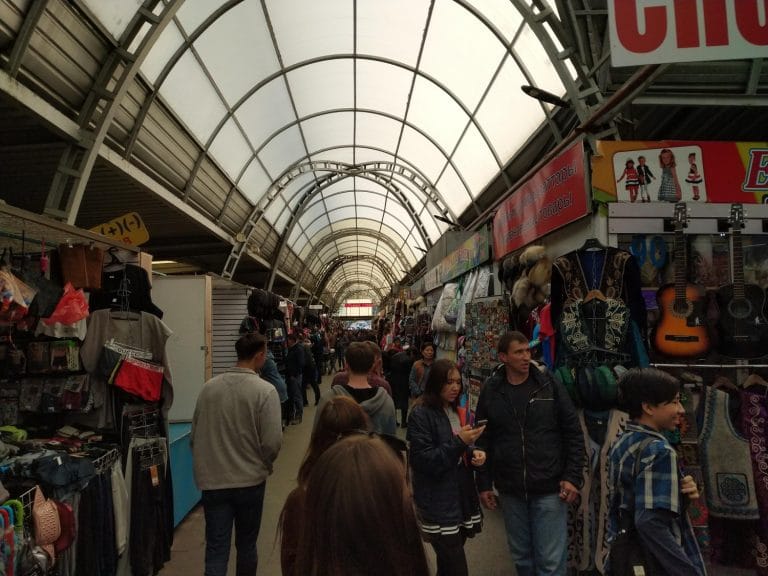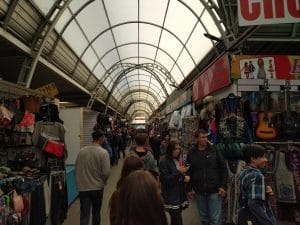 After this, we headed back to the park and saw some of the attractions there starting with the colorful Zenkov's Cathedral. We had the opportunity to check out the inside of it. Inside, we women were provided with scarves to respectfully cover our heads. While I had previously seen the outside of this cathedral, this was the first time I had the opportunity to go inside, as it is only open for people to view during the day.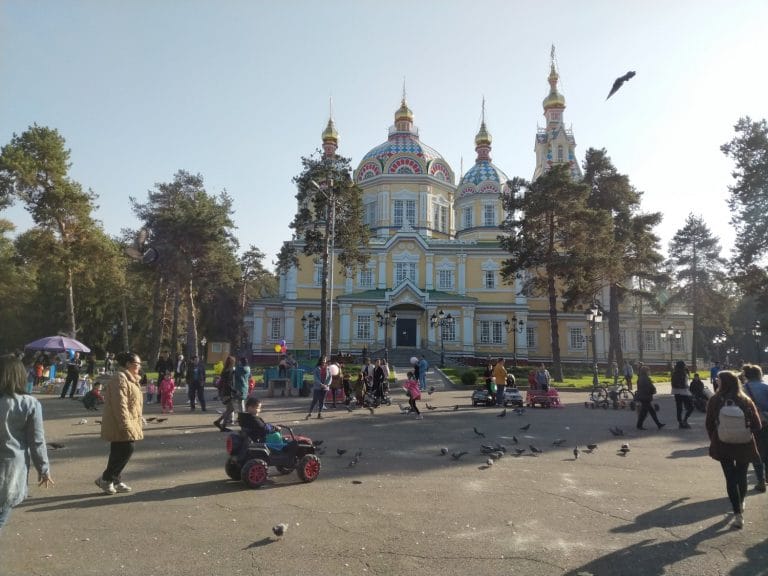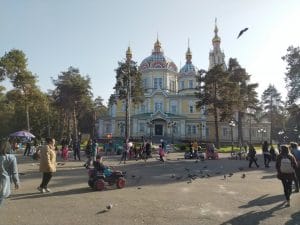 We then walked by the World War II memorial, which had been made during the time of the Soviet Union. It has an eternal flame to honor the men who lost their lives in the war. It is a large monument, and quite distinct. Its main attraction is a sculpture of a soldier's head protruding out of a wall of what appears to be black granite.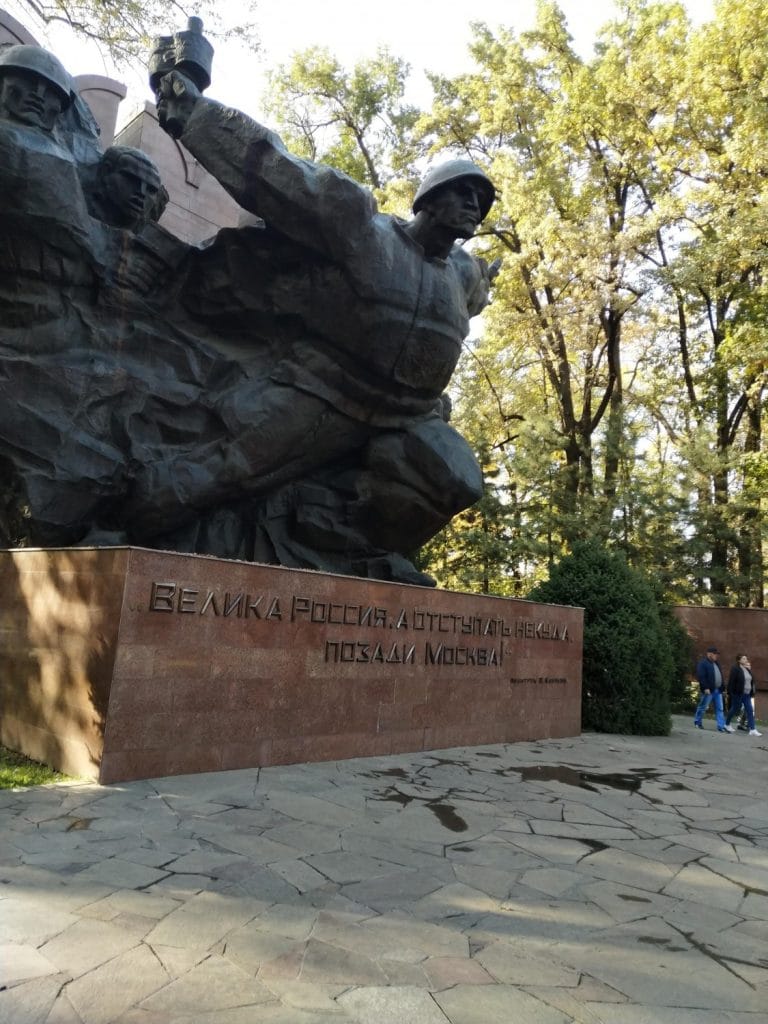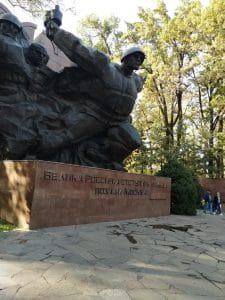 Right near this monument is the Musical Instrument Museum, which I had also wanted to visit in my previous time here, but had been closed. We had a Russian speaking guide and began by going through all of the historical instruments, gradually giving way to more modern instruments. These included drums, wind instruments, and many different stringed instruments. This museum was established in 1980 and includes instruments from all regions of the world, from many different countries, including Kazakhstan, Uzbekistan, Pakistan, Azerbaijan, France, Moldova, Lithuania, Estonia, Armenia, Georgia, Russia, Ukraine, Korea, Japan, Morocco, and more. This museum was allegedly built during Kazakhstan's Soviet "golden years," which took place in the 1980s and during which there was a lot of development taking place in Kazakhstan.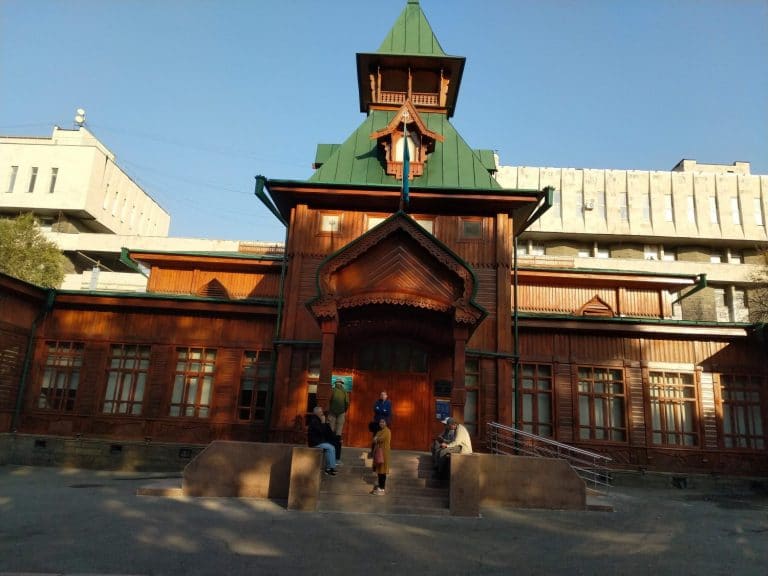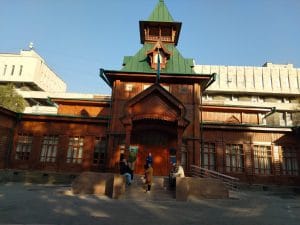 At this museum, we briefly ran into some Americans on a tour of Central Asia, just like us. They had already been to Turkmenistan and Uzbekistan and were keen on sharing their impressions. Bishkek was to be their final stop.
Before heading back to the hostel, our local guide was kind enough to take us to Starbucks, which we had all been raving about since we got to Almaty. This was a very fulfilling experience for many of us since it had been months since we'd had our favorite, familiar drinks. It was at Starbucks that we encountered another American who happened to frequent the city every so often. At a glance, Almaty appeared more expat-friendly than Bishkek, with more western establishments, including McDonalds, Starbucks, and many more. Almaty actually reminded us all somewhat of America. The roads were generally free of potholes and the government had done a good job of nearly eradicating marshrutkas and exclusively replacing them with buses. In Bishkek it is nearly the other way around. All of these modern amenities that Almaty appeared to have made us, for a moment, wishful that we were studying here instead. But we got over it, and instead just vowed to come back one weekend.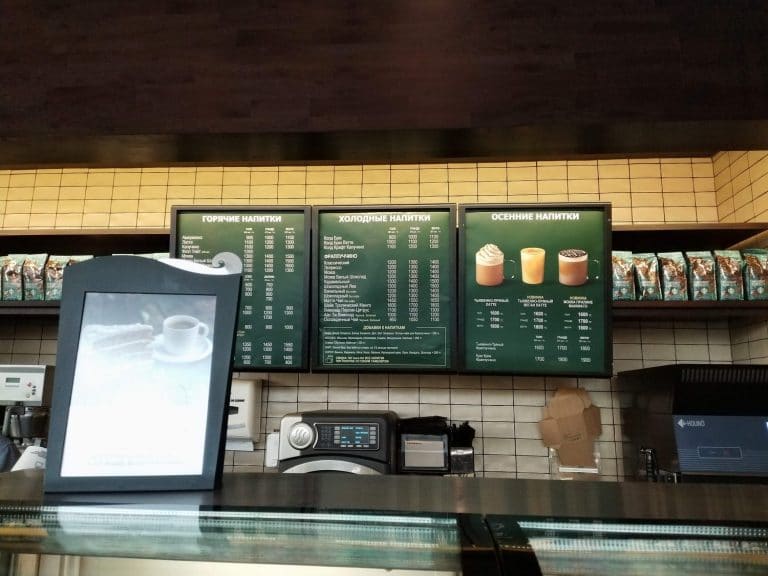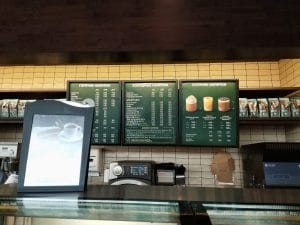 After our Starbucks fix, we checked into our hostel. After getting settled, we walked to Burger King for dinner, which proved to be an interesting cultural experience since you can order a wrap resembling schwarma, which actually ended up being my meal of choice. It tasted good for a Burger King item in my opinion.
After that, we went back to the hostel and were given designated free time. I ended up using this time to check out a local café in one of the new shopping centers, Dostyk Plaza, along with another student. After enjoying a chocolate soufflé, we walked down to a building that was both a mosque and a kid's school. There wasn't much to see at night. We proceeded back to the hostel.
The next morning, we had breakfast at the hotel before setting out for our first stop, Almaty's History Museum, which was the only museum we've ever gone to where we didn't have a guide. This was somewhat fortunate in that I felt that I had more time to explore the museum in depth. It had three floors and included animal artifacts at the first level, artifacts from village folk on the second level, and on the third level there was both modern art and a testament to all of Kazakhstan's recent national accomplishments within the past thirty years or so, particularly during the rule of Nursultan Nazarbayev.
After the museum we walked through the Republic Square Park to the presidential monument of Nursultan Nazarbayev. There is a book at the bottom of it where you can put your handprint inside of his.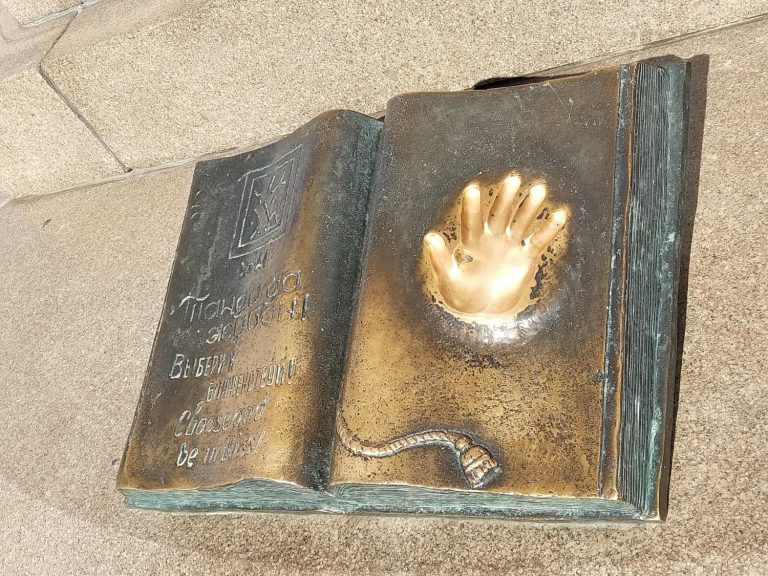 After going back to the museum to our marshrutka and driving back to our Panfilov Park parking spot, we were given thirty minutes of free time. Half of the students went to Starbucks for another Starbucks fix, while the other half of us walked around the park and encountered an older man with a kind face and a handle bar mustache on the street playing the accordion. We gave him some money and ended up talking to him for quite a bit. He was very talented and could play anything from old Soviet music to the Beatles to the Pirates of the Caribbean soundtrack to Desposito. He explained how he had adjusted his strategy to playing popular international songs to appeal to the many foreigners he encountered. He explained to us that conversely, he was impressed that we had learned Russian. He said that playing music was easy, but that learning another language was hard.
Reconvening with the other students, we had lunch at the same café as the day before. Not everyone was so thrilled about this, but I personally didn't care because I at least knew what to order.
After lunch, we drove to Shymbulak and rode its cable car, which is used as a gondola for their ski resort during the ski season, which begins in November. The cable car goes up three levels, but today, only the part up to the first level was working. When we reached that area, it was small. We had an hour and a half there, in which we hung out, walked around, and got warm drinks. Here I was able to find out more about their ski resort, such as costs, and when it opens, in case I wanted to come back, since Almaty is pretty close to Bishkek. I learned that one ticket is 9000 tenge per day, or about $23. There was also a gift shop, which although overpriced, had some nice items, including mugs, t-shirts, hats, and sunglasses.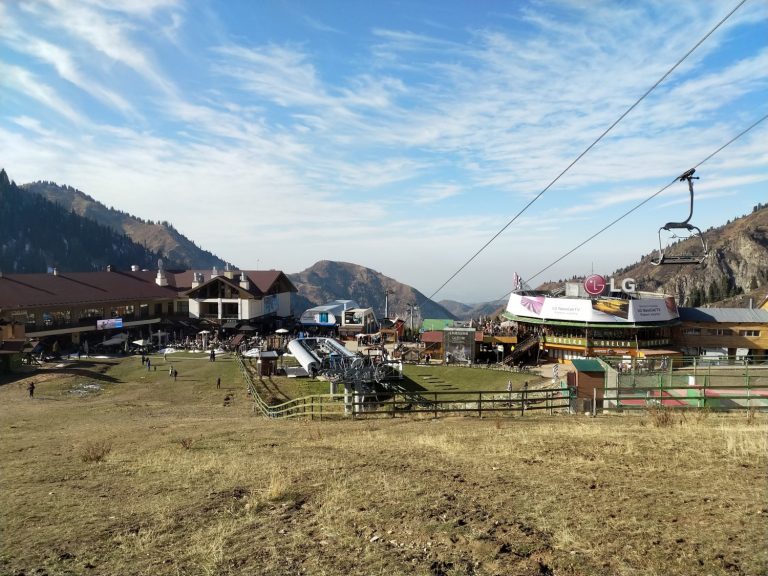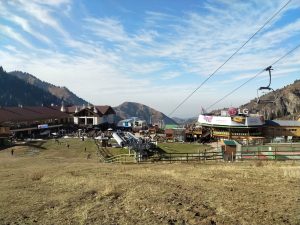 On our way up on the cable car, we noted an outdoor ice-skating rink a little bit further down from where we got off at our stop. This ice-skating rink holds the record as the world's highest ice-skating rink in altitude.  On the way down, we partially regretted not trying to go ice-skate.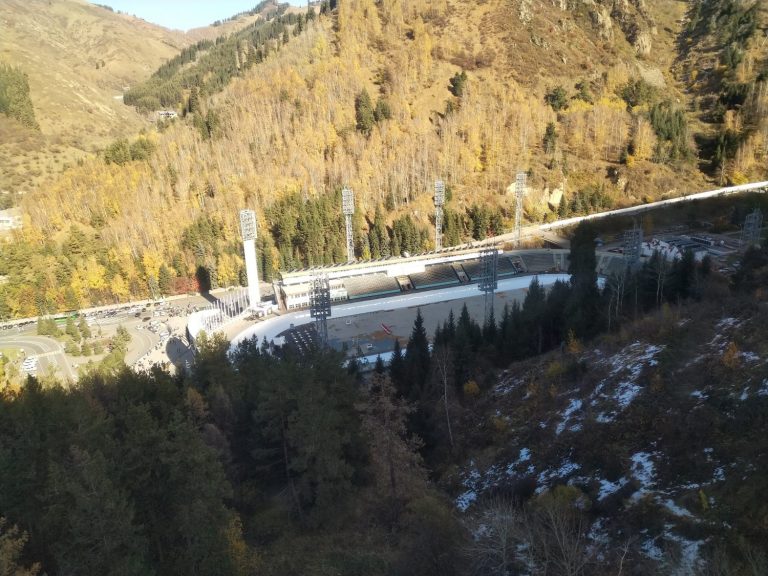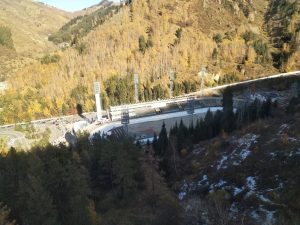 Following this excursion was our final activity of the evening – eating dinner at a homestay with a local Kazakh family. We arrived a little early, and were corralled out of the way and into the living room for some friendly conversation until dinner was ready. Dinner with this homestay ended up being very fun because the daughter and the son of the family were around our age. The son was a great conversationalist and asked us a ton of questions and also gave us a lot of information about himself and Kazakh culture at large. While the daughter was much quieter and more reserved, I connected with her at the dinner table and was able to get her contact information for the future when I plan to come back to Almaty.
Our dinner was delicious and consisted of beshbarmak, a dish considered to be traditional to both Kyrgyz and Kazakh cultures (which are quite close). The name literally means "five fingers" when translated from Kyrgyz. This is because it is supposed to be so tasty that you are supposed to eat it with your hands and lick your fingers. We also had a few other salads, such as a beet salad and an assorted vegetable salad, and many candies and sweets for dessert.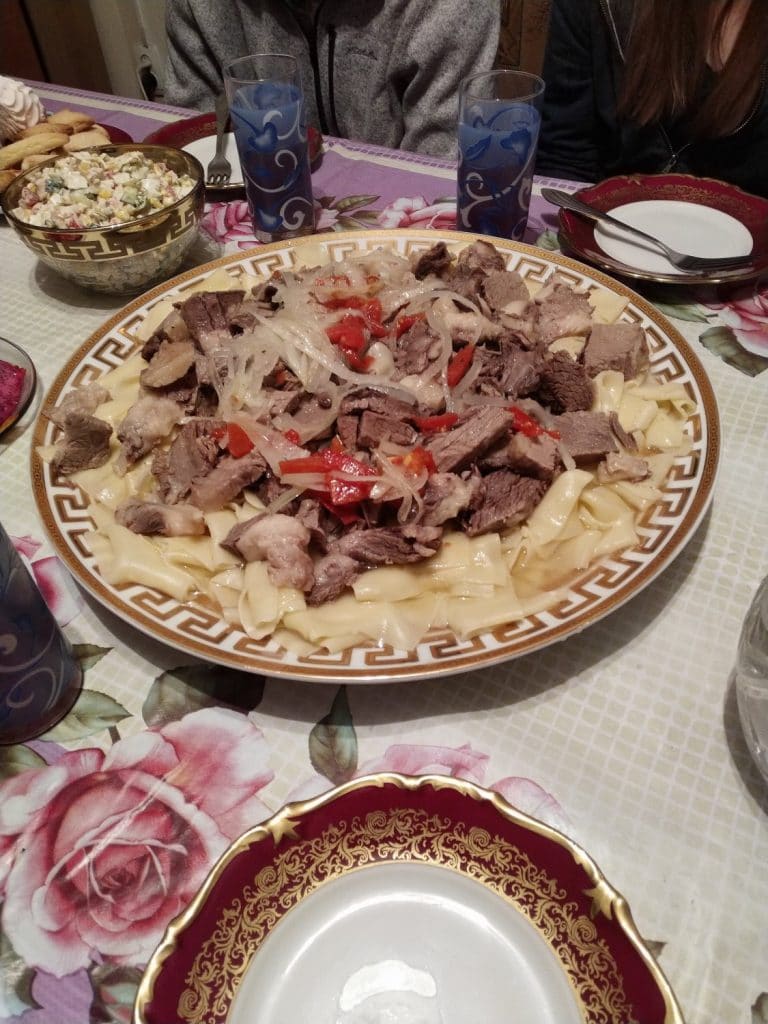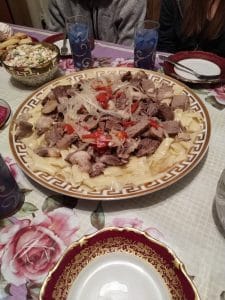 Following our meal, we went to the airport for the next leg of our journey – which would take us to Turkmenistan.
This had to have been the longest days of the trip, ending with a 2 AM flight to Ashgabat, the city of White Marble, which we were all looking forward to a great deal. The flight was just under three hours, which didn't leave too much time to catch up on sleep.
Our experience in Almaty was a first for the majority of the students traveling, while a few of us had been before. Despite how excited we were for our upcoming journey to Ashgabat, we also yearned for more time in Almaty. Fortunately, another quick trip to Almaty in the future can easily be made a reality any upcoming weekend with the help of a short, intercity marshrutka ride.