This bilingual resource hopes to build students' vocabulary skills as well as provide them with a window into concepts of health and fitness as viewed from Russian-speaking societies.
Hover over the bold Russian to reveal its English translation.
The Language of Gyms in Russian
The тренажерный залfitness center in Russia can also be called, colloquially, "качалка." "Качалка" is derived from the Russian verb "качать"'to rock' or 'to swing'.  However, "качать" can also mean "to pump" or "to exercise" – as in "качать мускулыto excercize the muscles; to work out". Gyms are becoming more and more popular among Russians. Moscow has plenty of gyms at different prices, but other big cities, such as Yekaterinburg, still lack gyms с приемлемыми ценамиwith affordable prices as the market is still developing.
As a visiting foreigner, if you decide to записаться в тренажерный залsign up for a gym, it would be wise to ask, "Есть абонементы на месяц/на одно занятие?'Do you have memberships for one month/ one training session?'". Some gyms only have годовой абонементannual membership, and thus might be "overkill" for someone looking for a one-semester commitment.
Some gyms have a large минимальная оплатаminimal charge (for example, of 32,000 rubles – or about $1,000 for six months) but don't charge monthly fees. The minimum charge then might cover access to some facilities like бассейн с детской зонойa swimming pool with children's area, турецкая баняa Turkish bath, финская саунаa Finnish sauna, зал боевых искусствa martial arts gym, студия йоги и пилатесаa studio for yoga and Pilates, and зал групповых программa gym for group workout sessions.
Smaller gyms, especially those located in спальный районa residential neighborhood, are often more affordable. These might offer месячный абонементmonthly membership for about 3000 rubles. However, they are less likely to have бассейнa swimming pool or саунаa sauna, and additional services are more limited, although, for example, finding a персональная тренировкаindividual training sessions and сплит-тренировкаtraining separate muscle groups on different days is generally possible at such facilities at extra cost (often about $20-30 per session).
A newcomer should ask, "У вас есть скидки/Вы предлагаете скидки?'Do you have any discounts?'". Many gyms do not have any, and if скидки предоставляютсяdiscounts are provided, they are quite small. Some discounts that do occur include: студенческая/школьнаяfor college students/schoolchildren; городскаяfor city residents; пенсионнаяfor pensioners; семейнаяfor family members; some gyms might even offer поздравительнаяcelebratory which might be good for одно посещениеone visit on your birthday. Some gyms offer discounts for attending в дневное времяin the daytime – when most people are in offices rather than at the gym. In Russia, скидки в дневное времяdaytime discounts are more widely practiced in swimming pools than in gyms.
A newcomer may ask gym employees, "За какие групповые занятия нужно платить отдельно?'Which group classes cost extra?'", since some group workout sessions are платные групповые занятия, не входящие в стоимость абонементаfee-based group workout sessions, not covered by membership cost. Such extra sessions can include эстрадные танцыdance – of various types, боксboxing, йогаyoga,  кардио классыcardio training, and групповые аква-программыgroup aqua training sessions.
Человек, который записывается в тренажерный залa person signing up for a gym, might want to ask about personal trainers. "Сколько стоит занятие с тренером?'How much does a training session with a trainer cost?'" or «Какие есть тренера и какой у них опыт работы и специализация?»'Which trainers are available, what is their work experience and specialization?'. Some trainers are quite qualified, they can be КМС – кандидат в мастера спортаpursuing a master's degree in sports or призеры соревнованийcompetition winners, and have большой профессиональный спортивный стажa lot of professional experience in sports.
Another good question to ask is: "Какие часы работы спортзала?'When is the gym open?'". Most gyms operate from early morning till evening, and close at night.
There are two types of fitness equipment: кардиотренажерыcardio training machines, such as беговые дорожкиtreadmills, велотренажерыcycling machines, эллиптические тренажеры or орбитрекelliptical, степперыstepping machines, and гребные тренажерыrowing machines; and силовые тренажерыliterally, strength developing machines, or weight-lifting machines, such as гантели литыеdumbbells and разборные гантелиfree weights. When поднимать тяжестиlifting weights, kilograms are used, so a Westerner should be able to convert the weight from kilos to pounds by multiplying the kilos by 2.2.
Sport was highly valued in the USSR and many Russians take sport and physical fitness very seriously. Many of the old training halls are very Spartan, but still in use and some are now some of Russia's most affordable work out facilities. However, the market is growing and maturing now and new, commercial facilities are constantly opening to serve a range of needs and price markets.
Gaining and Losing Weight in Russian
Many words referring to being overweight have positive lexical connotations in Russian. Before the revolution, only the well-to-do could afford enough food to grow plump, and thus it was a sign of success. Throughout Soviet times, the ideal woman was usually presented as a stout working woman. To this day, being heavy remains much less stigmatized in Russian culture than in Western culture. That said, this, like all culturally-sensitive topics, is not one to discuss in reference to someone within earshot unless you know the person very well and are confident you will not offend them with any words you choose.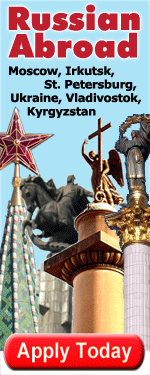 The word "полнеть" is roughly equivalent of "to fill out" in English, but can be used in Russian to describe even someone who is becoming overweight. The verb's adjective form: полныйstout, full is usually defined as "containing in itself as much as it can or should hold". and is often used to politely describe "full-bodied" people or those с избыточным весомwith extra weight.
The verb "поправиться" also has distinctively positive connotations. In addition to meaning "to gain weight", it also means "to be cured", "to have improved health". Interestingly, it is also not uncommonly used to mean "to take the hair of the dog," meaning to cure the hangover by taking another drink.
Even the adjective жирныйfat, which is rude to use when referring to people, can carry positive connotations. Ushakov's Explanatory Dictionary defines it as "saturated with useful substances, juicy," and gives the example "жирная земля"rich earth.
Frequently, gaining weight or even being overweight is associated in Russian literature as a sign of being successful and living "the good life." For example, Ivan Goncharov writes in his An Ordinary Story of Aleksandr, a young man who is living life to the fullest, "Она не могла нарадоваться, глядя, как Александр полнел".She couldn't help being happy, seeing how Aleksander was gaining weight
Even in harsher instances, the references are often forgiving. For example, in Fathers and Sons, Turgenev writes: "Управляющий вдруг обленился и даже начал толстеть, как толстеет всякий русский человек, попавший на 'вольные хлеба".The manager had suddenly grown lazy and even began to get fat, as does any Russian person after falling on the gravy train
The noun "толстяк"fatty is generally rude, but innocuous enough that there is a chain of "plus-sized" clothing stores in Russia called "Три ТолстякаThree Fat Men" (which is also a reference to a well-known tale in Russian). One would not expect such a store to do as much business if its name were derived from the even ruder жиртрестfatso or жирнякfatty.
It is also interesting to note that a respected Russian last name, one associated with nobility and great authors is "Толстой", derived from the word "толстый" meaning "fat/overweight". There is even the last name "Жириновский", which one of Russia's best-known politicians, Vladimir Zhirinovsky, adopted for himself, replacing his original, Jewish last name of Эйдельштейн with something more ethnically Russian. Even his supporters sometimes refer to him with the nickname "Жирик" – a diminutive that would also mean "fatty." It's even the title of his Russian Wikipedia entry.
In contrast, the last name "Худых", derived from the word "худой"thin is very rare. Худяков is more common, and is associated with some famous figures (including at least one famous artist and a modern director of music videos), yet undoubtedly pales in fame if compared with Толстой.
The words related to недостаточный весinsufficient weight are more frequently given negative connotation.
In literature, "худоба"thinness is often associated with "нездоровье"ill health. In Anna Karenina, Leo Tolstoy writes: "как ни страшен был брат Николай своей худобой и болезненностью прежде, теперь он еще похудел, еще изнемог".Although his brother Nikolai had been so frightening before because of thinness and morbidity, he had now grown even thinner, more exhausted
"Tощий" is word that means "thin" but also "empty." To illustrate uses of its verb form, Dal's Explanatory Dictionary gives as its first two graphic examples: "Не болезнь истощила его, а кровопускания"the sickness had not thinned him, but the bloodletting and "он истощил труды и состояние безуспешно"he was worn thin from work and constant failure.
Another related verb is "тошнить" which means "to purge" or "to vomit" – the result of which, of course, is being "тощий"empty and eventually thin.
The word "худой" can also mean "bad" or "cheap." For example, the saying "худой товар с рук долой", means roughly "cheap goods should be dropped immediately" (i.e. not purchased). Another (better known) example is "лучше худой мир чем добрая война"it is better to live with something unpleasant than to fight about it.
"Polite" names to refer someone who is thin are also more uncommon in Russian if compared with polite names for someone who is heavy. One example is the relatively innocuous "худенький" which would refer to someone not unappealingly thin. There is also the adjective "стройный" which would refer to someone with a thin, yet still athletic build and is associated with the secondary definitions of "well composed" and "harmonious."
A ruder version would be to call the person a "скелет"skeleton.
Attitudes toward weight are changing in Russia, with more and more people going to fitness centers on a regular basis, and following the latest diet fads. Today many young girls would like their boyfriend to be накачанныйhunky and хорошо сложенныйwell-built, and guys prefer to have a стройная девушкаathletically-built girl. Meanwhile, a large percentage of Russians have a positive attitude towards moderate amounts of excess weight in themselves or other people. As they say, "хороших людей должно быть много" – which is play on words in Russian and roughly means "You can never have too many good people" and "you can never have enough of a good person."
A Trip to the Gym in Russian
The following bilingual Russian MiniLesson is meant to build your vocabulary by providing an annotated, simplified Russian text for intermediate students of Russian. Hover over the bold Russian to reveal its English translation.
Я хочу быть сильным и иметь хорошую фигуру. А чтобы быть в хорошей формеto be in good form, to be fit, нужно регулярно тренироваться. Поэтому я хожу в тренажерный залgo to the gym, 2-3 раза в неделю, и "качаюсь"Literally 'I swing', this is slang meaning 'to lift or pump weights' It is mostly used by males– то есть даю нагрузку мышцамI give my muscles a workout. «Тренажерный зал» на сленге называют «качалка»'swinging room' (the word also means "rocking chair").
Я купил абонементsubscription; membership на 3 месяца занятий.
Когда я прихожу в «качалку», вначале переодеваюсьchange my clothes в раздевалке в спортивную формуathletic clothes. В спортзале есть весыscales, можно взвеситьсяweigh oneself. Я взвешиваюсь каждый раз, чтобы определить, какой эффект дают тренировки.
Потом иду в зал и делаю разминкуI warm up, чтобы разогреть мышцыto warm up the muscles. Летом могу пробежать несколько круговrun several laps по стадиону, который находится рядом. Также могу побегать на беговой дорожкеrunning track, походить на степпереuse a stepper, или размятьсяloosen up, stretch на велотренажереexercise bicycle. Затем я делаю вращения рукамиLiterally: 'arm rotating'; usually referred to in English as 'windmills', наклоныstretches и другие разминочные упражненияwarm up exercises.
Потом приступаю к основной части тренировки. В разные дни я делаю упражнения для разных групп мышцmuscle groups – рук (бицепсовbiceps, трицепсовtriceps), плечевого пояса (дельтовидные мышцыincludes deltoids and trapezius muscles), грудиpectorals, спины (широчайшие мышцыlatissimus dorsi or 'lats'), ног и брюшного прессаabdominal muscles. Это такие упражнения, как жим штанги лежаbench press широким и узким хватомwide and close grip, разведениеextensions рук с гантелямиdumbbells в стороны, сгибаниеcurls рук с гантелями, тягаinclines штанги и многие другие. Если вес штанги слишком велик, когда я делаю жим лежаbench press, я прошу кого-нибудь «подстраховать» меняto 'spot' me.
Есть разные упражнения – на силу, на массуfor mass и на рельефfor muscle tone. Когда я хочу увеличить мышечную массу, я делаю упражнения по 4-6 подходовsets, по 8-10 повторенийrepetitions в каждом, в среднем и медленном темпе. Каждый подход выполняется «до отказа»literally, this term means 'until breakdown' - here it is used as slang and means 'to exhaustion' – пока мышцы станут неспособны сделать хотя бы еще один повторrep.
В упражнениях для улучшения рельефа мышц количество повторений – 15-20 и более, в быстром темпе.
Я надеюсь стать таким же, как мои кумирыidols/heroes – известные российские атлеты Александр НевскийAlexander Nevskii. He was the first Russian European bodybuilding champion and is often regarded as the pioneer of professional bodybuilding in Russia и российские чемпионы мира Сергей Цикунов, Алексей Себастьянов, Александр Балдин, Дмитрий Золин.
Думаю, что в будущем, когда кто-либо увидит мою фигуру на пляже, он скажет про меня: "Смотри, какой качокslang term meaning'jock', though it carries fewer negative connotations in Russian".