Mist, Mud, and Mountains in Beautiful Chong-Kemin
Weekend Trip
~1000 som

Chong-Kemin Valley is home to villages, a national park, and a state reserve just two and a half hours from Bishkek by marshrutka. I visited a village in the valley with two friends in March, travelling through CBT (Community Based Tourism). With more time I'm sure we would have explored Boom Gorge and maybe spotted the pheasants, hares, and ephedra the reserve is in place to protect. As it was, we enjoyed breathtaking landscapes, hiking in the foothills, and wonderful food and hospitality.
Chong-Kemin is CBT's closest destination to Bishkek. The company houses guests in a lovely guest home in Karool-Dobo village. I made arrangements for our trip in typical CBT fashion: CBT's office in Bishkek gave me the number for the Chong-Kemin coordinator, who said he would be expecting a call from us once we reached the village on Saturday morning.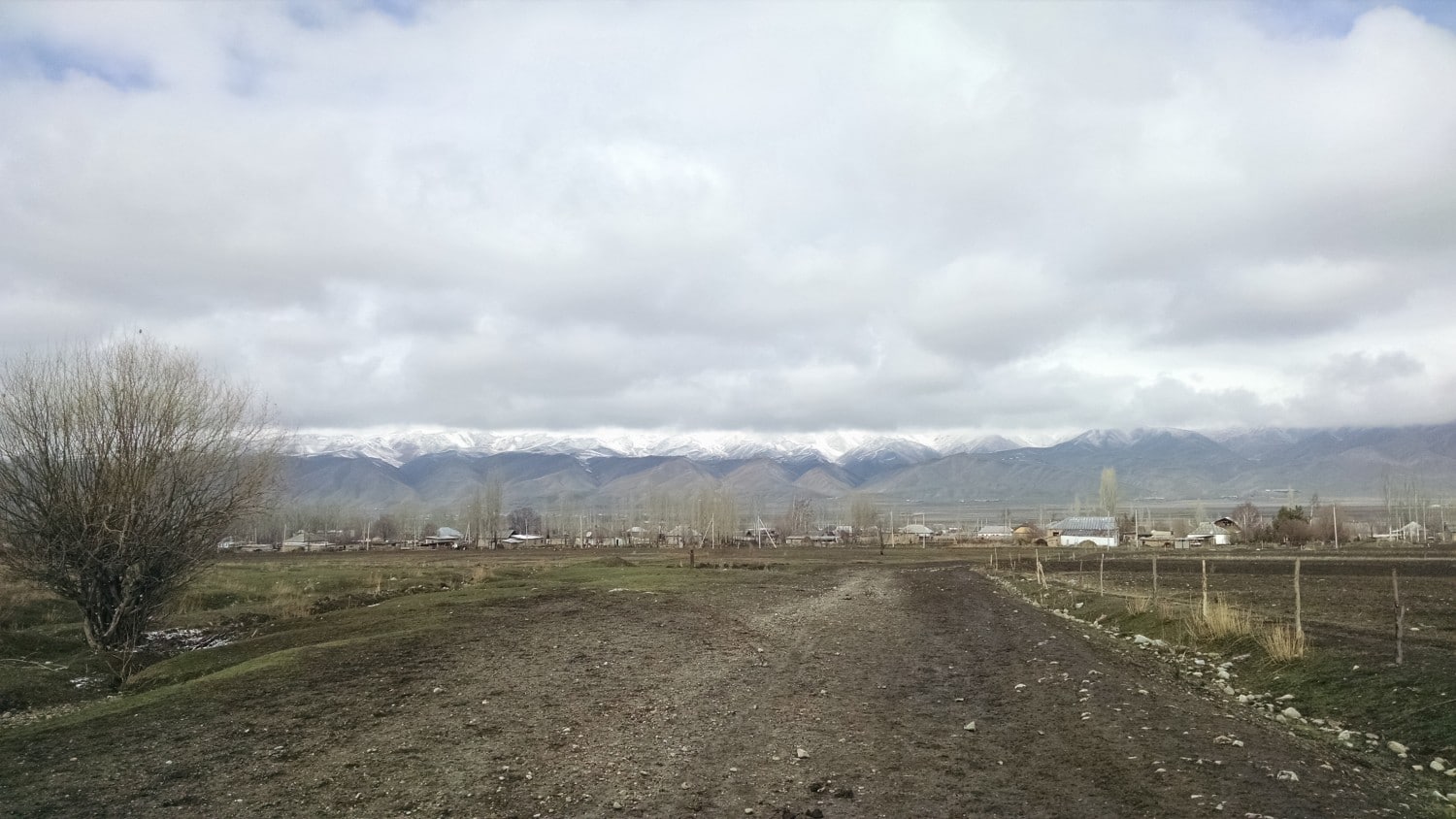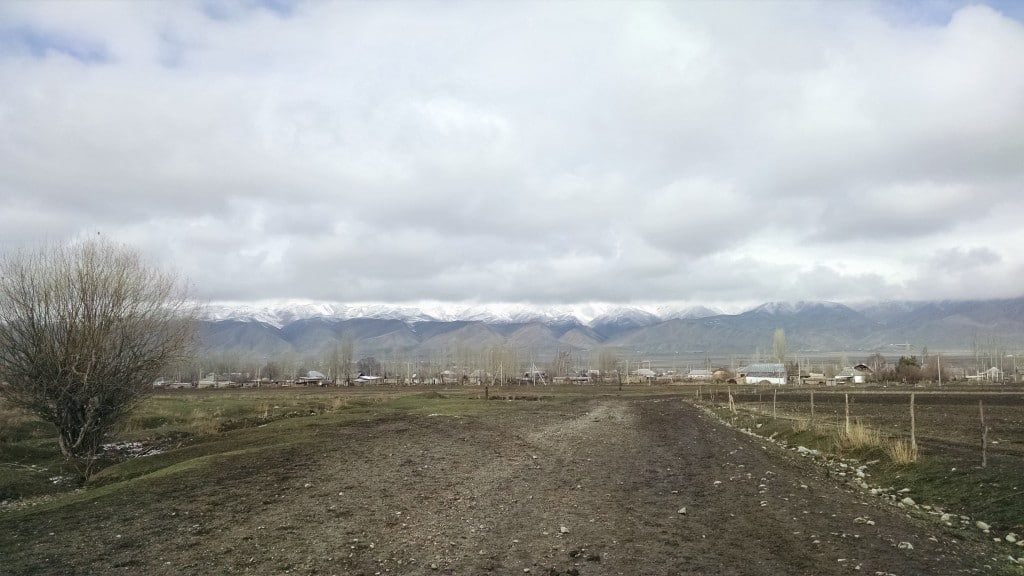 Marshrutkas to Chong Kemin leave from Bishkek's East Bus Station once an hour, and cost 120 som ($2) per person. I slept through most of the scenery on the way to the village on Saturday morning, and when I woke up, our now half-full marshrutka was rocking along a dirt road between private houses. Fields, and beyond them, mountains, stretched behind the houses on both sides. My friends – one local, one visiting me from Europe – asked me if we were almost there, as though I might somehow recognize Karool-Dobo in a particular fenced-in house or group of cows. The driver confirmed that we'd reached the village, but couldn't tell us where a guest house was located, nor could anyone else on the marshrutka, though everyone wanted to help. I called the coordinator who asked to speak to the driver – I love how often in my life here I'm prompted to put strangers on the phone with each other to help me. After a brief conversation in Kyrgyz, the driver told me he knew where to drop us, and that we'd be met there.
A few minutes later, we were deposited on the side of the dirt road. It was a gray day, and the cows in fenced-in yards looked gloomy. But it smelled refreshingly of hay and animals, and down every one of the dirt paths to each side of us, off the main road, we could see the gentle mountain peaks. A small boy, one leg over his bike, said hello to us in English when we got out of the marshrutka. He looked questioningly at us for a minute, then biked away across the road and down a side street. Several men passed on horseback. I called the coordinator again, and a few minutes later a woman appeared, waving and shouting to us from down the path where the boy had disappeared. "My little brother came to meet you!" she said when we reached her, as she lead us into her yard. "He told me 'I said hello, but they didn't come with me!'"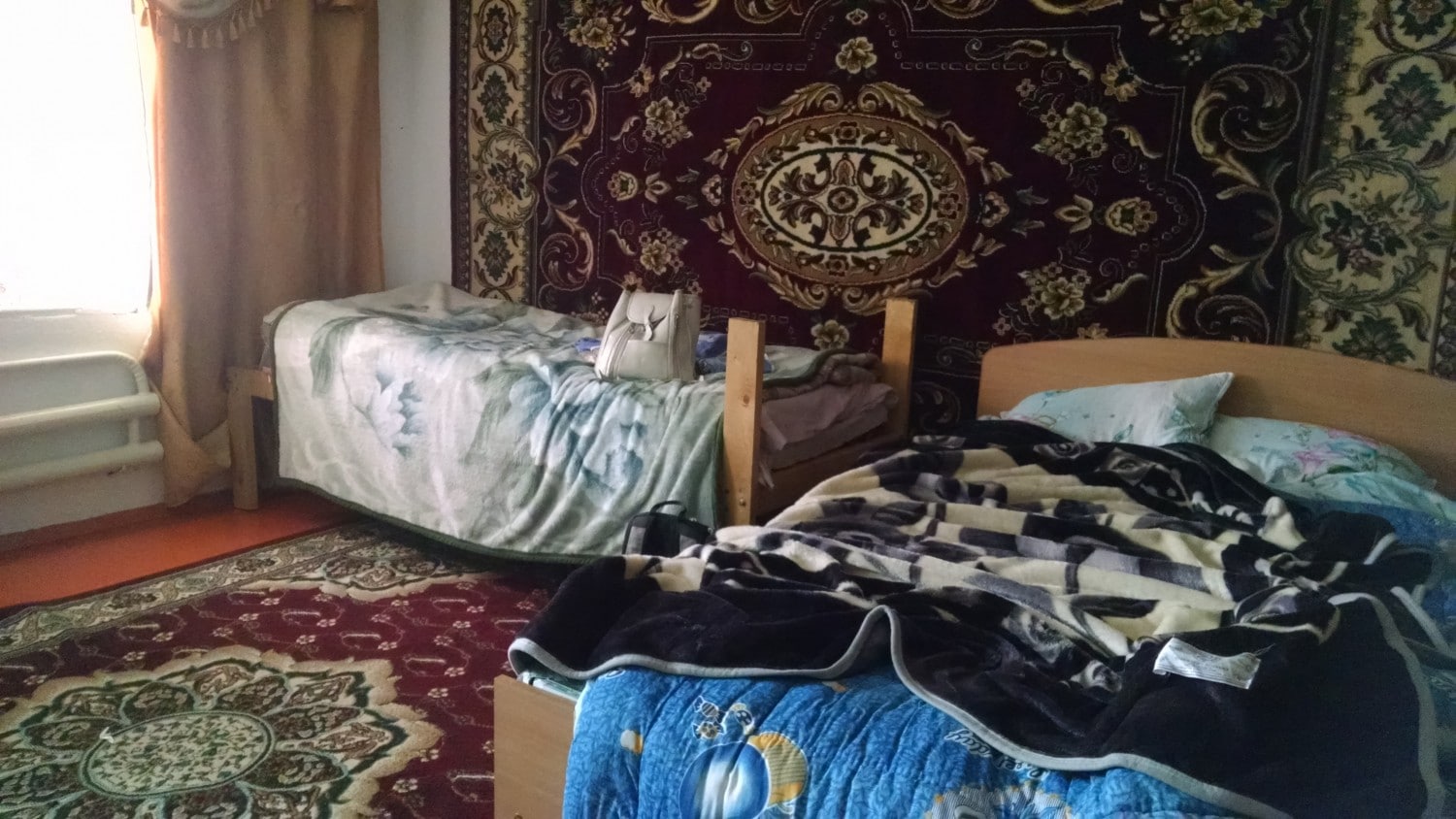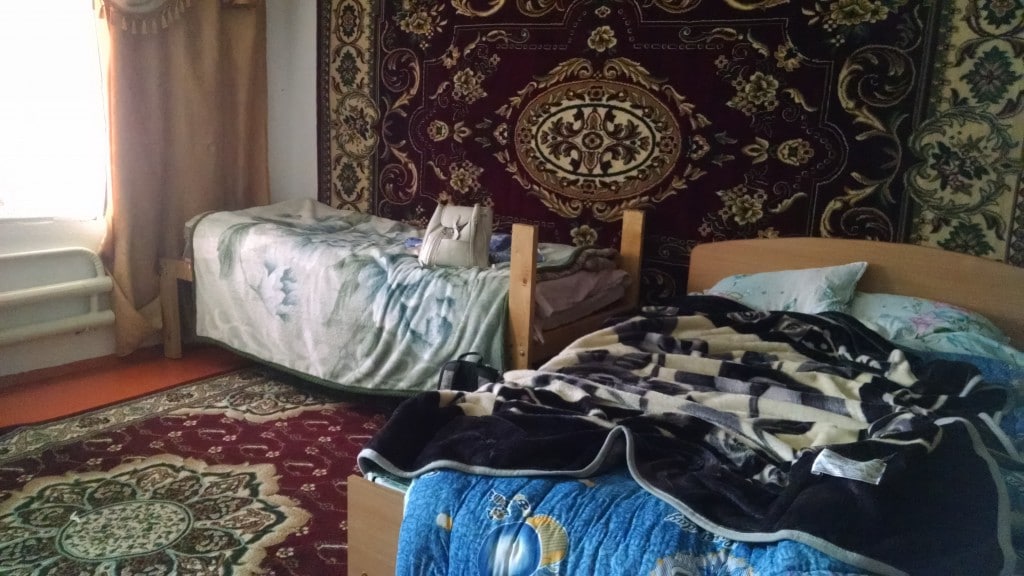 The guest house is large and comfortable, and our room was beautiful. Three big beds were piled with thick, colorful comforters. A table in an adjoining room was already covered with bread and jam, and we drank tea and talked to our hostess, Lira, before taking a walk in the direction she'd pointed out, where she said we could find the Chong-Kemin River.
It was drizzly and cold and the fields were deserted and still unplanted. The river turned up unexpectedly, below a steep and sudden incline. We sat by the cold water, picked up colorful pebbles, and walked home to have dinner and warm up.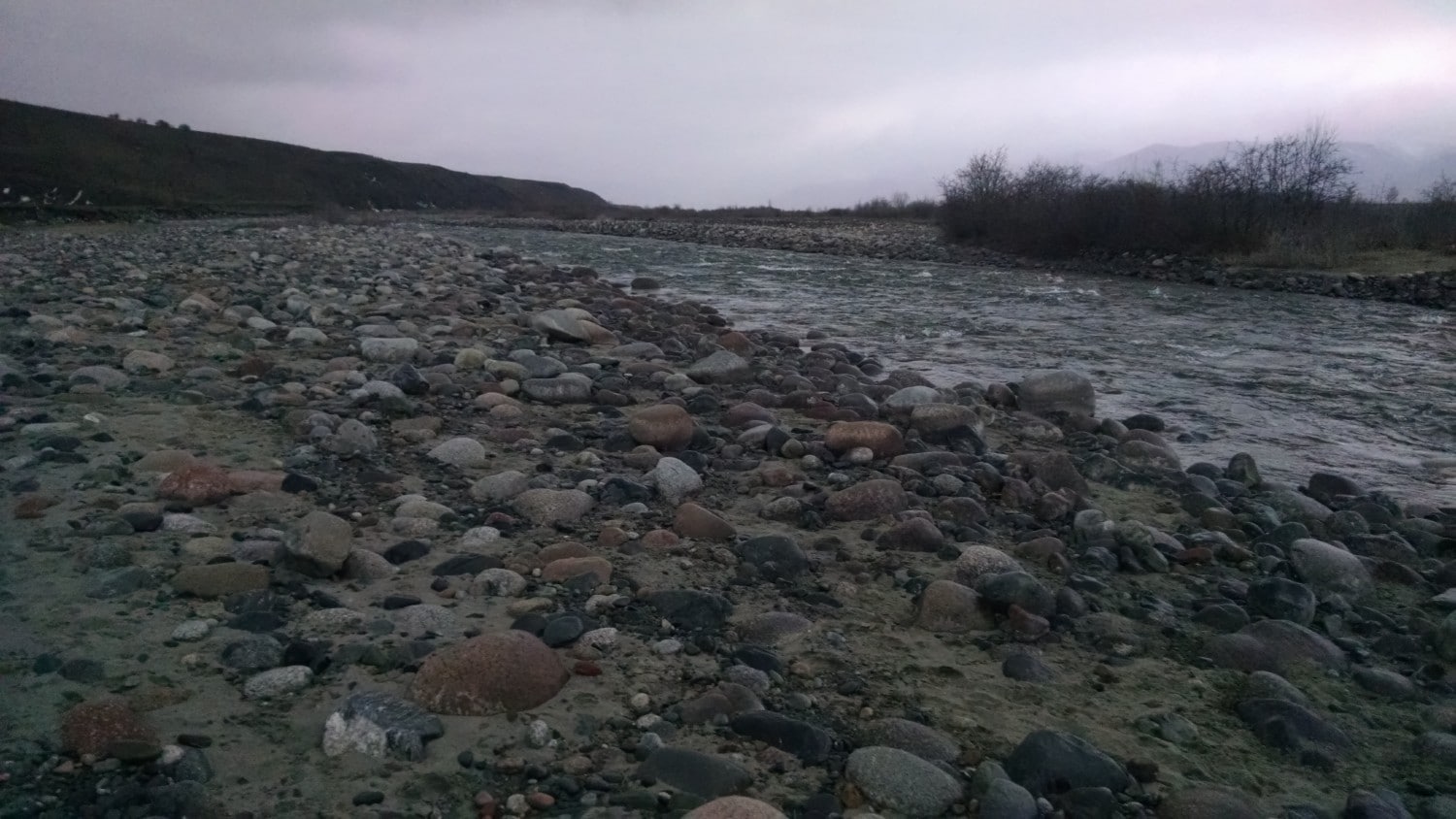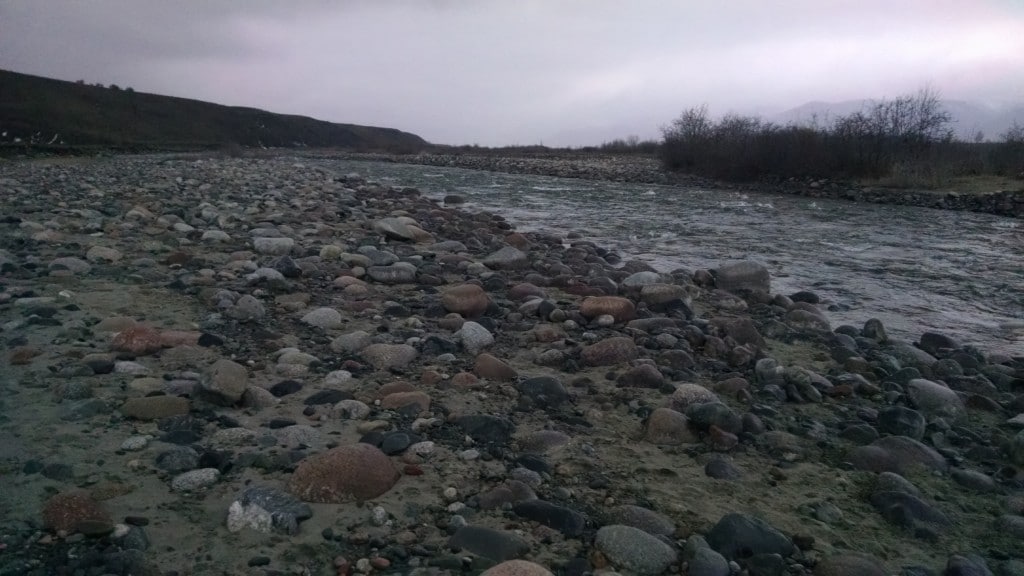 Our hostess was accommodating and kind about my vegetarianism. We had buckwheat kasha and stewed vegetables and rice, and delicious carrot-noodle salad. After, we had just-baked bread and jam and lots of tea. After dinner Lira brought in her комуз, a national instrument something like an unfretted 3-stringed lute, and played and sang for us, beautifully. She let us each try out the instrument, and then she played some more and we talked until it was time for bed.
I came to Chong-Kemin for the nature and hiking and experience, of course, and not for the food, but as often happens in my experience here, I spent much of my time in the village eating. Breakfast was thick, sweet rice kasha and more bread and jam and tea. Overfull, we started walking in another direction, the way Lira had suggested to best reach some foothills for hiking.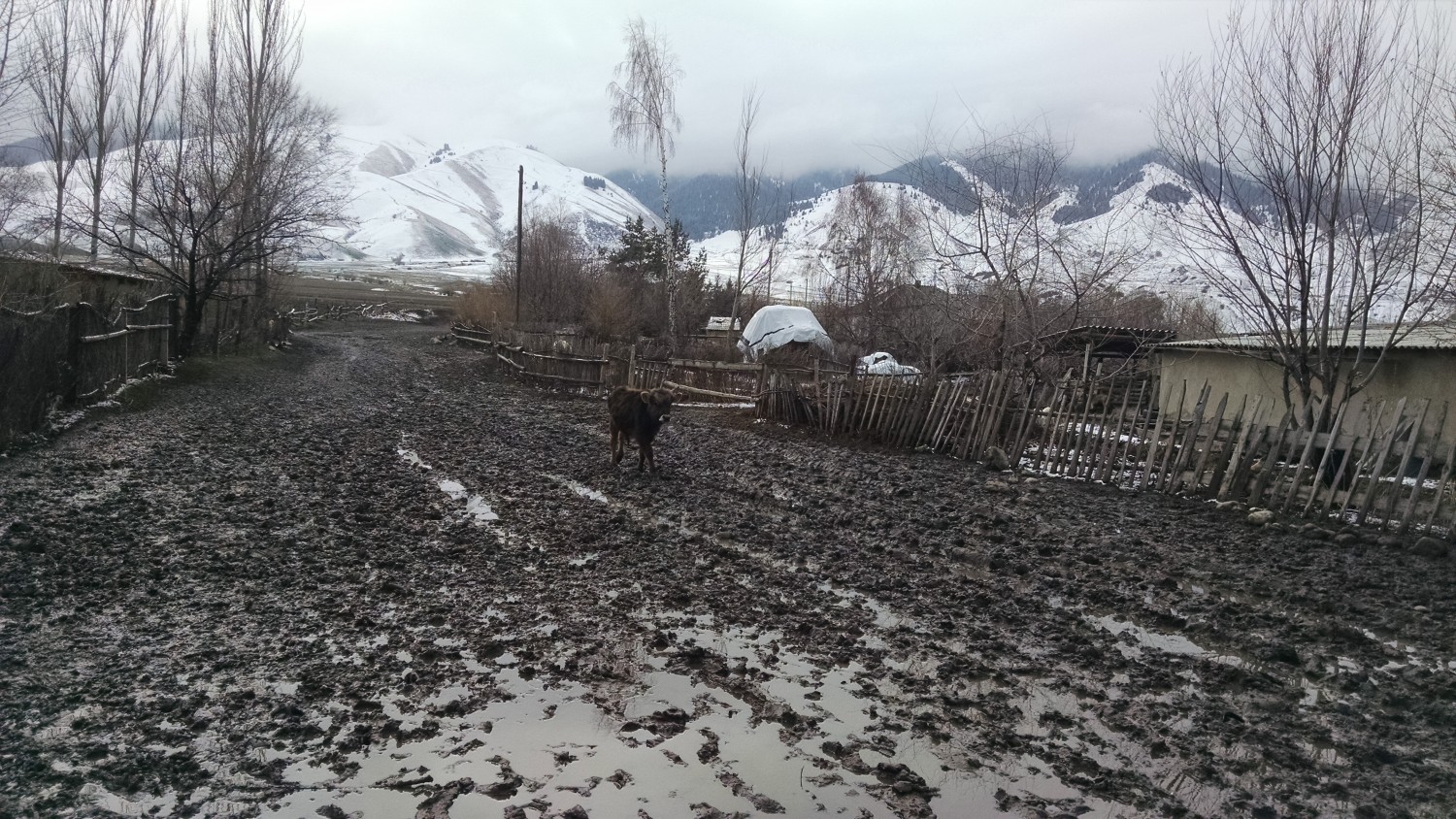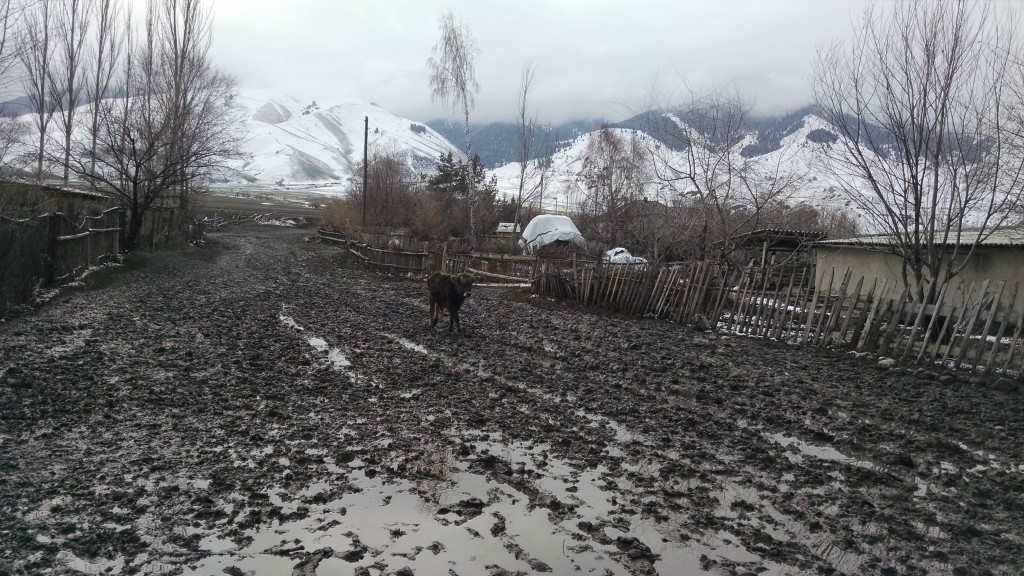 It had rained overnight and almost no one but us was trudging through the muddy lanes that morning. Across some fields we reached a beautiful cemetery on a hill, sending some goats running up ahead of us as we approached. The view from the top of the hill was gorgeous. One shepherd walked a thin path along the crest of another hill below us with his sheep. I said something about the landscape looking like a photograph I'd seen as a child and always wanted to witness in person. My friends' eye-rolling didn't take away from the personal satisfaction of the moment.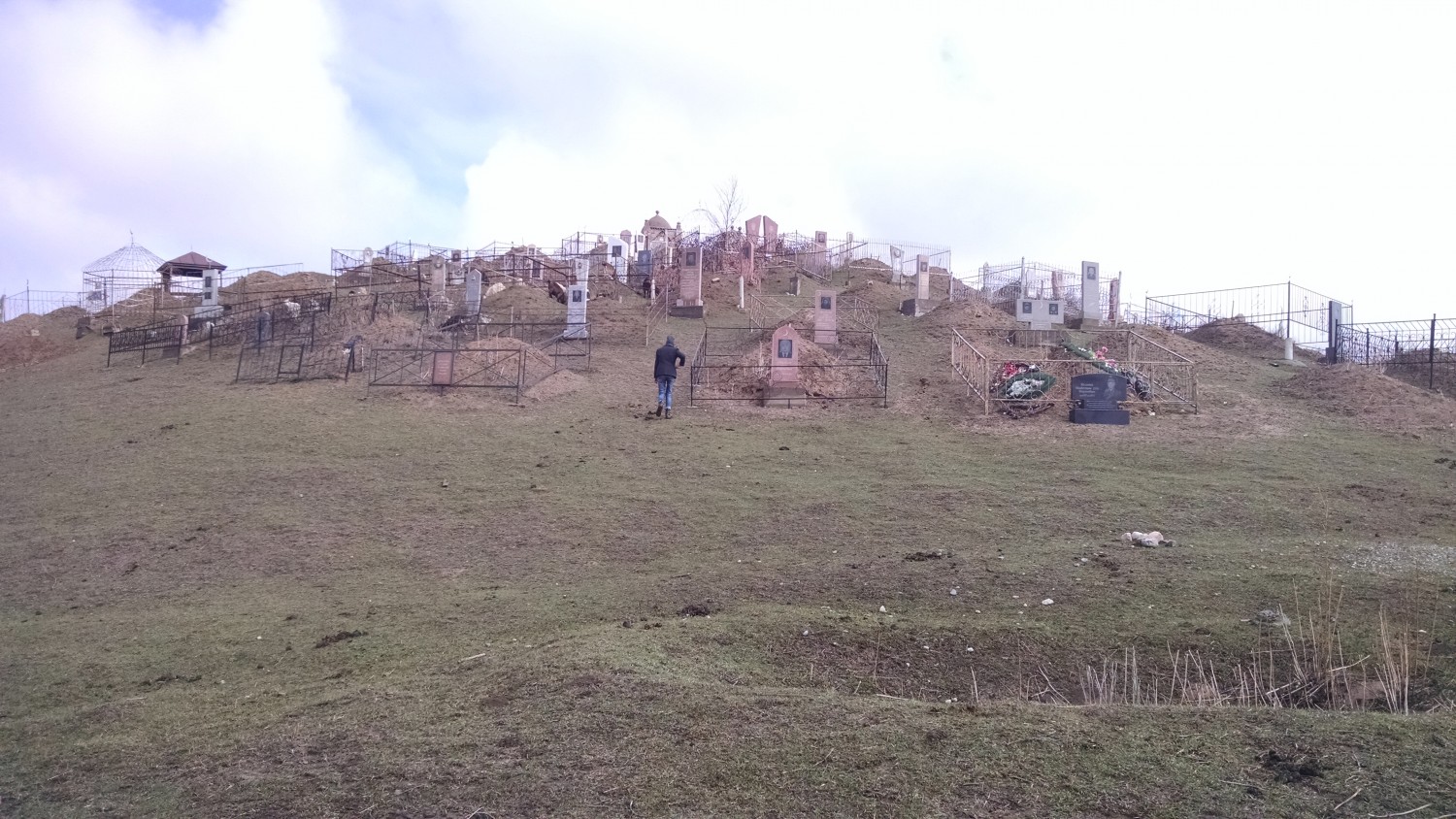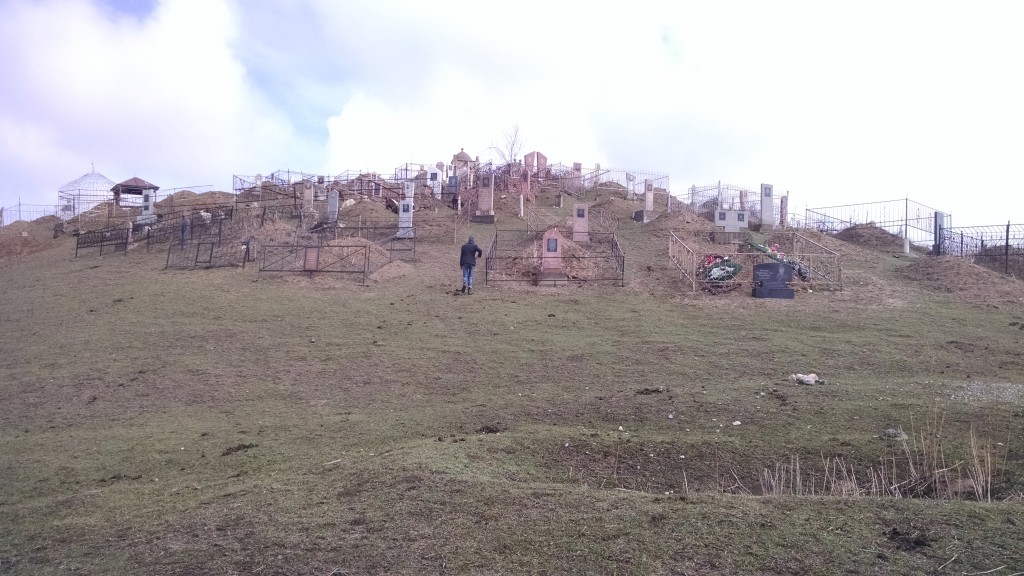 We made our way along the foothills slowly, stopping to commune with cows and hold eye contact with groups of sheep. We followed a thin stream uphill, the ground getting snowy under our feet. After a while, one friend decided to wait by the stream while I and my other friend continued up. I was determined to reach a cluster of ёлочки (spruce trees) Lira had described.
The trees were of course much farther than they appeared, and I accidentally abandoned my friend in a snowbank as I plowed my way up. Don't do this if you go to Chong-Kemin. Also, don't underestimate the fog that can sweep in very suddenly and erase all visibility in the mountains. I reached my trees, waist deep in snow and soaked from the icy stream, and when I turned around to head down the way I'd come I could see almost nothing.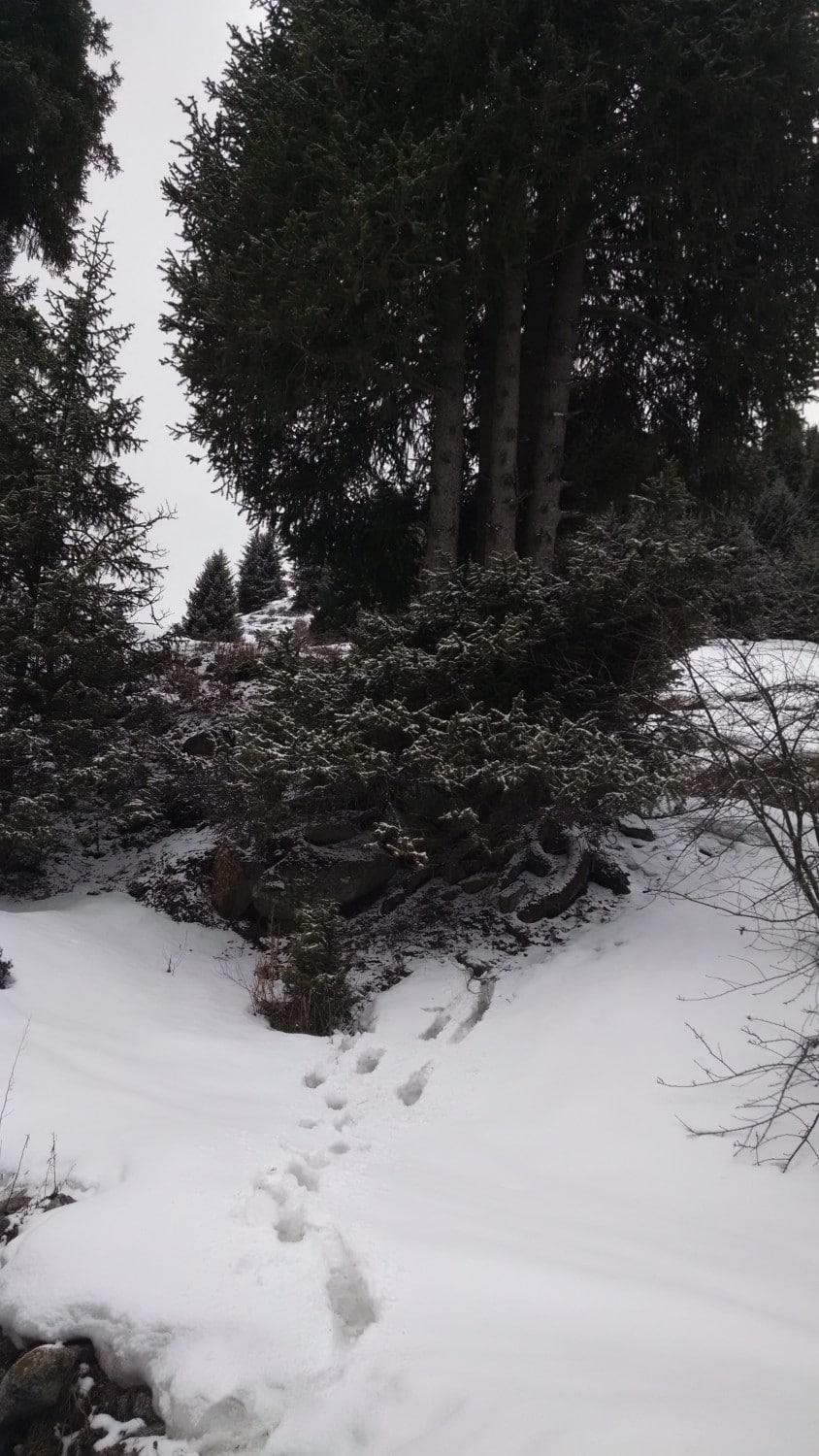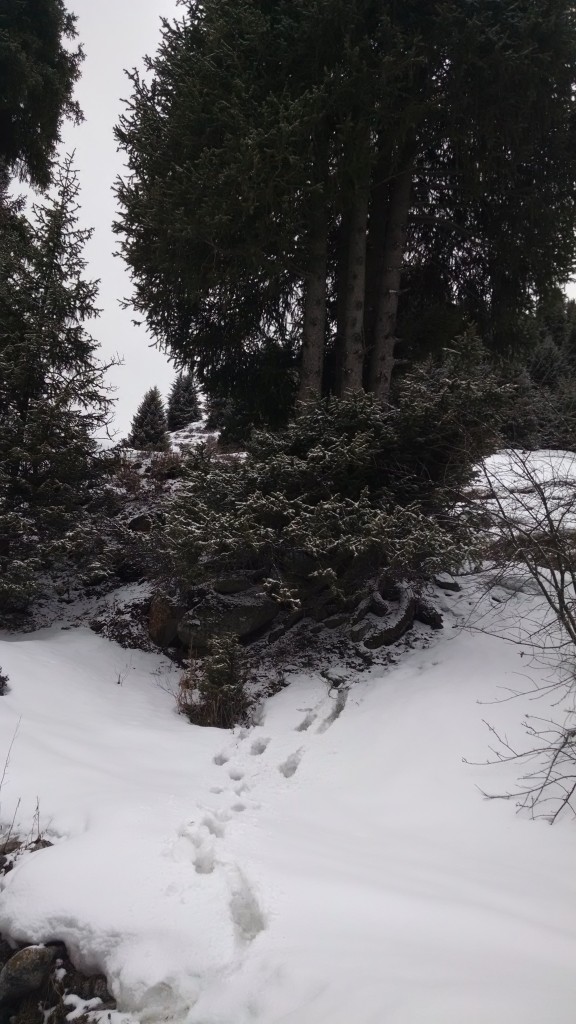 I found my wet, cold, angry friend where I'd mistakenly thought she'd wanted to wait for me just below the trees. We were able to follow the stream in the white fog and finally find the third member of our party – also cold, worried, and not entirely happy with me. We tripped and shivered along in the white emptiness, at one point running excitedly toward a figure we thought could help us, only to find yet another cow, the experience remarkably resembling Hedgehog's in the wonderful Ёжик в тумане cartoon.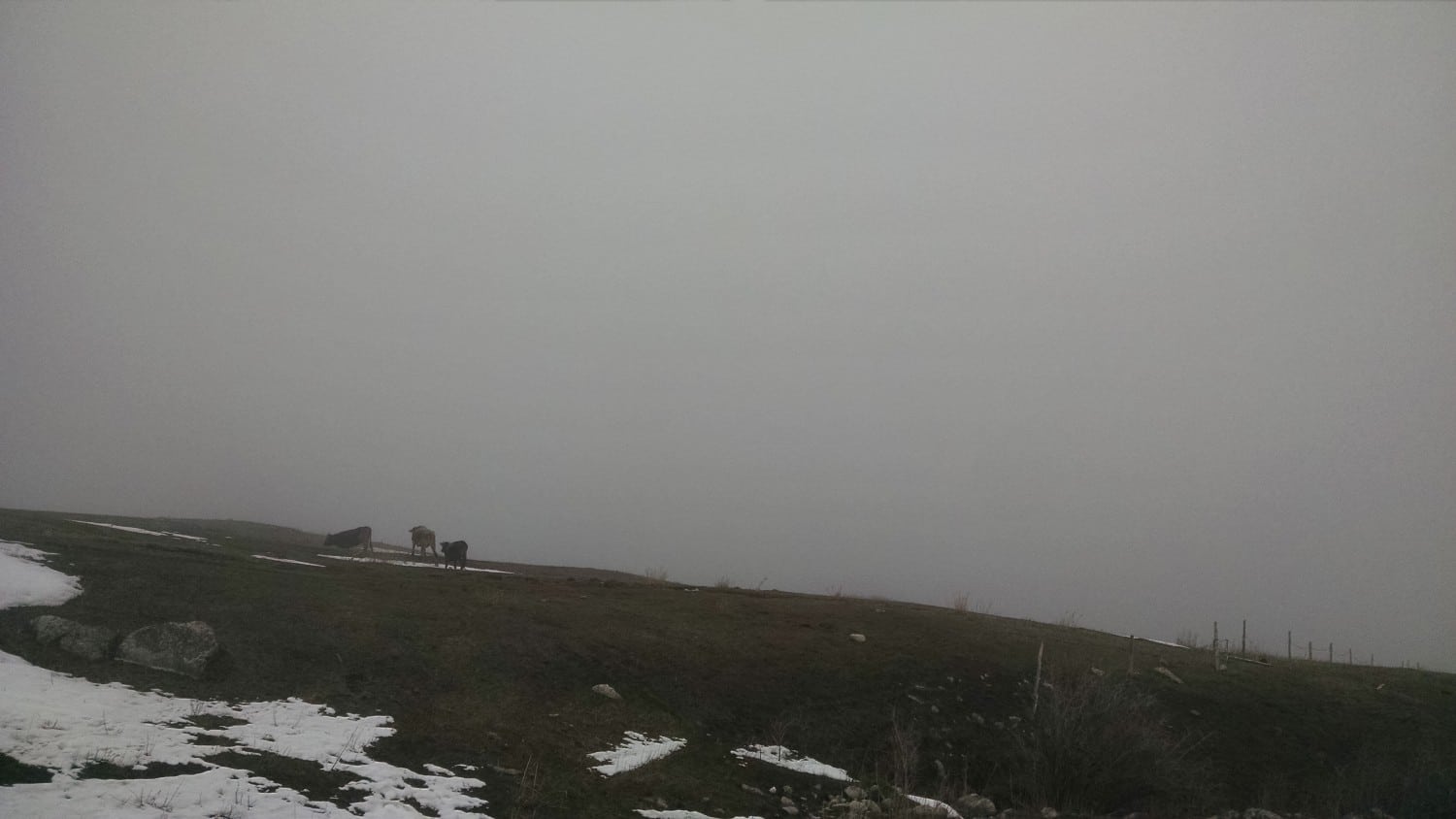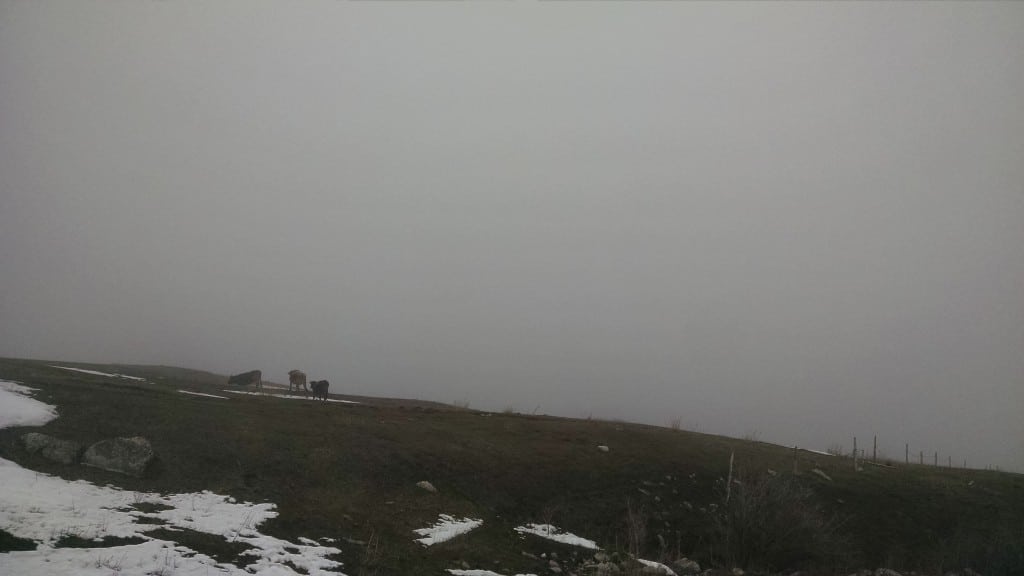 Luckily, my friend's sense of direction is far superior to mine and we eventually reached our little village, muddy and freezing. Electricity had gone out but the house was still cozy, and we drank an enormous amount of tea. My friends warmed back up to me with the tea, and Lira laughed at us in a friendly way. Then we packed our things and ran through the mud to flag down the once-an-hour marshrutka back to the city, just in time.
Короче (in short, as they always say in Russian) – Chong-Kemin is lovely, and I highly recommend going there through CBT. Our two meals, one night's sleep, and warm welcome cost us each about 800 som, or about $13. The guest house was beautiful and – with the enormous warm blankets and heaps of food – luxuriously comfortable. The hiking is beautiful, just consider bringing more common sense with you than I had at my disposal – or embrace the possibility of Hedgehog-style adventure.