Talas is a small town in the countryside of Kyrgyzstan, situated in a rural, mountainous region. For the opportunity to meet locals and learn about Kyrgyz folklore, this trip is ideal. The London School and SRAS organized a weekend trip for us.
They took care of everything – transfer, packed lunches on the road, home-stay, and excursions. As a result, the trip was very stress free. They even notified my home-stay of my dietary requirements and ensured that there was vegan food available to me.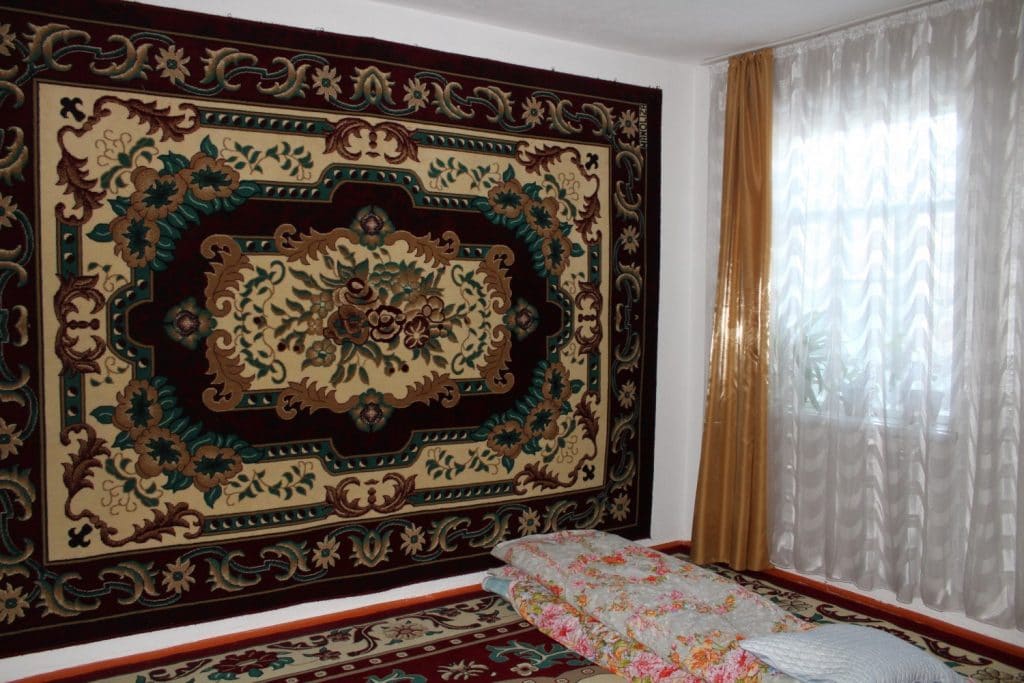 It was early evening when we arrived at a small village near Talas, after 5 hours of winding round beautiful mountain paths and through ramshackle villages. The road was bumpy and the roadside toilets questionable, but the views made it more than worth it. We entered our home-stay through a courtyard, took off our shoes, and were immediately seated round a spread of fruit, bread, jams, and tea, while we waited for a local musician to arrive. The musician was known as a Manaschi, an honored storyteller of the local community. He played traditional instruments and sang traditional songs (with the exception of an outburst of "despacito"). It was a combination of the traditional and the modern, a young man dressed in western clothes, wearing a Kyrgyz hat and singing his heritage. After a dinner of potato manti, we went for a walk in the surrounding countryside. Cherry blossom trees framed a landscape of snow capped mountains, babbling brooks, and fields stretching for miles  – it was truly a sight to behold. It was wonderful to breathe the fresh air and look up to see a multitude of stars, shining through the black canvas of the sky.
My room was modestly furnished but tastefully decorated, both the floors and walls carpeted in traditional Kyrgyz style. In one corner colorful mats were stacked high upon a metal chest and in another corner, a bed was made up on the floor. The spring climate in Talas is colder than in Bishkek, but I was provided with a small electric heater to keep warm. I spent the evening talking to my host sister, before taking an early night and going to bed.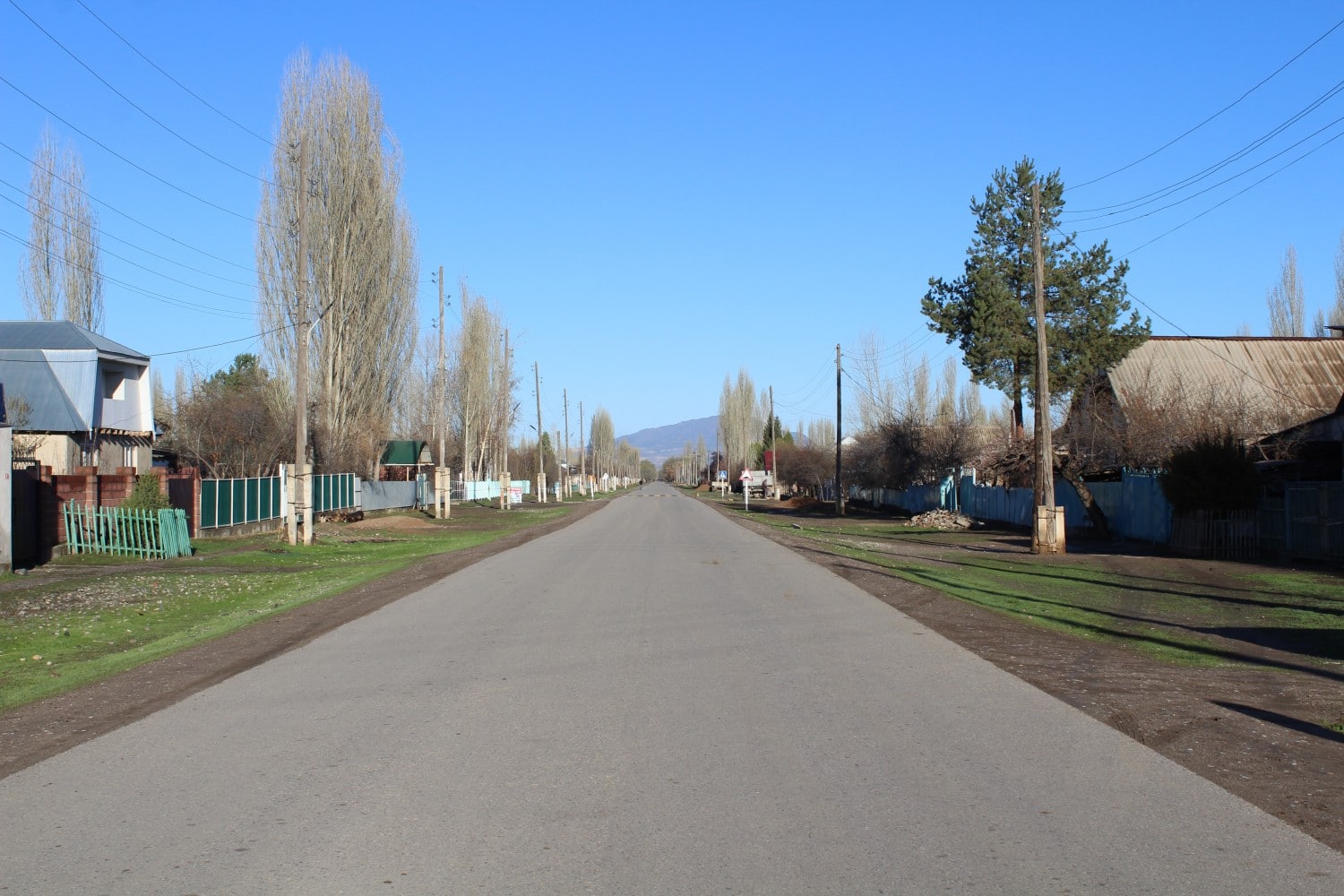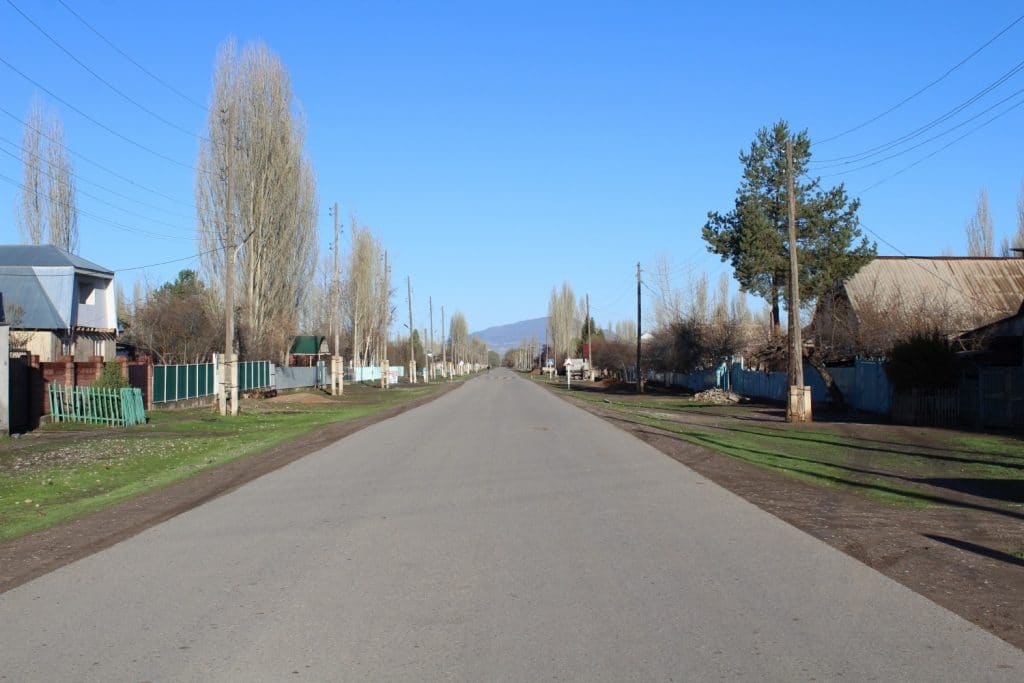 The next morning, I woke to blazing sunshine and a breakfast of buckwheat, potato, and carrot, washed down with a glass of compote. By 9:30am, we were on the road again, headed to the Manas Ordo Complex, a park dedicated to Kyrgyzstan's national hero, Manas. He was a great warrior of old, whose story is traditionally told by Manaschis. The story of Manas has only been written down in recent years, as the art of Manaschi is an oral tradition, passed down from generation to generation for hundreds of years.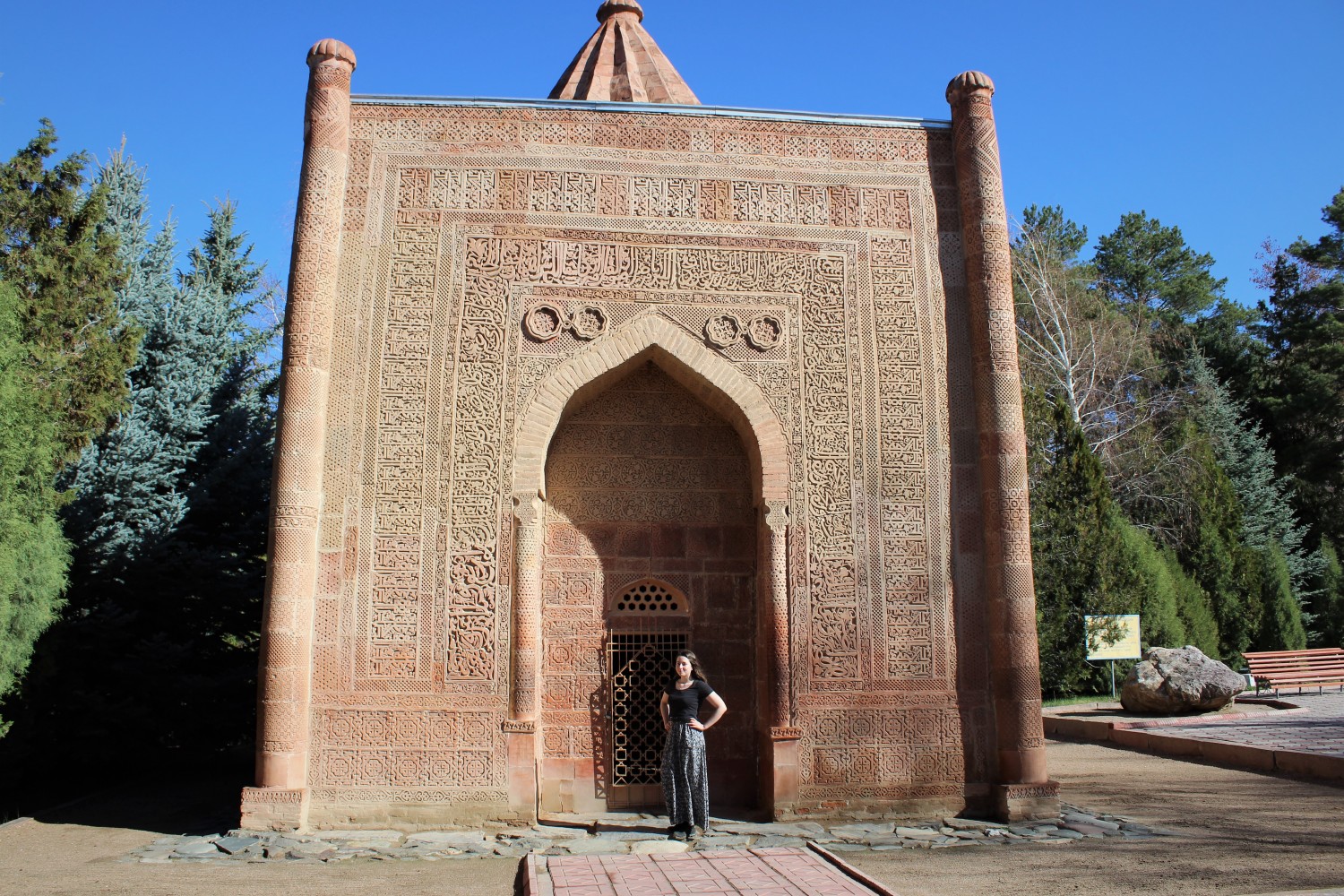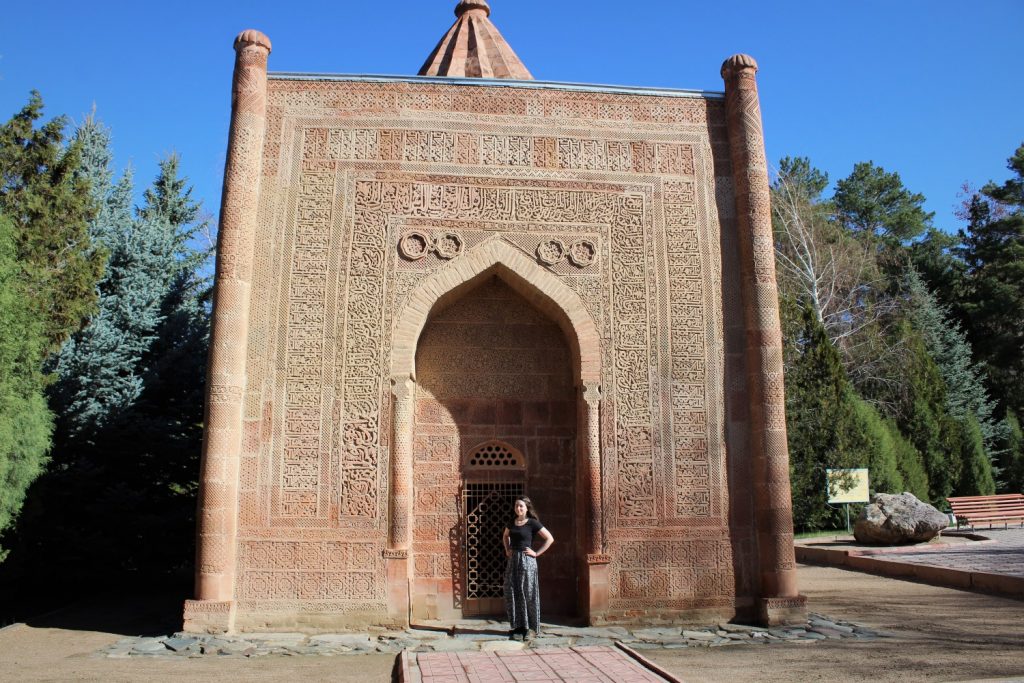 First, we climbed an old looking post, to get a view of the complex. On one side, we could see a pitch for Buzkashi (a Central Asian rugby-like game played on horses, with a goat carcass for the ball), and an old graveyard, featuring impressive tombs. We also saw the alleged tomb of Manas, an ancient feature with engraved walls. Next, we had a tour in the museum. The exhibition depicted the life of Manas and the Manaschi through art, figurines, and traditional artifacts such as clothes and weapons. Then, sitting in the sunshine under a canopy of trees, we witnessed another manaschi performance, to hear the epic stories of old.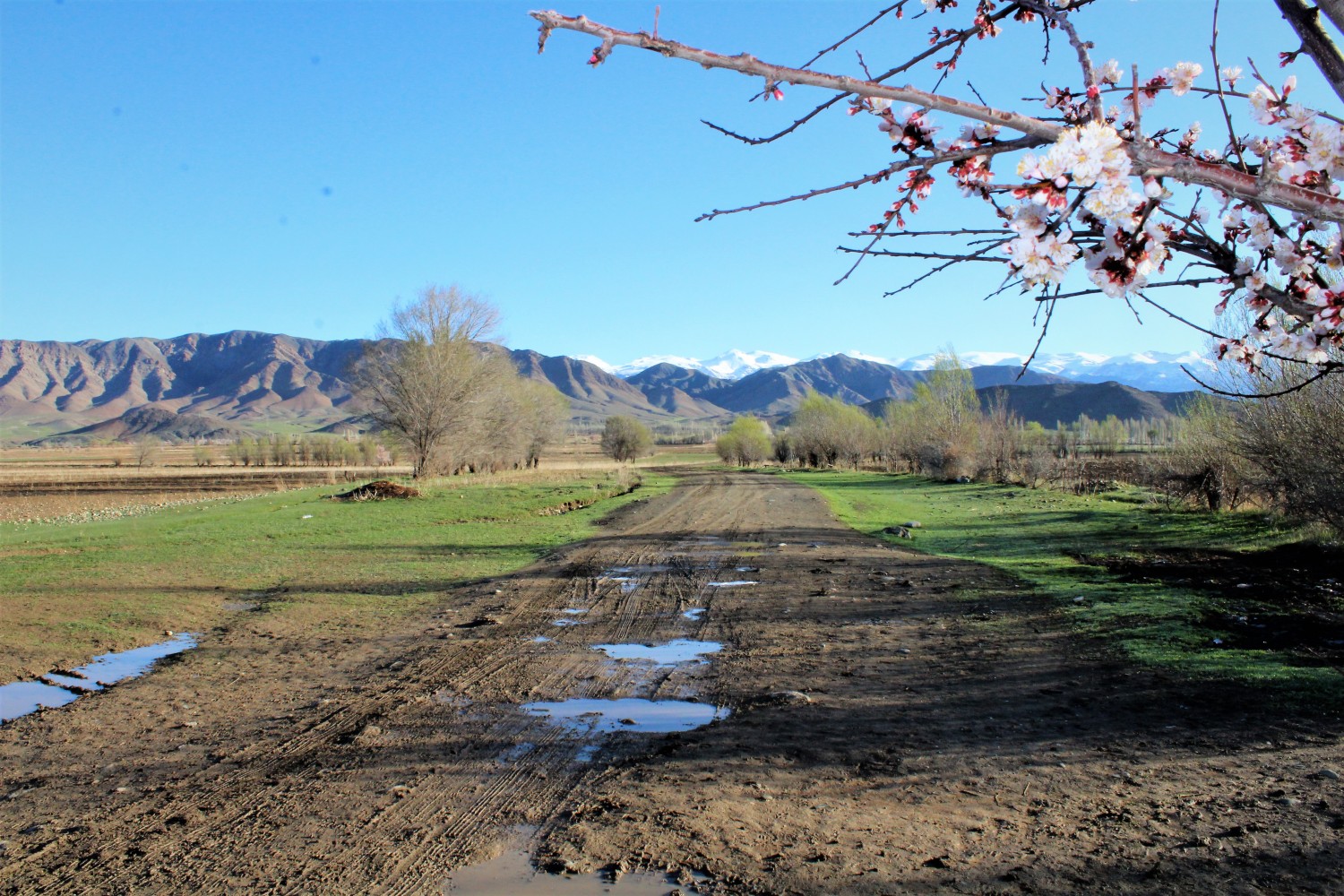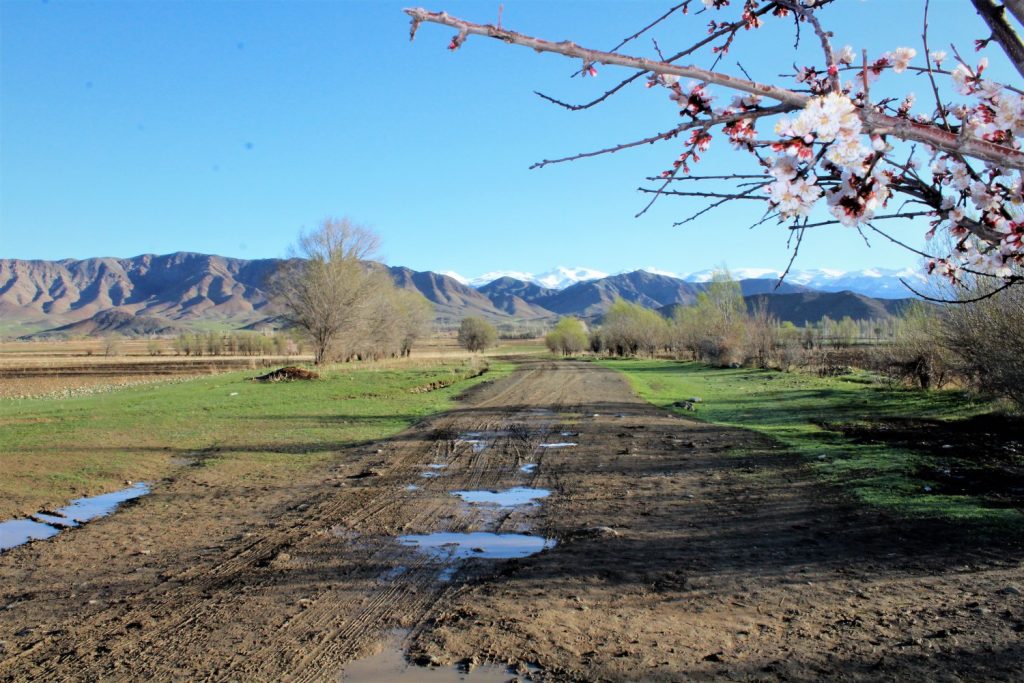 This was one of my favorite London School organized trips, though the journey was very long for such a short visit, so I would have preferred to stay an extra day. I would recommend this trip to anyone who enjoys nature, world music, authentic cuisine, and cultural experiences.