Being a vegetarian in Bishkek was not nearly as challenging as I had expected it to be. This incomplete guide covers some of the places and dishes I discovered during my nine months in Kyrgyzstan's capital that made vegetarianism there even easier, and more delicious. I'm not a vegan (I eat diary and eggs), but lots of the staples of my diet in Kyrgyzstan ended up being vegan, and I hope this list will be helpful for vegans as well.
Eating Out
The Host
Usup Abdrahmanov St. 204
+996 312 933 361
Facebook.com/The-Host-Restaurant-Bishkek-Kyrgyzstan
I think about Indian food constantly, but even so, I didn't quite realize how much I'd missed it in Bishkek until I ate at The Host. The samosas are delicious and have raisins in addition to the usual potato and peas inside. There are many vegetarian options, and everything I've tried has been very tasty. I particularly like the spinach dish, palak paneer. The sweet, milky tea is also excellent. The restaurant is dim, large, and quiet, and feels quite upscale. It's not a quick place to eat, but it's perfect for a long, enormous dinner. The Host also offers a very inexpensive lunch buffet.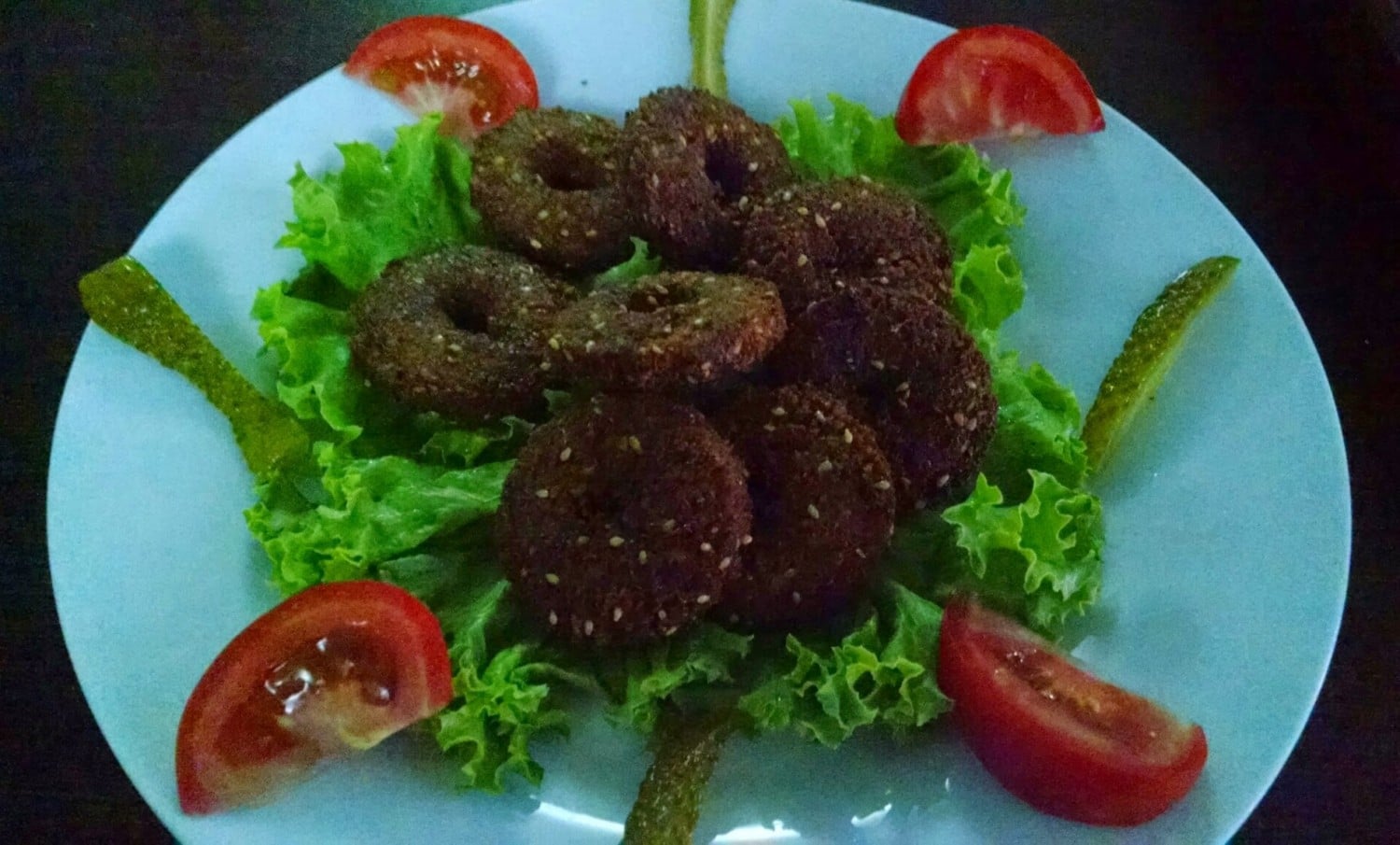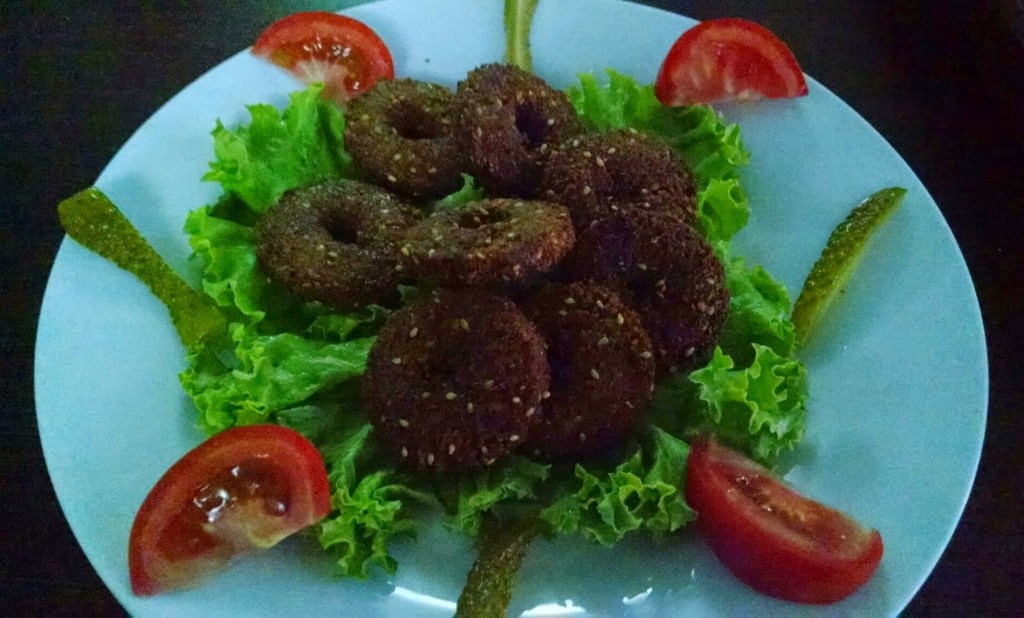 Sarya
Sukhe-Batora St. 4a
I didn't know I could get delicious hummus and falafel in Bishkek until my last weeks in the city, but the discovery was worth the regret of not knowing sooner. Sarya has a large covered patio with a lighted fountain in the center, and the vibe of a casual hookah bar and café. The food is delicious and reasonably priced: lavash – puffed bread that comes out of the kitchen hot – hummus swirled with olive oil, and a plate of crunchy falafel cost a total of 360 som ($6). The мутабаль (mutabbal), a mashed eggplant dish, is also delicious.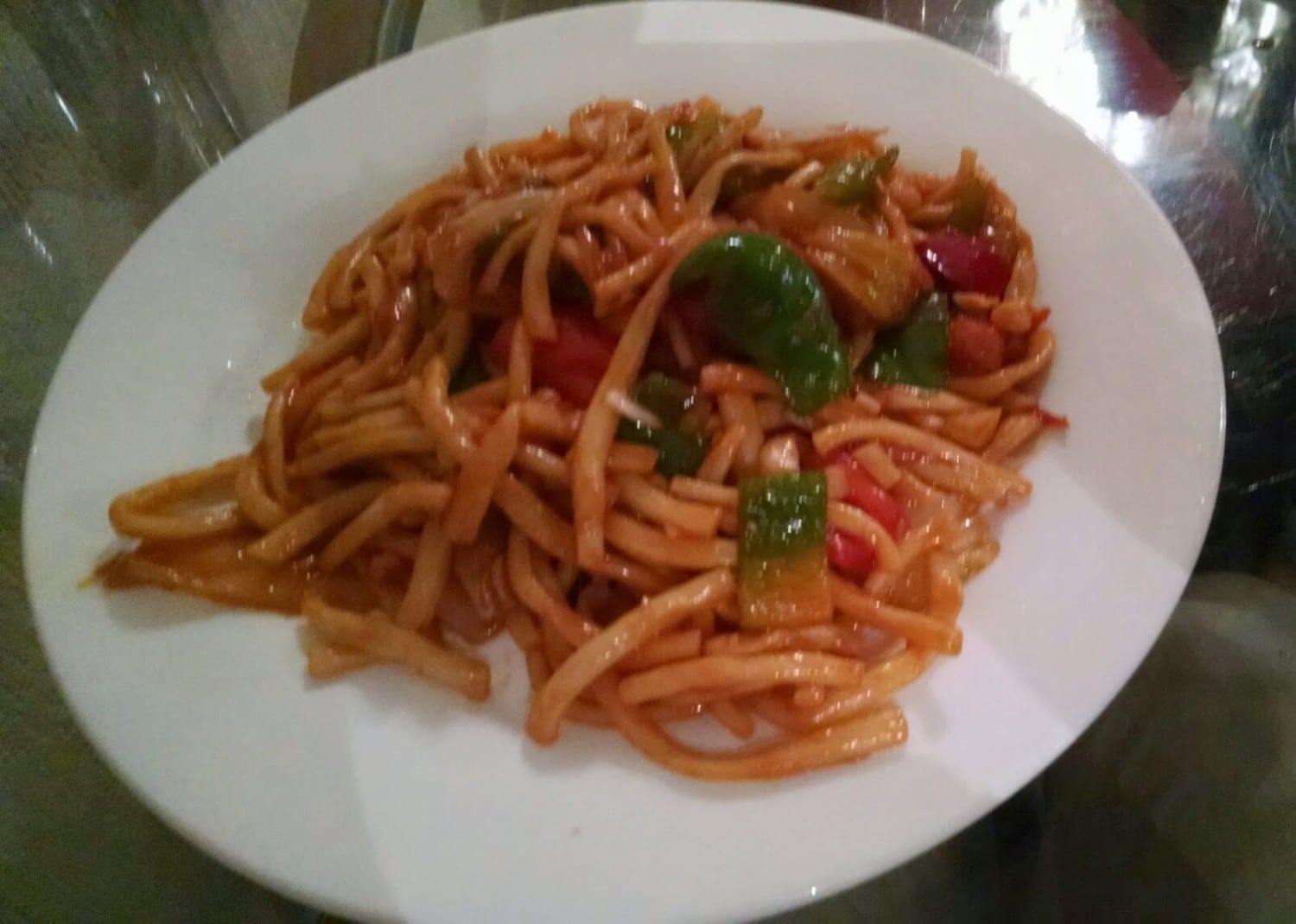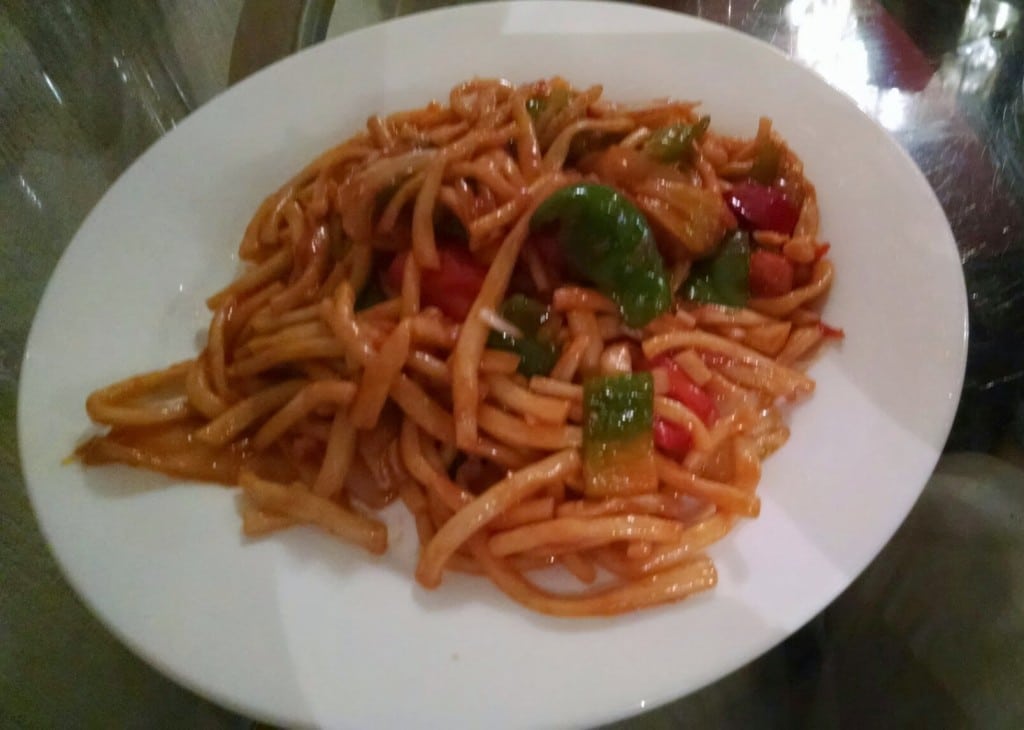 Вкус Востока/Taste of the East
Moskovskaya St./Shapokova St.
This is a very typical-for-Bishkek cheap, casual restaurant with mostly local dishes. It's a popular and quick place to eat lunch or dinner, and is usually full of people. What's unusual about this particular place is that, upon request, they make delicious vegetarian босо лагман (fried lagman) – a Uyghur dish of handmade noodles and vegetables.
London School
Baitik Baatir St. 39
For London School students, the school café is a cheap and delicious place for lunch, and there are almost always good vegetarian options. Chefs Gulya eje and Aida eje both quickly got to know me and my dietary quirks, and told me the meatless options for the day before I asked.
A note on eating out: Most places in Bishkek, from small cafeteria-style eateries to more upscale restaurants, have something vegetarian on the menu or that they are willing to make upon request. Potato вареники (dumplings), манты с тыквой (dumplings with pumpkin), блины (pancakes), and гречка (buckwheat kasha) are good options at many places. It's a good idea, though, to double check that these things are really meatless and to ask the waitstaff what they would recommend for you.
Eating In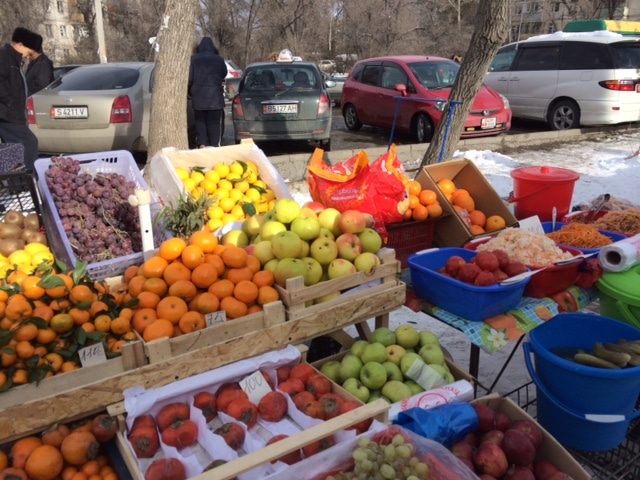 I lived with a wonderful host family in Bishkek, and my host mother was practically a vegetarian herself by the time I left. If you plan to live with a family, it is definitely a good idea to alert them of your vegetarianism before arriving. My host mother was understanding and accommodating from the beginning, but admitted later that she had been nervous about it at first. A couple of months into my stay, though, she told me, "Sopha [her nickname for me], there are no accidents in this world, and I think you came to us so that we would eat less meat."
Living with such a wonderful person certainly made my experience easier. But if you plan to live in the dorm or on your own, or if, like me, you just love to cook (and also to carry snacks with you at all times), there are lots of options for vegetarian grocery and snack shopping in the city.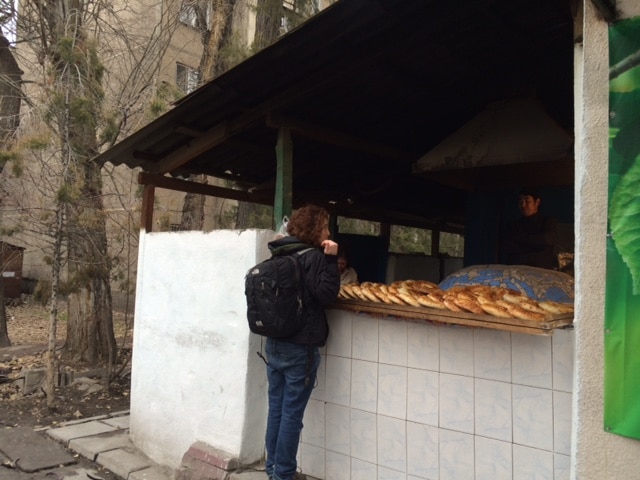 Bread – I love bread. If you do, too, you'll be happy in Bishkek (and throughout Kyrgyzstan). Лепёшка (lepyoshka), round bread, baked in a tandoor oven, that is flat in the middle and puffy around the edges, is my favorite. It's baked and sold hot at small stands around the city, and sold fresh in almost every small food shop. I recommend eating at least a loaf a day. It's delicious with everything, but homemade jams and thick, grainy honey suit it particularly well.
Dairy – Lots of traditional Kyrgyz drinks and snack-food involve dairy. Keep trying things until you start to like them; if you're not used to certain flavors sometimes you just have to develop the taste for them.
Күрүт (Kurut) – Күрүт are little balls of dried curdled milk. They are very salty and a bit sour, and crumbly and chewy at once. I was so impressed at first by the toddlers relishing them on the marshrutkas, eating them the way I was used to seeing toddlers eating lollipops or chocolate at home. The taste was too strong for me until one day when I was hungry and tired and the salty, filling snack turned out to be exactly what I needed.

Күрүт

Kefir/Yoghurt – Kefir and yoghurt are available almost everywhere, and unlike in the States, most yoghurt doesn't contain gelatin.
Cheese – There is a lot of cheese in Bishkek to eat with all the delicious bread. I recommend trying smoked cheese that comes in a braid in supermarkets and is very cheap. If you want some expensive but good-quality sharp cheddar, you can usually find that at the upscale food market next to Chocolate Bar.
Dried fruit and nuts – I could live on almonds and raisins if I had to. I didn't have to in Bishkek, but I still ate a lot of them. Osh Bazaar is a good place for apricots, dates, cashews, almonds, raisins, walnuts, etc. Almonds still in their shells are local and cheap, as opposed to the shelled ones. Just make sure to get yourself a little nutcracker too if you don't want to go crazy trying to smash them open more creatively. Also, you can try dried fruits and nuts at the bazaars before buying them if you ask.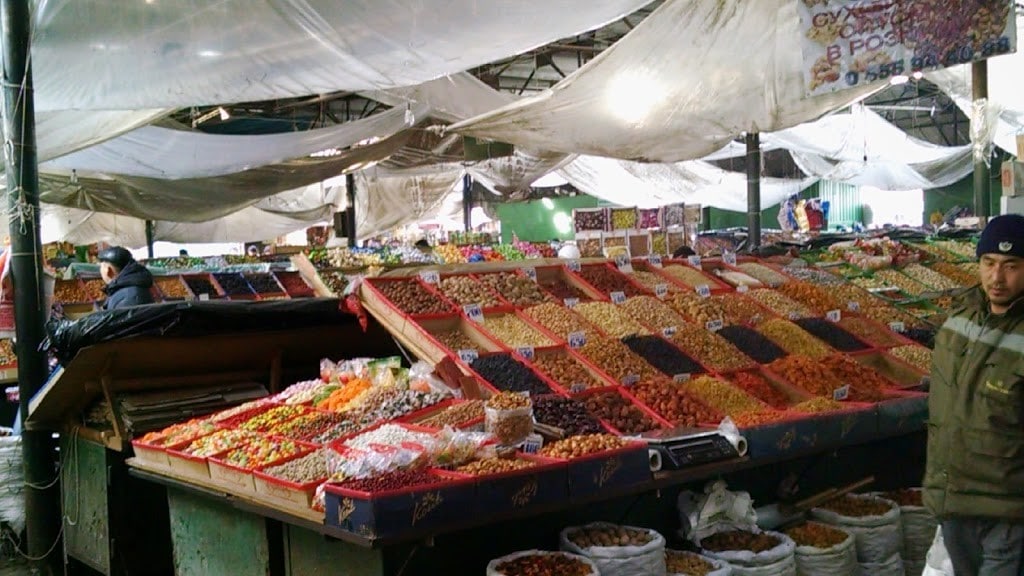 Peanut butter – You can find small jars at the Народный supermarket chain, but the best place to get peanut butter is in the refrigerated section of the supermarket in Beta Stores (Chui Prospekt 150/A), where it is cheaper and better.
Beans –
Dried бобы (beans), sold with the nuts at the bazaar, are salty, filling, and excellent.
Lentils – You can find bags of dried lentils at most grocery stores.
Гречка (Buckwheat) – Dry гречка is sold everywhere, like rice. It's full of protein. In Bishkek, as in Russia, it's often made with milk for a breakfast "kasha," but I love making it with vegetables and eggs as a savory dinner.
Tofu – You can often find tofu at Osh Bazaar out on tables near the produce. But I like to get in in big, cheap blocks from the refrigerator in Гоин (Goin Supermarket, Jibek Jolu/Yusup Abdrahmanov), in the Chinese market on the bottom floor.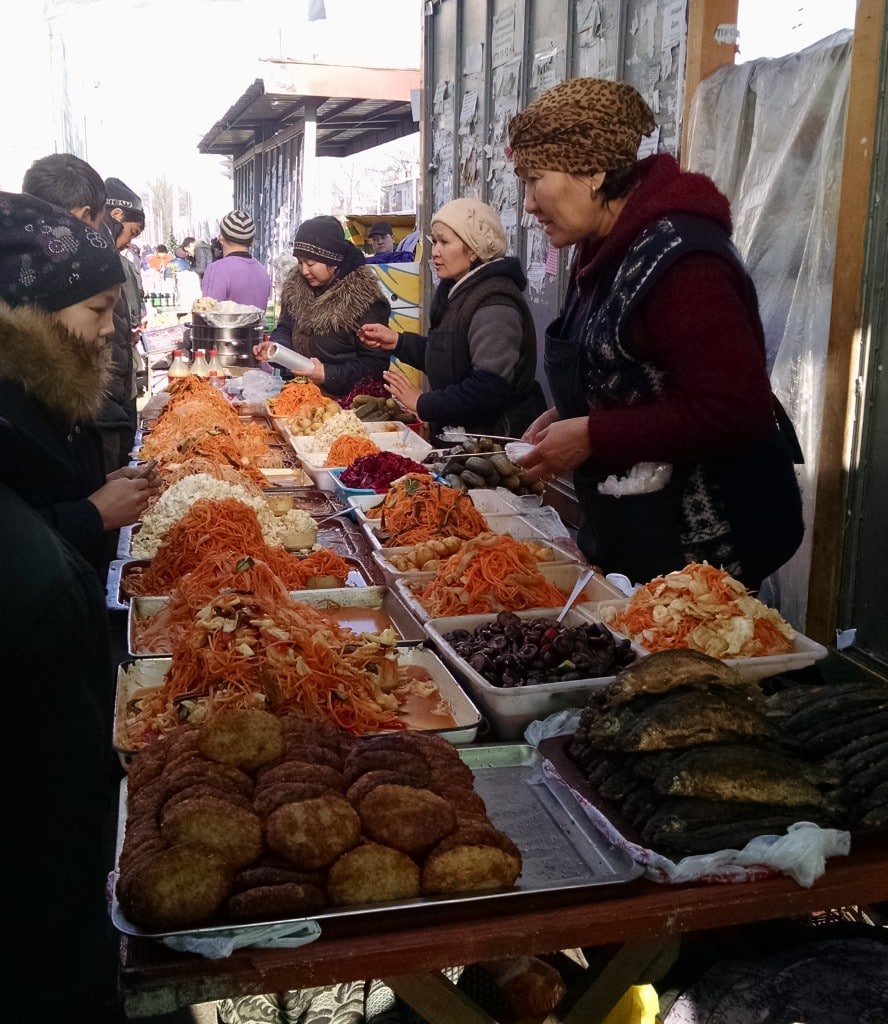 Korean salads – At most small "bazaarchiks" as well as big bazaars like Osh, there is at least one stand of "Korean salads." They are mostly vegetarian: there is vinegary carrot salad; спаржа made from tofu skin; and salads made from different kinds of rice noodles.
Оромо (Oromo) – Oromo is a circular wrapped noodle dish that is sold at food stands and at bazaars, and it is often vegetarian. You should ask if it has meat, but usually it is potato and onion wrapped in noodle.
Пирожки (Pirozhki) – Pumpkin and potato пирожки (stuffed pastries) are also good vegetarian hot snack options.
Максым (Maksym) – Sold along the side of the street in warm weather, along with other traditional drinks made by the Шоро company, максым might take getting used to, but can be simultaneously refreshing and filling. It is made of barley, corn, and wheat.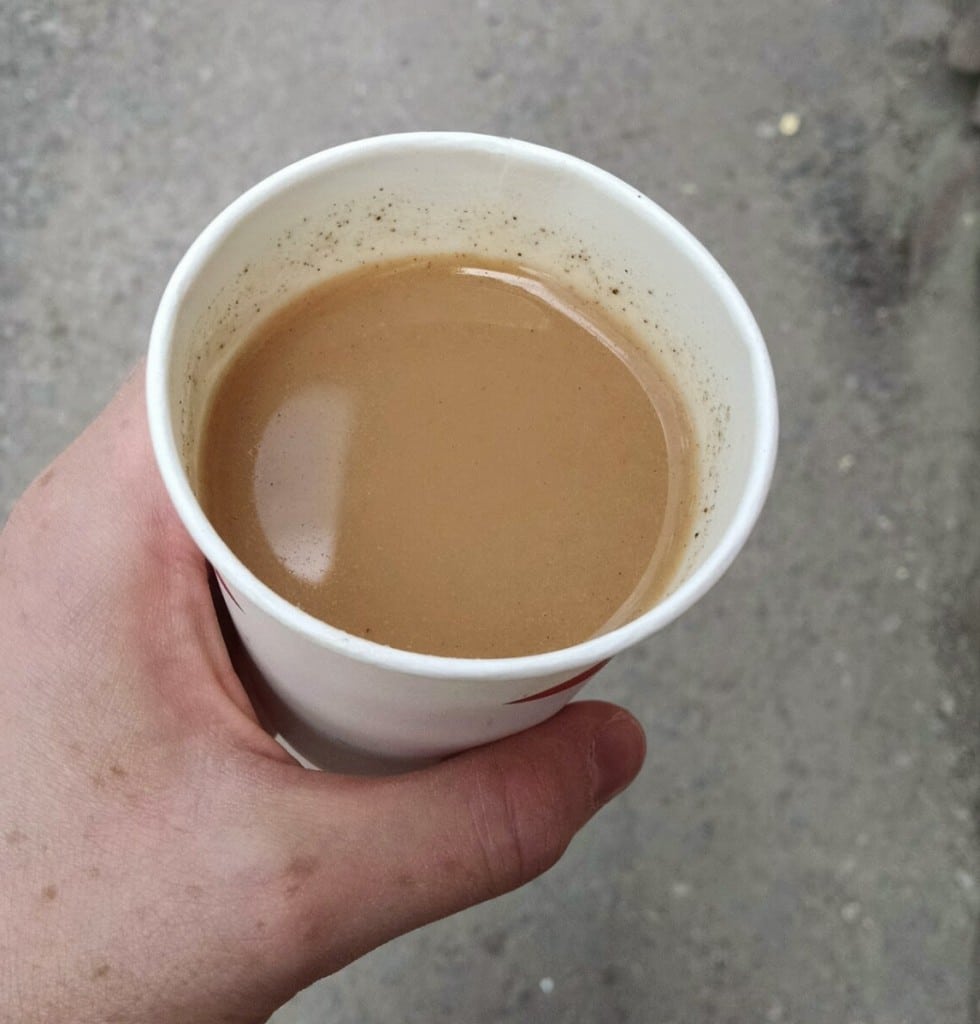 Produce – Seasonal fruits and vegetables are inexpensive and fresh at bazaars and at little produce stands and shops throughout the city.
Sauces/Ingredients – Soy sauce, hot sauce, rice vinegar, and other important condiments and cooking ingredients are sold at bazaars and in small shops. I found sesame oil in a Korean market on Toktogul Street. At Goin, there is coconut water in the refrigerators, which I substituted for coconut milk in curry (though I found coconut milk once or twice at Berlin).
Noodles – Dry noodles are sold everywhere (bazaars, small shops, large stores). I found soba (buckwheat) noodles at the Korean shop on Toktogul.
Sweets – Dessert is always a good bet for vegetarians. Cookies and candy are abundant at bazaars, and it's good to look out for small bakeries in the city, too. And be sure to eat a lot of halva.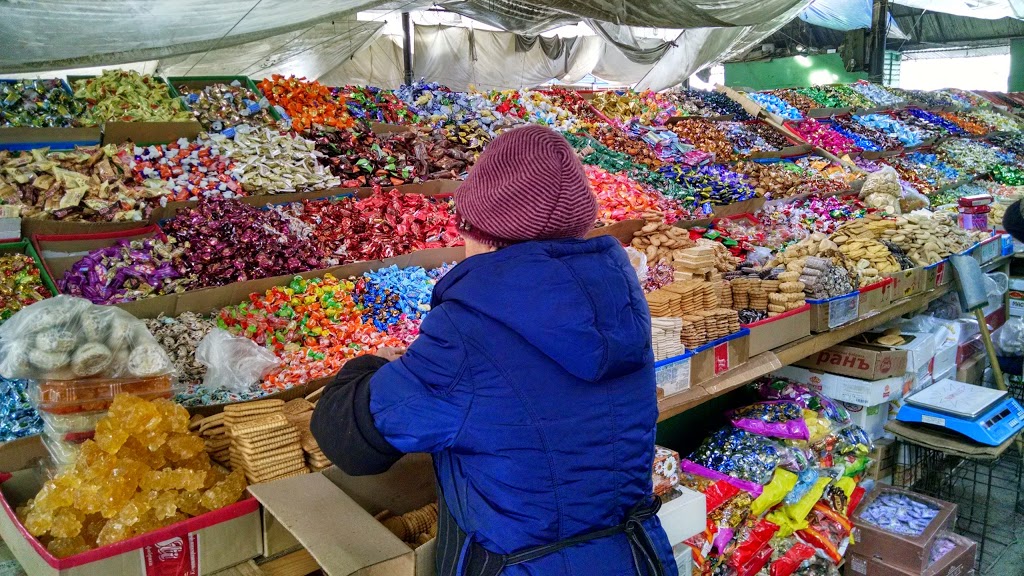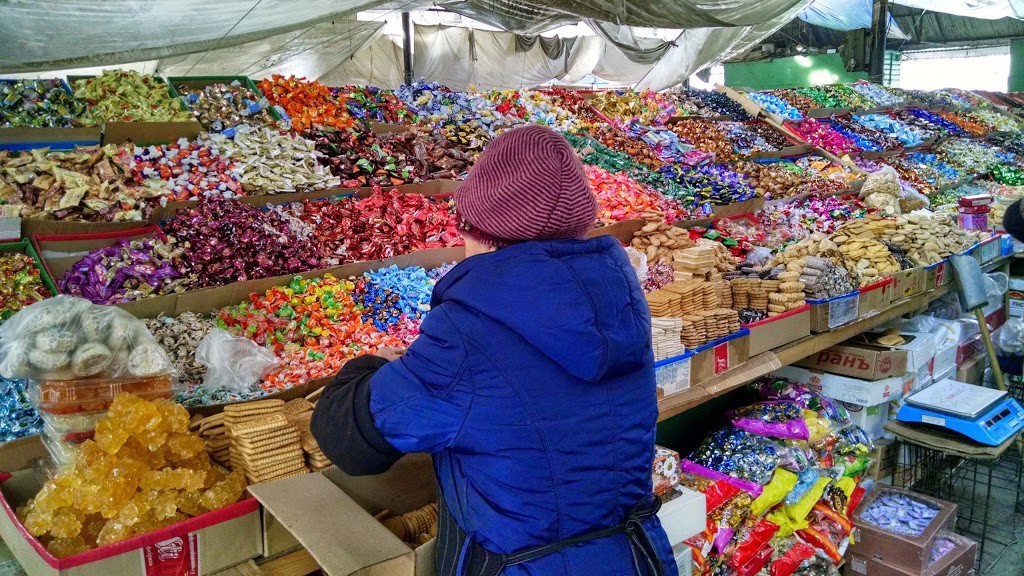 You will not go hungry as a vegetarian in Bishkek. In fact, you will eat very well. I didn't spend much time outside the city, but when I did travel, and when I stayed in people's homes, my hosts never seemed too taken aback when I said (always in advance of their cooking) that I don't eat meat, and they were always very accommodating. When I came home after living in Russia, I didn't particularly miss the potato and cabbage that made up much of my diet. But I expect to really miss lagman, pumpkin dumplings, stir-fried vegetables, Korean salads, and other staples of my food-filled life in Bishkek.