The following is a compilation of student reviews about possible housing options in the city of Bishkek. This page is meant to help students prepare for their time abroad.
Living Conditions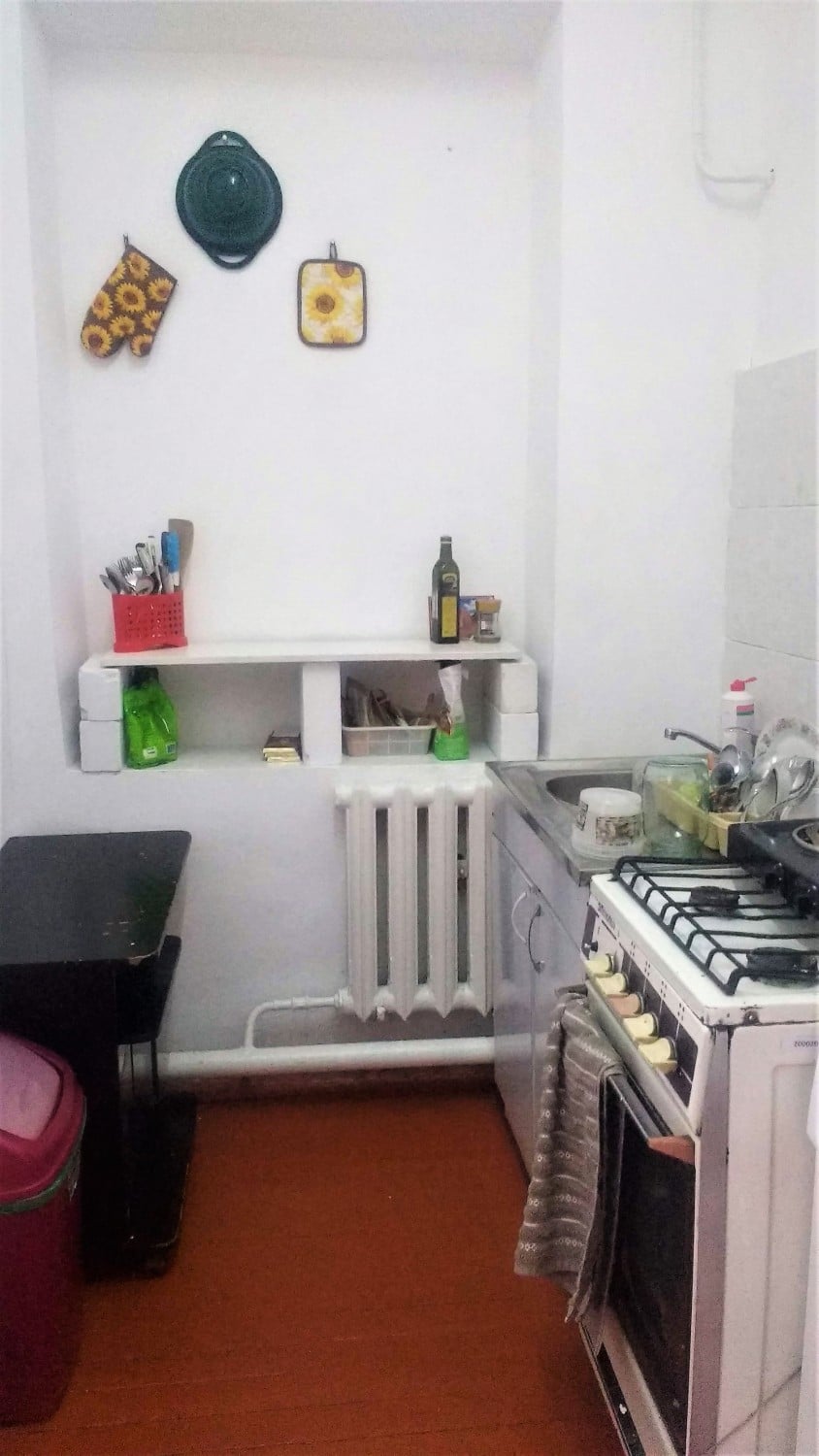 Kat Watt (Spring, 2019): I'm going to be real, London School dorms are hardly a five star hotel, but they have made some improvements recently. The dorms are located upstairs from the main London School complex and are divided into four soviet-style apartments. Each apartment has 2-3 bedrooms, a bathroom, and a kitchen. The bedrooms are medium to large and contain a bed, a desk, and storage space. The London School has recently repainted the apartments, modernized the lighting system, and installed curtains. As a result, they are bright and pleasant, despite being fairly basic.
The bathroom and kitchen situation has been known to cause culture shock to students and teachers living in the dorms. Most bathrooms have a bath, toilet, and sink (in one apartment there is a shower instead of a bath). They are functional, though a little disheveled in appearance – do not be surprised by random wires and pipes sticking out all over the place. Another thing to note is that toilet paper cannot be flushed down the toilet, but a bin is provided (this is actually fairly common globally). Every kitchen has a sink, washing machine, fridge, collection of dishes and cutlery, and hot plates for cooking. Some apartments have microwaves and hot-box style electric ovens – it is generally expected that students share appliances among themselves. Not every bathroom and kitchen has a window so ventilation can be an issue at times. If there is anything you need that you consider essential, it's worth asking management – they will often buy new appliances upon request.
Location
Camryn Vaughn (Fall, 2019): The dorm location is great because they are located directly in the school and on Baitik Battir street, close to many restaurants and the Vefa Shopping Center. My host family conveniently lived two blocks from the school and helped familiarize me with the area as well. A lot of bus and marshrutka stops are within walking distance that can take you to Ala-Too Square, where there are more restaurants and museums.
Kat Watt (Spring, 2019): The London School dorms have a fantastic location on a central road that leads straight into the city center. It is also great to be able to roll straight out of bed in the morning and walk downstairs to classes. There is a range of shops, restaurants, parks, and sports clubs within walking distance from the London School. There is also a bus stop nearby, though most students tend to share taxis as they are very cheap, especially when the price is split with a group. A disadvantage of the centralized location is that there is a lot of noise, air, and light pollution.
Eating Facilities
Camryn Vaughn (Fall, 2019): The SRAS students went out to lunch together fairly often, finding options around $5 or even under. The cafeteria food on campus was cheap and tasted fine, but the options weren't changed often and we grew tired of all the dill incorporated into every dish. Groceries aren't expensive and although the kitchens don't have ovens, quite a lot can be created using eggs, rice, pasta, chicken, potatoes and other vegetables and a saucepan, soup pot, and hot plate. This, or lunch leftovers is a usual dorm dinner.
Mikaela Peters (Fall, 2019): This is really more of a day-to-day decision for me. Sometimes I eat out a lot since I can do so relatively cheaply, sometimes for as low as $2 or $3, but never to exceed more than $10. I especially do this when I have a test I need to study for or a big paper that is due soon. We do have an on-site cafeteria, which is pretty tasty, and definitely, in part, caters to a little bit more of a western crowd, albeit more local people being on the school's premises at all times. I do like to eat here, because you can eat lunch for about $1 usually. I almost always eat a snack from here between my first or second break during classes. Living in the dorms has made it easy enough to come back to my dorm during lunch and cook something, which I would sometimes do to save money or when I am craving something in particular, usually vegetables. Living across the street from a supermarket has made it super convenient to go and grab a few items as needed. I will admit, I am not the most adventurous eater, but I am always open to trying new places, especially if I end up there with the other students. There is one really good Georgian restaurant (Pur-Pur), where I like to take guests from out of town, and recently I've discovered a new Indian restaurant, named The Host. But for the most part I stick to the nearby ramen places, like Cooksoo and Tatami, or the coffee shop, Traveler's Coffee. Otherwise I eat at home and cook my own food, which has been a little bit different that what I eat in America, mostly because avocados and quesadillas, my previous staples, are nearly impossible to find, or are just very expensive. I would say I've learned to improvise and I try to cook things that are more akin to what the local people like. I've never eaten this many onions or potatoes in my life. Local students make fun of me for this, but being here has made me a huge fan of borscht and I've taught myself to make that, too.
Was your housing conducive to a social life?
Kat Watt (Spring, 2019): Generally speaking, the dorms are a very sociable place. Unfortunately there is no common room but nevertheless students tend to cook together, share appliances, and socialize in the kitchen areas. There is also a courtyard outside, which is a pleasant place to relax and eat, especially when the weather is nice.
Other
Kat Watt (Spring, 2019): All in all, though the dorms are nothing fancy, they are perfectly liveable and can easily be spruced up with some household plants and decorations. Beyond a doubt, the highest selling points are the location and sociable atmosphere.