White Nights Marathon/ Белые ночи марафон
Palace Square/ Дворцовая площадь
June 30, 2013
9.00- 15.00 (6 hours allowed to complete the marathon)
www.wnmarathon.ru

I am extremely fortunate to know Irina Aleksandrovna Boggie, my neighbor, Russian language teacher, and dear friend. She grew up in Novokuznetsk, studied in St. Petersburg, and now lives in northern Minnesota, a place not exactly legendary for its ethnic diversity. So when she e-mailed me about her plan to participate in the White Nights Marathon, we decided to meet up there. Not only would I get to meet up with my fellow Minnesotan in St. Petersburg, but I would also get to observe my first marathon!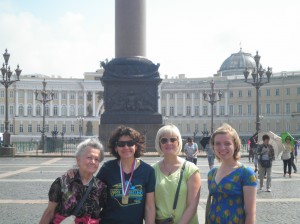 The 24th Annual White Nights Marathon, which is organized by the Saint Petersburg Administration Office Committee for Physical Activity and Sport and the Saint Petersburg Athletic Federation, took place on June 30, 2013. The race consists of a smaller 10 km race and the main 42 km (26 miles) run, which starts and finishes at Palace Square; therefore, the route loops all around the city, so that runners pass, as the official site says, the "embankments, avenues, and streets of St. Petersburg, [and go] past historical monuments." With these factors in place, the marathon fulfills its intent to promote "healthy lifestyles, introduce people to regular physical training and sports, to…further develop friendly international relations in sports and tourism, and to identify the strongest marathoners of St. Petersburg."
I arrived at Palace Square at 8:00 to meet Irina before the race. Her fellow runners and she, fueled by a carb-heavy spaghetti feast the night before, came to warm up, stretch, and mentally prepare before the race. While we did some registration work and took a few pictures, I noticed that the square began to rapidly fill up; luckily, it never became as crowded as I anticipated. Soon enough, it was time to line up, and off Irina went with her fellow runners! I returned to Palace Square about 5 hours later (Irina's predicted finishing time) and watched the runners cross the finish. After awhile, Irina, her mom, and her friend found me, and it turned out she had finished the marathon half an hour before I arrived! We spent a good time chatting, and although we were disappointed not to have been able to get a picture of her crossing the finish line, we were all pleased to have experienced such a momentous occasion!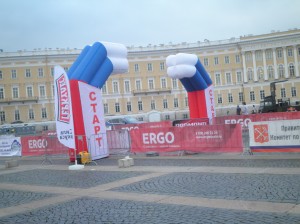 Besides my personal connection to the race, I also reveled in its strong emphasis on diversity. Runners of all ages and shapes participate in the marathon, from six-pack abs to beer bellies and teenagers to octogenarians. There is also a stong international flavor to the marathon. For example, I heard cries of the French "Allez! Allez!" accompanying the Russian "Давай'!", flag emblems on jerseys (i.e. Italy, Germany), and runners carrying little flags with them (Finland). There was even one runner with a Belarusian flag draped around his shoulders, which seemed to make him a superhero "Belarus-Man." Amongst the various nations present, I marvelled at the kindness, respect, and courtesy displayed for everyone. I heard Russians cheering for Finns, Chinese observers requesting pictures with Americans and Australians, and Germans and Italians high-fiving each other on jobs well done.
In short, the White Nights Marathon proved to be a great experience. Although I had the added bonus of cheering for my neighbor there, I think that all people, participants or observers, can enjoy the beauty, diversity, and the energetic excitement of the race!