As part of our SRAS program in Irkutsk, our group took a trip to Ulan Ude, a city about an eight hour train ride east, on the other side of Lake Baikal. Ulan Ude is the center of Buryatia, a republic within Russia that is the homeland of the Buryat people. The Buryats are native Siberians with a culture with deep Mongolian, Buddhist, and Shamanistic roots.
After leaving Irkutsk at 1am on Saturday morning, we spent the night on the train. We were all in coupe (compartments of four each), and my friends and I stayed up talking and playing cards (in the true Russian fashion). After getting a few hours of sleep, we arrived in Ulan Ude, and went straight to breakfast and our first excursion.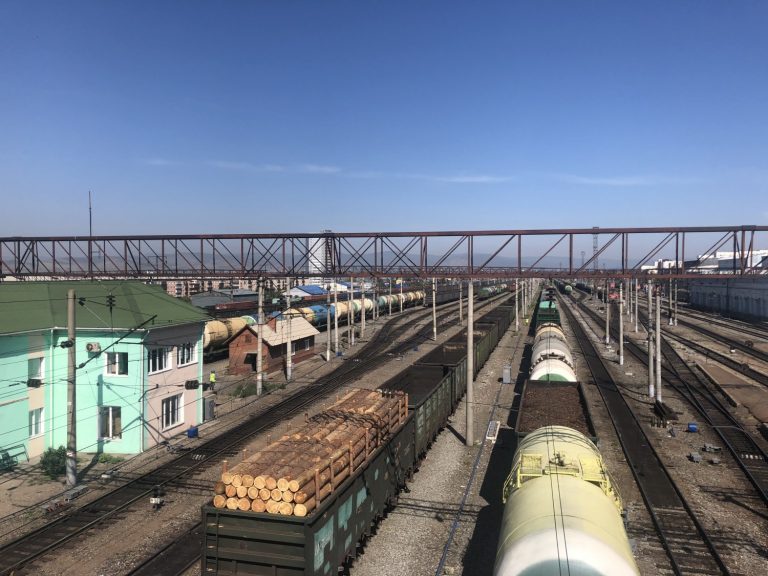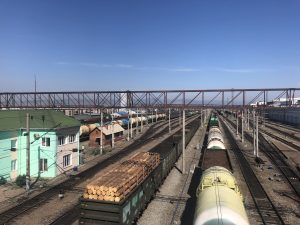 We drove about 40 minutes outside the city to the Ivolginky Datsan, one of Russia' most important Buddhist monasteries. The entire compound has seven temples, a Buddhist university, houses, and an art museum. We were fed a really tasty meal that included pozy (Buryat dumping's), plov, cucumber tomato salad, and really tasty sweet crackers inside a yurt made by the people who live at the monastery compound. After lunch, we headed back to the city, and had some free time for dinner and relaxing.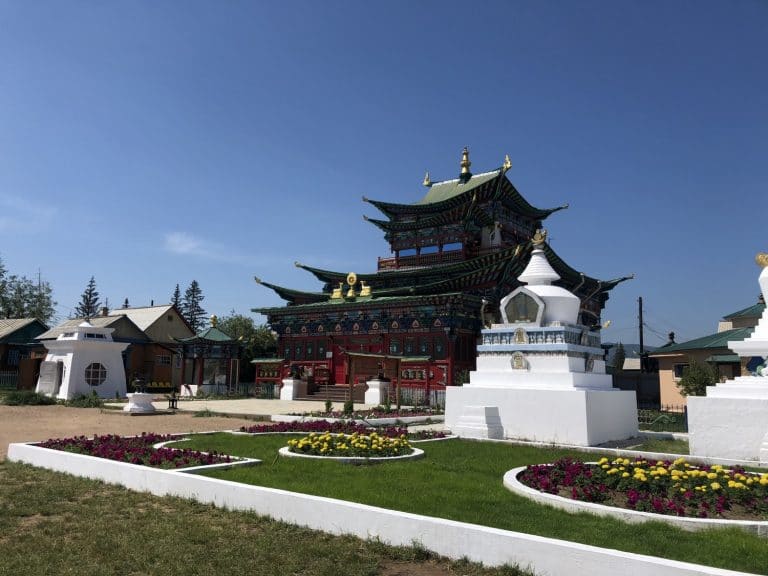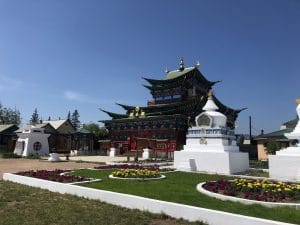 We were staying at a hostel called Clean Hostel that was right next to the train station, and about a 15 minute walk to the center. As the name says, the hostel was very clean and comfortable! The girls all stayed in one room, and the boys were in a different part of the hostel.
The next day, we drove about an hour away from Ulan-Ude, and we climbed up to a beautiful viewpoint. After this, we drove another 15 minutes to a small, local museum that features many of the everyday items that people have used in Siberia. Our tour guide was incredibly funny and passionate about the information.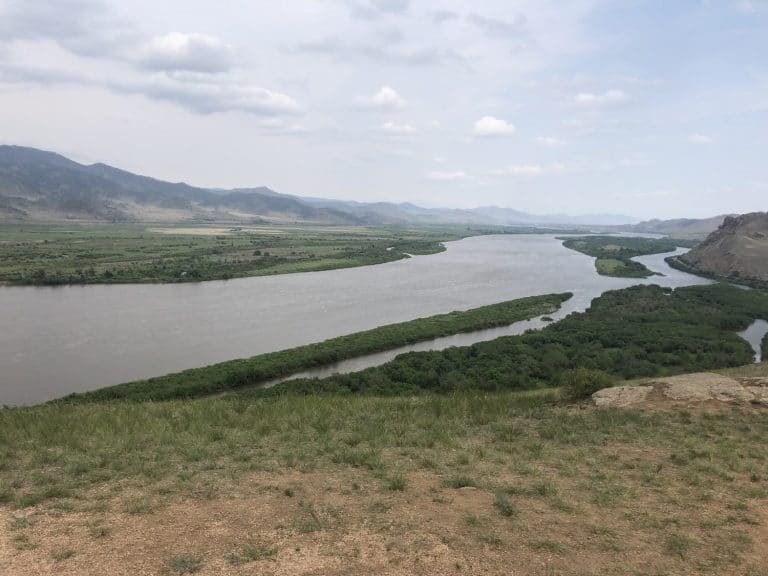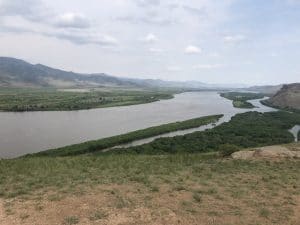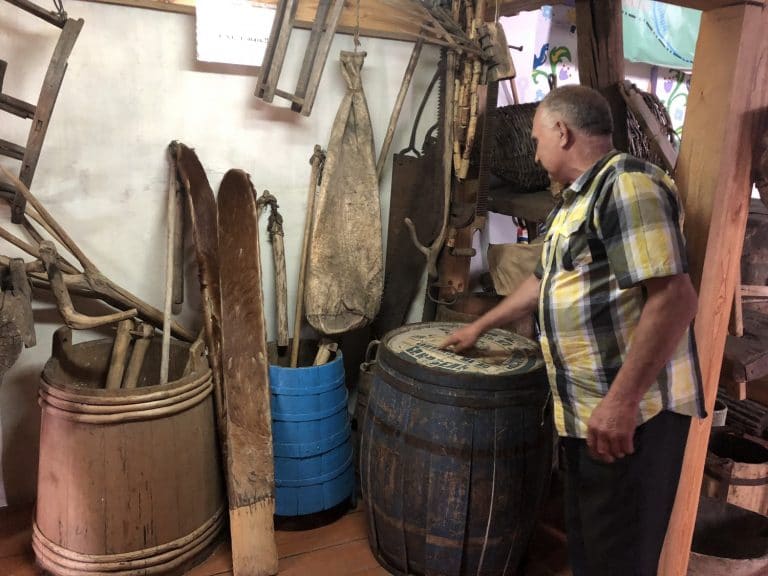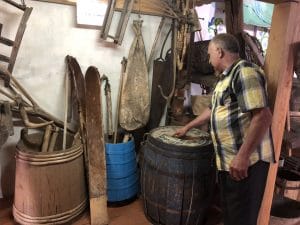 We then drove about another 20 minutes to an Old Believers village. The Old Believers are an Orthodox faith that broke away from the Russian Orthodox Church to maintain the liturgy and rituals of the Church as practiced before reforms put into place during the 1600s. Many immigrated to Siberia or even to other countries to find the freedom to continue practicing their religion as they thought proper.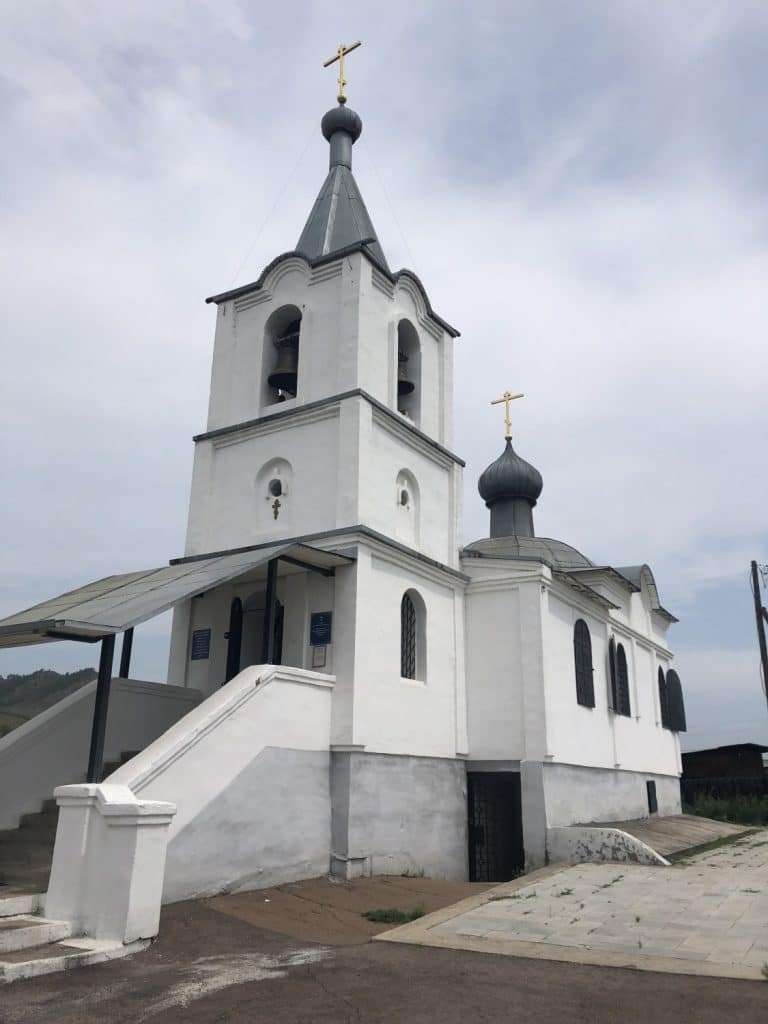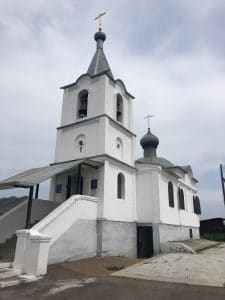 The small village is called Za Baikalom (which literally means "on the other side of Baikal" or "behind Baikal"). There, we were greeted by older woman in traditional dress who showed us around their little village. We saw how people used to live, and how they spent their daily lives today. We first saw a church. It was fairly small, but the inside featured a lot of beautiful, original artwork and icons. Photography was not allowed, and the girls had to cover themselves before entering, like in most Orthodox churches. The older woman was joined by several others and they fed us probably one of the most amazing lunches I have ever had. There were blini, scones, veggie salad, Olivier salad, eggs, and a potato and beef stew. There was also halva (a nut butter dessert), but instead of being hard and flakey like it usually is, it was like a jam spread. I must have eaten half the bowl, it was so good! During lunch we were poured a pink liquid in a small glass, which I quickly discovered was cамогон (samogon), a traditional Russian homebrewed alcohol. This one was made with berries – so just imagine drinking a small glass of berry flavored vodka, and there you go.
After lunch came what has become one of my favorite memories. The women of the village, all in traditional dress, performed traditional songs, and even pulled some of us up to dance. Then they asked if anyone wanted to volunteer to dress up. I did and they had me put on a traditional dress like theirs. Then, they brought up a guy from the program, and had him also dress up.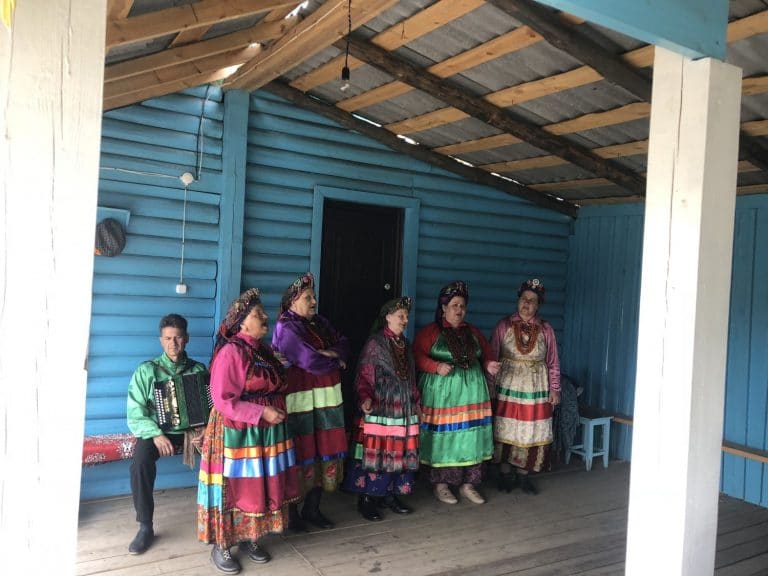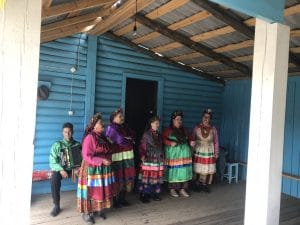 Very quickly I realized that this was going to be a mock wedding. Following old customs, the guy had to pay a dowry and then we would be married. If anyone is curious, I am apparently worth only 100 rubles (about $1.50), (in reality I would have been worth more, but the guy probably didn't want to give more for the spontaneous donation than this). Even so, I would be considered an old bride in the old days – since most girls got married around 14, and might have around 20 children during their lives, the women told us. The whole event was incredibly comical and I couldn't stop grinning the entire time. We danced, we sang, and all was merry!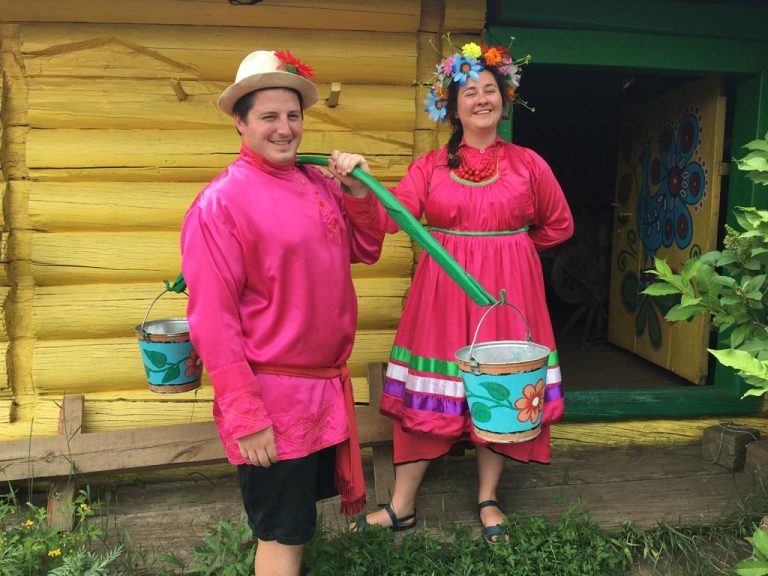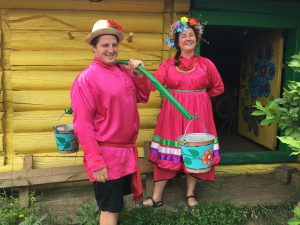 After getting back to the city, we had some time to walk around the center before we went to get dinner. I was able to see the giant head of Lenin, which was one of the things I was most excited for as it is perhaps the one landmark that Ulan Ude is really famous for! The head stands at 7.7 meters (25 feet), and is the largest head of Lenin in Russia!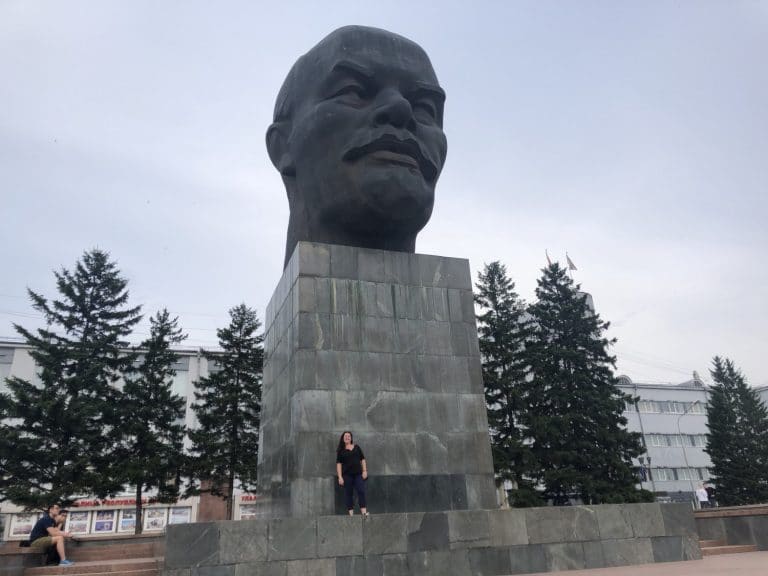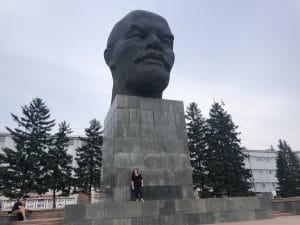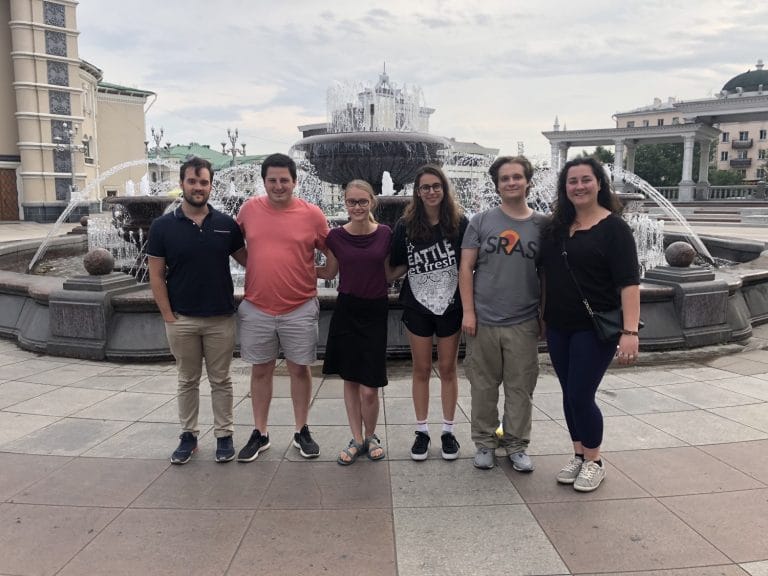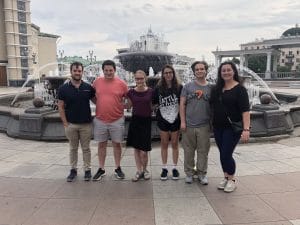 As our Ulan Ude trip came to a close, we watched the sunset as we started to head back to the train for our journey back to Irkutsk.