In terms of climate, Sochi is not what you would expect from a Russian city. Sochi has a humid subtropical climate that somewhat resembles central California. Average temperatures range from relatively comfortable winters, at 11°C (52°F), to very comfortable summers, at 24°C (75°F). Just outside the city limits, the Caucasus Mountains rise abruptly, giving the city a beautiful view from its beaches along the Black Sea, past rolling hills and forests, to the nearby snow-covered mountains. At many times of the year, once can easily spend the day swimming and the evening skiing. This is what made the city a fitting host for the 2014 Olympics.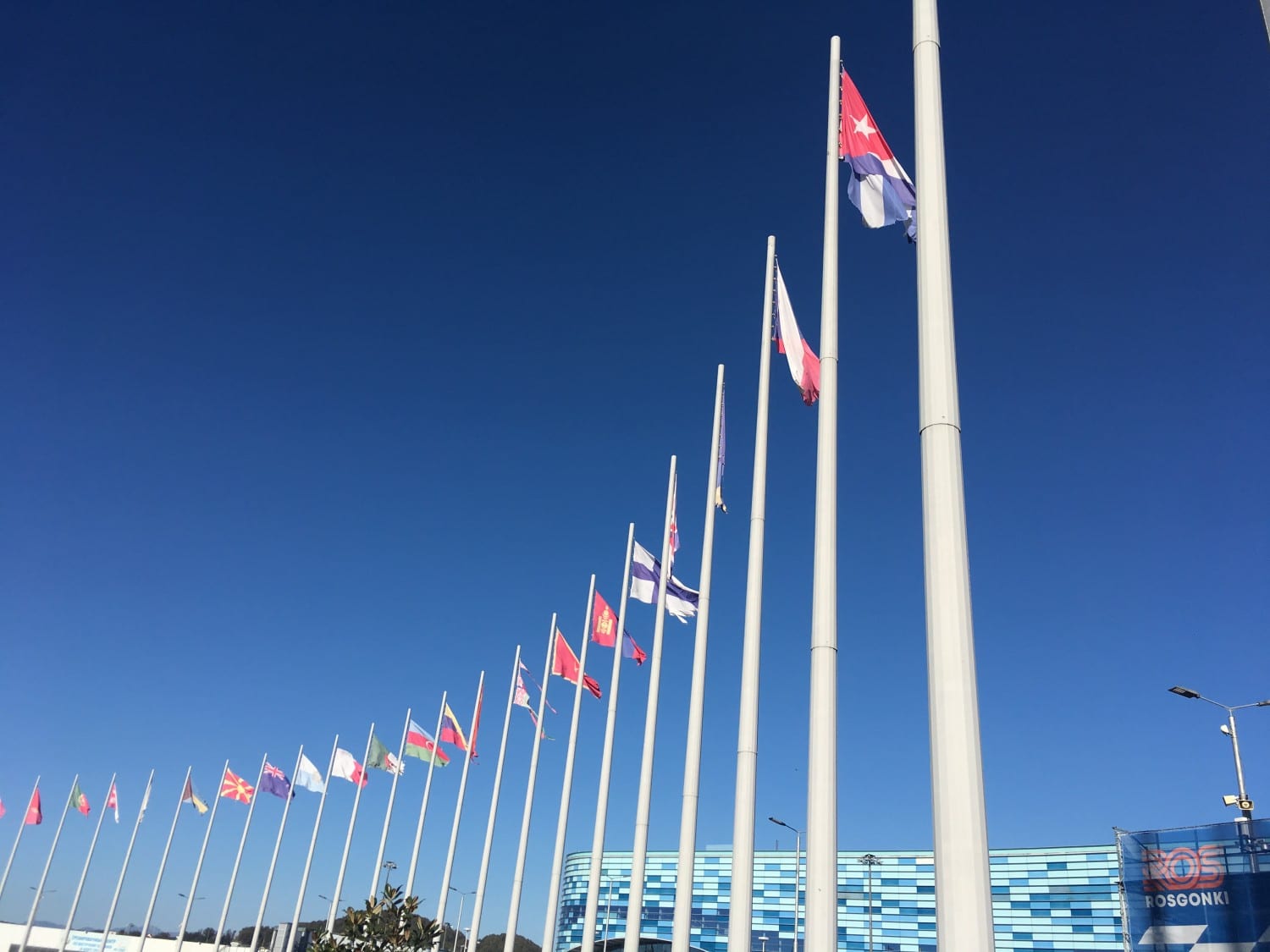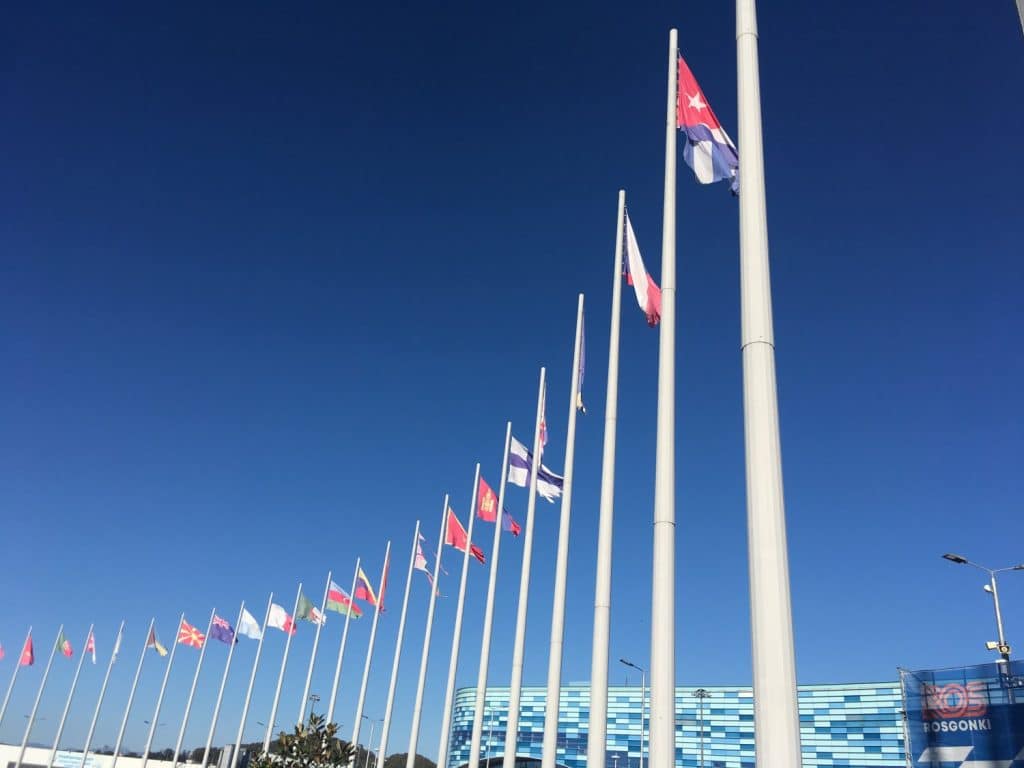 I planned this particular trip with a group of three SRAS students that all shared the desire to explore Russia as much as possible and also save money by traveling together and sharing costs. Some students, after receiving their multi-entry visas traveled from Sochi to Georgia, Azerbaijan, and Armenia. In this case, Sochi acted as a window to the other Caucasus countries and provided an excellent starting point.
We started with Skyscanner to find a relatively inexpensive flight ($200 dollars) for the November holiday. Once we found the flight, we chose to book directly with the airline which happened to be Aeroflot.
Then, we used Bookings.com to compare hotel prices and eventually found one located slightly outside of the city center. The benefit of booking this particular hotel, and many other hotels in the area, is that it included a complimentary breakfast. This breakfast is not, however, what you would except from a continental breakfast in North America. We were served cold boiled eggs, kasha, juice, and cookies. We booked two rooms and the total costs were $30 dollars per student for four nights.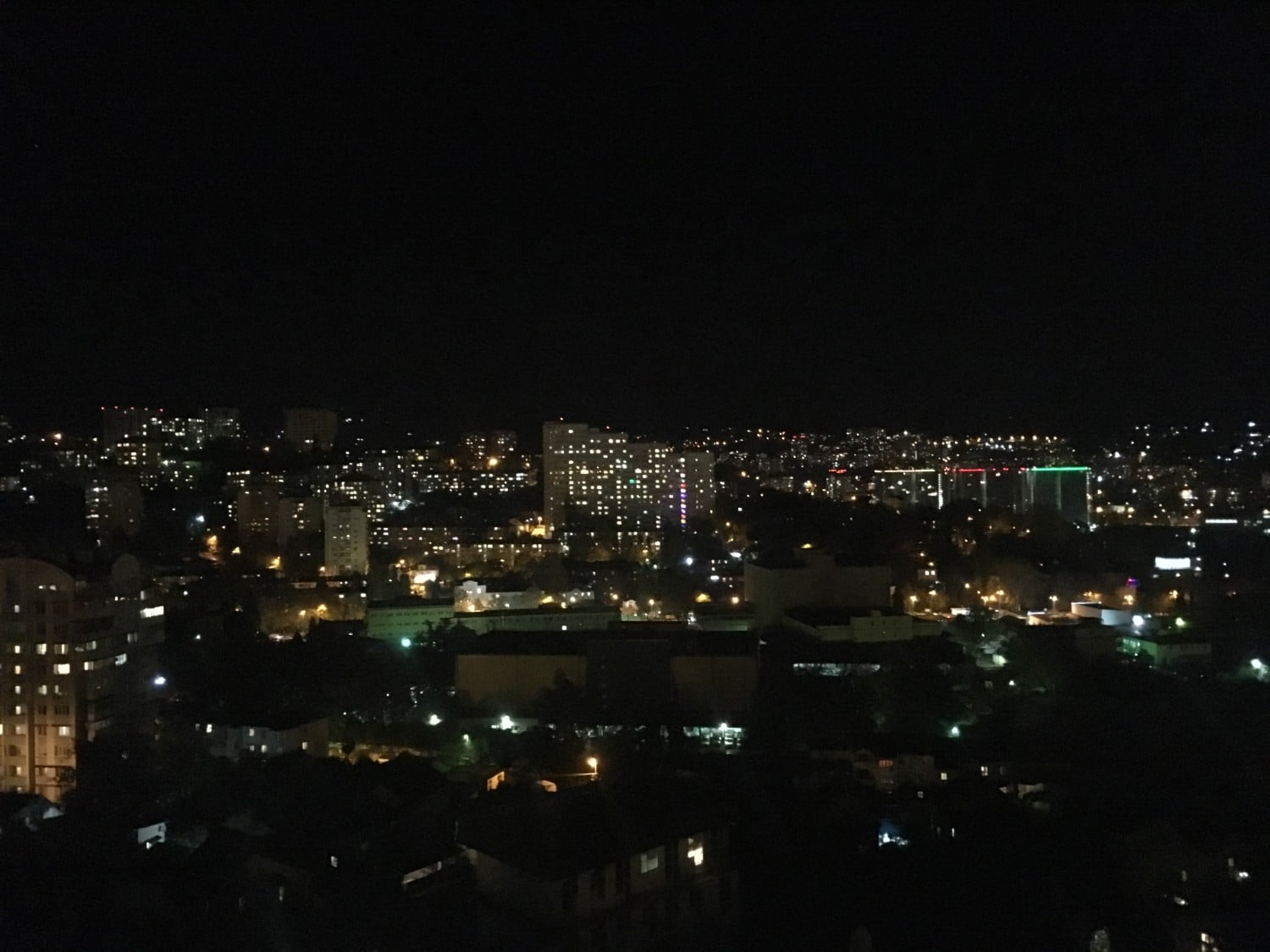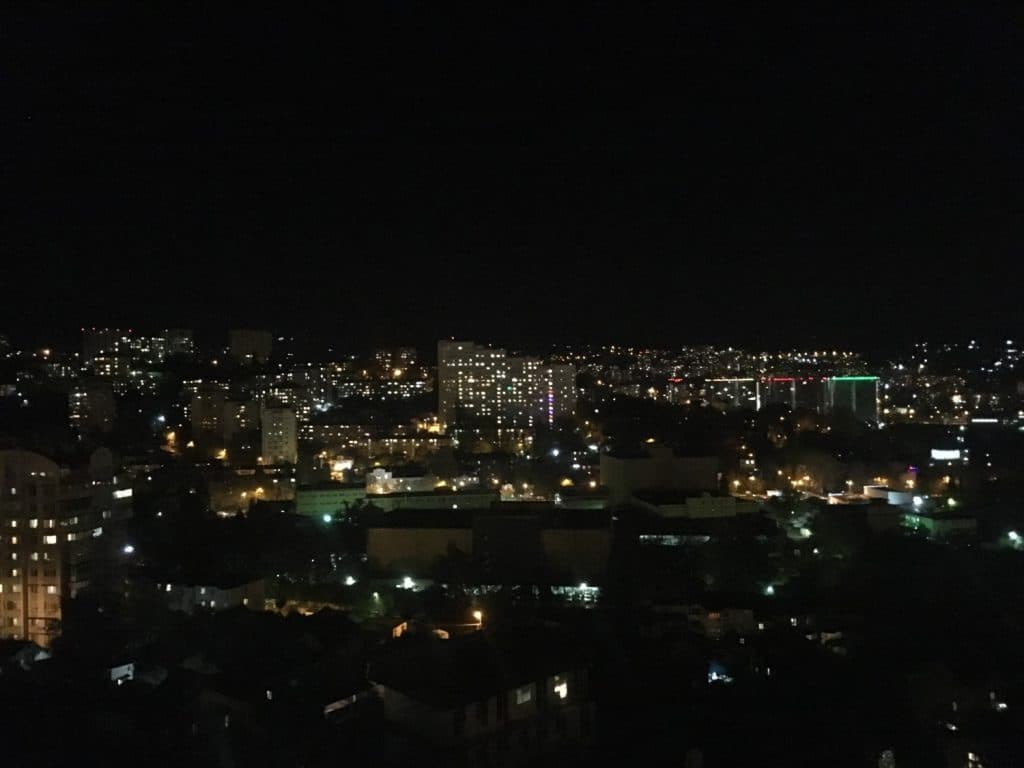 If you would like to spend more money than we did, you can book a villa along the Black Sea. These villas are available through resorts or privately through Airbnb. A group of German students we know did this and thoroughly enjoyed the experience. The resort they booked was all inclusive and they were able to swim in the sea.
Since we chose a hotel that was not exactly in the city center we used taxis to get to the waterfront. This area is what is considered the center of Sochi and is highly tourist orientated so stores and restaurants are densely packed along the water so it was easy to entertain yourself and get around by foot. We used Uber and Yandex to get around the city. Although the city is well connected with inexpensive transit, most times a bus would increase our travel time by double.
Since Sochi is located along the Black Sea, it was our goal to spend a day on the beach. Sochi has public beaches as well as private beaches. The later are mostly owned by hotels, are well maintained, and can be accessed by non-guests for a fee. We opted to visit a public beach in a suburb called Dagomys, which was free of cost. We ate a meal at a seaside café and then laid out on the beach, making sure to touch our feet in the water.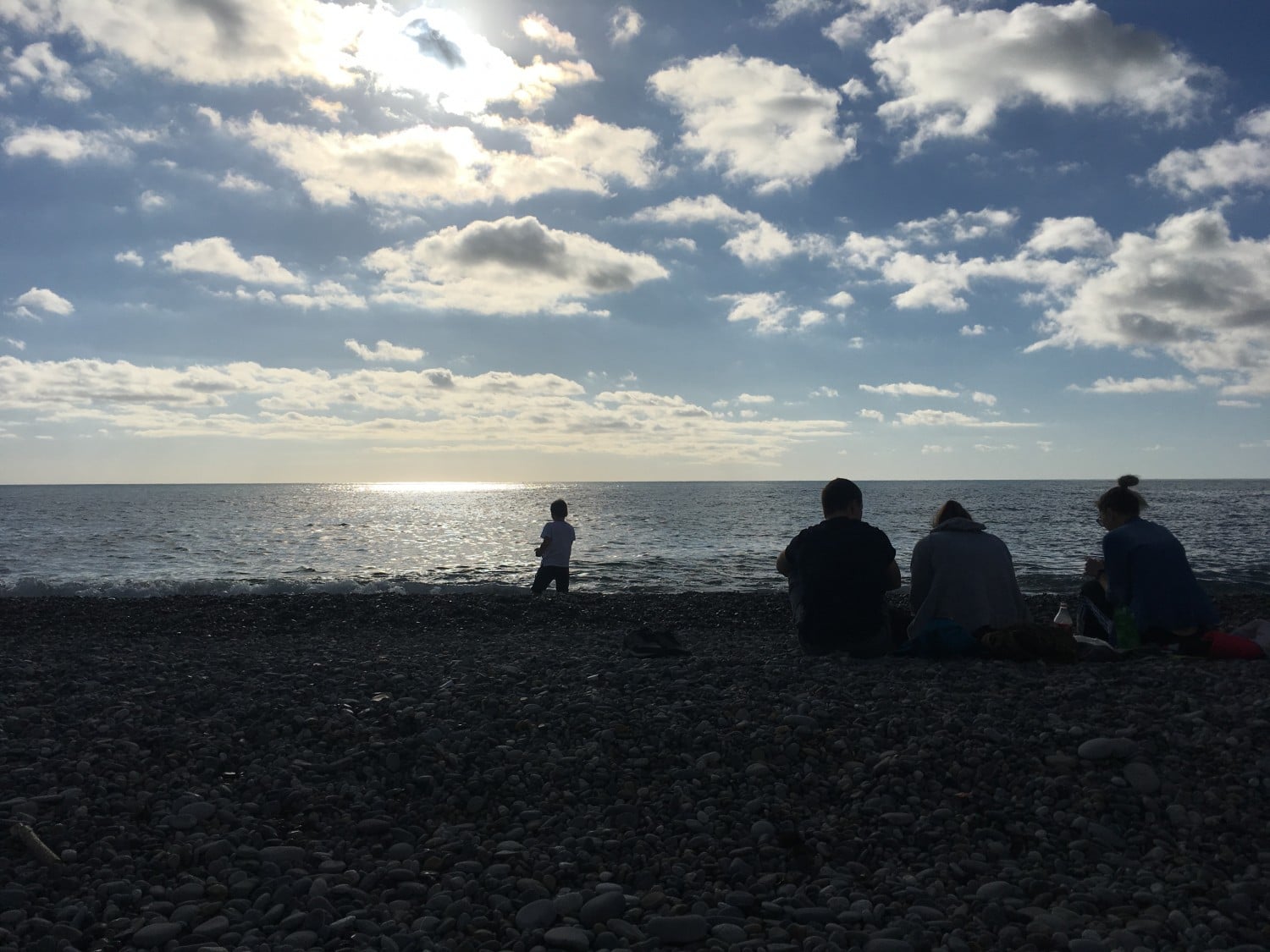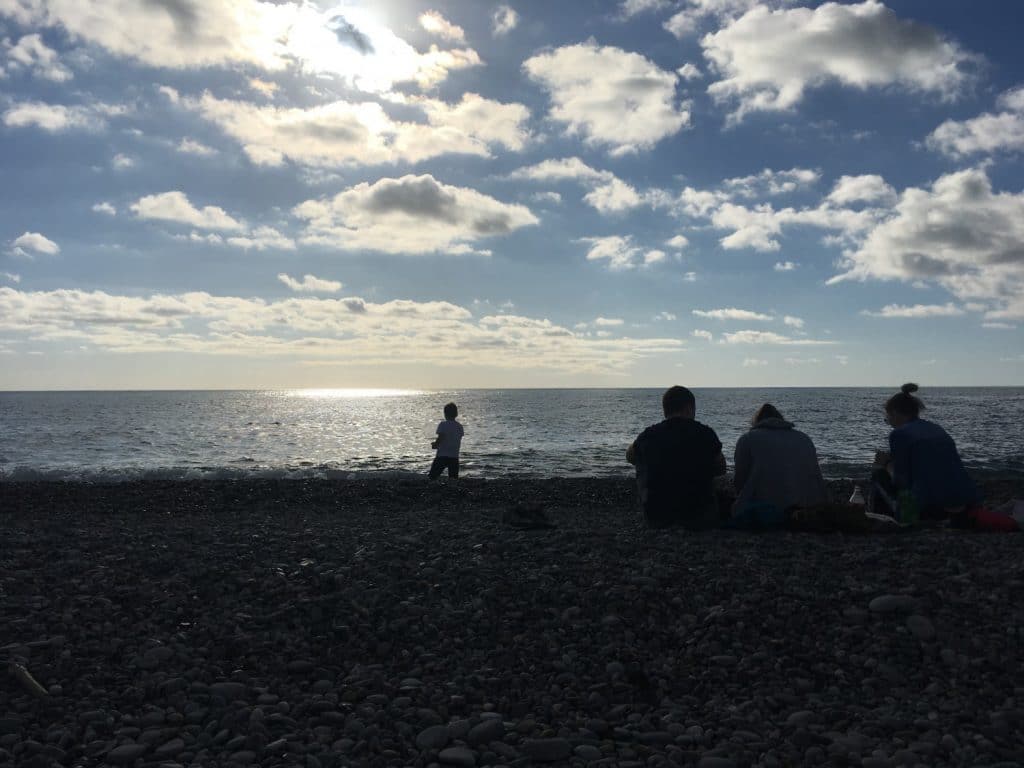 Similar to beaches in the Dominican Republic or Mexico, there was a market before you entered the actual beach and people called to us as to purchase their products as we walked by. They were selling a variety of products including fruit and vegetables, souvenirs, and clothing. At no point did we feel unsafe but it is definitely best to travel to these areas in groups.
As we were walking to the beach we were stopped by a Russian lady who teaches English in Russia. She was very friendly and interested to hear all about where we came from. Apparently, she could hear people speaking English for miles. She recommended we visit the Tea Houses in Dogomys. After spending most of the day at the beach we decided to take her advice and ordered an Uber to the Tea Houses. It took us about thirty to forty minutes from the beach and up the mountains. From there you were able to see sweeping views of the mountains and sea. The view alone makes the journey worth the drive.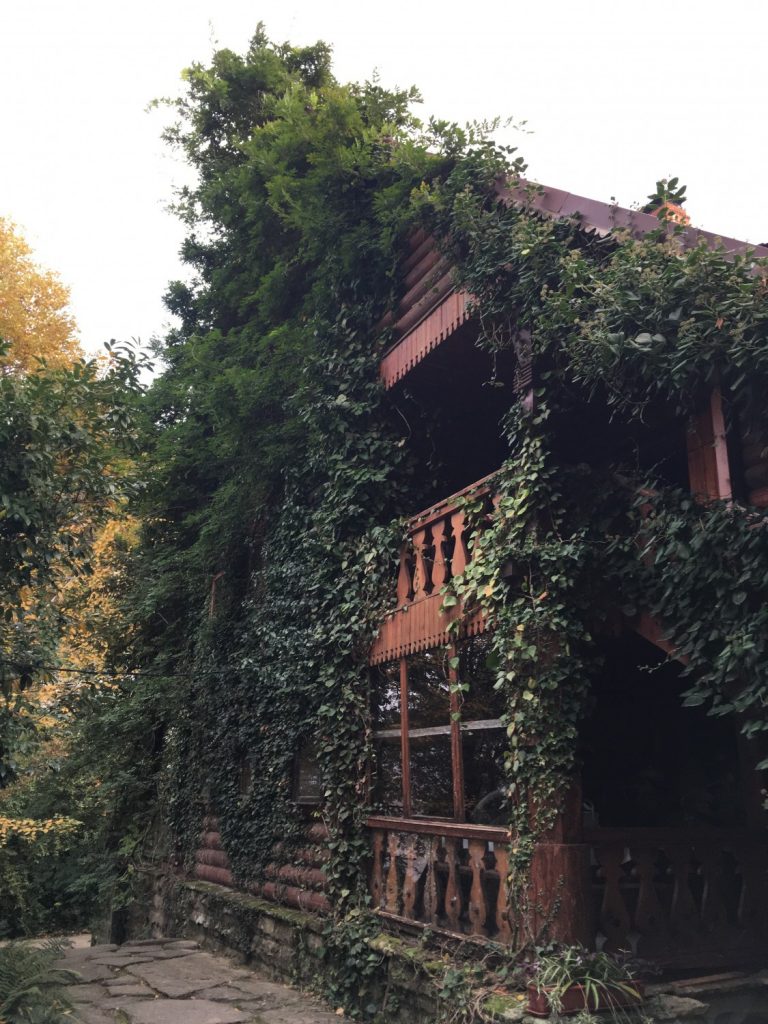 The Uber could only drive so far up the mountain and it was our responsibility to find our way through the walking trail to the tea houses. We followed a dirt path through a wooded area which opened up to a traditional Russian style wooden house. We wanted to receive a true Russian tea experience but unfortunately the tea house was cash only and none of us had any cash.
We then wandered back down the path and attempted to order an Uber, however, that did not work. While Ubers and Yandex Taxis were willing to take us there they were not willing to pick us up from that location. This meant that we had to walk for over an hour to the town's center to order a cab. This should serve as a cautionary tale. If you would like to visit the Tea House, you need to bring cash and arrange that a driver pick you up in an hour or two, or alternatively skip the tea house and instead just take photos from the top of the mountain and leave with the same taxi that brought you up. If you are interested you can also book a tour with U Visit Russia, for approximately 3,200 rubles each (currently around $50). This tour will take you to the tea planation and allow you to have a tea tasting.
The next day we visited Sochi's Sky Park. Only one friend was brave enough to bungee jump from the park's extremely high platform over a ravine. The cost of the jump was 15,000 rubles (currently around $250) with an optional extra 2000 for a media package that provides you with photos and a video of your jump. If you like an adrenaline rush, or want to see more spectacular views of the mountains, this is the place for you.
Since Sochi is known for being the host city for the 2014 Olympics, we decided it was necessary to visit Olympic Park. The park is well maintained and now features an amusement park with various rides. The area that features all the country's flags however, was not as well maintained. The flags themselves were mostly ripped and some were unidentifiable. It was interesting to see the close quarters in which the Olympians lived and the park that was built around it. Prominently featured are the famous five Olympic rings where we, like most people, posed for photos.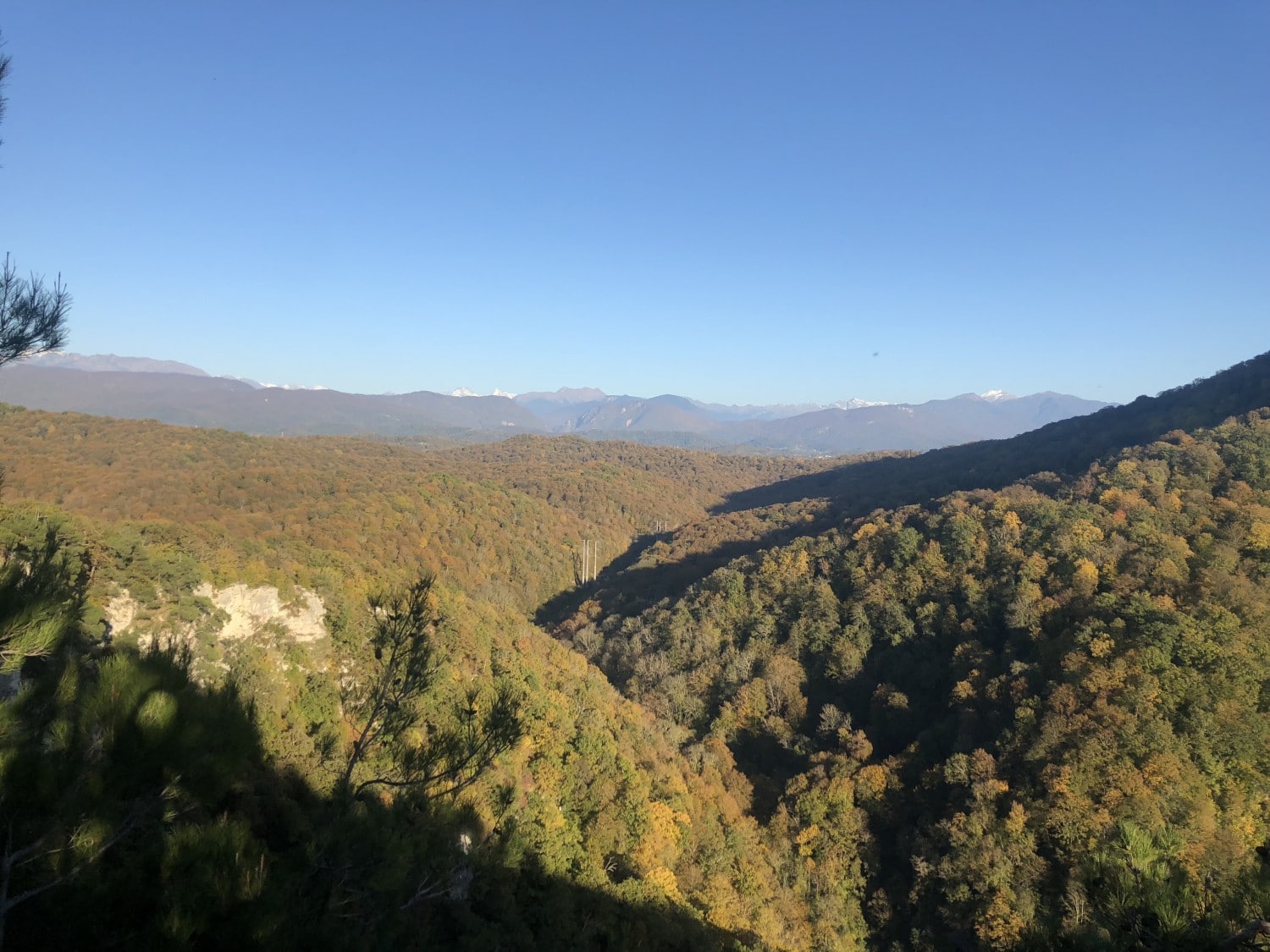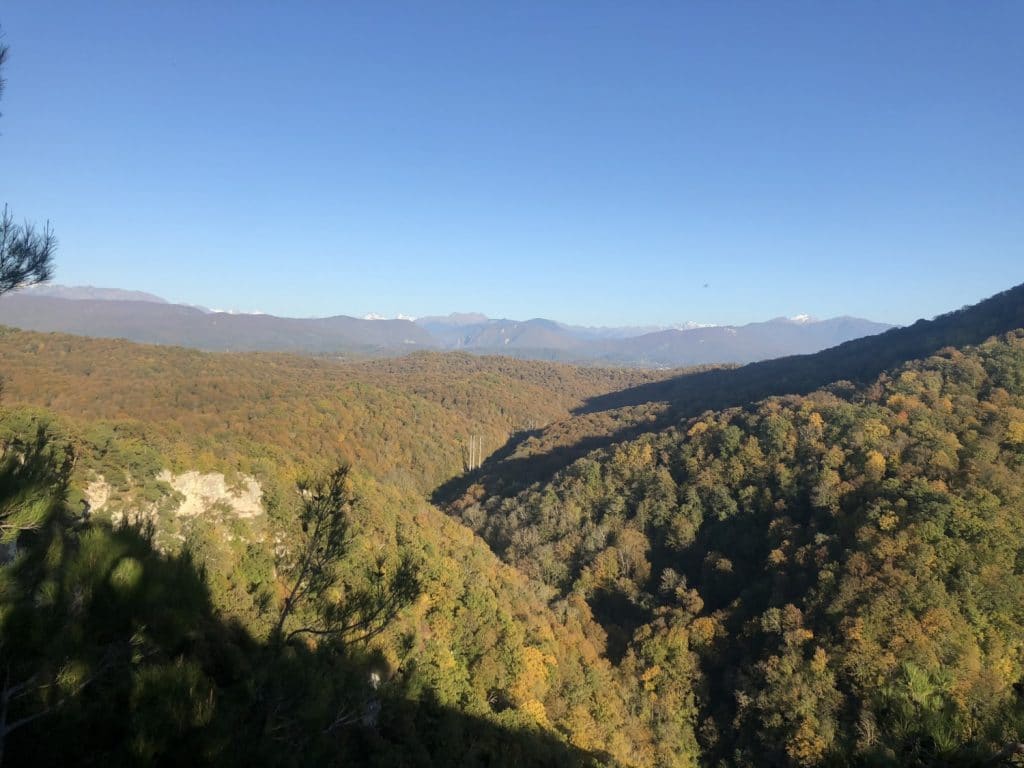 We then ordered an Uber to take us to Achepsinskie Waterfall and Orlinye Rocks. This took the cab driver in tough terrain that was probably not appropriate for his car. Upon stopping the driver told us that he had never been there and was going to do the hike with us. This seemed strange at first, but he did not walk with us. This secured us a cab ride home from the mountain we found ourselves on which was likely another place we would not have been able to book an Uber from. The views here were also amazing, it was as if the triangular mountain ranges opened up before our eyes with a map of green and orange trees the further we climbed. From some angles, you could see the waterfalls far below you. At the very top of the ridge was a statue of a serf who broke himself from his chains.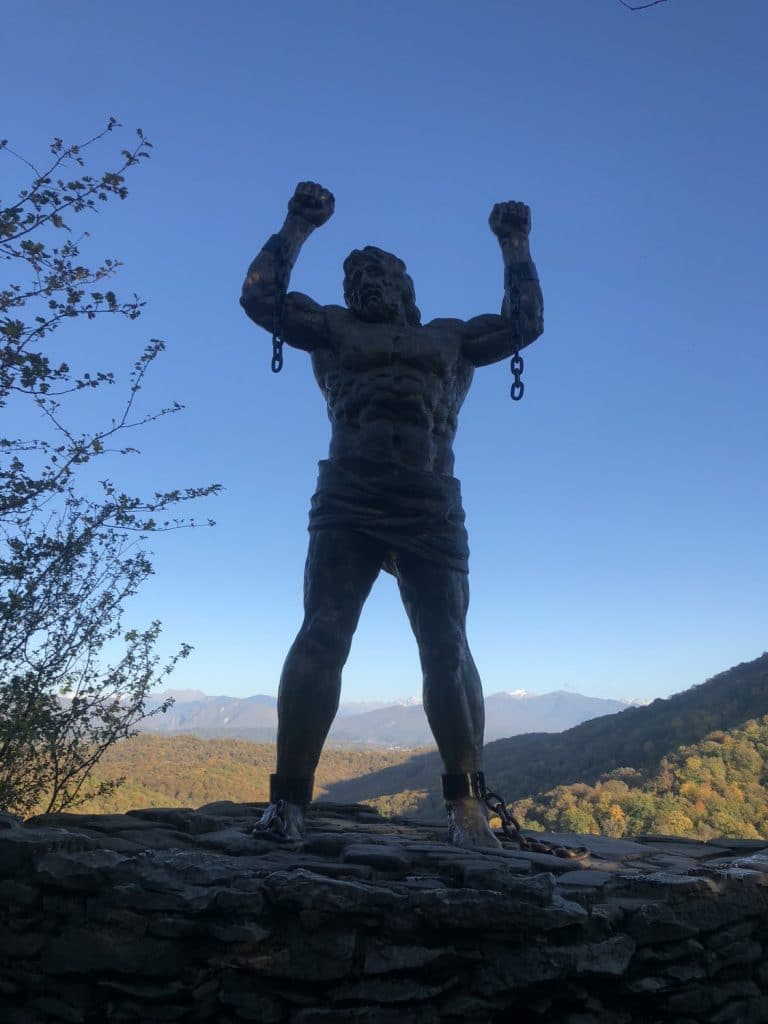 Our final stop for this day was Stalin's Dacha. This museum was surrounded by palm trees on what was once a secluded hill now surrounded by large mansions and new apartment buildings. The price for entry was approximately 400 rubles, and included a required tour. The tour itself was only offered in Russian but the tour guide tried his best to accommodate us with as much English as possible. He spoke basic English and could understand  and answer most of our questions. He showed us Stalin's personal indoor pool, a room where important Soviet officials gathered, and an outdoor area that Stalin allegedly used for dancing parties. The tour guide made up for his lack of English language skills by taking photos of our group in every room.
On our final day before our flight we walked around the waterfront in the center of Sochi. At one point we stopped at a café and chatted as we looked at the sea, lined with palm trees. The area along the water in the center of the city is packed with a wide variety of shops and cafes.
In terms of food I recommend that you eat seafood because of Sochi's close location to the Black Sea and proximity to the heartland of Georgian food. We ate at Хмели & Сунели twice and found the food very delicious both times.
Although this city is not what you would expect from Russia, there was never a point in the trip that I felt that I was outside the country. The city still had a distinctly Russian feel because of the infrastructure and the people. Similar to any foreign city, although we never felt unsafe, it is important to keep a working phone with you and I recommend you travel in groups.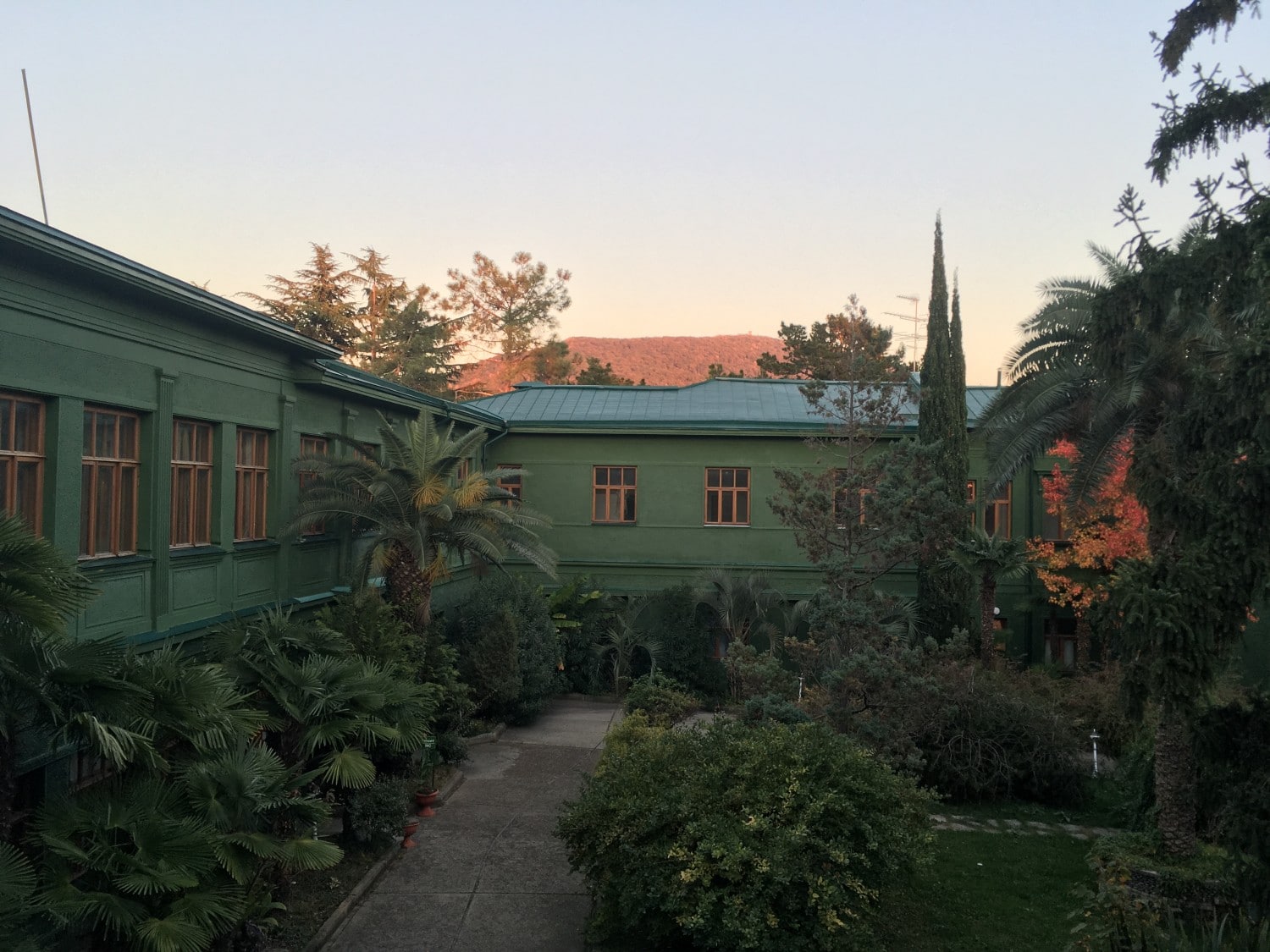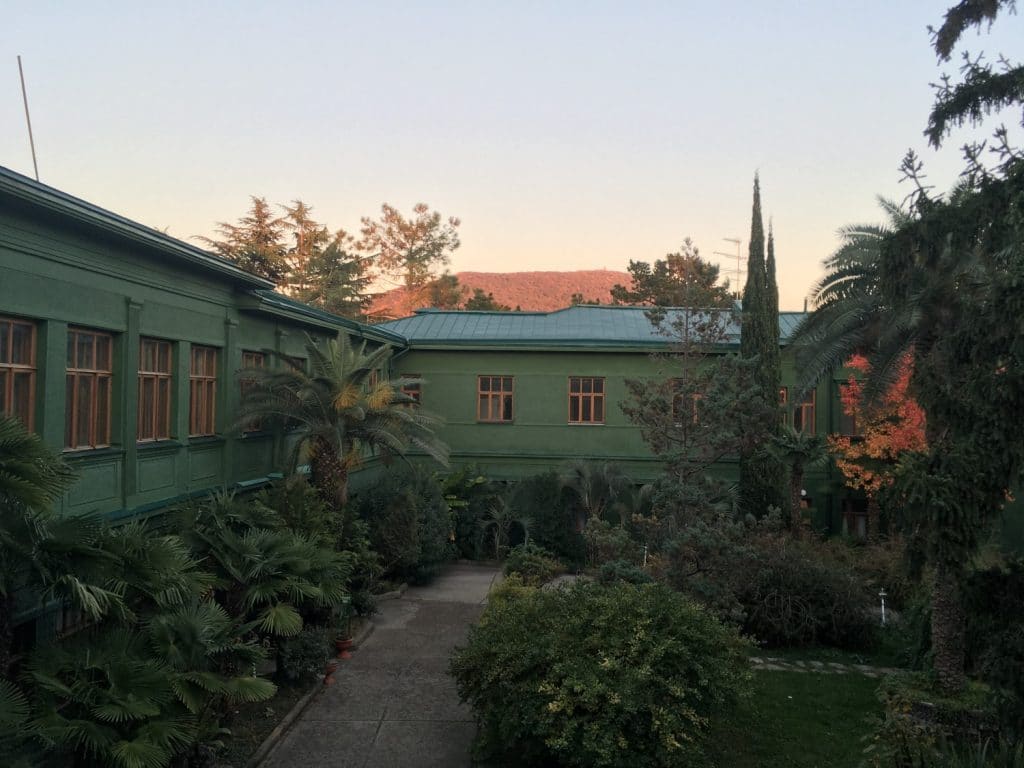 Trip to Sochi from St. Petersburg
Three Days
Total budget: $400