Moscow is a great place to explore, but sometimes getting out of the city is a must. Luckily Moscow is a centrally located travel hub connecting you to many great places for a weekend getaway, which can include, not only different cities within Russia, but cheap and direct flights to cities such as Helsinki, Tallinn, Minsk, Vilnius, and the city I chose, Riga. The full trip can be made over a weekend and for about $300 or less.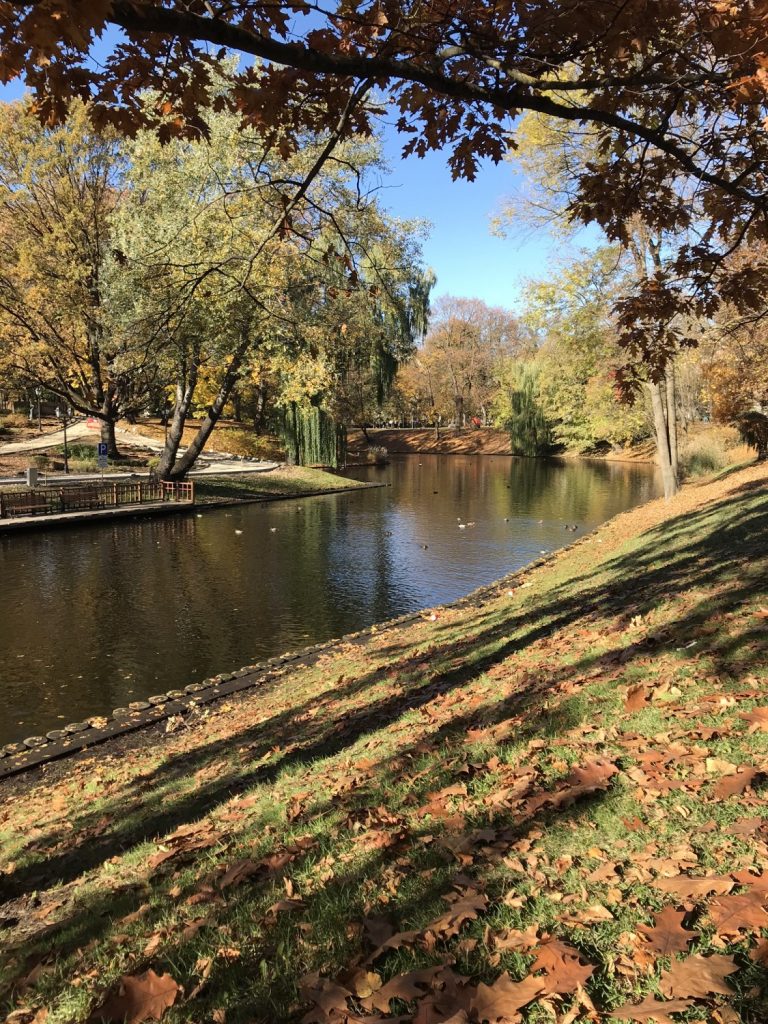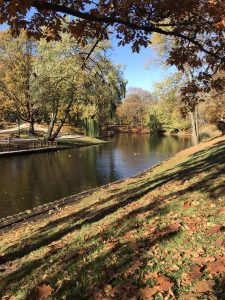 If you do plan to take advantage of opportunities to travel out of Russia while on a study abroad program, make sure your visa is not single-entry (it needs to be double-entry or multi-entry for you to re-enter the country after leaving). Make sure as well to let your university and study abroad program (SRAS) know anytime you will be traveling so that you can be advised of any registration or visa issues.
About Riga
Riga, Latvia is the largest city in the three Baltic states and home to one-third of Riga's population. It is a beautiful and eclectic city with a lot of history and architecture that reflects its former place within the Swedish, German, and Russian Empires, its invasion by Nazi Germany, annexation by the Soviet Union, and current independence, gained in 1991. Riga is not a huge city (population 637,000), and most of the historic center can be explored on foot in one weekend without feeling rushed or skipping out on important cultural sights.
Arriving at the Airport
I bought my ticket to Riga on Skyscanner.com for $110 round-trip from Moscow's Sheremetyevo airport. I left Moscow on Friday morning and arrived in Riga around 11am after an hour and a half flight. Riga's airport is small; I pulled Euros from the ATM immediately upon arrival, and found a cheap taxi ride via Yandex (the "Russian Uber" works in Riga!). It took about 20 minutes to get from the airport to the city center. As I waited for my Airbnb to become available at 4pm, I decided to take advantage of the beautiful October afternoon and explore Old Riga.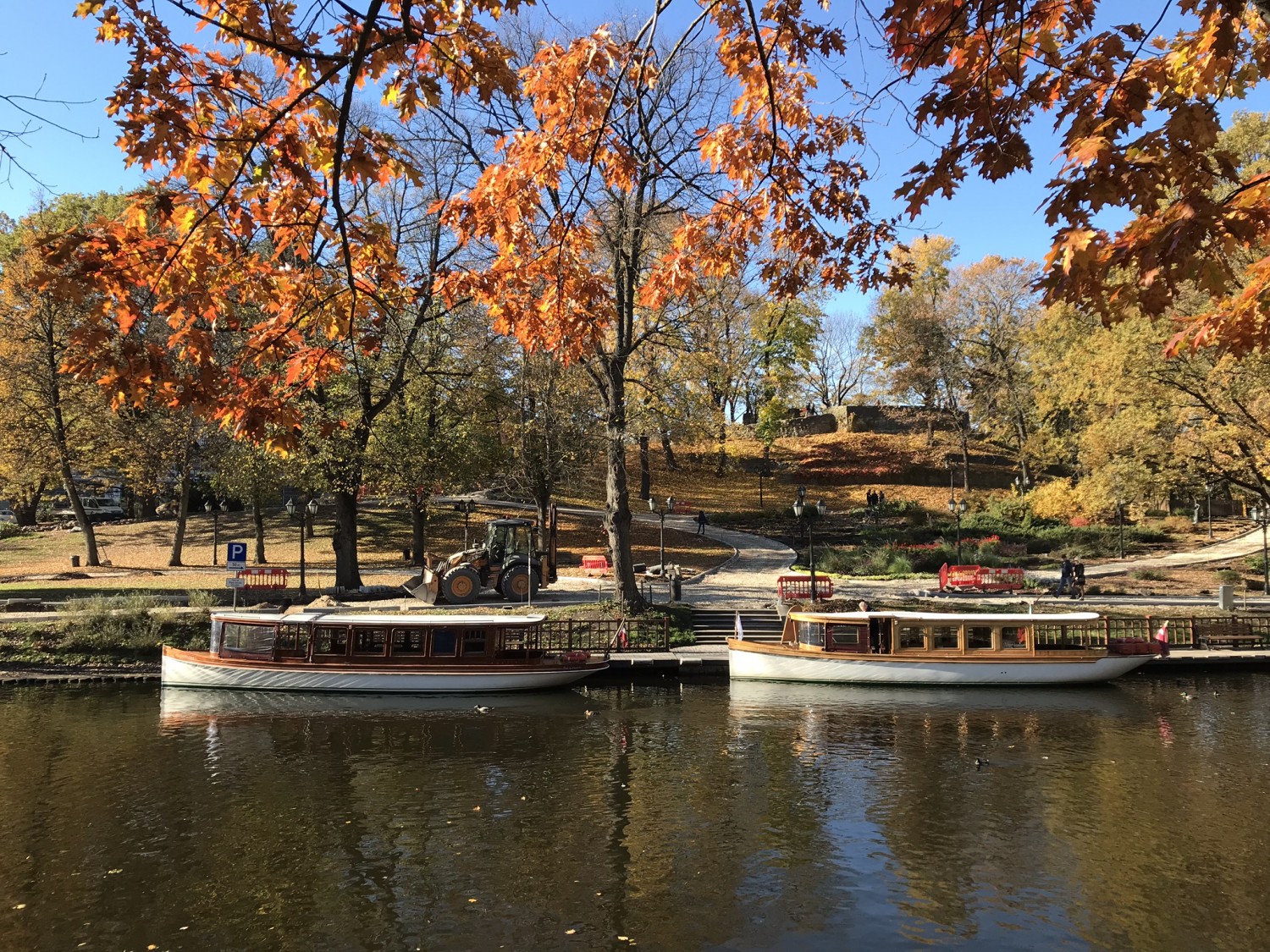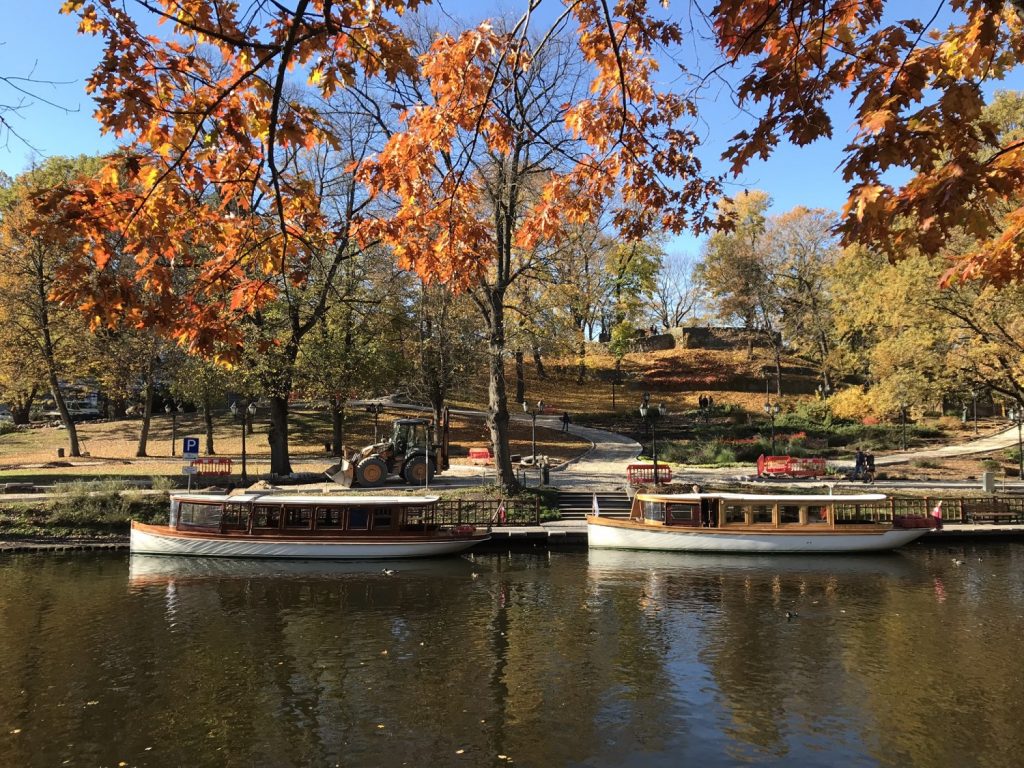 Walking Around the City
Most of Riga's major landmarks are located in the city center. Bastejkalna Park is stunning in autumn and it surrounds The Freedom Monument dedicated to the soldiers who lost their lives in the Latvian War of Independence (1918-1920), which ended with Latvia's annexation by the USSR. Riga's city center is an UNESCO World Heritage Site famous for its art nouveau architecture, most of which was built in the early 20th century while the city was booming as a port within the Russian Empire. Nearly a third of the buildings in the downtown area are built in this style, making it great for sightseeing and picture taking. Other places worth checking includes the House of the Blackheads, Līvu Square, and walking along the bank of the Daugava River.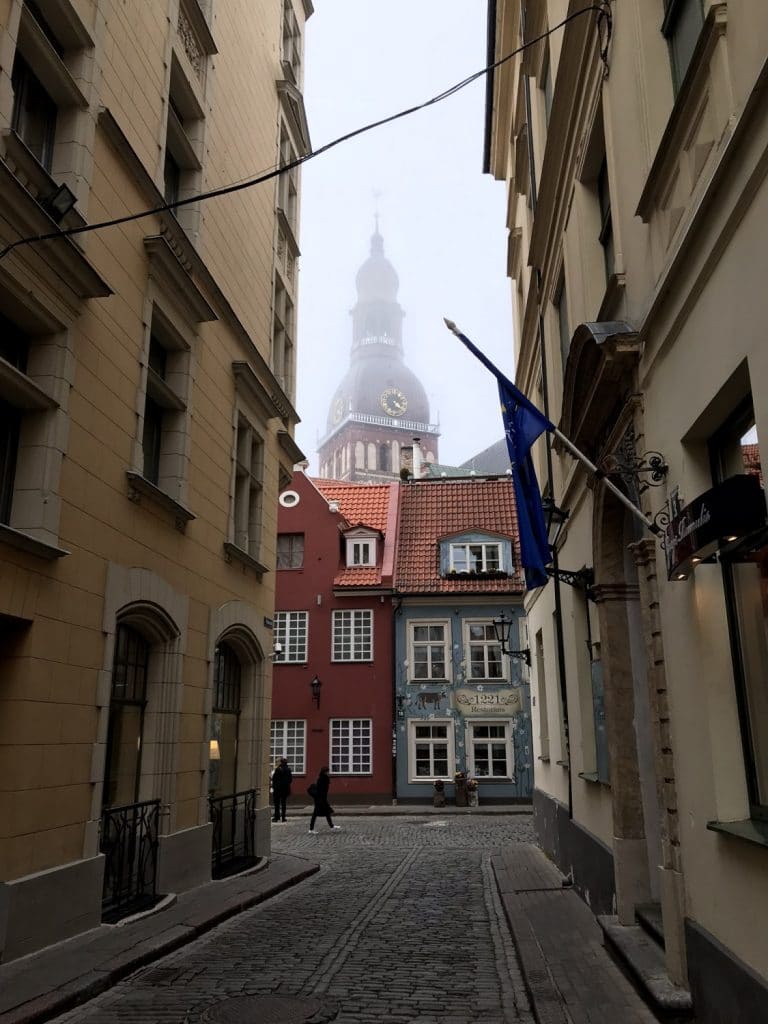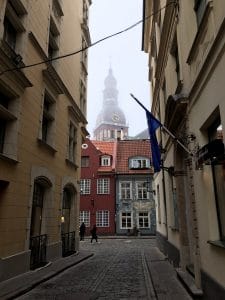 Accommodations
I stayed at a cheap Airbnb located along the Daugava River in Old Riga. The location was absolutely perfect and the price was affordable for a weekend stay ($60 total for three nights). I highly recommend using Airbnb as opposed to hotels. Hostels are always a good option if you are looking for cheaper options, however I opted for more privacy via Airbnb. From my Airbnb I was able to access the whole city by foot.
Saturday
I began my first full day in Riga by eating out at a local vegan/vegetarian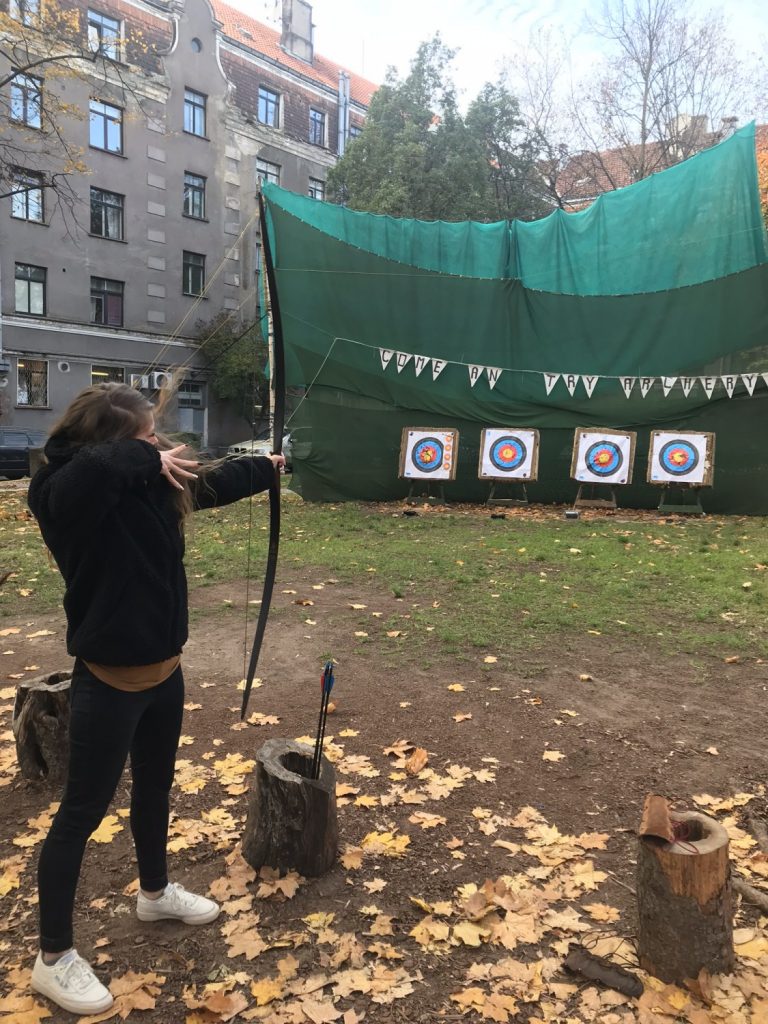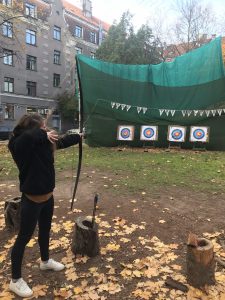 restaurant called The Fat Pumpkin. I am not a vegan or a vegetarian, but I chose the restaurant due to the good reviews, and because I wanted to indulge in some pumpkin because it was late October. Their food was excellent. I ordered the pumpkin soup, the hummus plate, and the potato rösti stack (potato pancakes served with an assortment of vegetables). After brunch, I decided to try my hand at shooting a bow and arrow in the local square nearby. It cost 5 euros ($5.64) for ten arrows — perhaps a bit expensive, but I couldn't resist.
Finally, I finished my day at the Museum of the History of Riga and Navigation (note: this museum is closed on Mondays and Tuesdays). The museum is well put together with guide books written in German, Russian, and English. The museum covers the very earliest civilizations recorded in the area to Latvia's current independence, and has many interesting displays. I loved this museum and highly recommend it to those looking to learn more about Riga and its historical significance throughout the centuries. The cost was 5 euros ($5.64) for a self-guided tour through the museum. I recommend up to two hours to view the whole museum.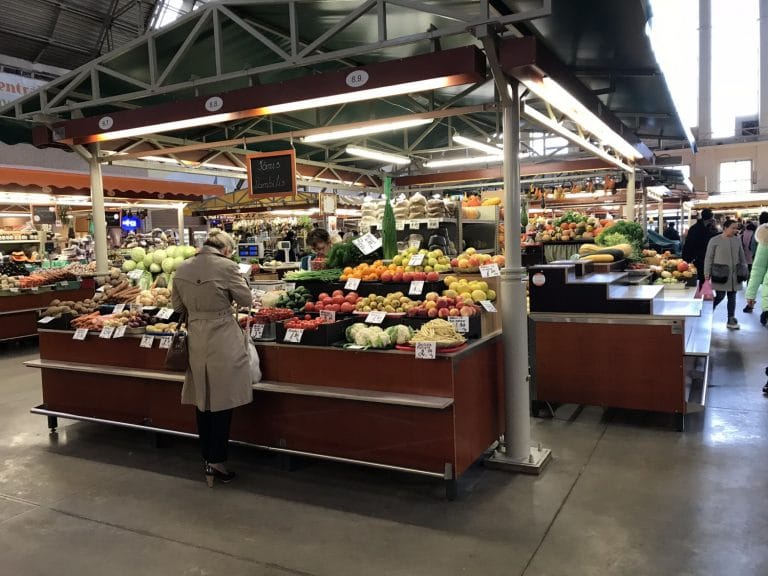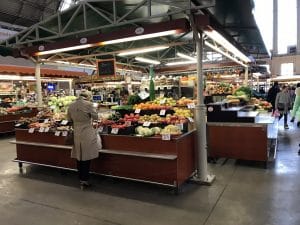 Sunday
Sunday morning, I woke up fairly early so I could check out Riga's Central Market. Located just off the Daugava River right outside of Old Riga, the Riga Central Market was rebuilt out of old German Zeppelin hangars in 1924, and is also an UNESCO World Heritage site. It is the largest market in Europe at impressive 778,00 sq ft (72,300 sq meters) and has over 3,000 trade stands selling a variety of products. I easily spent two hours here exploring the various corridors and booths. I also bought lunch here: fresh lavash with onions with a local kvass to drink all for under $3.
I then finished my day walking around the city center and taking in all the architecture. I stopped by MiiT Coffee to warm up and take a break. I also recommend this place, it is also vegan (an unintentional find), and the café offers a variety of lunch options and offers a pancake bar on the weekends. It's safe to say Riga is a vegan and vegetarian friendly city if that is your jam. After the café I headed back to my Airbnb to pack and take a much needed nap. After all, proper rest is also important. I left Riga on Monday morning around 9am and arrived back in Moscow midday.
Overall Impressions
My overall impressions of the city were very positive. Its proximity to Moscow is ideal, but has enough of a Western European vibe to make you feel like you have left Russia to somewhere completely new. The city is stunning and perfect for a weekend visit. I spent, overall, about $300 dollars, which included the round trip plane ticket, Airbnb, taxis to and from the airport, food, and entertainment. This is a feasible and affordable weekend trip for those studying in Saint Petersburg or Moscow. The Baltics are a much-overlooked part of Europe, and I highly recommend exploring this often overlooked gem between Western and Eastern Europe.
Weekend Trip to Riga
3 days
~$300, inclusive