Travel within Russia is comparatively inexpensive and, while studying in St. Petersburg, I've been able to see many great cities will keeping to a student budget: Sochi, Murmansk, Irkutsk, and now Kazan. Kazan is unique and now one of my favorite Russian cities. This uniqueness stems largely from the Tatar and Muslim influences in architecture and culture, making this city different from all the other cities I've visited before.
To save money on travel, it is very easy to find likeminded people interested in exploring Russia in the international student dorms, whether they be fellow SRAS students or students in other programs. Many students will only be visiting Russia once in their lives and thus will be interested in traveling within the country as much as possible. Going as a group allows you to share costs in housing, tours, and more.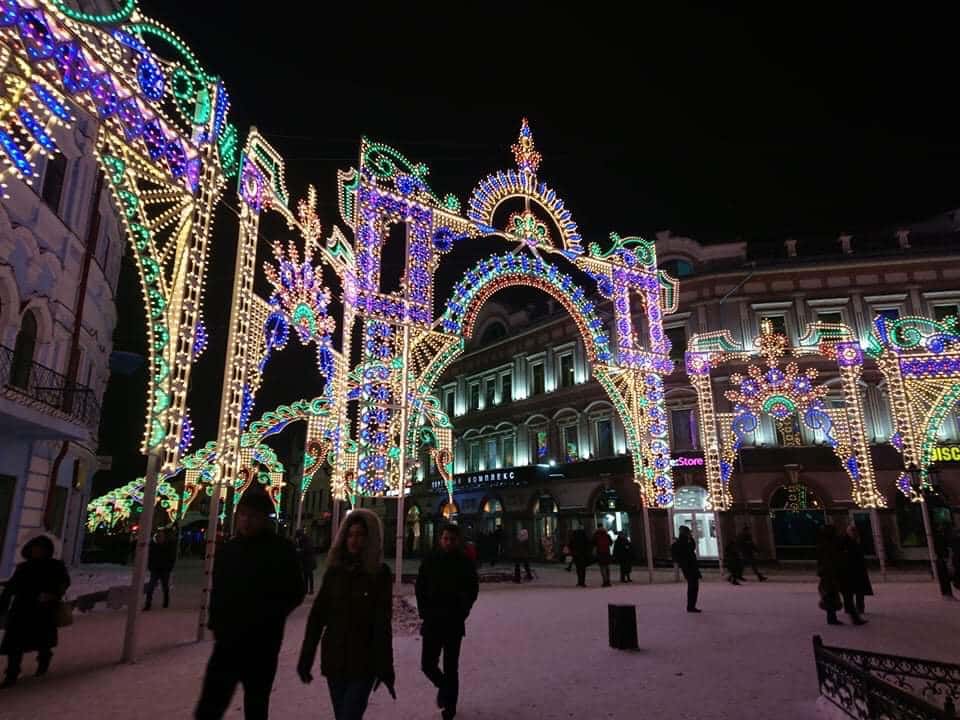 For this trip I traveled with two students from my dorm that were not part of the SRAS program. One was from Poland and the other was from the Netherlands but her mother was Russian. I had traveled with Nina, the student from the Netherlands before, and knew how useful it was to travel with someone who was a native Russian speaker. This is important as you travel outside of St Petersburg and Moscow, where fewer people speak English. You will certainly have more opportunities for practicing your Russian in Kazan than in large cities closer to Europe.
Before booking the trip to Kazan, my group of friends gathered in our kitchen dormitory to discuss budgets, flights, and accommodations. We wanted to keep this trip inexpensive and decided not spend over $300 each including flight, accommodation, and food.
We then began to price-compare flights. For this we used both Skyscanner and Tutu. Direct flights to Kazan are fairly cheap and we settled on a flight with Nordavia for 5650 rubles (slightly over $80) for a two-hour flight.
If you are not keen on flying and have more time to spend traveling you can also book a train. This way you will see more of the Russian country side, meet more Russians traveling onboard, and, if you would like, you can stop in other cities on the way through. This adventure from St Petersburg would take at least 17 hours each way. The student from Poland that I traveled with, Julia, had traveled on the Trans-Siberian Railway before arriving in Kazan and told us that it was a truly "Russian" experience not to be missed.
Once we booked our flights, the next discussion was accommodations. After looking at the prices of hotels within the city center (which were not expensive by North American standards), we agreed that it would be cheaper to book and share an Airbnb. The Airbnb we chose could sleep three people and would be under $20 each for two nights. Another benefit of the Airbnb we chose was it was located in the city center and had a view of the Volga River. The apartment was also equipped with a kitchen, so if we wanted to save our money and cook, we would be able to.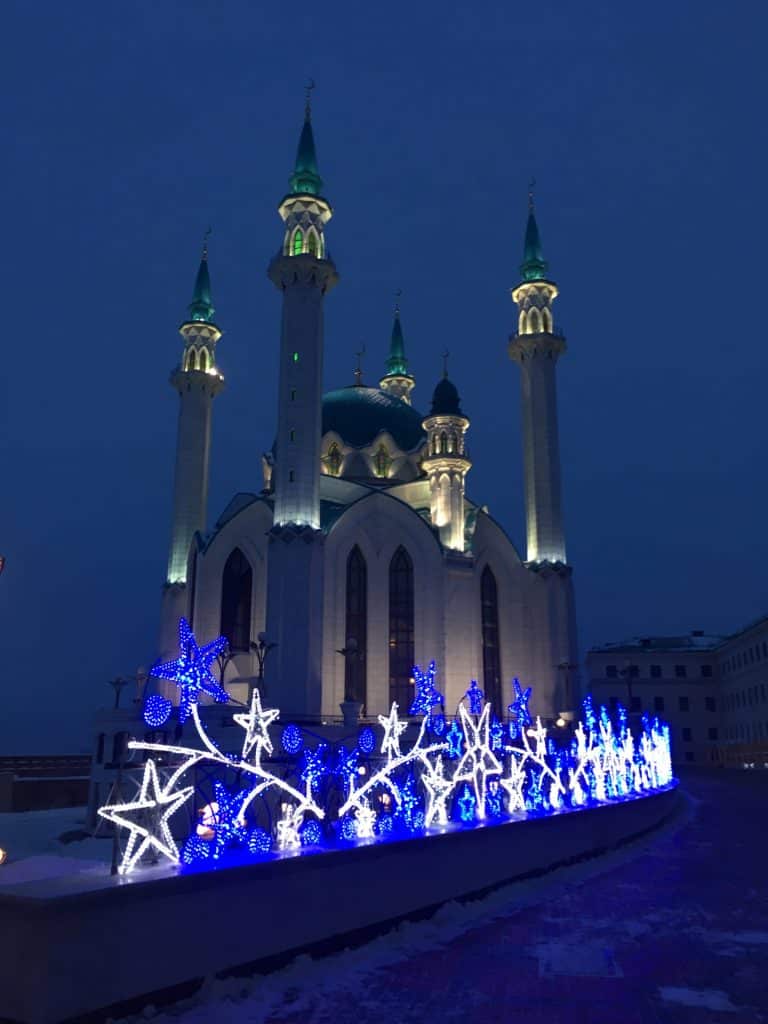 We knew we would have to make the most of both of the two short days we had in the city to see everything that we wanted. We ate a breakfast of kasha that we had bought the evening before at a nearby grocery store and cooked in the apartment kitchen. Then, we ordered an Uber to the Temple of All Religions, located slightly outside the city. The temple was beautiful, standing as a powerful symbol of peace and unity between religions. The temple was built by an artist named Ildar Khanov who was inspired by the multiculturalism of Kazan itself: with both Islamic Tatar and Orthodox Russian culture.
We entered the temple for 100 rubles each and we found the exterior was definitely the highlight. After touring the entire building in under 15 minutes, we ordered an Uber back into the city to get lunch. We decided to go to a blini restaurant that was recommended to us by a friend called Café Blinnaya Maslenitsa. It is a Russian cafeteria with premade food on display, however, there is also a list of over 40 blini that are either sweet or savoury that you can order. The blinis are then made right in front of you. If you have a student card they offer a 25% discount. For three large blinis we spent 285 rubles. Try the Greek blini – we all agreed it was our favorite!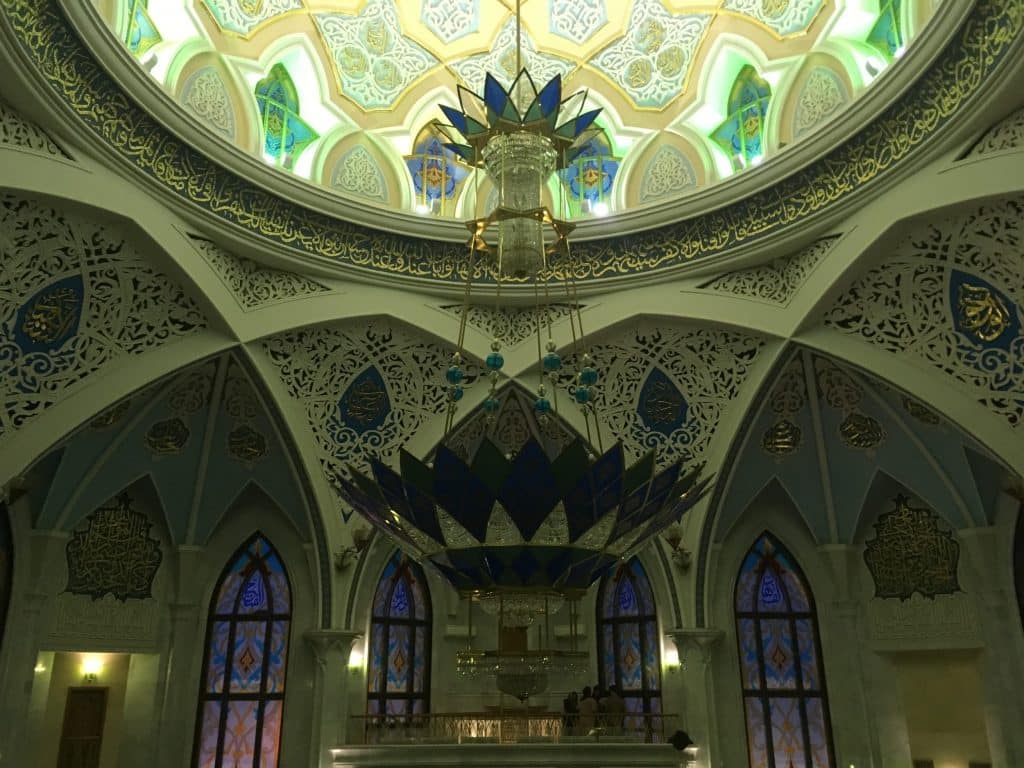 After lunch we walked to the Kazan Kremlin, less than a five minutes' walk from the restaurant. Entry to the Kremlin itself is free unless you choose to take a guided tour which is approximately 1000 rubles each. We opted to go without the tour. The highlight of the Kremlin is the Kul Sharif Mosque, which is free to enter. If you choose to enter the mosque, be aware of cultural differences and respect that women must have their hair covered.  If you are a woman, you will not be allowed to enter the mosque without covering your hair. You can bring your own scarf or use one that will be provided for you. The interior of the mosque is just as beautiful as the exterior and worth the visit.
After exploring the rest of the Kremlin, we walked to Kazan's Ministry of Agriculture which has a large archway built around a tree at the front of the building. We intentionally visited this spot at night because this is when a green light shines behind the tree creating a beautiful example of fused classical and eclectic architecture.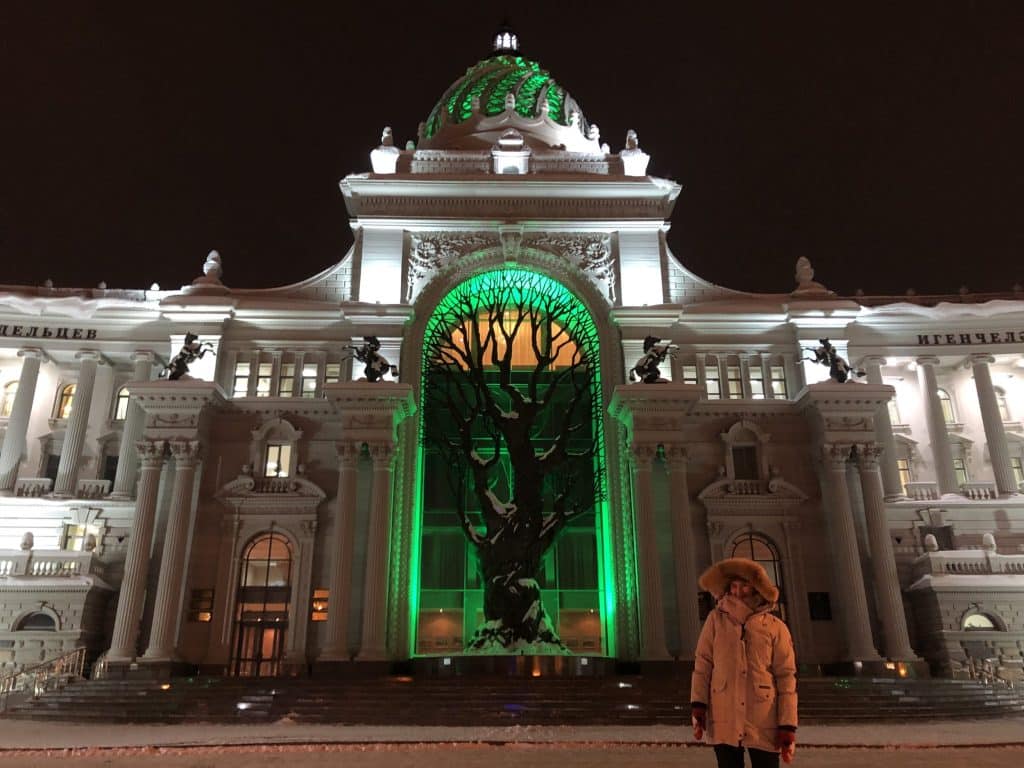 Although we mainly used Uber as our means of transportation because the rides were short and always under 100 rubles, Kazan also has a good public transit system consisting of buses, trams, and trolley-buses. The fee for these are 25 rubles a ride. This means that you can save money by guiding yourself around the city.
The next day we spent exploring Bauman Street, a pedestrian street in the center of Kazan. In the evening the street is completely lit up with intricate lights. On the street you will see the bell tower of Epiphany Church, which is a local landmark. Also on the street are various restaurants and souvenir shops.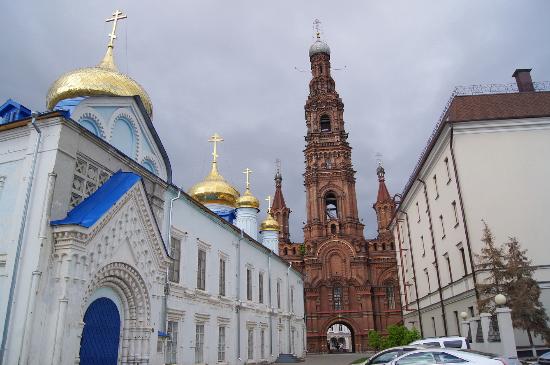 The city also has a variety of unique tours tailored to different interests. If you look online at Viator, you can find tours that include: Taste Vegetarian Kazan, a Kazan Art Walk, a Kazan Bicycle Tour, and much more.
If we had stayed longer in Kazan, we would have liked to explore the surrounding towns and villages with important cultural history and monuments. A Russian I met who is from Kazan recommended that I take a tour to Sviyazhsk Island or Rafia Monastery, for instance. Kremlin Tours offers a day trip to both areas for 13800 rubles (for 3-5 people). This tour begins with Rafia Monastery on the Volga River, which is a UNESCO protected nature sanctuary. The second stop is Sviyazhsk Island, a small island that lies in both the Volga and Sviyage Rivers.
One word of caution: the weather in Kazan varies depending on the season in which you plan to travel. We were traveling in early January when the temperature ranged from -15°C to  -8°C ( 5° to 17°F). This means packing winter appropriate clothing that would allow for walking around the city comfortably.
Kazan is a gorgeous example of peaceful coexistence of Islamic and Russian architecture, culture, and people. The city has a welcoming feeling which can be felt immediately upon arrival. Please enjoy all that this city has to offer and take lots of photos – I assure you that they will stand out from the photos you took thus far in Russia!
Weekend Trip to Kazan
2 Days
$300, all inclusive.