Wasabi
Japanese Kitchen & Cafe
Семеновская ул., 30 / Semenovskaya St, 30
Hours of Operation: 10-23
Price: $5-$15
Free Wifi
Going to Wasabi was my first big adventure! While I'm fairly weak in Russian speaking, I realized the best thing I could do is learn by trial and error, so I pumped my confidence up, memorized a couple a phrases in Russian that could get me started (I would like Мне хочется… (+ genitive) as it isn't as demanding as Я хочу (+ accusative), but gets the job done) and set out to the center. I walked around Vladivostok for a bit and happened to be in the mood for sushi, so I looked around for sushi places.Walking down Okeanski Street back to campus, I found Wasabi.
It is a small place (one could say cozy), however it is an excellent place to sit and study. It has small tables and couches. With free WiFi, it is a clean, modern space, with a hint of Japanese iconography. Wasabi creates a sort of hub where people can work on their computers and eat Japanese food. I was greeted immediately by a kind young sir and after some trouble communicating, I eventually received a menu. The menu is nicely set up with some English translation, though the pictures help incredibly. They have quite a comprehensive menu, catering towards a multi-course meal with its inclusion of salads, soups, sushi, sashimi, sushi rolls, gunkan-maki, and desserts. And as expected, they had an extensive alcohol list at the end. If you are a sushi roll enthusiast, you would typically expect avocado in your rolls. Unfortunately, Wasabi substitutes avocado for cucumber (most likely for cost reasons).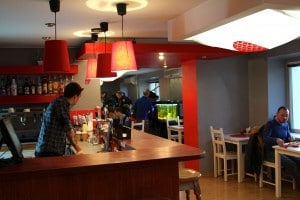 A small set of four to six rolls are priced between $4-$10 (with the desirable rolls around $8). Because of this (and the desire to try different rolls), I decided on сет таяма (Tayama (Tokyo) Set – priced at $15) which came with four different types of rolls: Salmon roll (the red one), Red California roll (with the red eggs called tobiko), Marble California (with the black eggs called ikura tobiko), and Unagi roll (which only later found out was eel!). They were all very tasty, though I would recommend the Unagi roll as my favorite.
I'm keeping my eye out for service differences in Russia. There is that fine line of not having enough service and having too much service. I noticed that my waiter lurked around my table and whenever I touched something or finished something, he swept down and removed it. This constant presence made me a bit uncomfortable as I got the sense that he wanted me to finish up and leave.
Before I went to Wasabi, I didn't have an expectation for price ranges for restaurants in Vladivostok. Now as I type this, I have a better understanding and would have to conclude my final review as good, but not worth the price. I've since found two more sushi shops that give more for less. While the service is professional and the space is clean with free WiFi, there are better places that you can go to.
+: Free wifi, clean and warm space, decent sushi
–: Small space, lurky staff, and very expensive
So my final rating is ⅗ because you can get a better deal elsewhere for same service
Interesting observation: For some reason still unknown to me, Russia has a fixation with North American pop music from the early to mid 2000s. This is a culmination of my first week here, not just my experience at Wasabi. Think Kelly Clarkson's "Since U Been Gone" and Avril Lavigne's "Complicated." I don't know why these songs are in (or why radios play more English music than Russian music), but expect that.