Восточный Квартал/Vostochnyi Kvartal
г. Москва, ул. Арбат, 45/24
Hours: 12:00 pm-11:00 pm
Prices:8+
vkvartal-arbat.ru
Central Asian food seems to be all the rage in Moscow. These restaurants are often decorated with beautiful Central Asian designs and décor, and often have a "hip" theme. There is often hookah served, furniture upholstered in a Central Asian or almost Turkish style. Because Central Asian food is not well-known in the West, you will not be able to easily find this cuisine once you return to the United States. Therefore, while in Moscow, I definitely encourage you to try Central Asian cuisine.
Although Central Asia includes Kazakhstan, Kyrgyzstan, Tajikistan, Turkmenistan and Uzbekistan, it is the cuisine of the latter that appears to be the most notable. One thing that sets Uzbek cuisine apart from the other Central Asian countries, is the use of spices. Some commonly found in Uzbek dishes are cumin, black pepper, barberry, and coriander. An abundance of delicious fruit grows in Uzbekistan, especially in the summer. Uzbeks often add raisins, apples, dried apricots and other fruits into their savory dishes, adding a well-balanced flavor.
On Staryi Arbat, Vostochnyi Kvartal offers a variety of Central Asian food, including Uzbek, Kyrgyz, Tajik and others. I ordered the plov, a popular dish in Central Asia. It is a rice dish with meat, vegetables, and sometimes fruit in it. This dish I ordered had beef, raisins, and a sort of yellow vegetable I wasn't familiar with. It was slightly greasy – authentically so, and I thought it was still very good. I loved the raisins in it.
I also ordered lagman. This is a popular Dungan dish. The dungans are a predominantly Muslim people from Eastern China. There are minority Dungan populations in many Central Asian states and Dungan cooking styles have greatly affected food culture across central Asia. Lagman is made of noodles that are traditionally made by hand, a tomato sauce, and vegetables, such as bell peppers and garlic. Just making the noodles can take hours.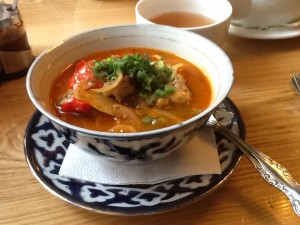 My friend ordered the samsa, a pastry that is filled with minced beef, sheep, or even pumpkin. In Central Asia, this is a popular and cheap street food. She also ordered a warm banana dessert with two scoops of ice cream and fruit sauce drizzled over it. We weren't sure if this was exactly a traditional Central Asian dish, but it was good.
Overall, the food was all very delicious. The lagman in particular, was authentic. I did, however, notice that some of the more exotic dishes, were "westernized" or left off. For example, the Kyrgyz besh barmark, traditionally eaten with the fingers (the name of the dish actually means "fivefingers" to highlight this) was served with cutlery. There was no sheep's head or intestines (traditional particularly to Kazakhstan) to be found on the menu.
The prices at Vostochnyi Kvartal are often comparable to, if not slightly more expensive than other cafes in the Arbat area. The main reason for the slightly higher cost is likely due to the cuisine's current popularity. Still, I highly recommend that you take advantage of being in such an ethically diverse region and give this lesser-known food a try.
For group and faculty-led tours, I highly recommend this place. It will provide cultural value and spark conversations about ethnic minorities in Moscow. It is also a great place for groups, and has ample seating inside and on the patio. I saw a sudden crowd of about 35 people come in and they were all taken care of very quickly. You might call ahead and make reservations, though, to be o the safe side.