SRAS Programs in Vladivostok are hosted at the Vladivostok State University of Economics and Service (VSUES) and students live in on-campus dormitories run by that institution.
Living Conditions at the VSUES Dormitories
Jonathan Rainey (Spring, 2016): The dormitories are connected to the main university buildings by way of an escalator. This is quite nice in the winter when you don't have to worry about dressing up to go outside just to reach your classes in the morning. There are several dormitory buildings, each with about 10 floors ranging from subterranean basement floors up to (somewhat) lofty vistas of the city. My room, for example, has a nice view out to some of Vladivostok's northern hills.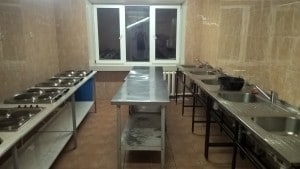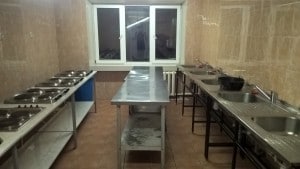 Within the two dormitory buildings, the style of rooms can vary to an extent. Some floors have shared hall bathrooms and toilets while others have bathrooms and toilets shared in a suite between two rooms. Mine is like the latter. Two rooms with five people total share one toilet, one shower, and two sinks. This arrangement works fine for me. The toilet is cleaned every weekday by the dormitory staff, and the shower is cleaned once each week.
The number of people in each room can also vary. My room only has two people in it. Other rooms could have three or four, and I believe that certain rooms go up to as many as five. Of course, the sizes scale with the number of inhabitants. My room is fairly small. It has two lofted beds with a desk under each. About half of the space underneath each bed is taken up by a cabinet to store belongings.
Eating Facilities at the VSUES Dormitories
Jonathan Rainey (Spring, 2016): Each room has a countertop and cabinets for food and a compact refrigerator. The hallways on each floor have two kitchens, which are shared by all of the students. The kitchens are equipped with a row of sinks and a row of electric burners. Additionally there is a stainless steel countertop for preparation, a microwave, and a hot water dispenser. Using the kitchen is usually not a problem. I don't often have to wait to be able to cook my food, although there are always some peak times coinciding with dinner.
The hot water dispenser is without a doubt one of the most important features of the kitchens. First, the tap water in Vladivostok in general is not potable. Drinking water must be purchased at the store and hauled back to the dorms, which is a bit of a hassle in itself. However, the hot water dispenser is potable. The temperature is close to boiling when it comes out, so it can be used to make hot drinks, or food like oatmeal and ramen. If you're boiling water to cook something else, it also speeds up the process immensely. Even a large pot of water can be brought to a rolling boil in about five minutes because of the water's initially hot temperature.
Morgan Henson (Spring, 2019): There is also a place underneath the university called "The Underground" where there are a few cafes/restaurants, an open area where different events are held, a bank, venues for concerts, a bar, and much more. This is a great, affordable place to meet friends and take a break from classes if necessary.
The area surrounding the university and dorms at first glance doesn't look like much but give it a little time and you will find the hidden gems: Regulus is a great coffee shop near the supermarket, Kim Gan San is a North Korean restaurant up the road where they play music and show videos of Kim Jong-un, Jawsspot is a classic-rock bar connected to campus where everyone is open and friendly, and many more. Vladivostok has an interesting mix of European, Korean, Japanese, and Chinese food and culture that constantly keeps my friends and I surprised. Every week I find something new to see or do and have yet to be disappointed.
Other
VSUES takes security rather seriously for the dorms. Only students who actually live in the dorms are allowed inside. If you want to invite friends, you must obtain special permission from the security. A security turnstile at each entrance must be used for both leaving and entering, where the student ID badge can be scanned to unlock the turnstile. Additionally, a security guard is always present, and they may even ask to physically inspect your badge. The dorms also close at night, from 11:00 pm to 6:00 am. This really concerned me when I first arrived because I didn't know what would happen if I got back after hours. But it turns out that one entrance does remain open at all times. People are regularly going out to smoke in the middle of the night, so it's not odd to be coming in late, and I've never had any problems related to it.
Blankets and linens for the beds are available to students who live in the dorms. Every Wednesday, sheets can be exchanged for fresh ones. There is also a laundry service that operates five days per week. The cost is 50 Rubles per bag of laundry, which is quite affordable. Mark a bag with your name, room number, and how many pieces of clothing you're dropping off in the morning, and then come back in the afternoon to pick it up again. Sometimes the articles are still a bit damp, but it's overall very convenient.