Students in Vladivostok report spending about $60-90 a week average over the course of their stay. This covers groceries, eating at the university cafeteria, city transport, an occasional meal out, school supplies, modest weekend entertainment, and other general living expenses. Note that this guide assumes 65 rubles = 1 US dollar. Prices current as of May, 2019.
In This Guide
1. Getting Started
Packing beforehand: Bring appropriate clothing, any electronics you need, and any prescription medication you are taking in amounts to last your time abroad. Check our packing guide for more information on preparing for your trip.
Card Fees. Call your banks and credit cards! Let them know the dates you'll be abroad, otherwise, they tend to shut them off when they appear abroad – assuming they've been stolen. Note that most US banks will charge fees for every transaction you make abroad. $5 and/or 3% for every ATM withdrawal, for instance, is not uncommon. Make sure you understand these fees and factor them into your budget. See our Guide to Managing Cash Abroad for more information.
After You Arrive: There are usually a few initial, one-time expenses for students getting started. A few common costs include:
Electric kettle: $10 (for coffee/tea/instant noodles/oatmeal)
Pot/silverware/plate/cup: $30
Water filter: $10-15 (or $2 for 5 liter bottles – folks generally don't drink from the tap)
Pens/erasers/school supplies: $10
Textbooks: $15 per semester (usually available on campus)
Clothes pins and line for hanging laundry in your room: $5
2. Incidentals & Other
Flexibility: You should always plan some flexibility into your budget. There will always be expenses that you didn't plan for – a new umbrella, a better coat, a short trip that a new friend invites you on that is too good to say no to, you get the point.
Hygiene: Shampoo, conditioner, deodorant, and toothpaste – in brands you are likely to recognize – run about $2 per package. Feminine hygiene products are around $4 per box.
Gyms: The onsite gym, called Champion, costs $45 a month and includes access to indoor tennis courts, a swimming pool, a fully equipped weight room, treadmills and ellipticals, and locker rooms with showers. Specifically for students, this gym does offer some reduced rates, however these rates also come with limited access times, blacking out evenings and weekends.
Laundry: Paid laundry facilities are available for about $1 a load. Dryers are available, but you can save that $1 by hanging your clothes in your room on a line.
3. Food

Groceries: There is a discount supermarket near the dorms. The kitchens at VGUES, however, have limited space in the communal refrigerator/freezer and lack ovens. They have only stoves and microwaves. This means that generally, you have to buy frequently and only what you need in terms of things that perish quickly. All the same, cooking is possible and generally comfortable. Average weekly grocery bill: ~$10-20 per week.
On Campus: Between cafes, kiosks, and two large cafeterias, there are multiple places at the university to purchase prepared food. All of them are inexpensive. Full meals at the cafeteria with soup, main, salad, side and drink will generally run between $2-3. The convenience and price mean that it's fairly easy to make this a regular option. Average weekly spending at the cafeteria: ~$15-25 per week
Eating out: Fast food combo meals will cost $2.50-3.50. A nicer restaurant downtown will cost $8-12, but there are plenty of cheaper places outside the center serving good, whole meals for $6-9.
Average weekly total food spending: ~$35-$45 per week
4. Transport
Students at VGUES live on campus, near their classes. Thus, transport is not a daily need for most.
Public transportation: Buses will be your most common transport. They cost 20 rubles (about $0.25) per ride.
Taxis: Use the Uber or Yandex Taxi smartphone apps. Most rides inside the city will be around $2-4. To get to outlying areas, like Ruskyi Island, will run $10-12.
Marshrutki: Similar to buses, marshrutki are 23 rubles per ride and are much quicker than the larger buses. You must know where you're going, however, because drivers do not announce stops.
Average weekly transport spending: ~$2-6 per week
5. Communications
See our Packing List for more information about bringing electronics to Russia.
Mobile service and data: SRAS will supply you with a simple mobile phone while abroad. Students that use only these phones to call and text report spending around $1-3 per month. Students with unlocked smartphones who get local SIMs for data and calling report spending around $7-15 (see: Beeline) per month. This is recommended, as it will allow you to use online maps and taxi service apps. Cell service in Russia is usually pay-as-you-go with a monthly fee or prepaid service. You will not need a long-term contract. Students can also look into international plans through T-Mobile and Verizon that can be handy if you plan to talk a lot to folks back home while abroad. Activate these before coming abroad.
High-speed Internet: VSUES dorms offer paid WiFi plans. The cost depends on the number of electronics you have and how many GB of service you want. The options range from 100 rubles for one day of WiFi on one device to 1,400 rubles for one month of service to three electronic devices.
Internet cafes / City Hotspots / Free WiFi: Internet cafes cost around $2-4/hour and are becoming rarer. Free WiFi is available in restaurants and cafes across the city. You'll need a Russian mobile number to register on the free networks.
Average total MONTHLY spending for communication: $3-15
6. Free Time, Other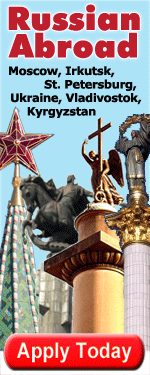 Entertainment and incidentals are the most variable expenses you'll face.
Random: Most museums will cost between free-500 rubles with student discounts, and all state museums and galleries are free on the third Sunday of every month. Bars in the center will charge around 200-400 rubles per beer, and maybe 300-600 rubles for a cocktail. Winter-time ice skating will start around for skates and ice time 700 rubles at most of the touristy areas. Run a search on this site for anything you might be interested in – nearly all entries come with budgets and logistics.
Chinese Market: If you are looking to stay on a budget, try the Sportivnaya Market located on Sportivnaya Street (locally referred to as the "Chinese Market"). Whatever prices are 'normal' elsewhere in the city cease to apply here and almost anything you want: food, tools, appliances, books, movies, clothes, can all be found. If you're not interested in name brand, this is the place to go. Haggling is very commonplace. Even if you don't speak Russian very well, numbers are all you need to strike a deal. Just be willing to walk away if you don't like the price.
Random: A movie ticket costs on average $4.00. Most clubs in the city do not have a cover charge. Drinks tend to be slightly more expensive in the clubs than in a restaurant. Mixed drinks start at about $4 and beers go for about $2.65 for a bottled import brew. Domestic draft will cost about $2.00. A cappuccino at a coffee shop will run about $1.25. A ticket to a performance, such as a ballet or opera costs $13-20 per ticket for an average seat. The several museums around the city are relatively inexpensive. Student discounts usually offer a slight reduction in cost. Expect to pay $2-8.
Souvenirs: never EVER buy anything in the center, and make sure to check out the souvenir shop at the top of the funicular.
Travel: If you are going to blow some money in your budget – SRAS recommends you do it on travel. See more of the country and wider region and meet more of the people while you have the chance to do it quite inexpensively. Look at SRAS's extensive travel site for info about in (and out) of country destinations. Check Skyscanner for airfare, Booking.com for housing, Tutu.ru or RZhD for trains. Let SRAS know EVERY TIME YOU LEAVE VLADIVOSTOK! This is for safety, but also because there may be registration or visa issues involved in your trip that we may need to advise you on.